close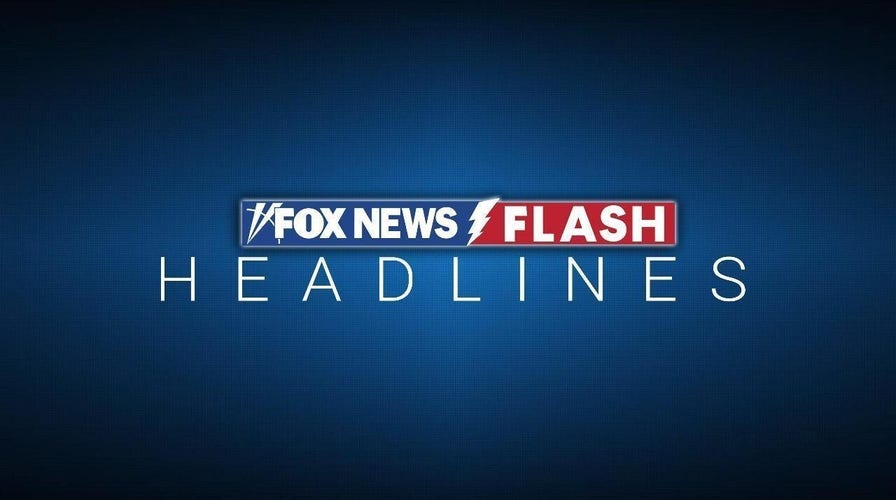 Video
Fox News Flash top headlines for March 9
Fox News Flash top headlines are here. Check out what's clicking on Foxnews.com.
The leaders of South Korea and Japan will meet next week for a summit on strengthening ties, both governments said Thursday, days after South Korea unveiled a step toward resolving strained ties stemming from Tokyo's colonial rule of the Korean Peninsula.
President Yoon Suk Yeol is to visit Japan on March 16-17 at the invitation of the Japanese government and will meet with Prime Minister Fumio Kishida, according to the South Korean and Japanese governments.
Yoon's office said in a statement that the summit will be "an important milestone" in the development of South Korea-Japan relations. It said South Korea hopes the two countries will "overcome an unfortunate past" and expand cooperation on security, the economy and other sectors as a result of the visit.
Kishida told reporters that "I hope to make (Yoon's visit) an opportunity to work toward strengthening our relationship."
Japanese Chief Cabinet Secretary Hirokazu Matsuno separately said Tokyo's invitation to the South Korean leader was the result of close communication between the two countries since Yoon's inauguration last May.
"South Korea is an important neighbor that Japan should cooperate with in various issues," Matsuno said.
JAPAN, SOUTH KOREA SUPPORT US TAKEDOWN OF CHINESE SURVEILLANCE CRAFT
On Monday, South Korea announced it would raise local funds to compensate Koreans who won damage awards in lawsuits against two Japanese companies over their forced labor during the 1910-45 colonial period. The South Korean plan doesn't require the Japanese companies — Nippon Steel and Mitsubishi Heavy Industries — to contribute to the reparations.
Bilateral ties suffered a major setback after South Korea's Supreme Court in 2018 ordered the two Japanese companies to compensate some of their former Korean employees for forced labor. The companies and the Japanese government refused to comply with the rulings and insisted that all compensation issues were settled by a 1965 treaty that normalized bilateral relations and was accompanied by hundreds of millions of dollars in economic aid and loans from Tokyo to Seoul.
In 2019, Japan imposed export controls on chemicals vital to South Korea's semiconductor industry. South Korea, then governed by Yoon's liberal predecessor Moon Jae-in, threatened to terminate a military intelligence-sharing agreement with Tokyo, a major symbol of their security cooperation with Washington.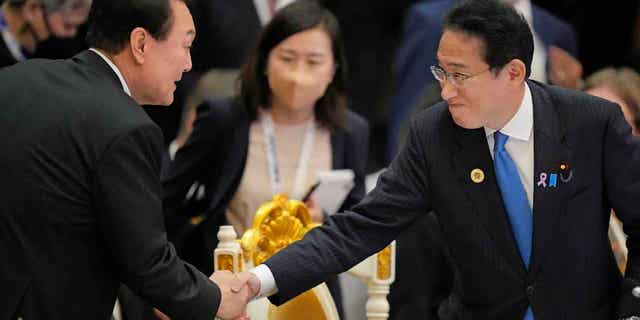 Japan's Prime Minister Fumio Kishida, right, shakes hands with South Korea's President Yoon Suk Yeol in Cambodia, on Nov. 13, 2022. The leaders of the two countries will hold a summit next week,  (AP Photo/Vincent Thian, File)
The fraught Seoul-Tokyo ties complicated American efforts to reinforce its three-way security cooperation in the face of rising Chinese influence in the region and North Korean nuclear threats. President Joe Biden hailed South Korea's announcement as "a groundbreaking new chapter" of cooperation between two of the United States' closest allies.
Kishida reiterated on Thursday that Japan welcomes the South Korean plan. On Monday, he said he stood by Japan's previous expression of regrets and apologies for its colonial wrongdoing.
Since taking office, Yoon, a conservative, has pushed for stronger relations with Japan as a way to boost cooperation among Seoul, Tokyo and Washington to better deal with the growing North Korean nuclear threat. Observers say improved ties with Japan are also necessary amid global supply chain challenges and strategic competition between the U.S. and China.
CHINA MOCKS BIDEN FOR KNOCKING DOWN BALLOONS WITH FIGHTER JETS: 'HYSTERICAL,' 'LAUGHABLY JUVENILE'
In September, Yoon and Kishida held the first summit between the two countries in nearly three years on the sidelines of the United Nations General Assembly. They agreed to accelerate efforts to mend their frayed ties.
The South Korean plan to end the disputes over the 2018 rulings elicited fierce opposition from some of the forced labor victims involved in the lawsuits, their supporters, and liberal opposition politicians. They have called the South Korean step a diplomatic surrender and demanded direct payments and a fresh apology from Japan over the issue.
On Tuesday, Yoon defended his government's step, saying it's crucial for Seoul to build future-oriented ties with Tokyo.
After months of negotiations with Tokyo over the court rulings, South Korean officials said they had determined there was little chance of Tokyo reversing its position. They said they also considered the advanced age of the surviving victims.
Among the 15 plaintiffs who won damages from the Japanese companies, only three are still alive and all are in their 90s.
CLICK HERE TO GET THE FOX NEWS APP
A senior South Korean official said he expected Japan to issue a clearer expression of apology over the forced labor issue and take other reciprocal measures if the South Korean compensation plan goes smoothly and bilateral ties improve meaningfully.
The official requested anonymity to discuss the delicate issue.
While there is some criticism that South Korea made too many concessions, the official said the step could push Japan to think about how to react while letting the U.S. and other countries know South Korea is open-minded in cooperating with the international community.