Rep. Dan Goldman, D-N.Y., who previously served as House impeachment counsel against former President Donald Trump, lauded the Biden administration for how they have been handling the matter of classified documents at President Biden's home – contrasting this with a similar matter involving Trump.
Last week, Goldman had said appointing a special counsel in the Biden case would not be necessary, but now that Robert Hur has been put in that role, Goldman supported the decision.
"I don't think it was a mistake. I don't think any of us really have a good understanding of what information the attorney general had when he decided to appoint Mr. Hur as the special counsel," Goldman told "Face the Nation" host Margaret Brennan in a CBS interview. "But I do think it goes to a really important fact that is being missed here, which is that this administration is doing things by the book. There is a divide and a separation between the Department of Justice and the White House that certainly did not exist in the last administration."
Goldman elaborated by noting that Biden's team reached out to the Justice Department and National Archives, saying that "they have done everything they can to cooperate." Goldman said this is "in direct contrast to what former President Trump has done, where he has obstructed justice at every turn."
JIM JORDAN LAUNCHES FIRST INVESTIGATION AS JUDICIARY CHAIR INTO BIDEN CLASSIFIED DOCS SCANDAL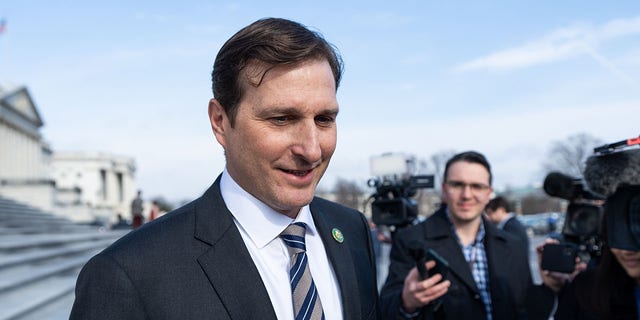 UNITED STATES – JANUARY 12: Rep. Dan Goldman, D-N.Y., speaks to reporters about Rep. George Santos on the House steps after votes on Thursday, January 12, 2023. (Bill Clark/CQ-Roll Call, Inc via Getty Images)
(Bill Clark/CQ-Roll Call, Inc via Getty Images)
Trump's Mar-a-Lago home was raided by the FBI last year, and federal authorities recovered classified documents from the premises. Trump and his team have claimed that the former president had been working with the National Archives prior to the raid.
JUSTICE DEPARTMENT 'PLAYING POLITICS' WITH TRUMP FORCED AG GARLAND'S HAND IN BIDENN DOCS, ANDY MCCARTHY SAYS
Brennan asked Goldman about an op-ed he wrote last year about the Trump raid, in which he outlined four criteria by which to assess the situation. These included whether there was intent to distribute the materials, clear knowledge of the importance of the documents, the volume of the material, and whether anyone lied to investigators. Goldman said that these same criteria "absolutely" should be applied to Biden.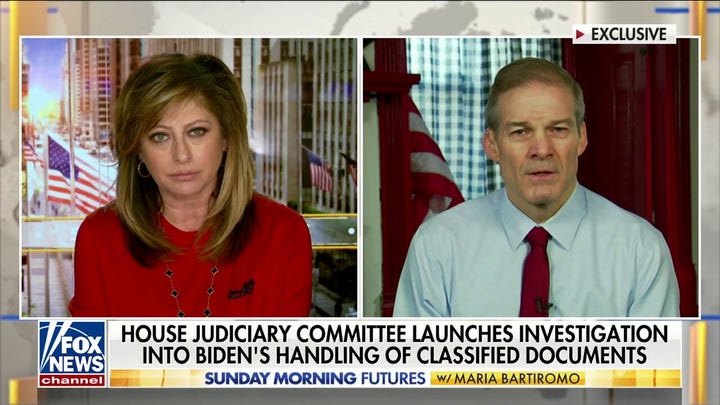 Video
Despite acknowledging earlier in the interview that he did not have all the information Attorney General Merrick Garland had when he appointed Hur, Goldman expressed confidence Biden is in the clear when it comes to his criteria of investigation.
"Those four factors, I believe, apply to President Trump, and none of them apply to President Biden," Goldman said.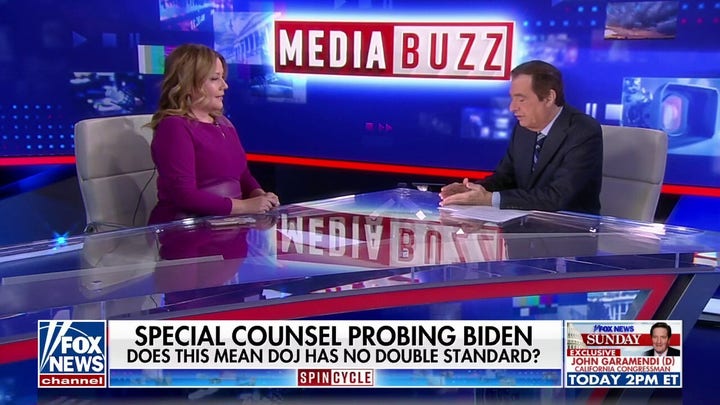 Video
One question that Goldman did not have an answer for was why Biden's personal lawyers – who did not have security clearance – were searching his home for classified documents.
CLICK HERE TO GET THE FOX NEWS APP
I'm not sure. And we don't know the circumstances of that," the former federal prosecutor said. "But certainly the documents leave the vice president's office and have to be stored somewhere. I do hope we will find out more information about it."
Goldman did, however, cite a statement from Biden's personal attorney Bob Bauer, saying that it showed Biden's team is "doing everything by the book."