close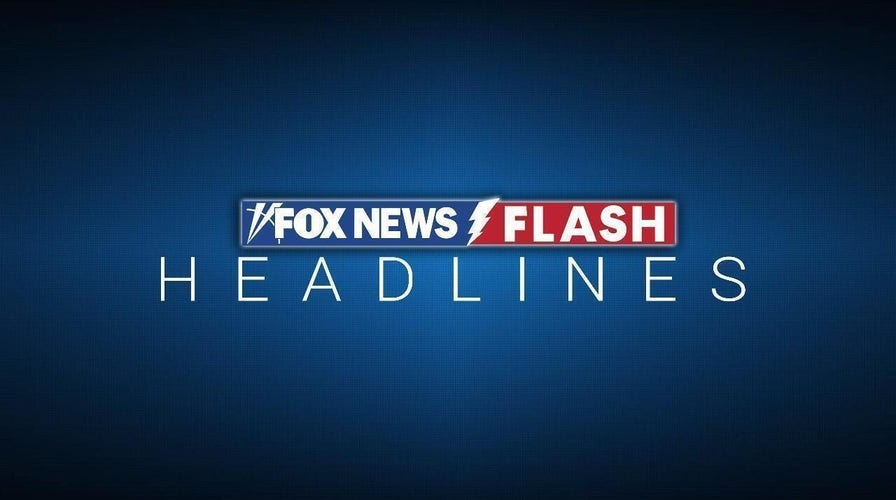 Video
Fox News Flash top headlines for September 6
Fox News Flash top headlines are here. Check out what's clicking on Foxnews.com.
Utah officials have pushed the Great Salt Lake to the brink of an ecological collapse because they allowed upstream water to be diverted for decades to farmers growing alfalfa, hay and other crops, according to a lawsuit filed Wednesday by a coalition of environmental groups.
These conservationists want a court to step in and force the state to let more water reach the largest natural lake west of the Mississippi River, which is an oasis for millions of migratory birds, an engine for Utah's billion-dollar mineral industry and a tourist attraction.
And the risks of a diminished Great Salt Lake aren't merely beached sailboats and wider shores. It threatens species extinction and toxic dust clouds billowing over nearby communities, the lawsuit says.
156-YEAR-OLD SUNKEN SCHOONER IN LAKE MICHIGAN FOUND INTACT WITH WELL-PRESERVED ARTIFACTS
The lake first hit a record low in the summer of 2021, fueling renewed attention from Utah's Republican-led Legislature. But lawmakers' actions have not been enough to assuage the concerns of a coalition that includes Earthjustice, the Utah Rivers Council and Utah Physicians for a Healthy Environment, among others.
"We are trying to avert disaster. We are trying to force the hand of state government to take serious action," said Brian Moench of the Utah Physicians for a Healthy Environment.
Emma Williams, a spokesperson for Utah Gov. Spencer Cox, declined to comment, citing ongoing litigation. The Utah Farm Bureau Federation did not immediately respond to a request for comment.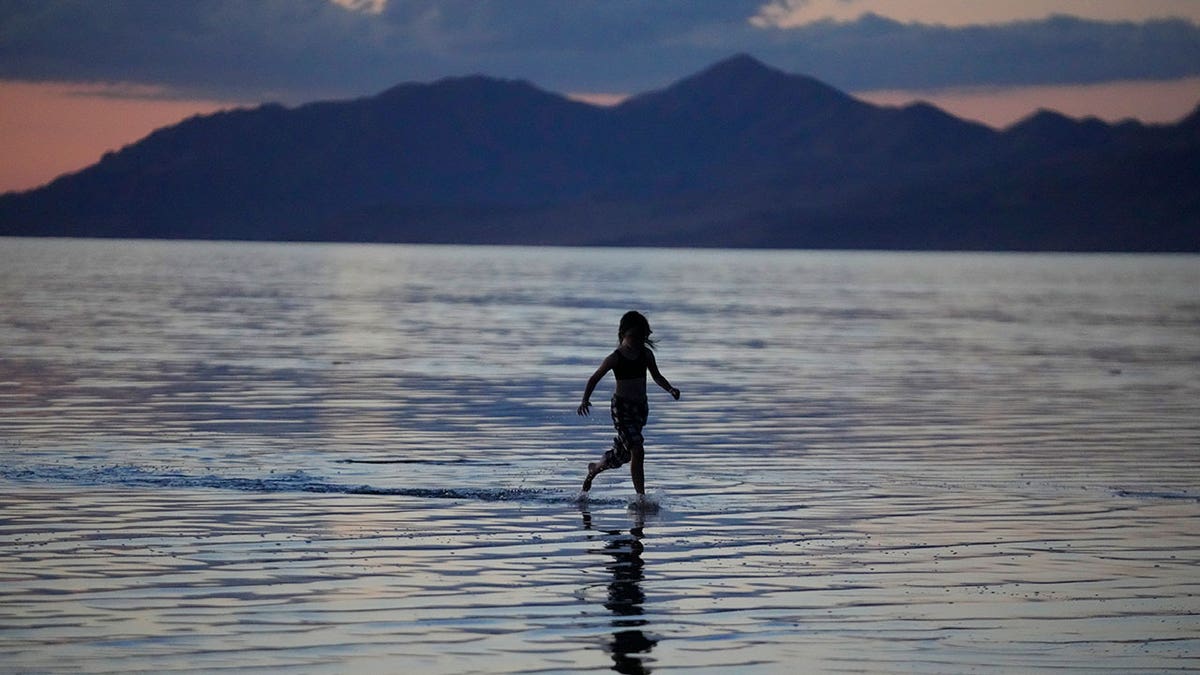 A young person runs through the Great Salt Lake on June 15, 2023, near Magna. (AP Photo/Rick Bowmer, File)
State officials have repeatedly identified restoring the lake as a top priority. But despite a temporary rise in lake levels this summer after a record winter snowfall, the lake's long-term outlook is bleak. Republican Gov. Spencer Cox earlier this year created a position and chose the first-ever commissioner of the Great Salt Lake in an effort to find solutions.
The precipitous drop in water levels, which has shrunk the Great Salt Lake's footprint by half in the last decades, stems from a two-fold problem: Climate change has decimated the mountain streams that feed the lake, while demand for that same freshwater has ballooned for new development, agriculture and industry.
It has put the Utah government in a bind — pulled between meeting the water needs of businesses and citizens, and keeping the lake at safe levels.
BIDEN TO DESIGNATE GRAND CANYON NATIONAL MONUMENT IN CLIMATE CHANGE PUSH BLOCKING FUTURE URANIUM MINING
The organizations suing the state, including the Sierra Club and the Center for Biological Diversity, say that the effect of rationing freshwater upstream pales in comparison to that of a disappearing Great Salt Lake.
Toxic chemicals — including arsenic, lead and mercury — are trapped on the lakebed. As more of it becomes exposed and dries, chemicals become exposed to the whims of the wind. The consequent toxic dust storms could lower life expectancies, as well as heighten cancer and infant mortality rates, said Moench, citing past instances of lakes drying up across the world.
"You have millions of people directly in the path of the toxic dust," he said, "We will be forced to leave, (and) it would be because of the public health consequences of the newly created dust bowl."
Stu Gillespie, a senior attorney at Earthjustice, which filed the case, said that Utah's law and constitution outline its clear obligation to safeguard the Great Salt Lake, which is owned by the public. Part of that obligation, Gillespie said, is protecting the upstream water that keeps the lake at healthy levels.
CLICK HERE TO GET THE FOX NEWS APP
"The state has not taken action to do that, even though that's what their own reports are identifying as a solution," he said. "It's so important for a court to step in here."
The lake is a watering hole for millions of birds traversing the Pacific Flyway — a migratory path from the southern tip of Chile to Alaska.
As the lake shrinks, it becomes saltier, threatening the brine flies that are a key source of food for migrating birds, said Deeda Seed of the Center for Biological Diversity. In turn, birds like the Wilson's phalarope — a shorebird that breeds in North America and winters near the Andes mountains — will struggle to find enough nutrients.
Already, a pelican colony on a Great Salt Lake island has floundered after their island became a peninsula, letting in coyotes, Seed said.
"Bird species are facing extinction. Humans along the Wasatch Front are facing toxic dust events. It's an emergency — and it's not being dealt with like it's an emergency," she said.