Lawmakers upped the pressure on the Biden administration to send M1 Abrams tanks to Ukraine on Sunday as Russian officials warned of a "global catastrophe" if more powerful weapons are supplied to Kyiv.
Sens. Lindsey Graham, R-S.C., Richard Blumenthal, D-Conn., and Sheldon Whitehouse, D-R.I., visited Kyiv and met with Ukrainian President Volodymyr Zelenskyy over the weekend.
"The debacle regarding sending tanks to Ukraine must end. It is impossible for Ukraine to expel Russia without tanks. I am hoping Germany and the United States will both send tanks ASAP – opening up other countries' desire to help Ukraine," Graham said in a statement on Sunday. "The tanks are outcome determinative in expelling Russia from Ukraine."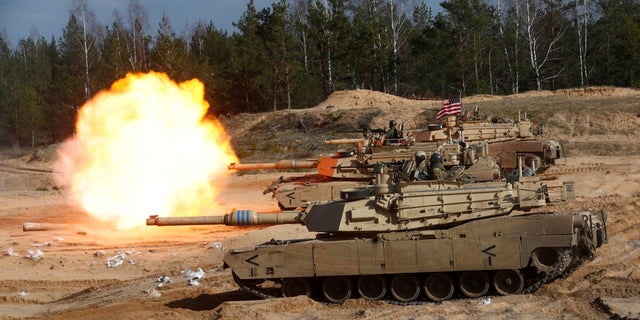 FILE PHOTO: U.S. Army M1A1 Abrams tank fires during NATO enhanced Forward Presence battle group military exercise Crystal Arrow 2021 in Adazi, Latvia March 26, 2021 
(REUTERS/Ints Kalnins/File Photo)
Rep. Michael McCaul, the Republican chairman of the House Foreign Affairs Committee, echoed Graham's sentiment, telling ABC News that "Germany's waiting on us to take the lead" and sending "just one" Abrams tank to Ukraine could unleash the flow of them from Germany and other European countries.
US HOSTS ALLIED DEFENSE OFFICIALS AS RUSSIA PLANS FOR MASSIVE OFFENSIVE IN WEEKS AHEAD
In Russia, State Duma Chairman Vyacheslav Volodin, the speaker of the lower house of Russia's parliament, said that providing more weapons to Ukraine risks "global tragedy that would destroy" Western countries.
"Supplies of offensive weapons to the Kyiv regime would lead to a global catastrophe," Volodin said. "If Washington and NATO supply weapons that would be used for striking peaceful cities and making attempts to seize our territory as they threaten to do, it would trigger a retaliation with more powerful weapons."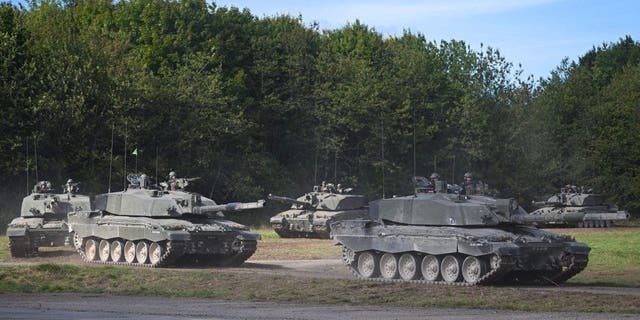 Challenger 2 main battle tanks are displayed on Sept. 24, 2022 in Bulford, England. 
(Photo by Finnbarr Webster/Getty Images)
The UK announced last week that they would send 14 Challenger 2 tanks to Ukraine, but the U.S. and other allies have been hesitant to released their own battle tanks in the war.
US ADVISES UKRAINE TO HOLD OFF ON MAJOR OFFENSIVE UNTIL LATEST ARMS SHIPMENT: REPORT
French President Emmanuel Macron said Sunday that he asked his defense minister to "work on" the idea of sending Leclerc battle tanks to Ukraine, while Polish Prime Minister Mateusz Morawiecki said that his country was waiting for the green light from Germany to transfer Leopard tanks to Ukraine.
"Evidence of the Russian army's war crimes can be seen on television and on YouTube," Morawiecki said in an interview with the Polish state news agency PAP on Sunday. "What more does Germany need to open its eyes and start to act in line with the potential of the German state?"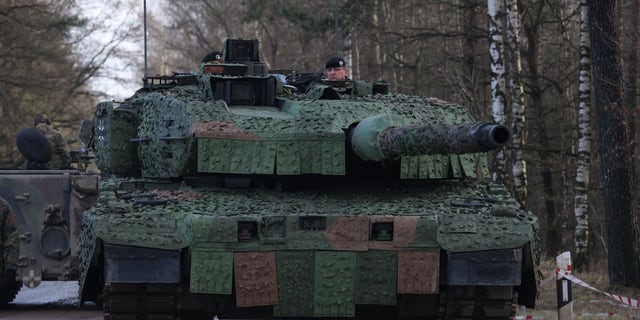 A new Leopard 2 A7V heavy battle tank from Bundeswehr's 9th Panzer Training Brigade stands during a visit by Defense Minister Christine Lambrecht to the Bundeswehr Army training grounds on February 07, 2022, in Munster, Germany.
(Sean Gallup/Getty Images)
CLICK HERE TO GET THE FOX NEWS APP
German Foreign Minister Annalena Baerbock told French TV channel LCI on Sunday that they would not object to Poland sending Leopard tanks to Ukraine if they were formally asked.
The U.S. announced an additional $2.5 billion in military aid for Ukraine on Thursday, including 90 Stryker combat vehicles and 59 Bradley fighting vehicles, but no tanks.
The Associated Press contributed to this report.