The nation's top law enforcement organizations are signaling that they are willing to work with Congress again to reach a bipartisan compromise on police reform following the death of Tyre Nichols in Memphis, Tennessee, but many are not optimistic that there will be a positive legislative outcome.
A first bipartisan push to reform policing in the wake of George Floyd's death led by Sens. Cory Booker, D-N.J., Tim Scott, R-S.C., and Rep. Karen Bass, D-Calif., stalled in the Senate in 2021 due to disagreements between Republicans and Democrats. Now, lawmakers hope to revive reform negotiations following the brutal killing of Nichols, and charging of five police officers in conjunction with his death.
Sen. Dick Durbin, D-Ill., the chairman of the Senate Judiciary Committee, told ABC that Booker and Scott should "sit down again quickly to see if we can revive that effort."
"We need a national conversation about policing in a responsible, constitutional and humane way," Durbin said. "These men and women with badges put them on each day and risk their lives for us. I know that. But we also see from these videos horrible conduct by these same officers and unacceptable situations. We've got to change this for the better."
FORMER MEMPHIS COP CHARGED IN TYRE NICHOLS' DEATH ALLEGEDLY BEAT UP INMATE IN 2015
Major Cities Chiefs Association Executive Director Laura Cooper told Fox News Digital that if Congress resumes negotiations, the MCCA "stands ready" to develop a "bipartisan compromise."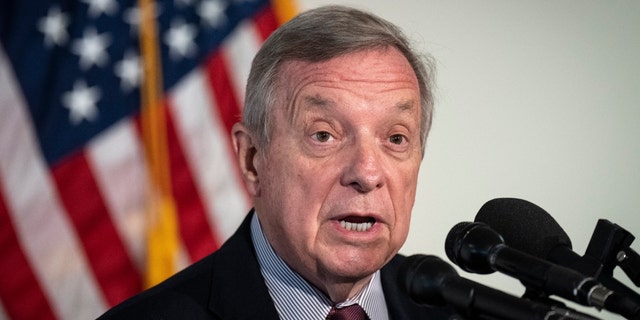 Sen. Dick Durbin, D-Ill., the chairman of the Senate Judiciary Committee.
(Drew Angerer/Getty Images)
"The Association worked in good faith with leaders in the House and Senate to advance reform negotiations following the murder of George Floyd. Should Congress choose to restart these negotiations, the MCCA stands ready to help develop a bipartisan compromise that is evidence-based, sustainable, and thoughtful while ensuring law enforcement has the tools and resources it needs to keep our communities safe. Reform and public safety are not mutually exclusive, which is something MCCA members demonstrate every day," she said.
Jonathan Thompson, executive director and CEO of the National Sheriffs' Association, called the death of Nichols "horrible," and said the sheriffs have always been open to achieving a "commonality of interests" on reform, as they did by backing the Sen. Tim Scott bill in 2021.
"I think if there are those that are truly interested in getting to 'yes,' we are willing to try and achieve it," he said. "If they are seeking nothing more than political gain, then perhaps they should rethink their strategies."
However, Thompson warned that finding a consensus on police reform would be difficult.
"There are a lot of things that we have commonality of grounds here, and we certainly want to work with anybody who is seriously interested in making changes that are effective and that are lasting," Thompson said. "The challenge I think we're all going to have is what are the lines in the sand that some on the Left are going to want, and what are the realities out of Washington?"
One of the challenges he said that will always pose a problem is the issue of qualified immunity, which he says many people don't understand.
SIXTH MEMPHIS POLICE OFFICER INVOLVED IN TYRE NICHOLS INVESTIGATION RELIEVED OF DUTY
"However, one of the challenges we will always face is that there are some that want to think that qualified immunity is the 'be all end all.' It is not. Qualified immunity will not prevent those individuals from being charged, will not prevent them from being either acquitted or prevent them from being found guilty. It has nothing to do with it because there's negligence," Thompson noted.
Qualified immunity prevents government officials from being sued for violating citizens' rights while reasonably doing their jobs, and it became a sticking point in the 2021 negotiations.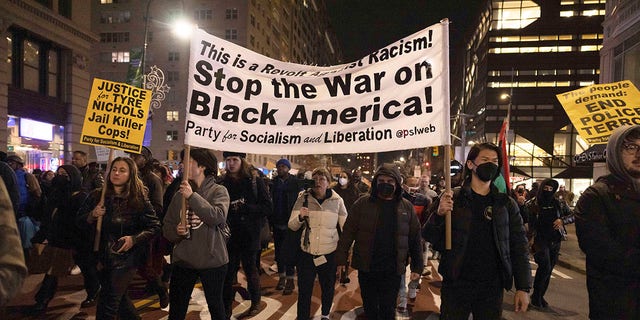 Demonstrators march during a protest Saturday, Jan. 28, 2023, in New York, in response to the death of Tyre Nichols, who died after being beaten by Memphis police during a traffic stop.  
(AP Photo/Yuki Iwamura)
Gene Voegtlin, director of policy and governance for the International Association of Chiefs of Police, told Fox News Digital that the organization "stands ready" to restart negotiations.
"As our approach has always been, the IACP will meet with any stakeholder, anywhere, to improve policing and make communities safer. We stand ready to restart discussions to put forth federal legislation that is meaningful, evidence-informed, and deliberative," he said.
Pat Royal, spokesperson for the National Sheriffs' Association, told Fox News Digital that the ball is in Congress' court to get a reform bill across the finish line, after lawmakers dropped the ball in 2021.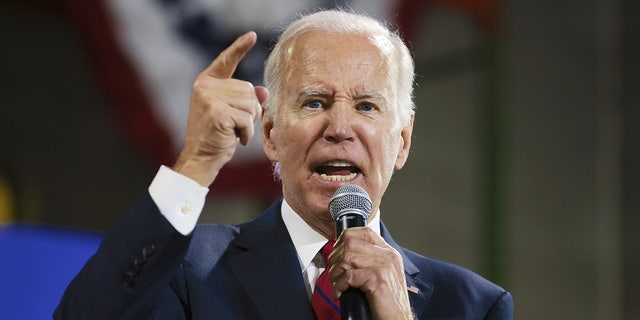 Biden signed the "Executive Order on Advancing Effective, Accountable Policing and Criminal Justice Practices to Enhance Public Trust and Public Safety" in May 2022.
(Oliver Contreras/Sipa/Bloomberg via Getty Images)
"Sheriffs have been working with Congress every day over last two years to reform policing systems, and they look forward to continuing to have those conversations," Royal said.
"Every law officer wants their policing to be better — better trained, better equipped, better staffed, better led and better motivated. Any reform package must put better policing first," Law Enforcement Legal Defense Fund President Jason Johnson told Fox News Digital. "Most of the current proposals only seek to hinder law enforcement's ability to protect and serve the public. This is not a productive 'reform' — in fact it's counterproductive when crime is rising and many of the best officers are fleeing the profession."
House Judiciary Chairman Jim Jordan, R-Ohio, told NBC's "Meet the Press" Sunday that there may not be anything Washington can do to prevent what happened to Nichols from happening again.
"I don't know that there's any law that can stop that evil that we saw," said Jordan. "That is just I mean, just difficult to watch. What strikes me is just the lack of respect for human life. So I don't know that any law, any training, any reform is going to change."
White House press secretary Karine Jean-Pierre said last week: "We all must recommit ourselves to the critical work that must be done to advance meaningful reforms."
CLICK HERE FOR THE FOX NEWS APP
Biden signed the "Executive Order on Advancing Effective, Accountable Policing and Criminal Justice Practices to Enhance Public Trust and Public Safety" in May 2022 on the two-year anniversary of George Floyd's murder by a Minneapolis police officer.
Large law enforcement organizations were divided on Biden's action, as some said it was a step in the right direction while others said it was just "political theater" that will demoralize and endanger police officers.
Thompson told Fox News Digital that there were multiple "conflicts" with the administration's executive action on policing.
"I think there are some conflicts in the executive order that they, at least at the White House, underestimated," he said, referring to federal versus state authorities.
"So we have been working with the administration, trying to work through a number of those conflicts within the EO. So we think we've been accommodating the mutual needs," Thompson said.