close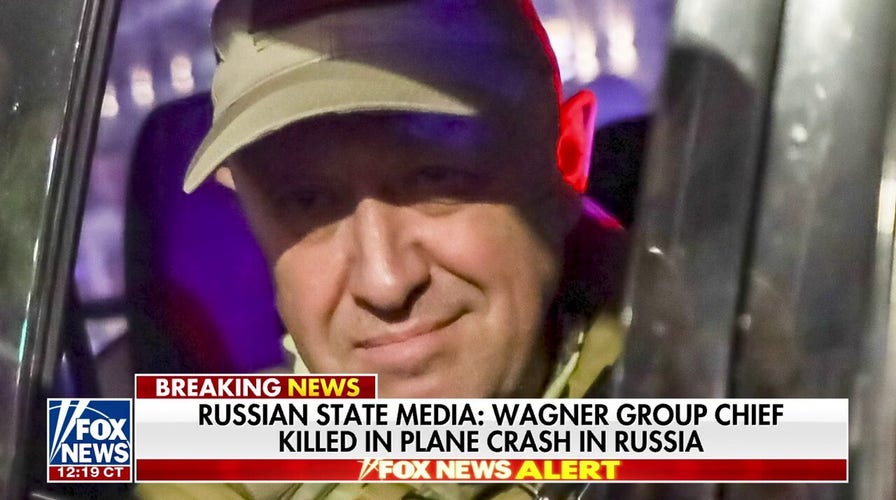 Video
Wagner Group's Prigozhin killed in plane crash, Russian state media reports
Fox News' chief national security correspondent Jennifer Griffin shares details on the report from Russian state media that Yevgeny Prigozhin was killed in a private plane crash along with nine other passengers. 
The Kremlin said Wednesday the crash that caused the death of Yevgeny Prigozhin, the leader of private military force Wagner who died in Russia last week, may have been the result of "deliberate wrongdoing."
Investigators have still not determined an official cause, but "different versions" of what happened "are being considered," according to Kremlin spokesperson Dmitry Peskov.
Peskov told reporters during his daily conference call that among the possible causes are, "let's put it this way, deliberate wrongdoing."
He said the Russian Investigative Committee has not yet concluded its probe into the wreck. The committee opened a criminal case last week on charges of flight safety violations, a default charge used in plane crash investigations in Russia when foul play is not suspected.
RUSSIA FORGOES INVESTIGATION INTO PRIGOZHIN CRASH UNDER INTERNATIONAL RULES: REPORT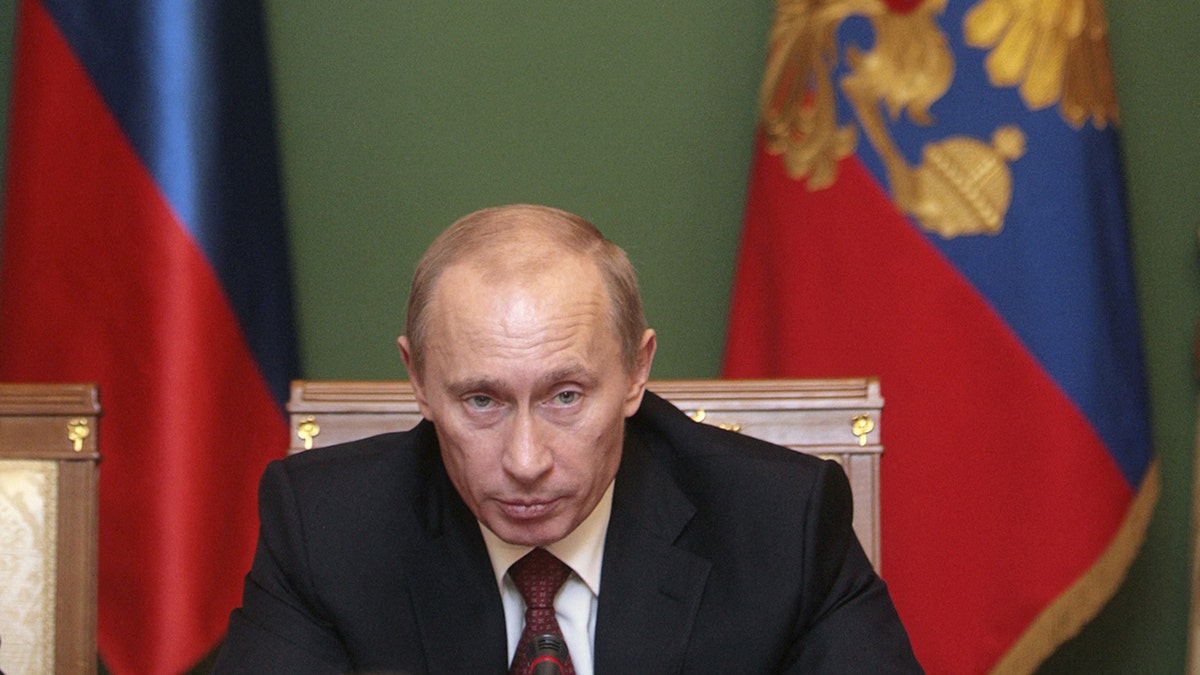 Some experts speculate Russian President Vladimir Putin ordered the assassination, but the Kremlin has denied involvement in the crash. (Natalia Kolesnikova/AFP Pool/AFP via Getty Images)
The Kremlin spokesperson said there could not be an international investigation, which the Center for Research and Prevention of Aeronautical Accidents in Brazil prompted via the United Nations' civil aviation rules.
Prigozhin and several of his top lieutenants, including his second-in-command and Wagner's logistics chief, were among the 10 people who boarded a business jet that crashed halfway between Moscow and St. Petersburg last Wednesday, Aug. 23. No one survived the crash.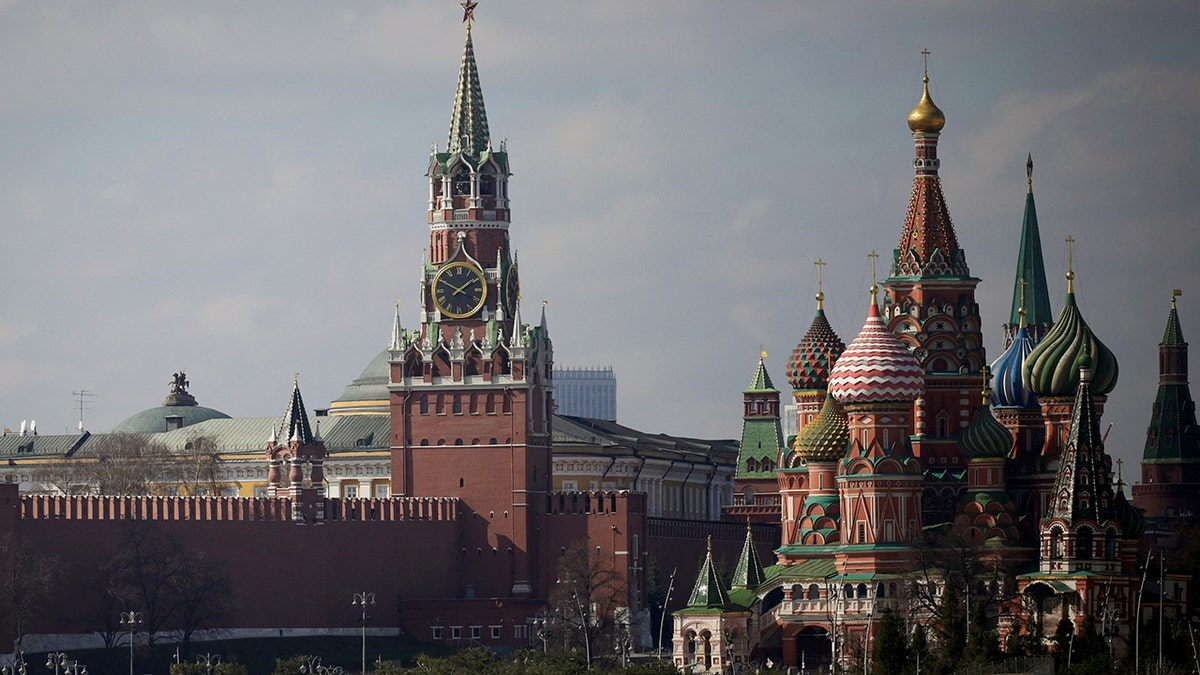 The Kremlin's Spasskaya Tower, center, and St. Basil's Cathedral in downtown Moscow, on April 1, 2023. (Natalia Kolesnikova/AFP via Getty Images)
The crash was immediately met with speculation that it may have been deliberate as it happened exactly two months after Prigozhin mounted an armed march toward Moscow to protest Russia's military leadership.
WHITE HOUSE POINTS FINGER AT RUSSIA IN PRIGOZHIN DEATH: 'VERY CLEAR WHAT HAPPENED HERE'
The incident was seen as the largest armed rebellion against President Vladimir Putin's authority in his 23-year rule.
Some experts speculate that Putin ordered the assassination, but the Kremlin has denied involvement in the crash.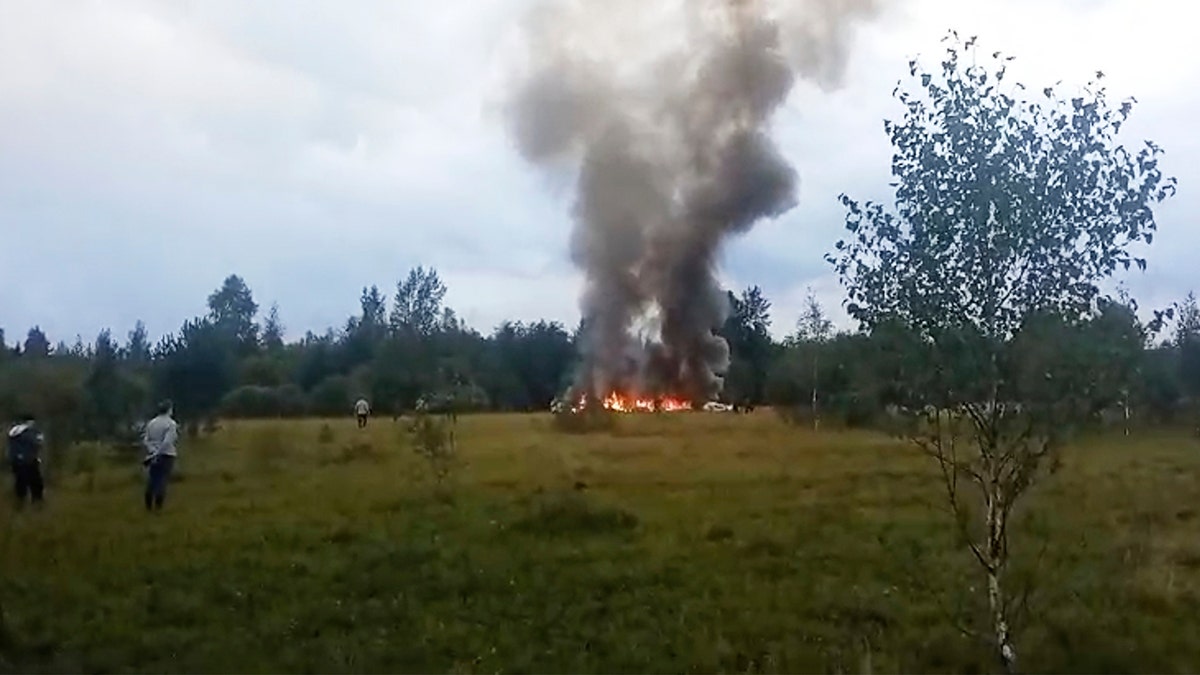 Russian mercenary leader Yevgeny V. Prigozhin died when a private jet he was on crashed on Aug. 23, 2023, killing all 10 people on board. (AP Photo)
Ukraine, which Russia invaded last year and continues to war against, has also denied involvement.
Putin said the passengers had "made a significant contribution" to the fighting in Ukraine.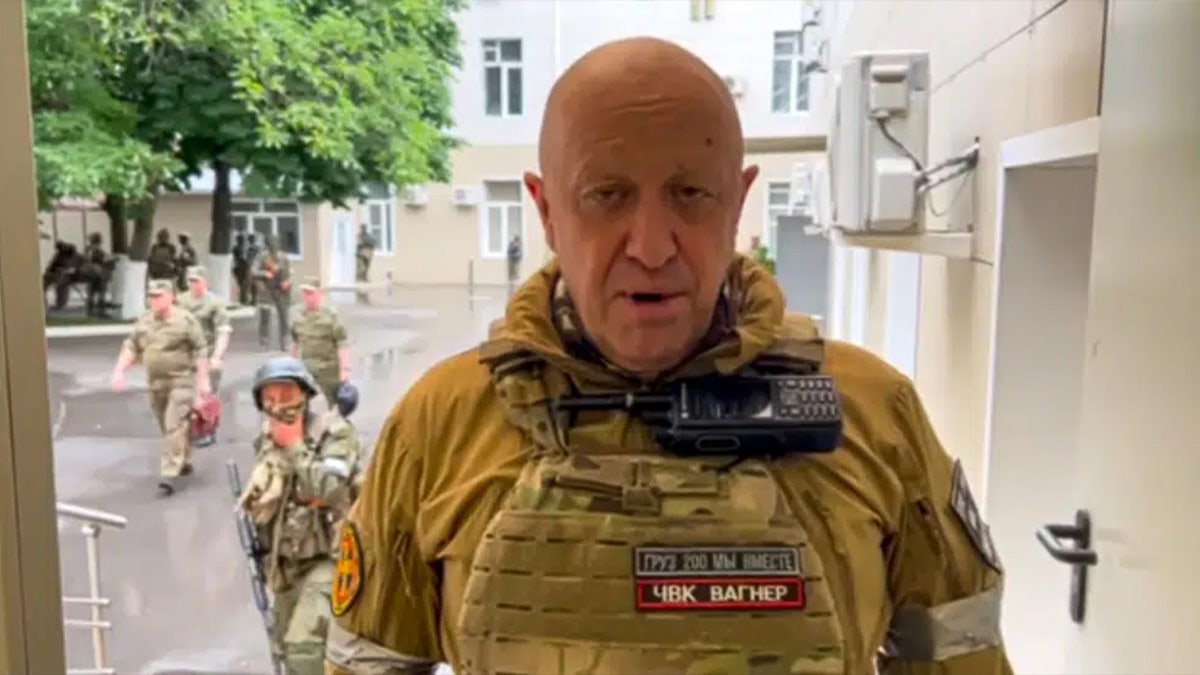 Yevgeny Prigozhin records a video address in Rostov-on-Don, Russia, June 24, 2023. (Prigozhin Press Service via AP)
"We remember this, we know, and we will not forget," he said.
PUTIN NOT PLANNING TO ATTEND PRIGOZHIN FUNERAL
Prigozhin was buried in St. Petersburg, his hometown, in a private ceremony.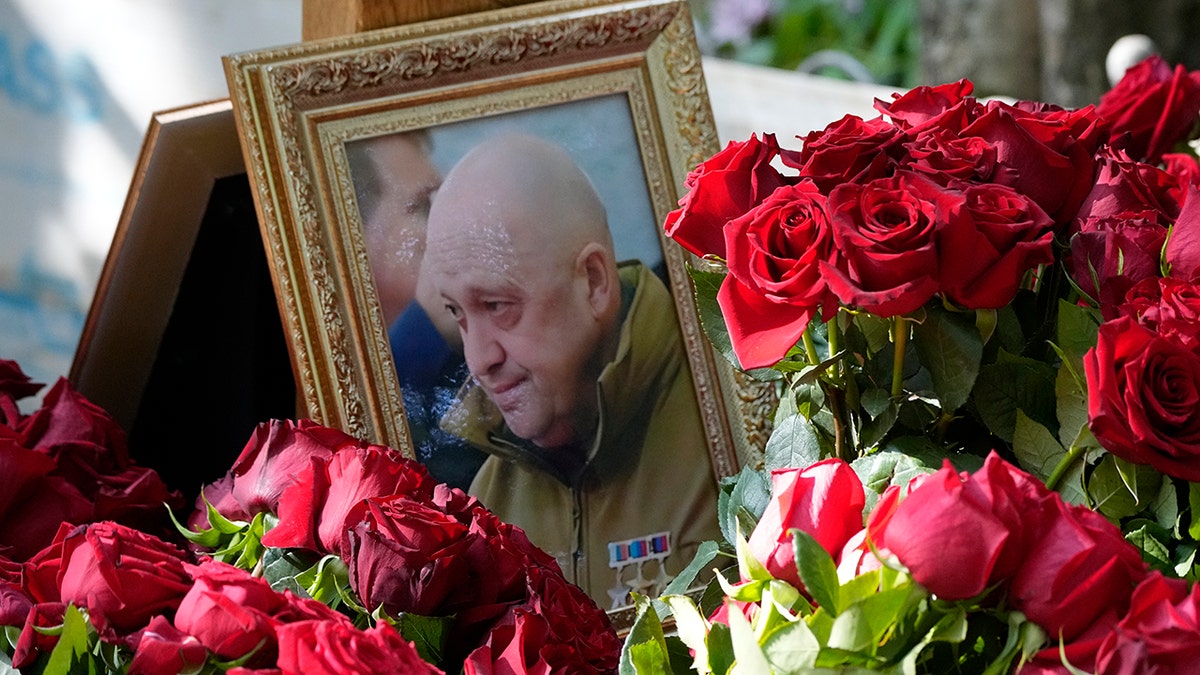 A portrait of Yevgeny Prigozhin rests on flowers on his grave at the Porokhovskoye cemetery in St. Petersburg, on Wednesday, Aug. 30, 2023. (AP Photo/Dmitri Lovetsky)
The event was shrouded in secrecy until Tuesday evening when the mercenary leader's spokespeople revealed the location of his grave.
It is also not immediately clear why several high-ranking members of Wagner, who are usually careful about their security, boarded the same flight.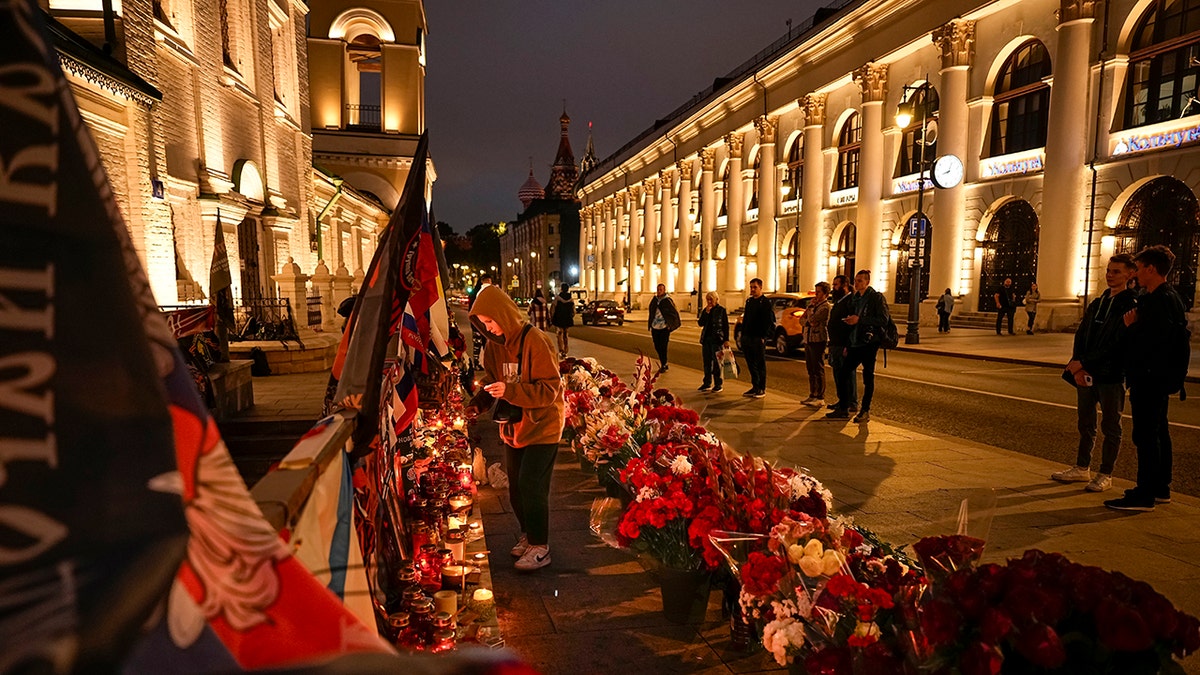 A young woman lights a candle as others stand at an informal street memorial for the Wagner Group's members killed in a plane crash, near the Kremlin in Moscow, Tuesday, Aug. 29, 2023. (AP Photo/Alexander Zemlianichenko)
It took days before the Kremlin even confirmed Prigozhin died in the crash.
CLICK HERE TO GET THE FOX NEWS APP
A preliminary U.S. intelligence assessment concluded that an intentional explosion caused the crash. Witnesses at the scene confirmed a loud explosion before the plane crashed, and video at the scene shows the plane severely damaged and falling out of the sky.
The Associated Press contributed to this report.