Kim Kardashian seemed ready to shake off her bad blood with Taylor Swift after she posted a TikTok video Thursday night of a mother-daughter dance session to one of Swift's songs.
In the video, Kardashian, 42, and daughter North, 9, did a silly dance to Swift's "Shake it Off" hit while wearing matching white zip-up hoodies with the Skims founder wearing black yoga pants and a black sports bra underneath.
The pair also lip-synced to the camera in the 55-second clip.
The storied feud between Kardashian and the "Bad Blood" singer, 33, was connected to Kardashian's ex Ye, formerly known as Kanye West.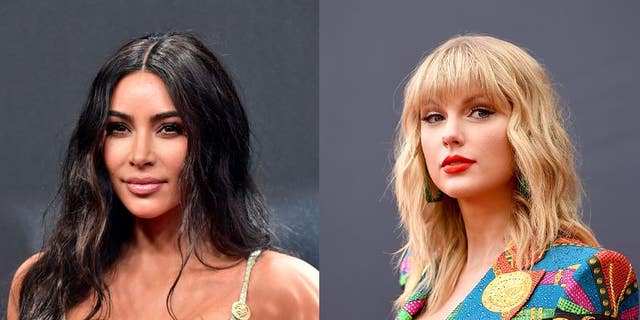 Kim Kardashian and Taylor Swift's feud started after Kardashian's then-husband Kanye West grabbed the microphone from the "Shake it Off" singer while she was accepting an award at the VMAs, claiming Beyoncé deserved it. 
(Rodin Eckenroth/Jamie McCarthy)
KIM KARDASHIAN REVEALS SHE'S OPEN TO HAVING MORE KIDS, HAS 'FANTASY' ABOUT REMARRYING: 'FOURTH TIME'S A CHARM'
In 2009, the rapper took the stage while Taylor Swift was accepting the award for video of the year at the Video Music Awards to state that Beyoncé deserved it. He and Kardashian were dating at the time.
@kimandnorth ♬ Originalton – <3 
Fast-forward to 2016, Kardashian claimed on Snapchat that Swift had lied when she said she was shocked by Ye's use of the word "b—-" in the lyric, "I feel like me and Taylor might still have sex / Why? I made that b—- famous" in his song "Famous."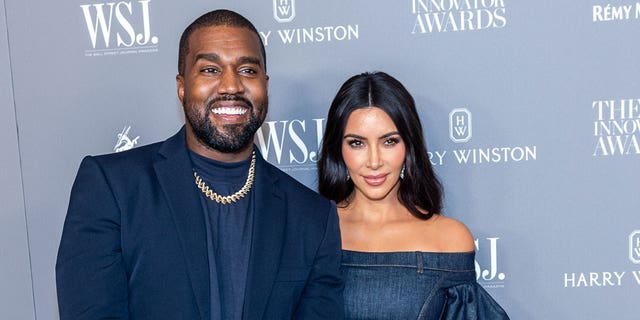 Kim Kardashian's and Taylor Swift's feud centered around the "Bad Blood" singer's beefs with Ye, formerly known as Kanye West. Kardashian filed for divorce in 2021.
(Getty Images)
Kardashian called Swift a "snake" over her claim in a 2016 tweet.
The three continued to disagree for years over what was said in a phone call, in which Ye and Swift discussed using her name in the song.
In 2019, Swift told Vogue the backlash felt like a "mass public shaming, with millions of people saying you are quote-unquote canceled, is a very isolating experience. I don't think there are that many people who can actually understand what it's like to have millions of people hate you very loudly."
CLICK HERE TO GET THE FOX NEWS APP
Kardashian and Ye finalized their divorce last year.