Kevin Costner did not engage in any extramarital affairs during his 18-year marriage to Christine Baumgartner but he "does not know for a fact" if she has, according to court documents obtained by Fox News Digital.
Costner shared this information as Baumgartner's legal team asked for "all statements, receipts, invoices, cancelled checks" and documents related to expenses paid by the "Yellowstone" actor, or on behalf of the actor relating to an extramarital affair.
Costner's lawyers argued in his response that the demand was "only [for] purposes of harassment" and was not relevant to the subject.
"Respondent has no responsive documents for 'extramarital romantic relationships' in which he engaged because he engaged in none," the docs stated. Representatives for Costner did not immediately respond to Fox News Digital's requests for comment.
KEVIN COSTNER, EX CHRISTINE ATTEND DIVORCE DEPOSTIONS IN SANTA BARBARA AHEAD OF HEARINGS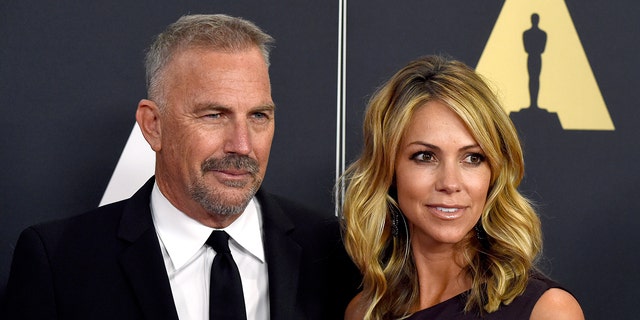 Christine Baumgartner is asking for an increase in child support from Kevin Costner. (Frazer Harrison/Getty Images)
The legal battle between the two exes continues as Baumgartner filed documents Thursday asking a court to order Costner to pay more child support, based on updated forensic accounting her legal team requested from Costner earlier this week.
The purse designer had previously accused Costner of "stonewalling" by not producing "relevant" documents regarding the actor's finances.
Kevin Costner denied having any extramarital affairs while married to Christine Baumgartner in new court documents. (Getty Images)
Baumgartner, 49, requested a judge order Costner to pay $175,057 per month for their three children, retroactive to July 1, according to documents obtained by Fox News Digital. The court had previously set an interim order for Costner to pay $129,755 per month.
An additional award of attorney fees in the amount of "$575,000 and expert costs in the amount of $280,000" was requested. The total sum includes the amount projected to cover Christine's fees and expert costs through the November/December trial.
"It is undisputed that Kevin Costner is a man of extraordinary wealth," the documents stated. "Unlike many family law litigants, Kevin can pay guideline child support, as well as make a further contribution to Christine's fees, without it making any meaningful difference in his life."
KEVIN COSTNER'S DIVORCE BATTLE AMID 'IRONCLAD' PRENUP: WHY CELEB PREMARITAL AGREEMENTS ARE CONTESTED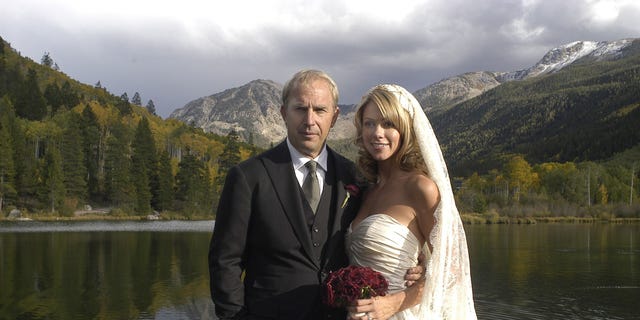 Kevin Costner married Christine Baumgartner at their Aspen, Colorado, ranch on Sept. 25, 2004. (Getty Images)
Christine filed for divorce from the "Yellowstone" actor in May after 18 years of marriage, citing "irreconcilable differences."
A hearing on Aug. 31 and Sept. 1 will determine whether to increase or decrease the child support order, or leave it the same.
Judge Thomas Anderle set the interim child support order at a July 12 hearing. The order also includes each party paying half of private school tuition, medical expenses and extracurricular activity expenses.
KEVIN COSTNER, ARIANA GRANDE, SOFIA VERGARA FACE DIVORCE: EXPERTS REVEAL WHY CELEB SPLITS DOMINATE SUMMER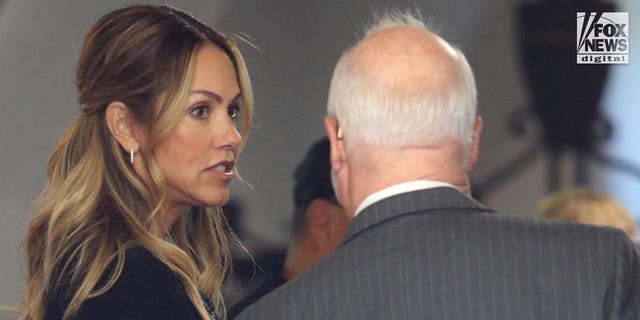 Christine Baumgartner and her lawyer spotted in court amid ongoing divorce proceedings. (Fox News Digital)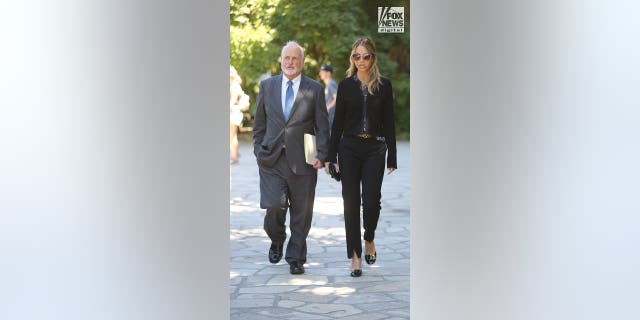 Christine Baumgartner and her lawyer leave a court hearing on July 12. (Fox News Digital)
"The evidence will show that Kevin has so much money, and such a large estate, that he doesn't know how much his real estate portfolio is worth, what his businesses entities do, who he has on payroll, or, as of his deposition on August 19, how much he had paid his attorneys and experts in the 4 months this case has been pending," docs stated.
"And yet, despite his clear ability to pay support to Christine in an amount which would allow her to provide the children with a home and lifestyle somewhat consistent with Kevin's 'station in life,' he steadfastly refuses to do so. Instead, we anticipate Kevin will ask the Court to cut the guideline child support figure by roughly 65% and make a child support award of $60,000 per month."
"The Court order must allow the children to be supported at a level commensurate with Kevin's considerable wealth, even if that level of support also improves the standard of living of Christine."
"Based on these fundamental principles, the Court is required to set child support at a level that, when the children are with Christine, they live a lifestyle relatively comparable to the one they enjoy when they are with their father, Respondent Kevin Costner ('Kevin')," docs stated. "The Court order must allow the children to be supported at a level commensurate with Kevin's considerable wealth, even if that level of support also improves the standard of living of Christine."
"Christine brings this request in order to uphold these Family Law principles and to assure that the parties' three minor children will continue to have the benefit of the lifestyle that has been made possible by Kevin's substantial earnings and wealth."
WATCH: LEGAL EXPERT GIVES HIS THOUGHTS ON KEVIN COSTNER'S DIVORCE PROCEEDINGS
Video
CLICK HERE TO SIGN UP FOR THE ENTERTAINMENT NEWSLETTER
Meanwhile, Costner has claimed Baumgartner charged "over $100,000 in attorney and accounting fees" on his credit card since April without authorization or his consent. As a result, on June 16, he canceled her companion card and placed a cap of $15,000 per month to be used in case of emergencies for their children, according to documents.
Baumgartner was also ordered to move out of the $145 million Carpinteria compound by July 31. Costner purchased the property before their marriage, and a pre-marital agreement allegedly stipulated that she would not only move out of the home within 30 days, but also no longer live in any of his properties if they divorced.
She is currently living in a vacation rental before she will move to a month-to-month rental in Montecito.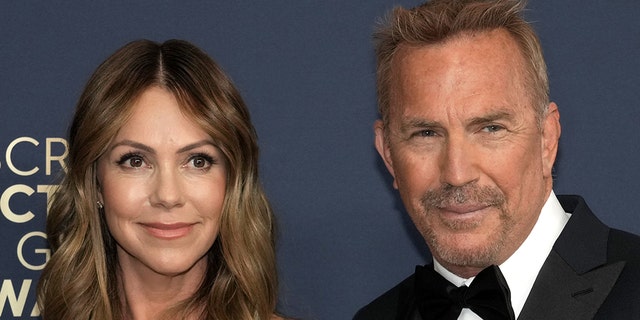 Christine Baumgartner and Kevin Costner will face a judge in November for pre-marital agreement validity trial. (Jeff Kravitz)
The estranged couple has three children together. Costner also has three children with ex-wife, Cindy Silva, and one son from a previous relationship.
A six-day trial to establish the validity of their pre-marital agreement is set for the end of November.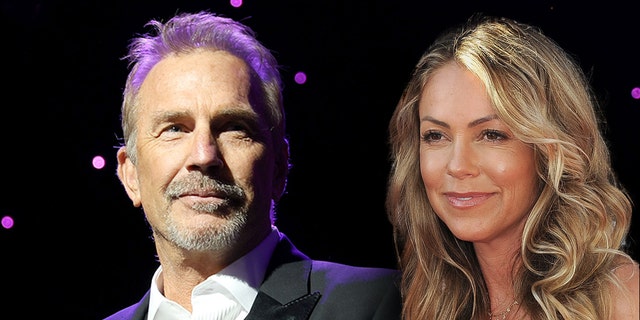 Kevin Costner and Christine Baumgartner have been married for 18 years. (Getty Images)
CLICK HERE TO GET THE FOX NEWS APP