Kate Hudson, Lily-Rose Depp and more stars have weighed in on the "nepo-babies" debate that has taken over Hollywood.
The conversation around "nepo-babies" – a recently coined term short for "nepotism babies" – has been making waves but kicked into high gear last month after a cover story from New York Magazine.
Now, a number of stars with famous parents and well-known last names have taken to social media and magazine interviews to share their thoughts on the label. Reactions among the "nepo-babies" varied, with some acknowledging that having a celebrity parent – or parents – opened the door to many career opportunities that wouldn't have been available to them otherwise.
Several stars of the Hollywood elite argued that they still had to work hard and prove themselves despite the advantage of their family name and connections.
Kelcey Kintner, senior vice president at Red Banyan, agreed and told Fox News Digital that "the key to getting any job is often access to the person who is hiring, and the children of celebrities immediately have that kind of access."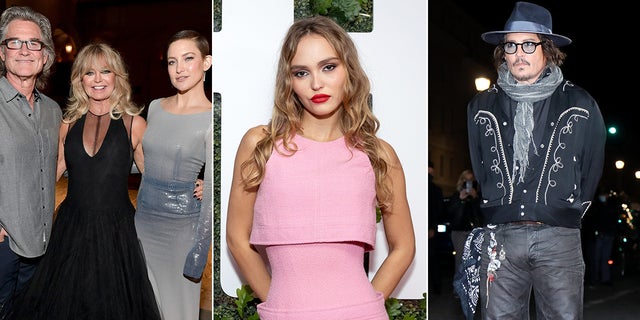 Kate Hudson, Lily-Rose Depp and more stars have weighed in on the "nepo-babies" debate that has taken over Hollywood.
(Getty)
SUSAN SARANDON'S DAUGHTER EVA AMURRI TALKS GROWING UP WITH CELEBRITY PARENTS, BEFRIENDING OTHER 'NEPO-BABIES'
She noted "it absolutely gives them an advantage over everyone else who feels like they are just throwing their headshots into a dark hole," but emphasized that "it's really just a foot in the door."
"Yes, it gives them a chance to be seen, but then they must ultimately prove themselves as having real talent if they want to secure a job and succeed in the cut-throat world of Hollywood," Kinter added. "Still, that edge on the competition can be the difference between an illustrious film and TV career, and never making it at all."
In contrast, others decried the label altogether, including Jamie Lee Curtis, who slammed it as "designed to try to diminish and denigrate and hurt."
Many A-listers argued that the entertainment industry is a "family business" and likened "nepo-babies" as comparable to other children who follow in their parents' footsteps to become doctors, plumbers or florists.
"It's completely normal for people to be in the family business," Zoë Kravitz, daughter of four-time Grammy Award winner Lenny Kravitz and actress Lisa Bonet, told GQ magazine last year.
She added, "It's literally where last names came from. You were a blacksmith if your family was, like, the Black family."
Amid the online conversation around "nepo-babies," many social media users were surprised to learn that several recent breakout stars including "Maids'" Margaret Qualley (daughter of Andie MacDowell), "Stranger Things" Maya Hawke (daughter of Ethan Hawke and Uma Thurman), and "Euphoria's" Maude Apatow (the daughter of director Judd Apatow and actress Leslie Mann) were the children of celebrities.
ANDIE MACDOWELL'S DAUGHTER MARGARET QUALLEY LEADS CELEBRITY KIDS TAKING OVER THE ACTING SCENE
Here's a look at seven celebrities and everything that they have said about the "nepo-babies" debate.
Kate Hudson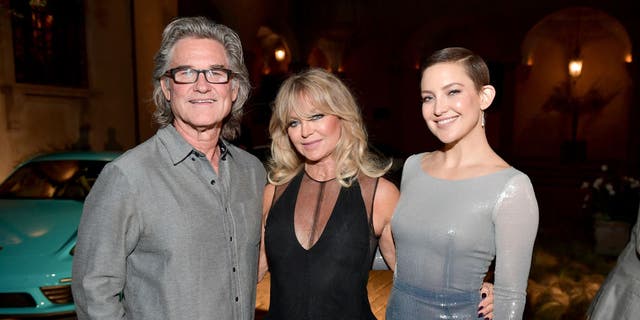 Kate Hudson, the daughter of Goldie Hawn and Bill Hudson, who was also raised by her mother's longtime partner and actor Kurt Russell, said: "I don't really care" about the "nepo-baby" label.
(Neilson Barnard/Getty Images)
Kate Hudson, daughter of actress Goldie Hawn and singer Bill Hudson, who was also raised by her mother's longtime partner and actor Kurt Russell, has long been seen as the benefactor of family connections before the term "nepo-baby" came into existence.
The 43-year-old actress made her film debut alongside Christina Ricci, Casey Affleck and John Heard in the 1998 indie drama "Desert Blue," but it was her role in 2000's "Almost Famous" that saw her rise to prominence and earned her Golden Globe and Academy Award nominations.
Over the past couple of decades, Hudson has enjoyed a successful career in her own right, starring in a number of hits, including "How to Lose A Guy in 10 Days," "You, Me and Dupree" and most recently, "Knives Out: Glass Onion."
In a recent interview with The Independent, Hudson opened up about the "nepo-babies" discourse.
KATE HUDSON, DAUGHTER OF GOLDIE HAWN AND KURT RUSSELL, ON NEPOTISM IN HOLLYWOOD: 'IT DOESN'T MATTER'
"The nepotism thing, I mean… I don't really care," she said "I look at my kids and we're a storytelling family. It's definitely in our blood. People can call it whatever they want, but it's not going to change it."
The "Fool's Gold" star also argued that the entertainment industry isn't the only business in which nepotism is prevalent.
"I actually think there are other industries where it's [more common]," Hudson told the outlet.
She continued, "Maybe modeling? I see it in business way more than I see it in Hollywood. Sometimes I've been in business meetings where I'm like, 'Wait, whose child is this? Like, this person knows nothing!'"
"I don't care where you come from, or what your relationship to the business is – if you work hard and you kill it, it doesn't matter," she noted.
Lily-Rose Depp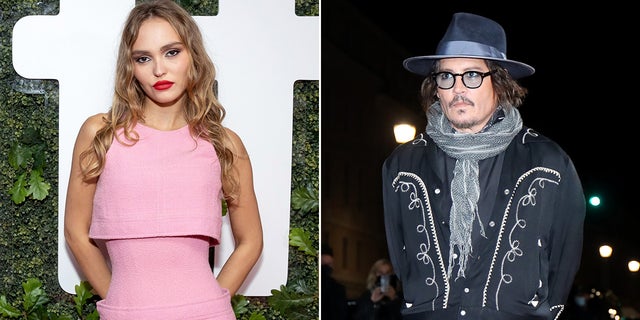 Lily-Rose Depp said she finds it "interesting" that she hasn't really heard the "nepo-baby" label applied to men.
(Getty)
Lily-Rose Depp is another child of celebrities who recently spoke out about being labeled a "nepo-baby."
The daughter of Hollywood star Johnny Depp and model Vanessa Paradis, the 23-year-old actress debuted alongside her friend Harley Quinn Smith, the daughter of director Kevin Smith, in Smith's 2014 horror-comedy "Tusk." She has received two nominations for the César Award for most promising actress for her performances in 2016's "The Dancer" and 2018's "A Faithful Man"
Lily-Rose went in to star in a number of films, including "Crisis," "Voyagers," "Silent Night" and "Wolf." Later this year, she will headline the HBO series "The Idol," which also stars Abel "The Weeknd" Tesfaye.
In addition to her acting work, Depp has appeared on a number of magazine covers and has been a brand ambassador for Chanel since 2015.
WHY IRELAND BALDWIN, LILY-ROSE DEPP AND GWYNETH PALTROW CLAIM FAMOUS PARENTS DIDN'T HELP THEIR CAREERS
Lily-Rose discussed the "nepo-babies" debate during an interview for Elle's December 2022/January 2023 cover story.
"The internet seems to care a lot about that kind of stuff," she told the outlet. "People are going to have preconceived ideas about you or how you got there, and I can definitely say that nothing is going to get you the part except for being right for the part."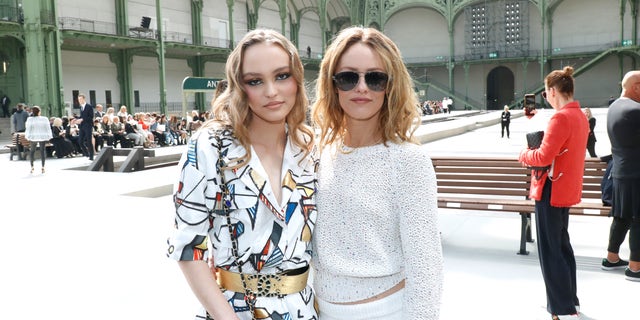 Lily-Rose Depp and her mother Vanessa Paradis in 2020.
(Getty Images)
"The internet cares a lot more about who your family is than the people who are casting you in things. Maybe you get your foot in the door, but you still just have your foot in the door."
"There's a lot of work that comes after that," she added.
The France native also indicated that she thought the "nepo baby" label is misogynistic, telling the magazine that she found it "interesting" that she rarely hears it applied to men.
"It's weird to me to reduce somebody to the idea that they're only there because it's a generational thing," she said. "It just doesn't make any sense."
Depp continued, "If somebody's mom or dad is a doctor, and then the kid becomes a doctor, you're not going to be like, 'Well, you're only a doctor because your parent is a doctor.' It's like, 'No, I went to medical school and trained.'
"I just hear it a lot more about women, and I don't think that it's a coincidence."
Tom Hanks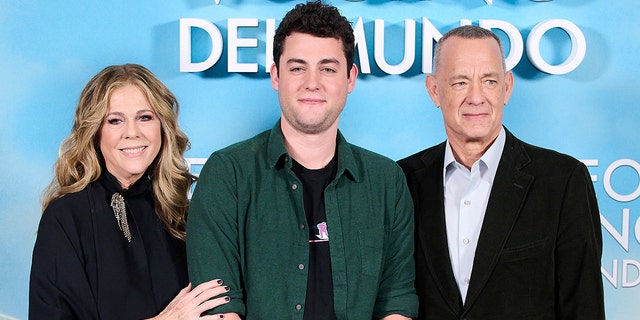 Tom Hanks recently defended himself against accusations of nepotism after casting his son Truman in his upcoming film "A Man Called Otto," which was also produced with his wife Rita Wilson.
(Carlos Alvarez/Getty Images)
Tom Hanks recently defended himself against accusations of nepotism after casting his son Truman in his upcoming film "A Man Called Otto," which was he also produced with his wife Rita Wilson.
The 66-year-old actor, who is himself the son of a hospital worker and a cook, shares Truman, 27, and son Chet, 32, with the "It's Complicated star," 66. He is also father to son Colin, 45, and Elizabeth, 40, whom he shared with his late ex-wife, Samantha Lewes.
All of Hanks' children went on to pursue careers in the entertainment industry. Colin made his film debut in the 2002 comedy "Orange County" and has starred in movies, including "King Kong," "The House Bunny," "The Great Buck Howard" and the "Jumanji" franchise. His television career includes roles in "Dexter," "Mad Men" and "Fargo."
REAL-LIFE CELEB COUPLES WHO SIZZLE ON SCREEN: TOM HANKS AND RITA WILSON, GOLDIE HAWN AND KURT RUSSELL AND MORE
Elizabeth appeared in Hanks' films "Forrest Gump" and "That Thing You Do!" Chet, who is also a rapper, had roles in the TV series "Empire," "Shameless" and "Your Honor." He also appeared in his father's 2020 film "Greyhound."
Though "A Man Called Otto" marks the first time that Truman co-starred with his father, he has worked as a crew member for films, including "Black Widow," "West Side Story" and "The Cloverfield Paradox."
In a recent interview with The Sun, Hanks waded into the "nepo-babies" controversy.
"Look, this is a family business," he told the outlet. "This is what we've been doing forever. It's what all of our kids grew up in."
Hanks continued, "If we were a plumbing supply business or if we ran the florist shop down the street, the whole family would be putting in time at some point, even if it was just inventory at the end of the year."
"The thing that doesn't change no matter what happens, no matter what your last name is, is whether it works or not," the two-time Oscar winner added.
"That's the issue anytime any of us go off and try to tell a fresh story or create something that has a beginning and a middle and an end. Doesn't matter what our last names are. We have to do the work in order to make that a true and authentic experience for the audience."
Jamie Lee Curtis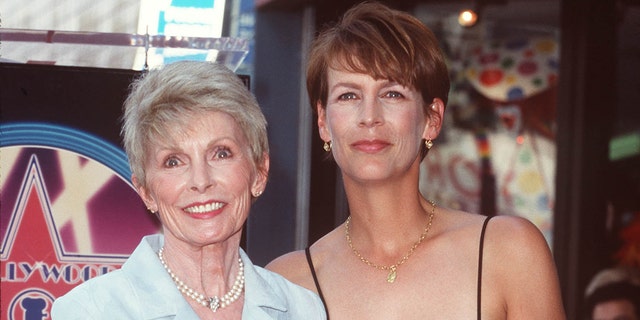 Jamie Lee Curtis labeled herself the "OG Nepo Baby."
(SGranitz/WireImage)
Jamie Lee Curtis, the daughter of actors Tony Curtis and Janet Leigh, recently described herself as an "OG Nepo Baby,"
Curtis' father Tony appeared in over 100 films during his six-decade acting career. He is best known for his roles in "Sweet Smell of Success," "Operation Petticoat," "Some Like It Hot," "Spartacus" and "The Defiant Ones," the last of which he received an Academy Award nomination for best actor.
Janet starred in numerous movies across many different genres including "Act of Violence," "Little Women," Angels in the Outfield" and "Touch of Evil." She earned an Academy Award nomination and won a Golden Globe for her performance in Alfred Hitchcock's horror classic "Psycho."
Curtis rose to fame after playing Laurie Strode in John Carpenter's horror hit "Halloween." Producer Debra HIll said she cast Curtis because of her mother's status as a horror icon, saying it would be "great publicity" for the film.
'HALLOWEEN KILLS' REVIEW: 'A BLOODY, VIOLENT, CHAOTIC AND CYNICAL MESS'
The actress has reprised her role as Laurie seven times in the "Halloween" franchise. She has also starred in many other movies, including "Trading Places," "A Fish Called Wanda," "True Lies" and "Knives Out." Curtis is the recipient of two Golden Globe Awards.
In a December Instagram post, Curtis slammed the conversation around "nepo-babies."
"I have been a professional actress since I was 19 years old so that makes me an OG Nepo Baby," Curtis wrote, sharing two photos of herself with her parents.
She continued, "I've never understood, nor will I, what qualities got me hired that day, but since my first two lines on Quincy as a contract player at Universal Studios to this last spectacular creative year some 44 years later, there's not a day in my professional life that goes by without my being reminded that I am the daughter of movie stars."
"The current conversation about nepo babies is just designed to try to diminish and denigrate and hurt," she added.
"For the record I have navigated 44 years with the advantages my associated and reflected fame brought me, I don't pretend there aren't any, that try to tell me that I have no value on my own. It's curious how we immediately make assumptions and snide remarks that someone related to someone else who is famous in their field for their art, would somehow have no talent whatsoever."
"I have come to learn that is simply not true," Jamie added. "I have suited up and shown up for all different kinds of work with thousands of thousands of people and every day I've tried to bring integrity and professionalism and love and community and art to my work. I am not alone."
"There are many of us. Dedicated to our craft. Proud of our lineage. Strong in our belief in our right to exist." Curtis concluded.
Gwyneth Paltrow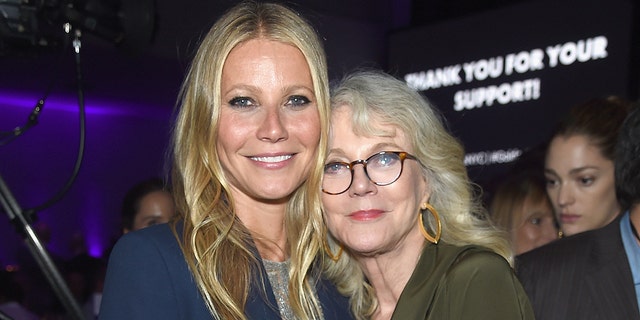 Gwyneth Paltrow said she thinks the idea that children of celebrities had a leg up in the business is "fair."
(Jamie McCarthy/Getty Images for Michael Kors)
Gwyneth Paltrow has cemented her status as an A-list actress and is one award short of an EGOT, having won an Oscar, an Emmy and a Golden Globe.
However, the 50-year-old actress' start in the entertainment industry can be attributed to her family's connections as she made her film debut in the TV movie "High," which her father Bruce Paltrow directed. Paltrow also made her stage debut at the Williamstown Theatre Festival, where her actress mother Blythe Danner often performed.
Danner, 79, has numerous television and movie credits, including "Meet the Parents" and its sequel "Meet the Fockers" as well as three Woody Allen films. She won two Emmy Awards for her role in the series "Huff."
Bruce, who died in 2002 at the age of 58, produced "St. Elsewhere," "The White Shadow" and "Tattinger's" as well as "Duets," which starred his daughter.
Paltrow gained early recognition for her roles in "Seven," "Emma," "Sliding Doors," "A Perfect Murder" and "Shakespeare in Love." She has starred in numerous other films, including the "Avengers" franchise from Marvel.
The actress gave her take on "nepo-babies" during an appearance on Hailey Bieber's YouTube show "Who's in My Bathroom" last July.
"I had a lot of success really young," the Goop founder said. When Bieber – the daughter of actor Stephen Baldwin and niece of actors Alec, Daniel and William Baldwin – asked her opinion of the criticism around "nepotism babies," Paltrow said, "I think it's fair."
"As the child of someone, you get access other people don't have, so the playing field is not level in that way," she noted.
"However, I really do feel that once your foot is in the door, which you unfairly got in, then you almost have to work twice as hard and be twice as good."
GWYNETH PALTROW ON OVERCOMING BODY INSECURITIES: 'I'M ALWAYS ON A JOURNEY TOWARD SELF-IMPROVEMENT'
The "The Politician" star went on to say, "People are ready to pull you down and say, 'You don't belong there' or 'You are only there because of your dad or your mom.'"
"Nobody in the world, especially anybody that doesn't know you, should have a negative impact on your path or the decision that you make," Paltrow told Bieber.
Bieber responded, "I needed to hear this today."
Hailey Bieber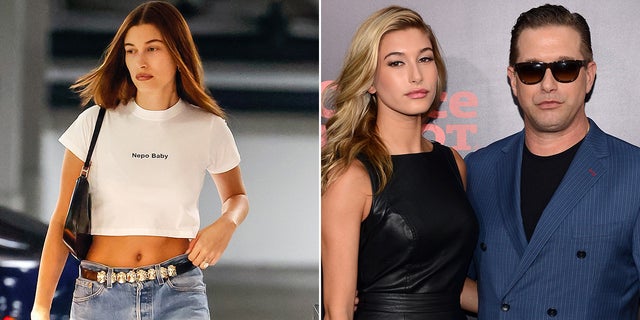 Hailey Bieber rocked a white T-shirt emblazoned with the wording "Nepo Baby" while out on Friday, Jan. 6, 2023.
(Getty)
Aside from her conversation with Paltrow, Bieber hasn't really addressed the "nepo-babies" debate though the exchange was cited in the New Yorker story.
However, the 26-year-old model made a bold statement when she rocked a cropped white T-shirt emblazoned with the wording "Nepo Baby" while out in Los Angeles on Friday.
Later that day, Paltrow voiced her approval of Bieber's statement tee in the comments section of an InStyle Instagram post about the Rhode Beauty founder's look.
"I might need a few of these," she wrote.
Bieber's father Stephen has notably starred in movies, including "Born on the Fourth of July," "Posse," "8 Seconds," "Threesome" and "The Usual Suspects."
At the age of 9, Bieber appeared with her famous family in the 2005 documentary, "Livin It: Unusual Suspects."
HAILEY BIEBER TALKS BABIES WITH JUSTIN BIEBER, EVOLVING MARRIAGE AMID HEALTH STRUGGLES
Bieber, who is the wife of pop star Justin Bieber, has a successful career as a model, posing for many high-profile fashion labels, including Versace, Saint Laurent, Tommy Hilfiger, Guess and Ralph Lauren.
Eva Amurri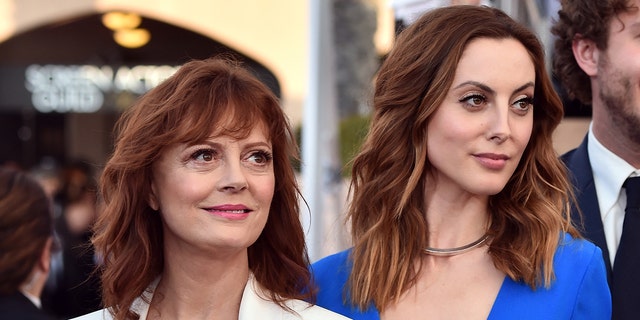 Eva Amurri, the daughter of actress Susan Sarandon and Italian film director Franco Amurri, recently took to social media to share her thoughts on being the child of famous parents.
( Alberto E. Rodriguez/Getty Images)
Eva Amurri, the daughter of actress Susan Sarandon and Italian film director Franco Amurri, recently took to social media to share her thoughts on being the child of famous parents.
Sarandon, 76, has enjoyed a successful decades-long career in Hollywood. She starred on a long list of hit films, including "Thelma & Louise," "The Rocky Horror Picture Show," "The Client," "Stepmom" and "A Bad Moms Christmas." Sarandon won the best actress Academy Award for her performance in the 1995 movie "Dead Man Walking." She is also the recipient of nine Golden Globes nominations.
Eva and Sarandon have appeared together in projects, including the movies "The Banger Sisters," "That's My Boy," and "Middle of Nowhere," as well as an episode of the TV show "Friends."
The two recently starred in the FOX series "Monarch," in which Eva played a younger version of her mother's character.
Franco, 64, has directed a number of movies, including "da Grande," the film that inspired Tom Hanks' 1988 hit "Big" as well as "Monkey Trouble" and "Flashback."
Amurri, 37, appeared in "Dead Man Walking" and has had roles in the movies "Saved!" "The Life Before Her Eyes" and "Mothers and Daughters." She also starred in nine episodes of Showtime's "Californication" in addition to other television credits.
EVA AMURRI MARTINO FIRES BACK AFTER BACKLASH FROM DAUGHTER'S MEXICAN-THEMED PARTY
On Wednesday, the lifestyle blogger shared a TikTok video in which she answered a fan who asked her if she grew up around other children whose parents were celebrities.
"I did grow up with a lot of other kids of celebrities because any time my parents would do a movie or a TV show or anything like that, there would be, of course, the other kids of those other actors and directors who would all be together," Eva said in the clip that she posted on Wednesday.
"You kind of spend these really surreal periods of time really closely intertwined with other people, whether that's other people's families or individuals," she noted.
@thehappilyeva #answer to @christinemarieb_128 All about celebrity families spending time together! #celebritykids #showbusiness #actress ♬ original sound – Eva Amurri 
"As an actress too, it happens where you're just spending all this quality time with a certain group and you become so, so close, almost like family," Eva added.
She continued, "And then one of the things that's really disorienting about the acting world is that when the project is done, a lot of times everyone goes their separate ways and you kind of just disappear back into real life."
CLICK HERE TO SIGN UP FOR THE ENTERTAINMENT NEWSLETTER
"And it can be really sad sometimes."
Eva said she bonded with other "nepo-babies" on set while her parents were filming movies. She recalled fond memories of celebrating holidays with other famous families if they took place during production.
"You spend that time together and then you always sort of have this thing in common," the New York native said.
"And then we kind of stayed close with some families over the years and then other ones, you know, not as much," she added.
"But it's always kind of a unique experience to grow up that way. And so I think there is a certain common thread that you feel with other people who grow up in this strange world."
CLICK HERE TO GET THE FOX NEWS APP