Kanye West made a surprise appearance on stage when he joined Travis Scott at his Utopia tour in Rome.
It's his first public performance since he caused controversy by posting a series of antisemitic remarks online.
Kanye, who's legally changed his name to Ye, performed two tracks with fellow US rapper Travis at the Circus Maximus stadium on Monday night.
Travis said his music had been inspired by Kanye, telling the crowd: "There is no Travis Scott without Kanye West."
Kanye was dropped by brands and banned from social media in October over a string of antisemitic posts.
He had accused rapper Diddy of being controlled by Jewish people on Instagram, appearing to reference an antisemitic conspiracy theory that a secret cabal of Jewish people is trying to control governments, banks and the media.
Kanye then tweeted he would go "death con 3 Oon Jewish people", getting him banned there too.
Brands like Adidas also sought to distance themselves from him – although last week they revealed they had made millions selling his Yeezy trainers.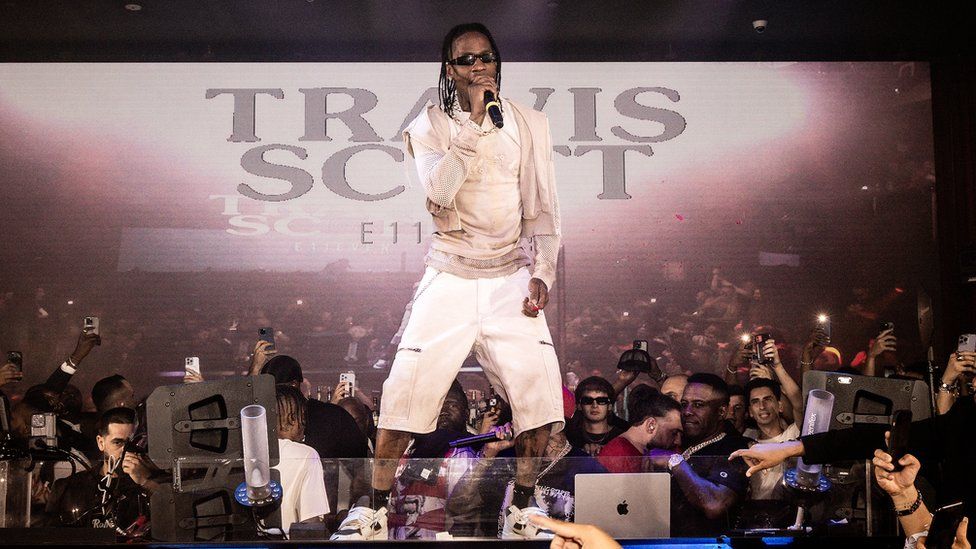 Image source, Getty ImagesImage caption, Travis Scott's new album Utopia has recently topped the charts
Kanye has previously spoken about being diagnosed with bipolar disorder and his mental health struggles.
His account was re-instated on X, formerly known as Twitter, last week – but he hasn't posted yet.
Monday's performance with Travis – whose new album Utopia has just topped the charts – marked Kanye's first performance since the controversy.
In footage shared from the concert on social media, Travis told the 60,000 fans: "It's been a long journey before we could get here.
"There is no Utopia without Kanye West. There is no Travis Scott without Kanye West. There is no Rome without Kanye West. Make some noise for Ye."
Kanye West – timeline of a downfall
'Why we have to talk about Kanye West'
Travis Scott in chart Utopia with first number one
The pair performed Kanye's songs Praise God and Can't Tell Me Nothing together.
The concert followed a last-minute cancellation of Travis' planned live show in front of the pyramids in Egypt.
Egyptian authorities said they had safety concerns about the concert following the death of 10 fans in a crowd surge at his 2021 Astroworld gig in Houston in the United States.
Travis has insisted that will still go ahead, promising to share a new date soon.


Follow Newsbeat on Twitter and YouTube.
Listen to Newsbeat live at 12:45 and 17:45 weekdays – or listen back here.