The search for actor Julian Sands continued Monday on Mt. Baldy in California, according to the San Bernardino County Sheriff's Department.
Sands and another hiker were reported missing nearly two weeks ago after failing to return to his vehicle after hiking in the San Gabriel Mountains, roughly one hour outside of Los Angeles.
"As we enter day 11 of the search for Julian Sands on Mt. Baldy, we are reminded of the sheer determination & selflessness of all of the people who have aided in this search," authorities said in a release.
Julian's family also praised the ongoing, interagency search and rescue efforts, which have included both ground and air crews.
ACTOR JULIAN SANDS IDENTIFIED AS MISSING HIKER IN CALIFORNIA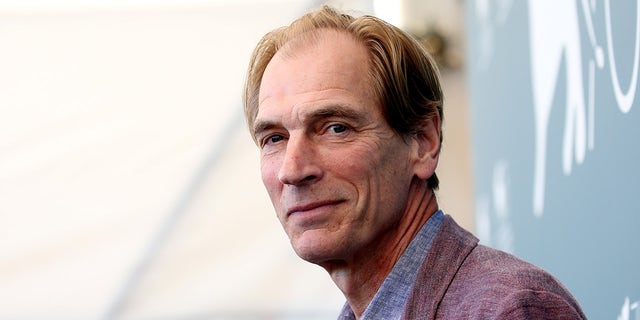 Rescue efforts are still underway for British actor Julian Sands as crews enter the 11th day of search.
(Franco Origlia / File)
"Our heartfelt thanks to the compassionate members of the San Bernardino County Sheriff's Department who are coordinating the search for our beloved Julian, not least the heroic search teams listed below who are braving difficult conditions on the ground and in the air to bring Julian home," Julian's family wrote.
JULIAN SANDS SEARCH CONTINUES, 'AIR CREW' DEPLOYED TO FIND ACTOR MISSING IN CALIFORNIA MOUNTAINS
"We are deeply touched by the outpouring of love and support."
Mt. Baldy Resort was closed Monday due to "high winds" with a forecast showing "winds subsiding by the end of the day." A high wind advisory with gusts of up to 40 mph had been in effect the day before.
CLICK HERE TO SIGN UP FOR THE ENTERTAINMENT NEWSLETTER
Sands, 65, and the other hiker were reported missing on Jan. 13 at around 7:30 p.m. in the Mount Baldy area.
Ground crews searched for Sands on Saturday near the Baldy Bowl, but they were forced to call off the search due to avalanche risk and worsening weather conditions.
"However, we did continue efforts by helicopter and by drone as the weather permitted," authorities confirmed to Fox News Digital.
Julian Sands was reported missing on Jan. 13.
(Piraccini / Mondadori Portfolio via Getty Images / File)
"We will schedule another ground search when the weather improves and when it is safe for the conditions of our ground crew."
They added, "We recommend that other hikers do not go into that area as even experienced hikers are having a hard time."
Sands is known for his roles in "The Killing Fields," "A Room With A View," "Leaving Las Vegas" and "Warlock."
He has also appeared in "Ocean's 13," "The Girl With the Dragon Tattoo," "Arachnophobia," "Boxing Helena" and "Medallion."
CLICK HERE TO GET THE FOX NEWS APP