Jessie James Decker said she was "confused" by people's criticism over her children's abs, but wasn't "upset" after she shared a photo from their family vacation.
Decker, 34, opened up about the controversial moment during a recent interview. The former "Dancing with the Stars" contestant made waves on social media in November after she shared an image of her daughter and two sons in swimsuits.
"You know what's really funny is there are times where I will post something on Instagram and I will be like, 'That may cause this but whatever' or 'That may be taken in a funny way, I don't care.' I literally posted that and didn't even think twice," Decker told US Weekly.
"So hours go by and all of a sudden I'm like, 'Wait, what?' Like, I couldn't believe the reaction. I was so confused, but there was never one moment where it upset me."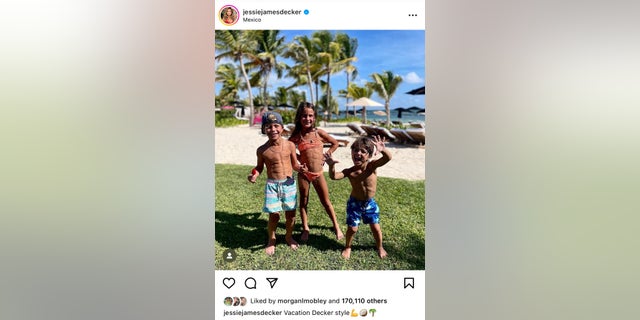 Jessie James Decker responded to critics in the comments of an Instagram post showing her kids in bathing suits.
(Instagram: Jessie James Decker)
JESSIE JAMES DECKER FIRES BACK AFTER BEING ACCUSED OF PHOTOSHOPPING ABS ONTO HER KIDS
After Decker posted the vacation snap, some took to the comments to accuse her of photoshopping abs onto her three kids.
"I think if anything I was like, 'This is so wild.' My kids are athletic, they are outside and genetics have a big play. Like, my siblings had six packs when we were kids and so did Eric and his sister," she explained to the outlet. "They were just genetics, and my kids are extremely active, and I'm not gonna apologize for it. There are a lot of times where I'm not gonna speak up about things, but they're my kids, and I'm a mama bear."
She continued: "And for me, it was ridiculous. I'm proud of them, and they're very active, and they have their passions with sports and performing and, like, let's encourage that."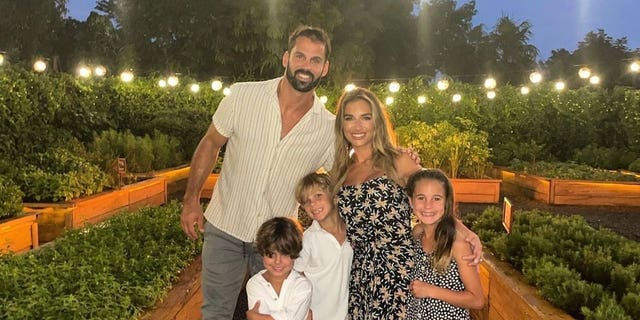 Jessie James Decker shared photos from the family's vacation in November.
(Instagram: Jessie James Decker)
The "Should Have Known Better" singer added that her daughter Vivianne is focused on gymnastics.
"She's incredible, and I'm very proud of her. She's 8 years old, and what are we gonna do? We're gonna start calling out children who are active athletes?" the mom of three questioned.
"She may go to the Olympics one day, and we're already gonna start body criticizing a little girl because she's physically elite and fit? How about we encourage and lift up that she works so hard at something she loves so much and has a dream?"
 

 
 

 
 
View this post on Instagram
 

 
 
 

 
 

 
 
 

 
 
Decker previously defended her children in the comments of her original social media post.
"that doesn't look right.. sorry, not sorry," one user wrote.
"it's a sad world we live in today when having healthy fit kids who are super active play sports are build [sic] muscle naturally is 'weird,'" Decker responded.
"Surely this is an app but I don't see anyone saying as much," another user commented.
"yeah I used an 'ab' app on my small children wtf," Decker wrote in response.
JESSIE JAMES DECKER AND HUSBAND ERIC STRIP DOWN AND SHOW SOME PDA IN SEXY NEW AD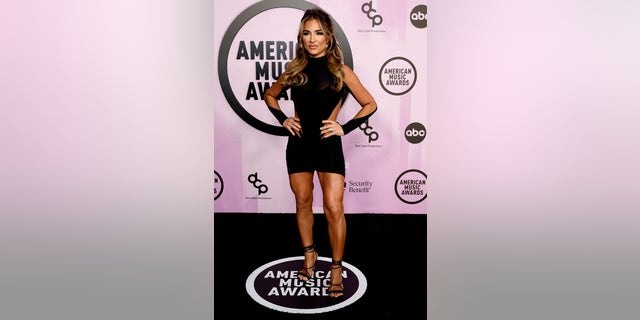 Jessie James Decker told Fox News Digital that the criticism didn't bother her. 
(Frazer Harrison via Getty Images)
The musician married Eric Decker in 2013 while the football star was playing for the Denver Broncos. The couple share three kids together: Vivianne Rose and sons Eric "Bubby" Thomas II and Forrest Bradley.
The "I Still Love You" singer explained that her kids "eat well and do sports" to maintain their muscle.
"We do a lot of home cooking. The kids love their steak and chicken," she responded to one user.
CLICK HERE TO SIGN UP FOR THE ENTERTAINMENT NEWSLETTER
Decker previously told Fox News Digital that criticism "doesn't bother" her.
"I don't know that I ever think too deep into it. It comes with the territory. But I feel like I know what a great mom I am, and I know my truth," she said. "So, it doesn't bother me."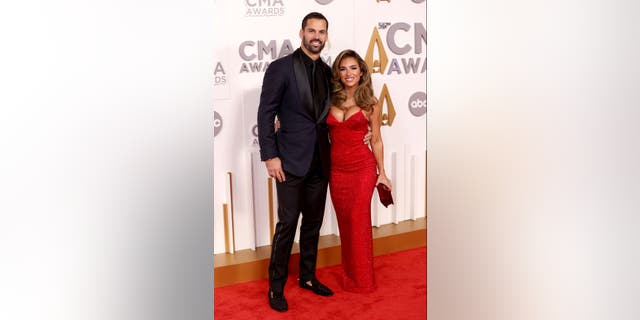 Eric Decker and Jessie James Decker were married in 2013 and have three children together.
(Sara Kauss/FilmMagic)
CLICK HERE TO GET THE FOX NEWS APP