A federal judge blocked more portions of New Jersey's new gun control law on Monday, just three weeks after she blocked other parts of the law that she determined contain "considerable constitutional problems."
The new temporary restraining order from U.S. District Court Judge Renee Marie Bumb, a George W. Bush appointee, lifts the restriction on permitted gun owners from carrying concealed weapons in public parks, on beaches and in casinos. In a previous order, Bumb blocked parts of the law that prohibit guns from being carried in "sensitive locations," including public libraries, museums, entertainment venues like stadiums, arenas and amusement parks, bars, restaurants where alcohol is served, public parks, beaches, playgrounds, and airports and public transportation hubs.
Bumb had also blocked the state from enforcing its ban on carrying firearms on private property without the "express consent" of the owner or signage indicating that firearms are allowed, as well as restrictions on carrying guns in a vehicle.
The previous order remains in effect.
JUDGE ISSUES TEMPORARY RESTRAINING ORDER AGAINST NEW JERSEY GUN CONTROL LAW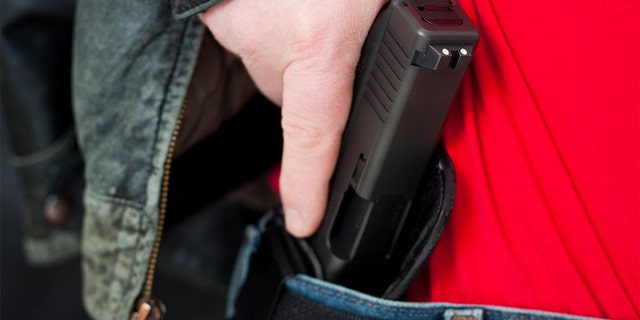 A concealed-carry permit holder. 
(iStock)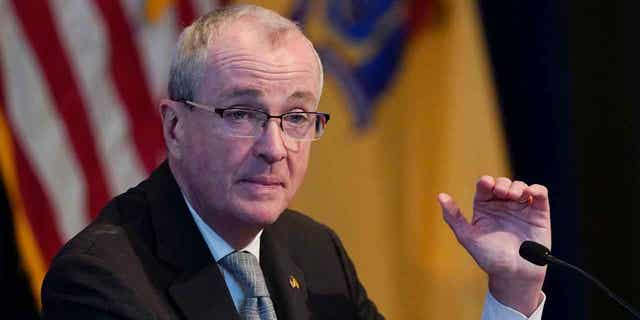 New Jersey Gov. Phil Murphy. 
(AP Photo/Seth Wenig, File)
FLORIDA BILL COULD HAND GUN OWNERS HUGE WIN, MAKE THE US A CONSTITUTIONAL CARRY-MAJORITY COUNTRY
New Jersey's gun control law is one of several efforts by Democratic governors to tighten restrictions on concealed-carry permit holders after the U.S. Supreme Court struck down a longstanding New York law that required applicants to show "proper cause" to obtain a concealed-carry license last summer. The court's decision in New York State Rifle & Pistol Association, Inc. v. Bruen dramatically expanded gun rights, effectively forcing states with so-called "may issue" concealed-carry permit regimes to switch to "shall issue."
The response from Democratic lawmakers in New Jersey, as in other states like New York, was to pass legislation barring concealed-carry permit holders from carrying their weapons in "sensitive locations." Gun rights groups have argued in court that these lists of "sensitive locations" where guns are banned is so exhaustive that it "essentially renders the entire State of New Jersey a 'sensitive place' where firearms are prohibited."
VA HOUSE REPUBLICANS VOTE DOWN GUN CONTROL MEASURES AFTER RECENT SHOOTINGS ON SCHOOL CAMPUSES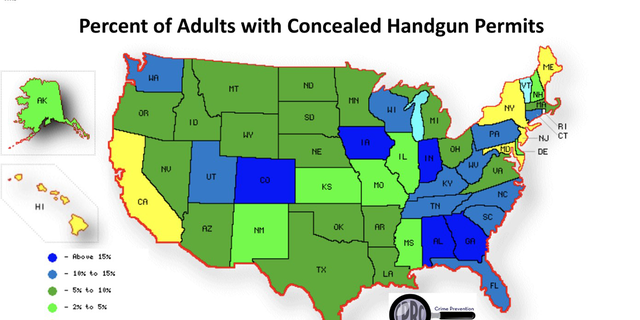 Map created by the Crime Prevention Research Center shows percentages of adults in each state with concealed handgun permits. 
(Crime Prevention Research Center)
The New York law is also the subject of ongoing litigation.
"This marks the beginning of the end for Governor Murphy's blatantly unconstitutional new carry law, which is going down in flames," Scott Bach, executive director of the Association of New Jersey Rifle & Pistol Clubs, wrote in a statement. "Murphy has clearly demonstrated that constitutional issues are indeed above his pay grade."
In a 46-page opinion, Bumb cited Bruen and said that New Jersey had failed to supply sufficient evidence that some of the "sensitive places" where firearms are banned are rooted in "a historical tradition of firearm regulation," which is the legal standard established by the Supreme Court.
CLICK HERE TO GET THE FOX NEWS APP
However, the judge did side with the state on the matter of playgrounds, which she said "fall within the sphere of schools" as a historically recognized gun-free zone that is "simply obvious, undisputed, and uncontroversial."
Democratic Gov. Phil Murphy has called the restrictions "common sense" and is working alongside New Jersey Attorney General Matthew Platkin to have the law reinstated in full.