close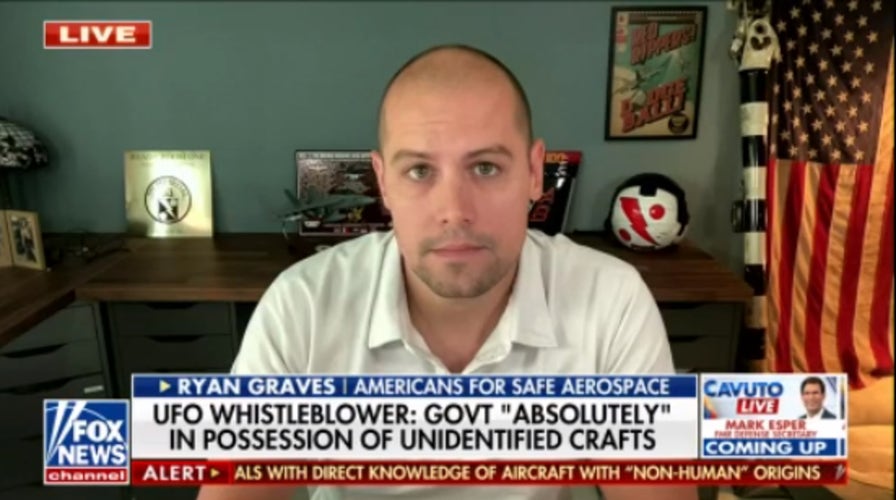 Video
Navy pilots would see UFOs on a 'regular basis': Ryan Graves
Former Navy pilot and Americans for Safe Aeropace co-founder Ryan Graves joins 'Cavuto: Live' to discuss UFO whistleblowers' claim that there were 'non-human' biologics found at crash sites.
What were alleged to be 1,000-year-old "non-human alien corpses" were presented in glass display cases before the Mexican Congress Tuesday during its first hearing on UFOs.
"They are non-human beings that are not part of our terrestrial evolution," Mexican journalist and ufologist Jaime Maussan testified under oath.
As two small, mummified specimens – seen with three fingers on each hand – were unveiled, Maussan said researchers at the Autonomous National University of Mexico have conducted Carbon 14 analysis that determined the corpses are around 1,000 years old.
He claimed the purported bodies were found fossilized in mines in Cusco, Peru, in a layer of diatomaceous earth, or ancient phytoplankton algae.
HARVARD PHYSICIST AVI LOEB FENDS OFF ATTACKS FROM CRITICS AFTER STUDY REVEALS POSSIBLE 'INTERSTELLAR' LIFE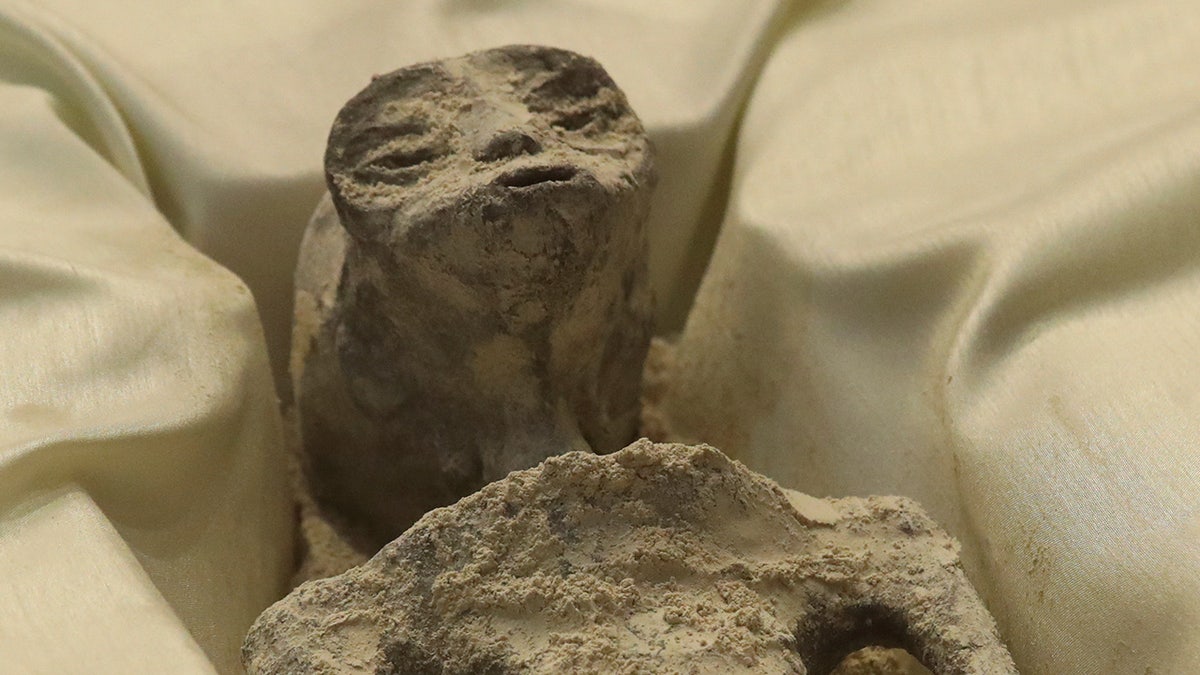 Remains of an allegedly "non-human" being is seen on display during a briefing on unidentified flying objects at the San Lazaro Legislative Palace in Mexico City Sept. 12, 2023. (REUTERS/Henry Romero)
"These aren't beings that were found after a UFO wreckage. They were found in diatom mines, and were later fossilized," he said, later adding, "Whether they are aliens or not, we don't know, but they were intelligent, and they lived with us. They should rewrite history.… We are not alone in this vast universe, we should embrace this reality."
Through testing, Maussan claimed, Mexican scientists determined more than 30% of the specimens' DNA was "unknown." One specimen allegedly was discovered to have what appeared to be eggs or ovaries inside, while another had implants of rare metals, such as Osmium.
The Independent noted that Maussan, an investigative journalist who has been researching extraterrestrial phenomenon for decades, has been connected to previous claims of debunked alien discoveries, including five mummies discovered in Peru in 2017 later determined to be remains of human children.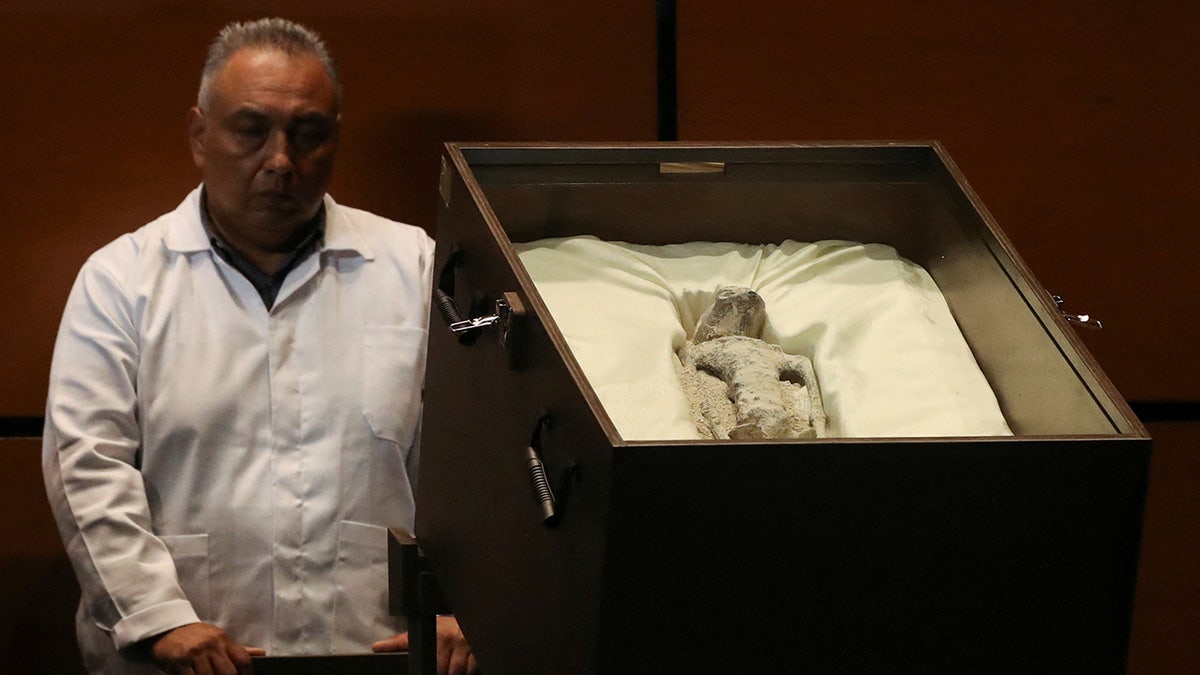 An alleged alien corpse displayed during a briefing on UFOs at the San Lazaro Legislative Palace in Mexico City Sept. 12, 2023. (REUTERS/Henry Romero)
Also present at the Mexican congressional hearing Tuesday was Ryan Graves, founder of Americans for Safe Aerospace and a former F-18 pilot with over a decade of service in the U.S. Navy. Graves was one of three American veterans turned UFO whisteblowers who testified before a U.S. House Oversight subcommittee in July, arguing UFOs posed national security risks.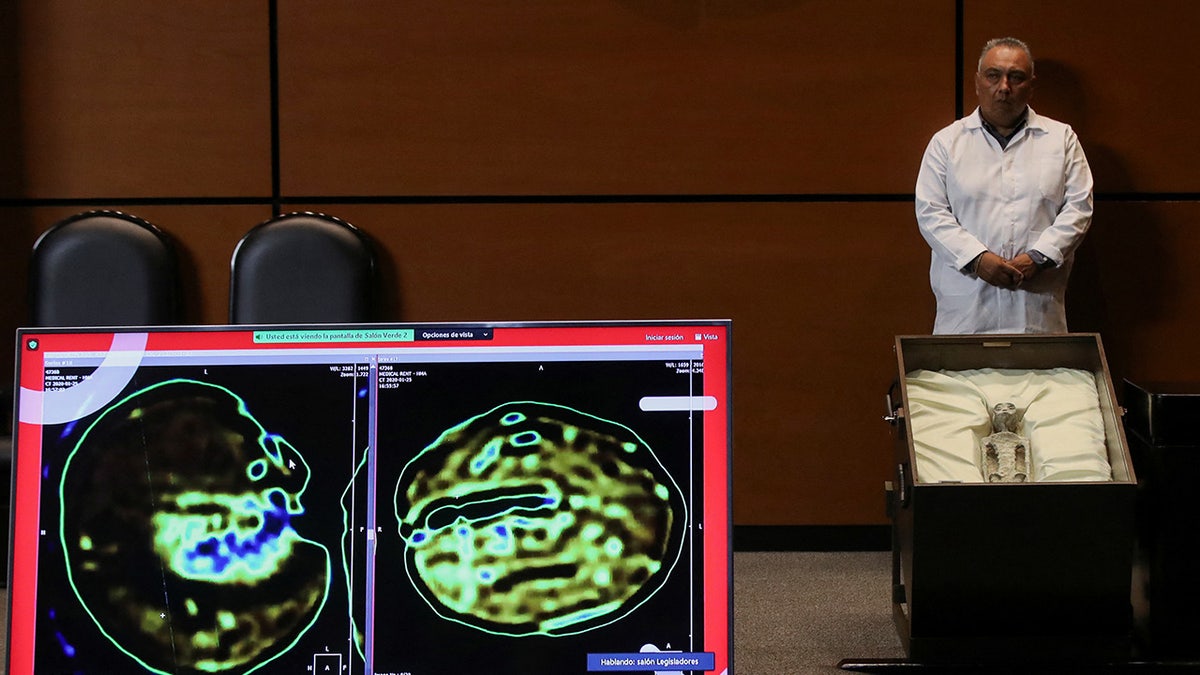 A Mexican journalist testified that "non-human" beings were found in Peru mines. (REUTERS/Henry Romero)
"It is arrogant to think that we are alone in the universe, probably the existence of these beings predates the human presence on Earth," Harvard University astrophysicist Avi Loeb said during the Mexican congressional hearing Wednesday, appearing via video conference, according to Mexican newspaper El País.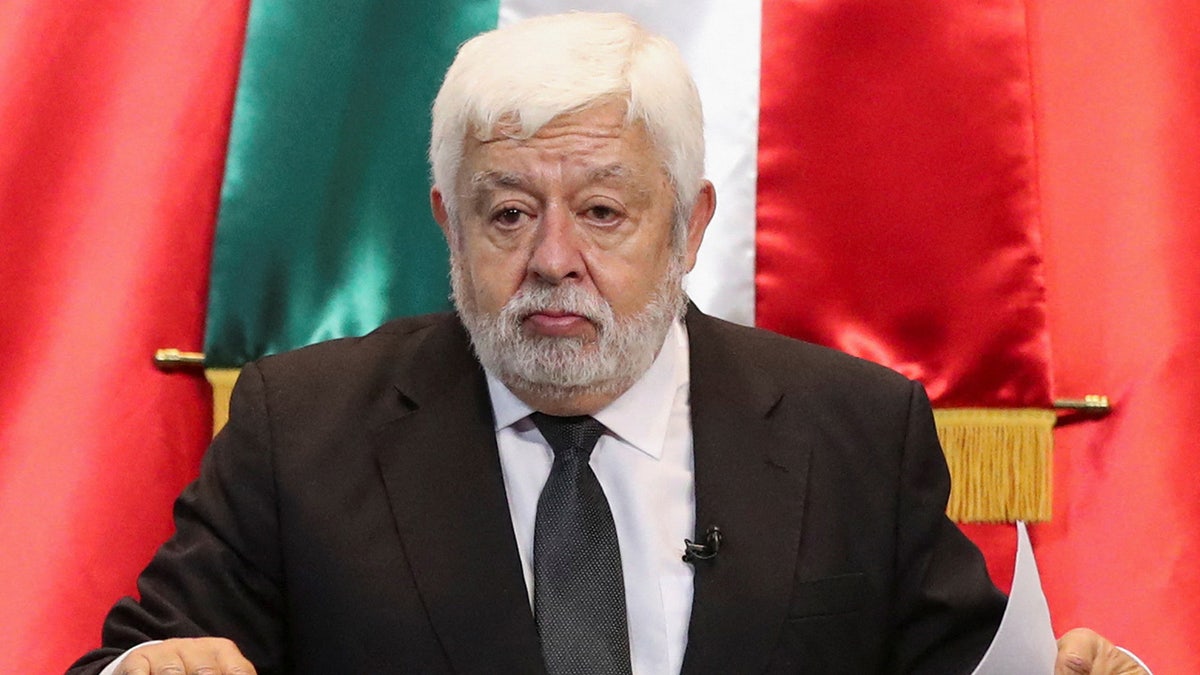 Journalist and UFO researcher Jaime Maussan speaks during a briefing on unidentified flying objects at the San Lazaro Legislative Palace in Mexico City Sept. 12, 2023. (REUTERS/Henry Romero)
Another witness testified under oath about four unexplained experiences involving unidentified flying objects. In one alleged incident in 1975, a group of 13 aircraft were flying together in formation when one was intercepted by an unidentified flying object, forcing the plane to change route and land.
UFO WHISTLEBLOWER UNHAPPY WITH CHRISTIE RESPONSE TO DEBATE QUESTION: 'AMERICANS DESERVE ANSWERS…NOT JOKES'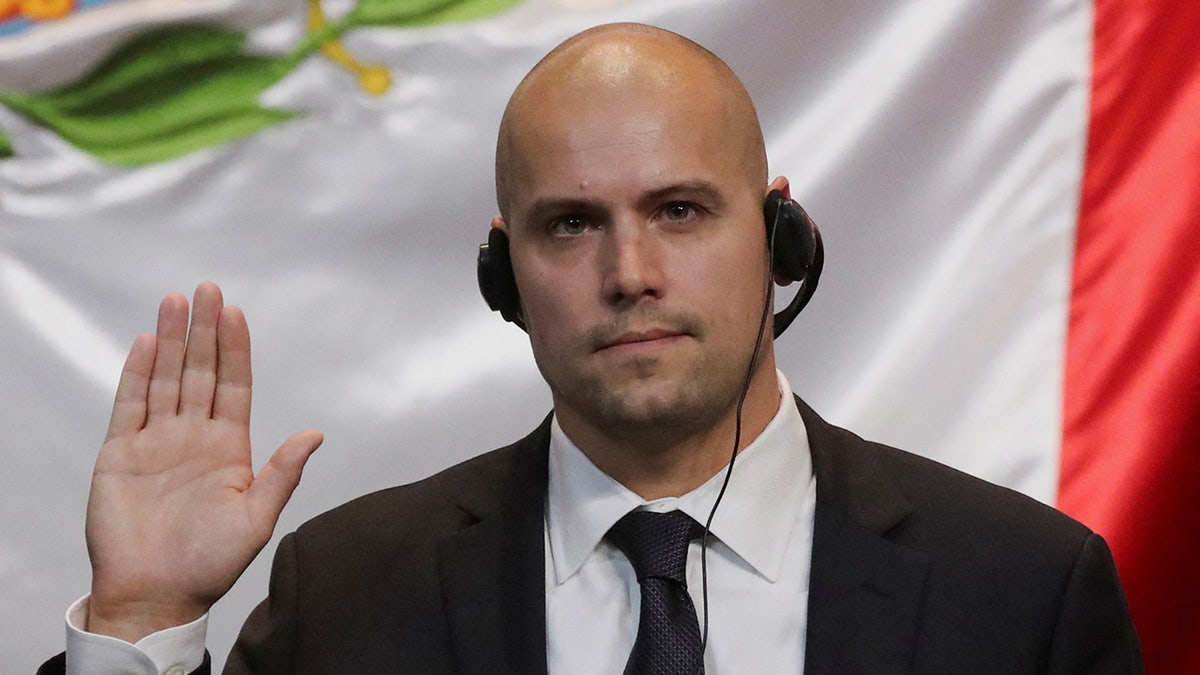 Executive Director of Americans for Safe Aerospace Ryan Graves seen at a congressional UFO briefing in Mexico City Sept. 12, 2023. (REUTERS/Henry Romero)
Enrique Kolbeck Vergara, a pilot and Mexican air traffic controller with 48 years of experience, testified at the hearing, according to El País, that in July 1994, an Aeroméxico plane that departed from Guadalajara allegedly was intercepted by an unidentified flying object over Mexico City. This resulted in several control tower calls over a 30-minute timeframe expressing concern the phenomenon would result in the plane crashing into the ground on Insurgentes Avenue, he said.
In another incident in 2002, a pilot in Morelia delayed taking off from the runway before expressing concern to the control tower that in doing so, his plane nearly collided with 15 to 20 unexplained objects with a metallic appearance about 20 meters in diameter that were rising and falling slowly.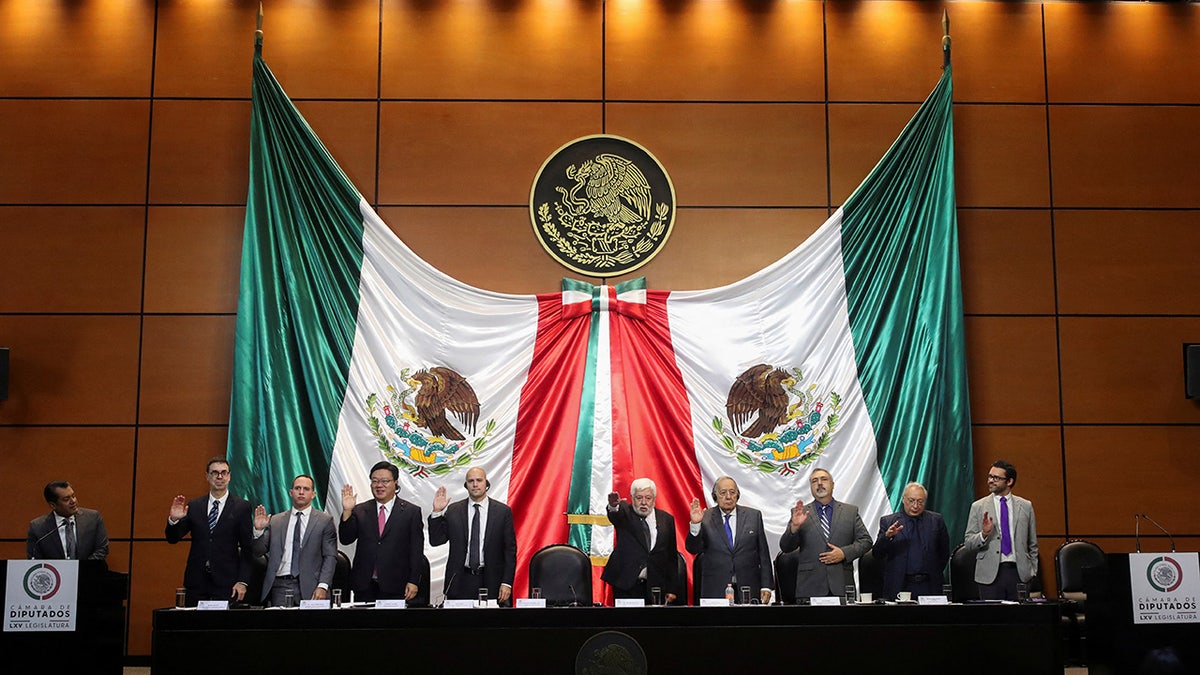 Mexican Congressman Sergio Gutierrez, Executive Director of Americans for Safe Aerospace Ryan Graves, journalist and UFO researcher Jaime Maussan, and Mexican and international experts attend a briefing on UFOs in Mexico City. (REUTERS/Henry Romero)
The fourth alleged incident, as relayed by Vergara, involved a Mexican Air Force patrol using high-tech radar and heat detection equipment to attempt to uncover clandestine drug trafficking routes, and instead spotted a flying object that passed through the Gulf, intercepted the plane, surrounded it and abandoned it, during an operation that spanned just 30 minutes.
CLICK HERE TO GET THE FOX NEWS APP
"These are not myths or legends, phenomena like this are compromising the safety of the airspace, with much superior and different technologies," he said. "They are ships that apparently are driven with the will of determined navigation, that maneuver and handle differently from what is known, that appear and disappear, and that are violating the laws and regulations."
Danielle Wallace is a reporter for Fox News Digital covering politics, crime, police and more. Story tips can be sent to [email protected] and on Twitter: @danimwallace.