close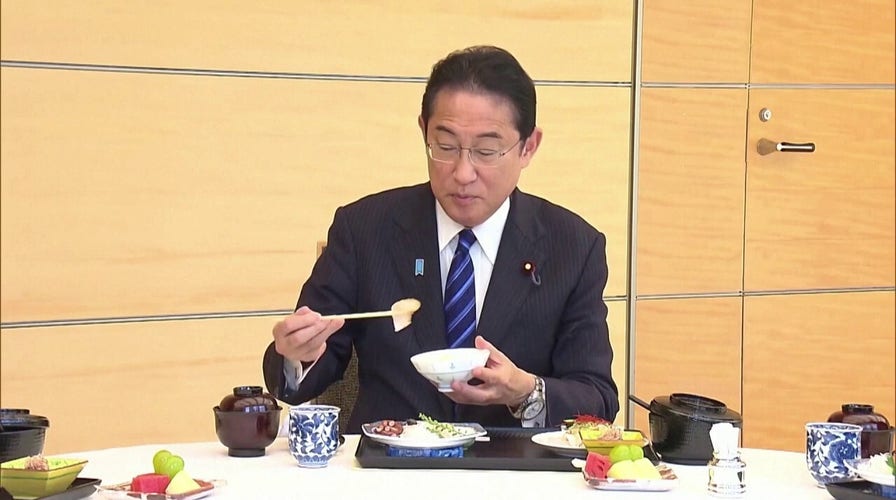 Video
Japanese prime minister tastes fish to prove safety after radioactive plant dump
Japan's Prime Minister Fumio Kishida visited a fishmonger from Fukushima after attending a lunch meeting during which he consumed fish and rice sourced from the region, to demonstrate the safety of the food. (Source: Japan Pool/Reuters)
Japanese Prime Minister Fumio Kishida and three of his cabinet ministers ate seafood sourced from the waters off the coast of Fukushima, where the country released treated radioactive wastewater from its power plants, in hopes of dismissing concerns about the quality and safety of the food.
"It is important to show safety based on scientific evidence and resolutely disseminate (the information) in and outside of Japan," Economy and Industry Minister Yasutoshi Nishimura told reporters.
The ministers held a lunch meeting, during which they ate sashimi prepared with flounder, octopus and sea bass with rice harvested from Fukushima in an effort to dispel health concerns and to "inform people both at home and abroad" about the safety of consuming the food.
Nishimura oversaw and consulted with experts on the plan to release the wastewater into the nearby sea. He stressed that the lunch displayed a "strong commitment to take the leadership in tackling reputational damage while standing by the feeling of the fisheries community in Fukushima."
JAPAN SEES SIGNS OF TURNING POINT IN DECADES-LONG BATTLE WITH DEFLATION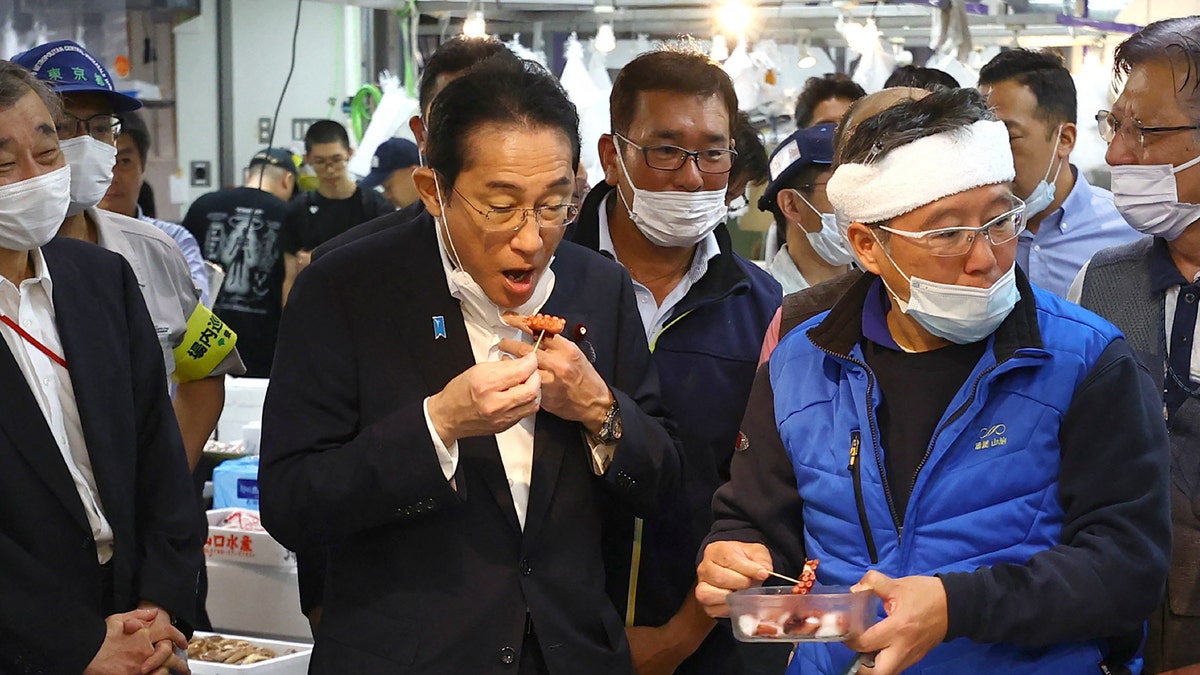 Japan's Prime Minister Fumio Kishida (C) tastes seafood caught off the coast of Joban during his inspection of the Toyosu Market in Koto Ward, Tokyo, on August 31, 2023.   (Japan Pool/JIJI Press/AFP via Getty Images)
Officials plan to visit markets around the region over the coming week to help promote the safety of consuming the fish caught near Fukushima and restore confidence. Kishida on Thursday ate octopus caught by a Fukushima fishmonger who was selling in Tokyo as reporters watched.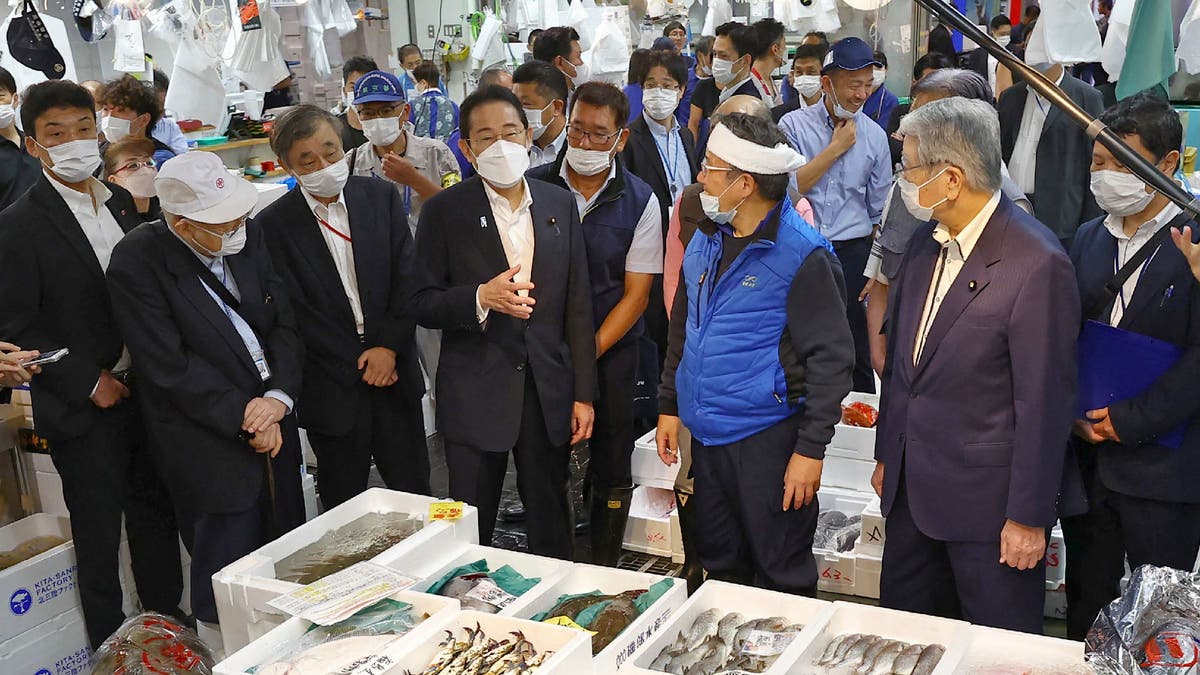 Japan's Prime Minister Fumio Kishida (C) inspects a store of an intermediate wholesaler handling marine products caught off the coast of Joban at the Toyosu Market in Koto Ward, Tokyo, on Aug. 31, 2023. (Japan Pool/JIJI Press/AFP via Getty Images)
The Fukushima nuclear power plant famously malfunctioned in 2011 after an earthquake and tsunami damaged the emergency generators and caused three nuclear meltdowns and forced over 160,000 people to flee their homes. Over 18,000 people died.
NORTH KOREA FIRES 2 BALLISTIC MISSILES INTO SEA AMID US, SOUTH KOREA MILITARY EXERCISES
The water from the plant has accumulated since the disaster and sat in 1,000 tanks with a capacity of 1.34 million tons. The plant now must release the water in order to free up space for additional facilities to improve the plant's cleanup and decommissioning, which will take decades.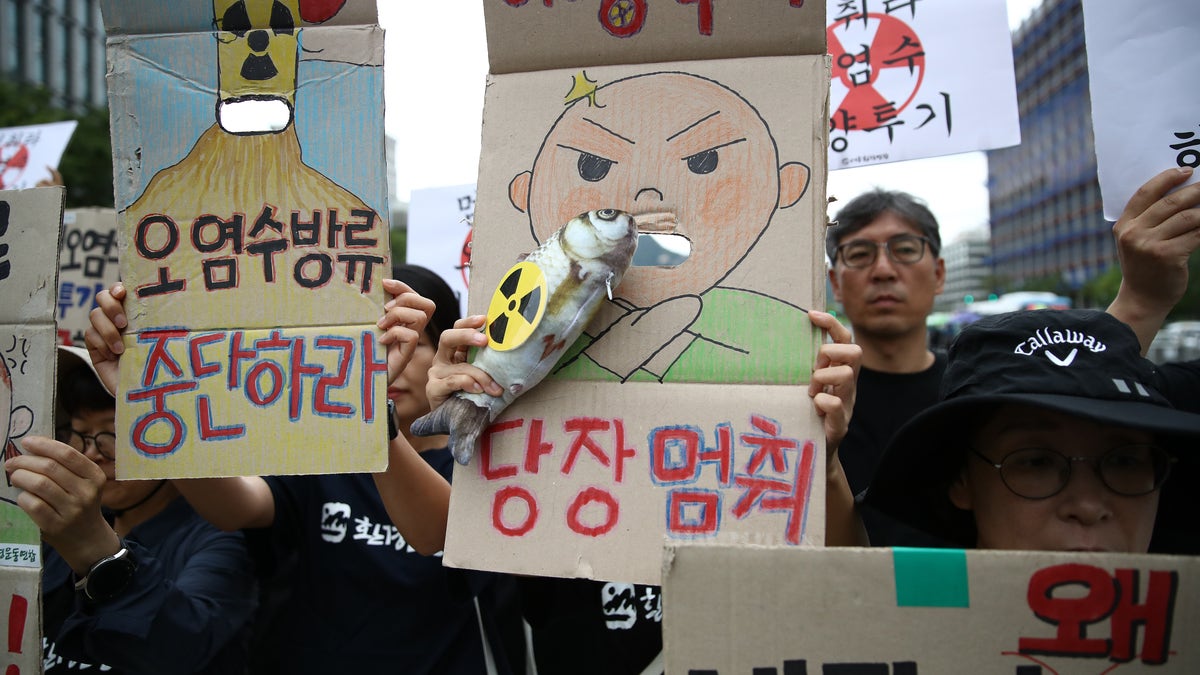 South Korean protesters participate in a rally against the Japanese government's decision to release treated radioactive water into the Pacific Ocean, on August 24, 2023, in Seoul, South Korea. (Chung Sung-Jun/Getty Images)
Workers treated and diluted the wastewater with seawater and tested before its release, but local residents and fishermen have raised concerns about the impact the waste will have. Fishing groups worry that the release will make it hard to sell their product in other markets.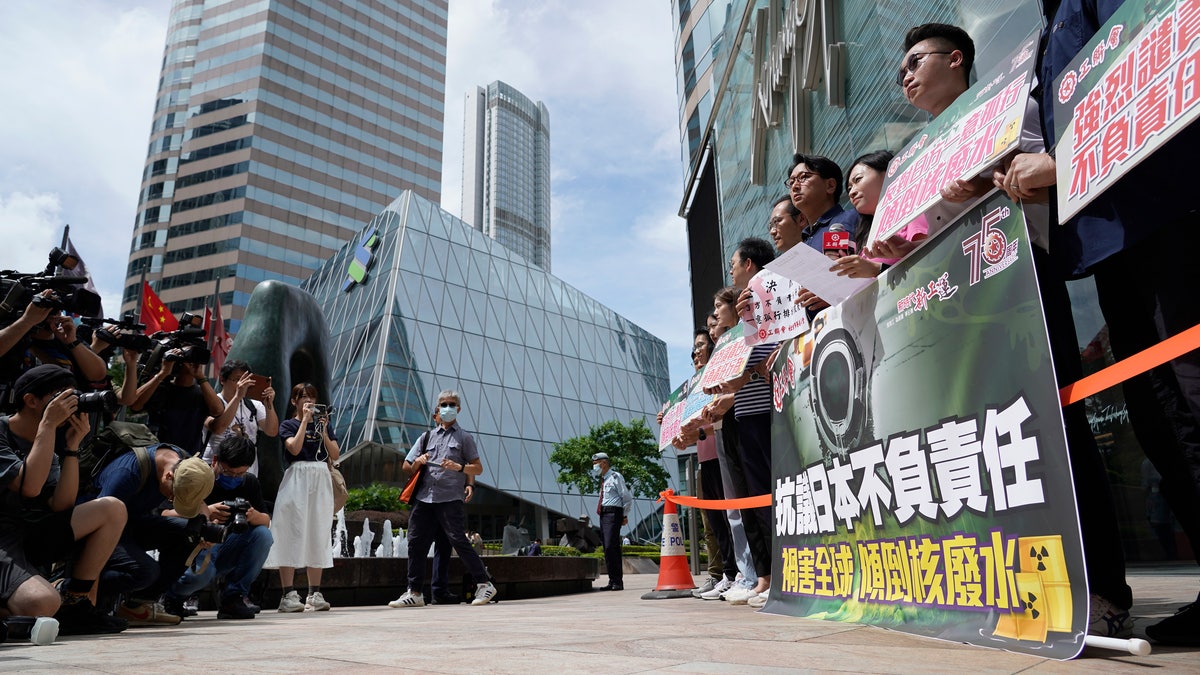 Members of the Hong Kong Federation of Trade Unions gather outside the Japanese consulate during a protest against Japan's plan to release nuclear-contaminated wastewater from the Fukushima nuclear power plant into the ocean on August 22, 2023, in Hong Kong, China. (Hou Yu/China News Service/VCG via Getty Images)
The issue has also stirred up anger in China and South Korea: Beijing immediately banned all Japanese seafood imports after learning about the wastewater release, and South Koreans have condemned the plan.
FAREWELL FILM OF JAPANESE COMPOSER RYUICHI SAKAMOTO, WHO DIED FROM CANCER, TO PREMIERE AT VENICE FILM FESTIVAL
Chinese residents have also started harassing Japanese citizens over the wastewater plan, forcing Japan's Foreign Ministry to issue a travel advisory warning Japanese citizens abroad to use extra caution.
Some protests in China have turned violent, such as when demonstrators threw stones at the Japanese embassy, consulates and schools across China.
CLICK HERE FOR THE FOX NEWS APP
Japan's Chief Cabinet Secretary, Hirokazu Matsuno, called the Chinese protests "extremely regrettable" and indicated he may raise the issue with the World Trade Organization, saying, "Japan will consider various options while continuing to work within the WTO framework to decide necessary steps."
Reuters and The Associated Press contributed to this report.
Peter Aitken is a Fox News Digital reporter with a focus on national and global news.