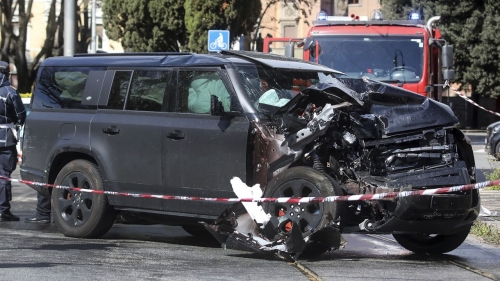 The damaged car of Lazio soccer player Ciro Immobile after crashing in Rome on Sunday.
Roberto Monaldo/LaPresse/AP

CNN
—
Italian striker and Lazio captain Ciro Immobile was hospitalized with back and rib injuries following a car accident in Rome on Sunday, according to the Italian Serie A club. Rome's mobility commissioner, Eugenio Patane said a tram was involved in the crash.
"Following a road accident, the footballer Ciro Immobile suffered a distortion trauma of the spine and a compound fracture of the right 11th rib," Lazio announced in a statement.
"His condition is currently good. The footballer remains under observation in the emergency medicine department directed by Professor Francesco Franceschi of the Agostino Gemelli University Hospital in Rome."
Responding to news of the accident, Immobile re-posted a message from his lawyer Erdis Doraci on Instagram Stories which read: "The thoughts of my client Ciro Immobile, shaken by what happened today, go to his two daughters; and to the tram driver to whom he wishes a speedy recovery.
"He is relieved that no one has sustained serious injuries, aware in this difficult moment that he acted correctly, trusts fully in the authorities who are carrying out the investigation," Doraci added.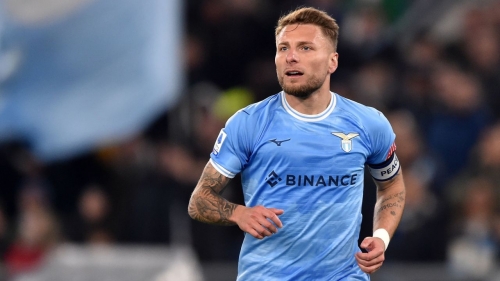 Immobile is Lazio captain and scored in the club's recent win against Spezia.
Giuseppe Bellini/Getty Images
In a statement to CNN on Monday, Patane said, "There will be time to understand the dynamics of the accident: witness testimonies have been acquired by the Municipal Police, in particular from a witness who was stopped at the red light and who saw the dynamic.
"The impact was very strong: the car hit the tram which veered off the tracks. The tram weighs 18 tons and at that point the tram car, which weighs six tons, came off the track. At this moment, however, I don't feel like assigning responsibility to one or the other, the Municipal Police must ascertain it, perhaps with videos," Patane added.
Immobile scored in Lazio's 3-0 Serie A win at Spezia on Friday. Later on Sunday, the club tweeted a video tribute to the 33-year-old with the message "Always with you Captain."
Immobile is a prolific striker and was part of the Italian team which won the European Championship in July 2021.