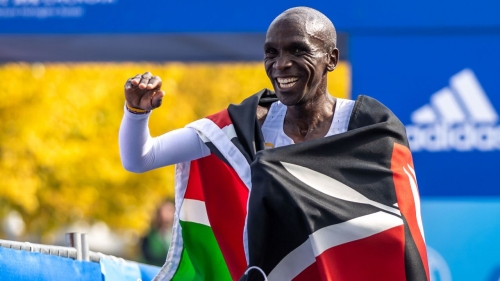 Eliud Kipchoge celebrates his world record at last year's Berlin Marathon.
Andreas Gora/picture alliance/Getty Images

CNN
—
Eliud Kipchoge can further his status as one of – if not the – greatest distance runners of all time when he makes his Boston Marathon debut on Monday.
The two-time Olympic gold medalist and marathon world record holder has won titles in Berlin, London, Tokyo and Chicago – four of the world's six marathon majors – and is the favorite in the elite men's race in Boston.
This year marks the 127th running of the Boston Marathon and the 10-year anniversary of the double bombings that took place near the finish line, killing three people and injuring at least 264.
It means this year's elite races, boasting some of the strongest fields ever seen at a major marathon, promise to carry added emotion.
READ: Portrait of terror – The iconic photo that captured the fear of a resilient city after the 2013 Boston Marathon bombing
Ethiopian Lelisa Desisa, who won the men's race that year and donated his medal to the city, returns to Boston, while two other previous champions – Kenyans Evans Chebet and Benson Kipruto – will be looking to challenge compatriot Kipchoge for the title.
But few would expect Kipchoge, beaten only twice in his career over the 26.2 miles of the marathon, to be defeated in Boston this year.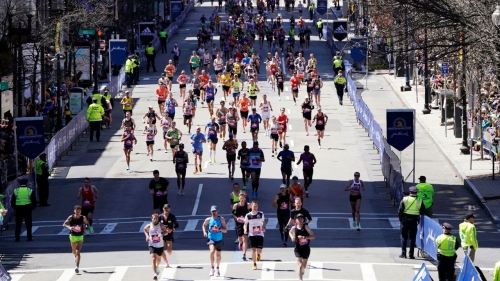 Runners approach the finish line of last year's Boston Marathon.
Charles Krupa/AP
Starting in Hopkinton and finishing in Copley Square, the Boston Marathon is a point-to-point course, meaning it is not eligible for a world record – although the hills and windy conditions often lead to slower times than at other major marathons.
Kipchoge's world record of 2:01:09, set at last year's Berlin Marathon, will therefore likely remain untouched, but Geoffrey Mutai's course record of 2:03:02 from 2011 is a target for the 38-year-old.
Ahead of this year's race, Kipchoge says he has been running on a hilly course near his training base in the Kenyan village of Kaptagat, specifically designed to replicate the undulations of the challenging Boston course.
"This is the right time to train on the course which we have nicknamed 'Boston' here in Kenya," he told Daily Nation. "It's an uphill and tough course over 40 kilometers."
As well as owning the official world record, Kipchoge is also the first person to break the two-hour barrier in the marathon. In 2019, he ran 1:59:40 in Vienna, Austria, as part of a challenge specifically engineered to optimize performance over the marathon distance.
The women's elite race will be headlined by three former Boston winners: home favorite Des Linden, veteran Kenyan Edna Kiplagat and Ethiopia's 2016 champion Atsede Bayisa.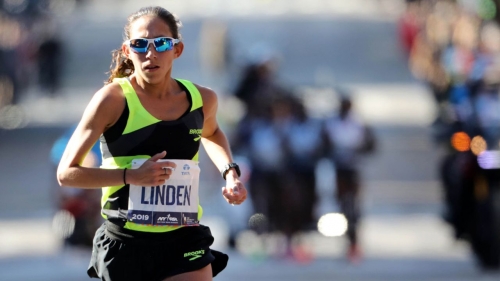 Des Linden competes at the 2019 New York City Marathon.
Kevin Wexler/USA Today/Reuters
Last year's world championship medalists Gotytom Gebreslase, also from Ethiopia, and Lonah Salpeter from Israel form part of the star-studded field, while Kenya's two-time Olympic medalist Hellen Obiri will be competing in her second ever marathon after placing sixth in New York in November.
Among the American women in the elite field, Sara Hall, competing in Boston for the second time, owns the fastest time of 2:20:32.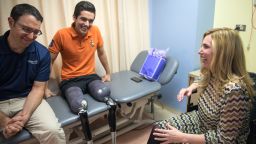 In this Monday, Feb. 13, 2017 photo, Heather Abbott, right, prosthetist David Rotter, left, and Vidal Lopez talk amongst themselves at the University of Illinois at Chicago Hospital, in the Near West Side neighborhood. Abbott, a survivor of the Boston Marathon bombing and founder of The Heather Abbott Foundation, teamed up with Scheck & Siress, a Chicago based prosthetic firm, to provide Lopez with new customizable prosthetic legs. Vidal was born in Chicago but grew up in Mexico. A car crash involving a tractor trailer in July 2016, left him without his legs. He wrote to the Heather Abbott Foundation with hopes to receive a grant to help him pay for the prosthetic legs that he needed. Heather was touched by his story and decided to provide Vidal with the financial support he needed to secure his future. (Alyssa Pointer/Chicago Tribune via AP)
Alyssa Pointer for AP
A decade after the Boston Marathon bombing, survivors turn pain into purpose
Close to 30,000 athletes from more than 100 countries will take part in this year's Boston Marathon. The course is net downhill but does include four notable climbs in the second half, culminating with the notorious Heartbreak Hill at the 20-mile mark.
That makes it a more technical course compared to other marathons, though runners can enjoy the roughly 200 feet of net descent in the final five miles.
The weather usually plays a crucial role at the Boston Marathon and this year could be a battle against the elements with rain and wind forecast during the day.
"Rain chances are expected to increase by late morning and last through much of the rest of the day," said CNN Weather's Haley Brink.
"Winds will also increase as the rain arrives with sustained winds of 8 to 12 mph and gusts up to 20 mph possible by the afternoon. The high temperature could climb to near 60 degrees Farenheit (16 degrees Celsius) by the early afternoon."
Monday's races get underway with the men's wheelchair race at 9:02 a.m. Eastern Time (ET). The men's elite race starts at 9:37 a.m. ET and the women's begins 10 minutes later.
The first wave of the mass start goes at 10 a.m. ET.
In the United States, the race will be broadcast on WCVB and ESPN. A full list of international broadcasters is available on the Boston Athletic Association website.