close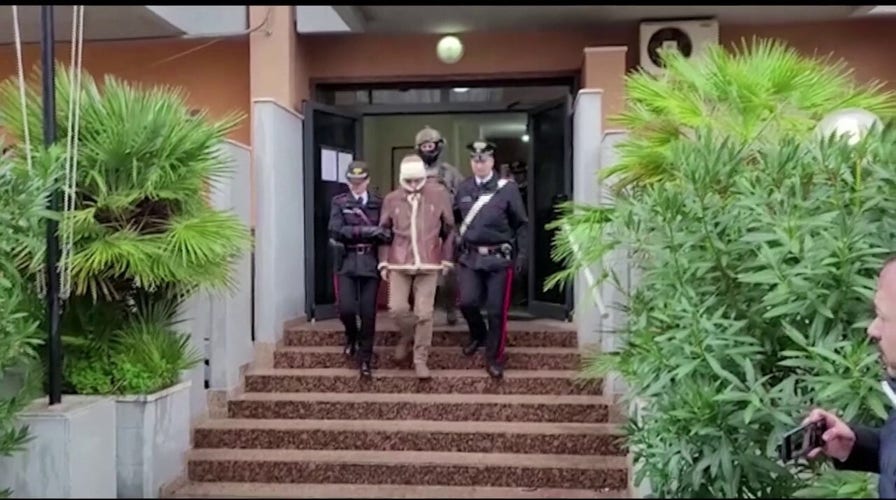 Video
Mafia boss arrested in Sicily, Italy
Matteo Messina Denaro was Italy's most wanted fugitive. He had been on the run for 30 years. (Video: Reuters.)
Italian police in the southern region of Sicily recently discovered a cache of drugs plastered with the faces of well-known Costa Nostra leaders.
Carabinieri police said Tuesday that authorities discovered around $215,000 worth of hash, marijuana and cocaine from a warehouse in Marsala.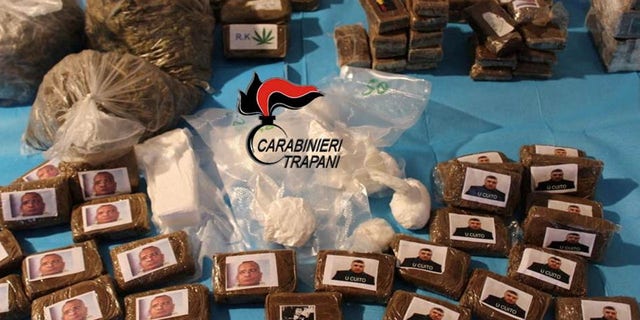 FILE: Drug packages decorated with pictures of Sicilian Mafia bosses Salvatore Riina and Matteo Messina Denaro are displayed in Marsala, Italy, March 21, 2023. (Carabinieri/Handout via REUTERS )
On several packages of hash wrapped in cellophane were the faces Mafia bosses Matteo Messina Denaro, Toto Riina, and the Godfather movie character.
MEXICAN MAFIA MEMBERS RUN PROFITABLE ILLEGAL LOS ANGELES CASINOS FROM BEHIND BARS: 'HIDDEN IN PLAIN SIGHT'
Denaro, Italy's most wanted fugitive, was arrested in January at a health clinic in Palermo, Sicily after 30 years on the run. He was considered the top boss of Sicily's Cosa Nostra, even while a fugitive and had a power base in the port city of Trapani, in western Sicily. Messina Denaro was the last of three longtime fugitive top-level Mafia bosses who had evaded authorities for decades.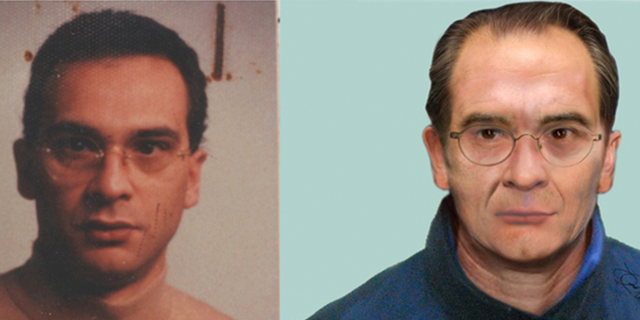 FILE: A composite picture showing a computer generated image released by tihe Italian Police (right) and a picture of Mafia top boss Matteo Messina Denaro. (AP)
Salvatore "Toto" Riina, once dubbed the Sicilian Mafia's "capo dei cappi," or "boss of bosses" died in 2017 at the age of 87.
Both men had been serving life sentences for a series of brutal murders including, in Messina Denaro's case, the killing of a teen boy whose body was dissolved in acid.
Police had been surveilling the warehouse where the cache of drugs was discovered. A 28-year-old man with no criminal record was seen leaving the warehouse and was arrested on drug-related charges after officers found 50 grams of pure cocaine in his pocket.
CLICK HERE TO GET THE FOX NEWS APP
Authorities seized 13 kilograms of hashish, 700 grams of pure cocaine, and 700 grams of marijuana.
Reuters contributed to this report.
Bradford Betz is a Fox News Digital breaking reporter covering crime, political issues, and much more.