close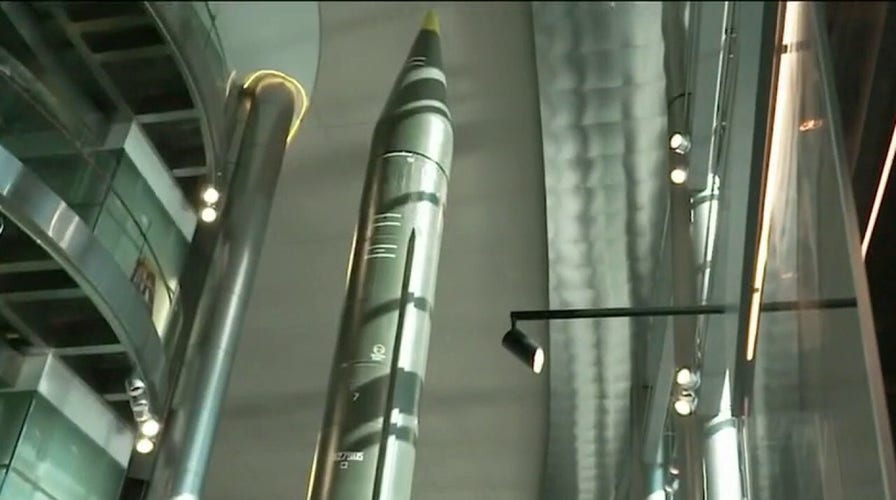 Video
US-China-Russia space race reveals national security concerns: Dr. John Huth and Kevin Ryder
Defense Intelligence Agency officials join 'Special Report' to analyze adversaries' plans for lunar exploration, exploitation.
Russia and China have increasingly invested in and enhanced their space programs in recent years, creating new threats to U.S. security in outer space. According to officials with the Defense Intelligence Agency (DIA), the two countries have been reorganizing and reforming their space forces.
Kevin Ryder is a defense intelligence officer for Space and Counterspace. He said China wants to become a world dominant space power.
"China in particular has placed a lot of economic and military power behind their space developments," Ryder said.
The DIA recently released a report on Challenges to Security in Space. It explains that of the 541 satellites China has sent to space, most are used for reconnaissance or intelligence gathering.
RUSSIA'S PUTIN, CHINA'S XI JINPING MEET IN MOSCOW, CALL EACH OTHER 'DEAR FRIEND'
China has been sending satellites into space which pose a change to security in space. A rocket carrying a satellite launches into space in the Sichuan Province of China. (Li Jieyi/VCG via Getty Images)
"They want to see what we're doing, but deny us the use of that imagery," Ryder said. "They want to be able to communicate, but deny us the use of those communications assets. And they want to be able to use those assets to navigate while denying our ability to use GPS to navigate as well."
Defense officials and many Americans were concerned when China flew a surveillance balloon across sensitive sites in the U.S. Experts say those balloons are only a small part of Beijing's surveillance efforts. John Huth is chief of the Office of Space and Counterspace. He said surveillance satellites also pose a large threat.
"Those ISR (intelligence, surveillance and reconnaissance) assets fly over the United States multiple times a day over all of those sites where that activity was taking place," Huth said.
Huth said China is specifically building assets to deny the U.S. and allies the use of space.
PENTAGON'S 'DIVISIVE SOCIAL POLICIES' MAKING US WEAKER AGAINST CHINA, RUSSIA, SAYS TOP GOP SENATOR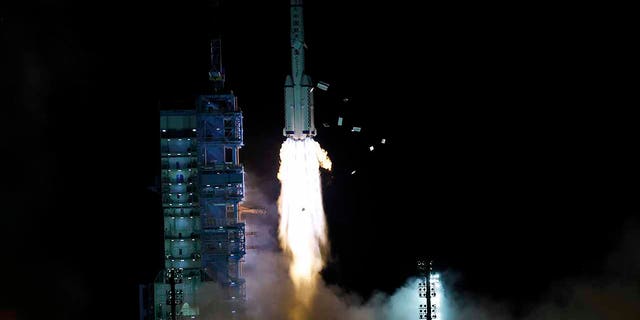 The crewed spaceship Shenzhou-13, atop a Long March-2F carrier rocket, is launched from the Jiuquan Satellite Launch Center in northwest China's Gobi Desert, Oct. 16, 2021. (Chinatopix Via AP)
"Those same counterspace capabilities can impinge on what we expect out of daily life," Huth said. "Things like going to the ATM, getting gas, talking on our cell phones, getting internet and a whole host of other things. A day without space is something that most Americans probably haven't really thought too much about."
According to the DIA report, Russia publically supports a space arms control agreement – but its military doctrine states otherwise. The DIA's assessment is that "Russia views space as a warfighting domain and that achieving supremacy in space will be a decisive factor in winning future conflicts."
Defense officials are also concerned about Russia and China's collaboration in space.
"China and Russia both advocate in and organizations like the United Nations for the peaceful use of outer space," Ryder said. "But simultaneously, they continue to develop these counter space capabilities in order to deny or disrupt and maintain that space superiority."
PUTIN RIPS WEST AS TRYING TO STIFLE RUSSIA, CHINA'S 'DEVELOPMENT,' WHILE XI ARRIVES IN MOSCOW

next
Image 1 of 2

Bret Baier, anchor and executive editor of Special Report, conducting an interview with John Huth and Kevin Ryder from the Defense Intelligence Agency. (Defense Intelligence Agency)


prev
Image 2 of 2

China has been sending satellites into space which pose a greater threat than spy balloons to security in space. (Defense Intelligence Agency)
The U.S. has maintained superiority in many aspects of space. It is the only country to land a man on the moon. The last landing was in 1972, and now the race to return to the moon is a central focus for China and Russia's space programs.
China and Russia have plans to construct an International Lunar Research Station by 2035. The base would primarily consist of robotic technology with the capability of supporting human visits.
"The moon is basically in space, the proverbial high ground," Huth said. "So what they're trying to do is get out there, see what capabilities, how they can operate. And even there's potential to have mining on the moon. There's rare earth minerals out there that they may be able to collect and use."
The U.S. has similar plans to explore the moon alongside other allies. NASA's Artemis program lays out an ambitious timeline for its return to the moon. The next landing is scheduled for 2024 to begin work on the Lunar Gateway, which would be the first planned extraterrestrial space station in lunar orbit. The module is slated to launch in 2028. Plans for a base camp on the surface of the moon is scheduled for the early 2030s.
NASA UNVEILS SLEEK NEW SPACESUITS FOR ARTEMIS III MOON MISSION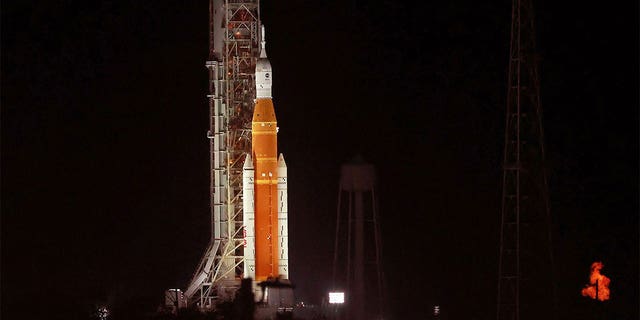 NASA's Artemis rocket ready for blast off at Kennedy Space Center, Florida. (Joe Burbank/Orlando Sentinel/Tribune News Service via Getty Images)
Space junk is another growing concern for scientists. Experts say China and Russia have intentionally added to the issue by destroying faulty satellites. The tests were a trial run to see if taking out active satellites is possible.
"Those were tests that show their intent as they're developing these anti-satellite missiles to disrupt or destroy U.S. capabilities, especially during a time of conflict," Ryder said.
The tests also generated thousands of pieces of debris, adding to the tens of thousands already orbiting the planet.
"A lot of it is what we call lethal, non-trackable pieces of junk," Huth said. "They're going 17,500 miles an hour. And there are much other larger dead objects to the size of automobiles or larger, also going 17,500 miles an hour. If and when they do collide, and they do occasionally collide, then that could be catastrophic for either an active spacecraft or spacecraft that are occupied by astronauts, cosmonauts or others."
INTERNATIONAL SPACE STATION MANEUVERS TO AVOID COLLISION WITH SATELLITE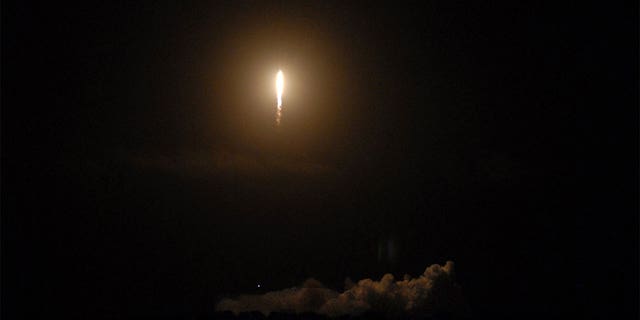 A SpaceX rocket launching into orbit at Cape Canaveral Space Force Station in Cape Canaveral, Florida. (Paul Hennessy/Anadolu Agency via Getty Images)
According to the DIA report, there are more than 1,300 objects that are larger and weight than an automobile.
"The space station has maneuvered from 1998 until this past year, around 30 times, as I recall, just to get out of the way of junk," Huth said.
Most recently, the International Space Station was forced to maneuver twice in one week to avoid a collision. The number of objects in space is only increasing. SpaceX launches satellites around once per week. Some estimates show there could be more than 100,000 satellites in low earth orbit by 2030. Defense Intelligence officials say they are working with governments and private companies to make sure certain objects are being taken out of orbit, as new satellites go in.
"It's basically responsible use of space," Ryder said. "You know what's up there? Let's try not to generate more."
CLICK HERE TO GET THE FOX NEWS APP
Despite the threats and concerns over adversarial space programs, experts believe the U.S. program has come a long way.
"There has been a resurgence," Huth said. "Those things that we do to explore space, to understand space better, to leverage the environment in a positive way, are all for the good."
Bret Baier is the Chief Political Anchor of Fox News Channel, and the Anchor and Executive Editor of "Special Report with Bret Baier." He is the author of four presidential biographies, which tackle the critical issues of our times. His fifth biography, To Rescue the Constitution:George Washington and the Convention that Saved the American Experiment, will be published in 2023.