close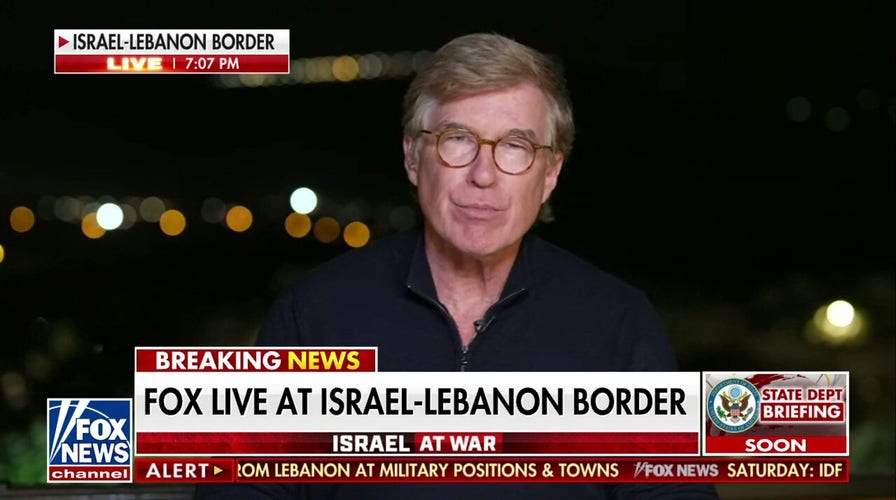 Video
Hezbollah inching closer to potential full-scale second front at Israel border
FOX News' Greg Palkot on the latest from Israel as the IDF and Hezbollah exchange fire over the Lebanon border.
Israeli Prime Minister Benjamin Netanyahu flatly rejected calls for a cease-fire in comments to the press on Monday.
Netanyahu compared the Oct. 7 massacre by Hamas to Pearl Harbor and the Sept. 11 attacks on the U.S., saying Israel is equally justified in retaliating against Hamas terrorists in Gaza. He went on to say that Israel will continue its war against Hamas "until victory."
"Calls for a cease-fire are calls for Israel to surrender to Hamas, to surrender to terrorism, to surrender to barbarism. That will not happen," Netanyahu said.
"Ladies and gentlemen, the Bible says that there is a time for peace and a time for war. This is a time for war. A war for our common future," he continued. "Today we draw a line between the forces of civilization and the forces of barbarism. It is a time for everyone to decide where they stand. Israel will stand against the forces of barbarism until victory. I hope and pray that civilized nations everywhere will back this fight."
LIVE UPDATES: ISRAEL AT WAR WITH HAMAS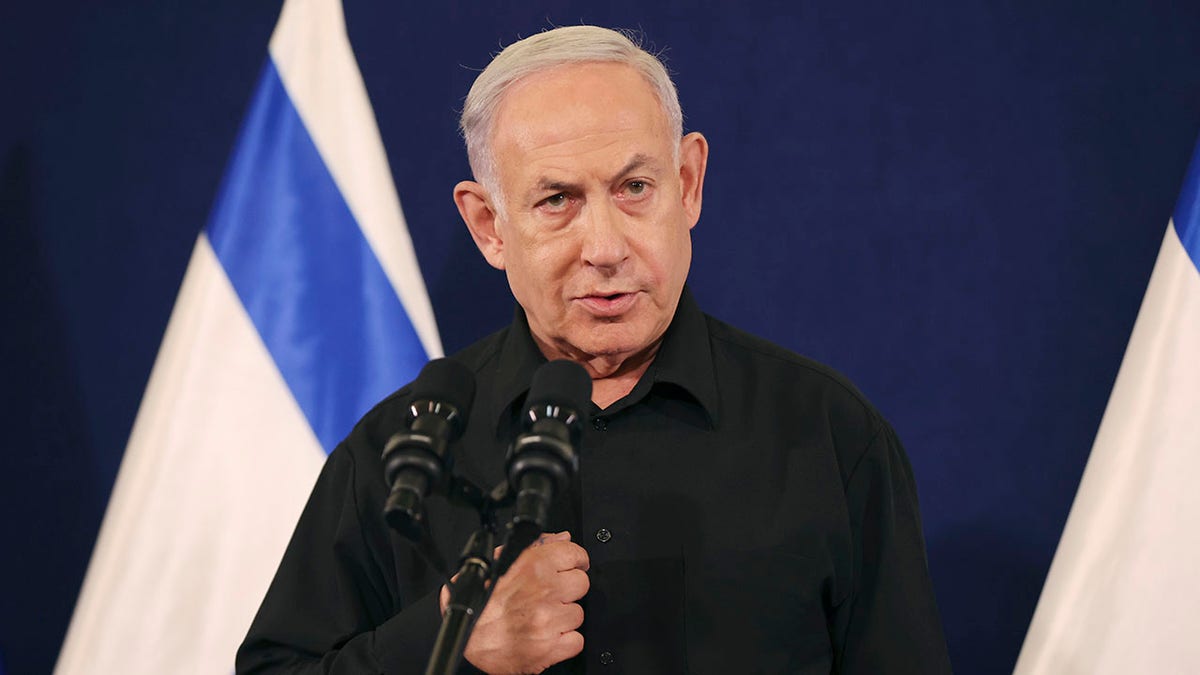 Israeli Prime Minister Benjamin Netanyahu speaks during a press conference in Tel Aviv, Israel, on Saturday. (Abir Sultan/Pool Photo via AP)
Israeli forces entered the second stage of their conflict with Hamas this week, greatly expanding ground operations within the Gaza Strip. Military officials have warned that the war will be long and difficult.
Netanyahu also said Monday that the "horrors that Hamas perpetrated on Oct. 7 remind us that we will not realize the promise of a better future unless we, the civilized world, are willing to fight the barbarians."
"Because the barbarians are willing to fight us. And their goal is clear — shatter that promising future, destroy all that we cherish and usher in a world of fear and darkness," he continued.
REP. JAYAPAL WARNS PRESIDENT BIDEN, SAYS HE NEEDS TO BE 'CAREFUL' ABOUT SUPPORT FOR ISRAEL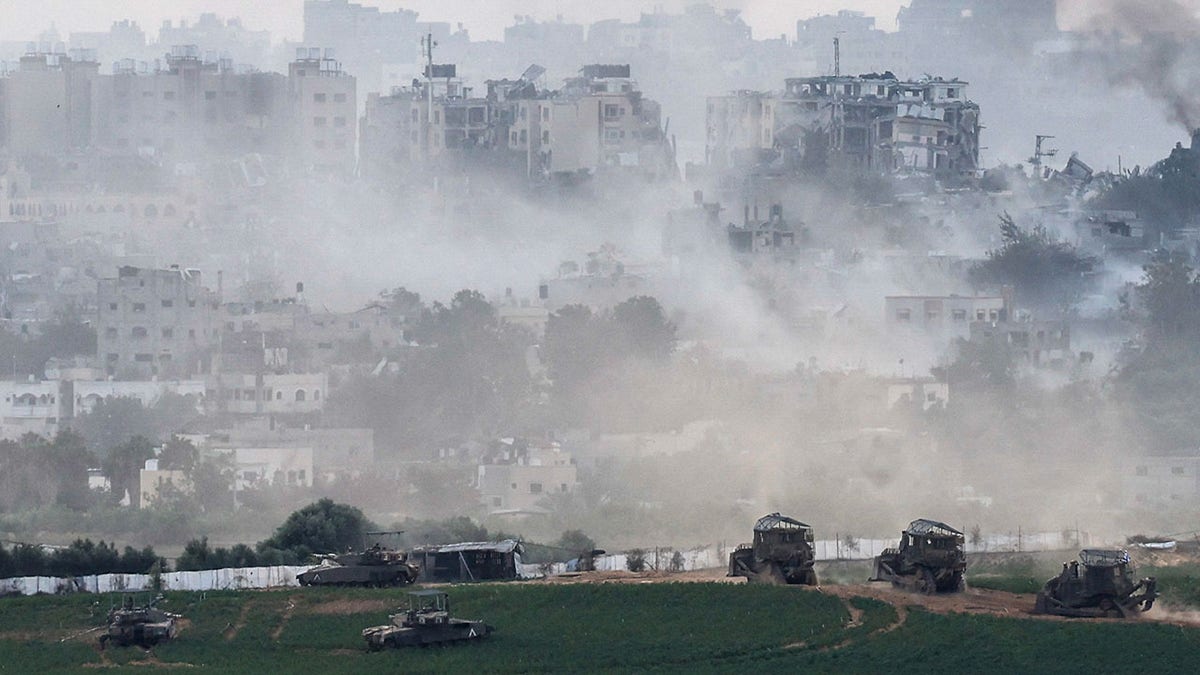 Israeli tanks and other military vehicles move inside the Gaza Strip, as seen from Israel on Sunday. (Reuters/Evelyn Hockstein)
As of Monday, as many as 9,400 people have been killed in the war on both sides, including at least 1,400 Israeli civilians and soldiers and 33 Americans.
The Hamas-run Gaza health ministry claims more than 8,000 Palestinians have been killed in Gaza and 110 in the West Bank.
And at least 10 Americans are feared to be among the 239 people being held captive by Hamas.
An Israel Defense Forces spokesperson announced Monday that more military forces are pouring into the Gaza Strip and are "directly engaging terrorists" as troops remain on "high alert" along Israel's border with Lebanon.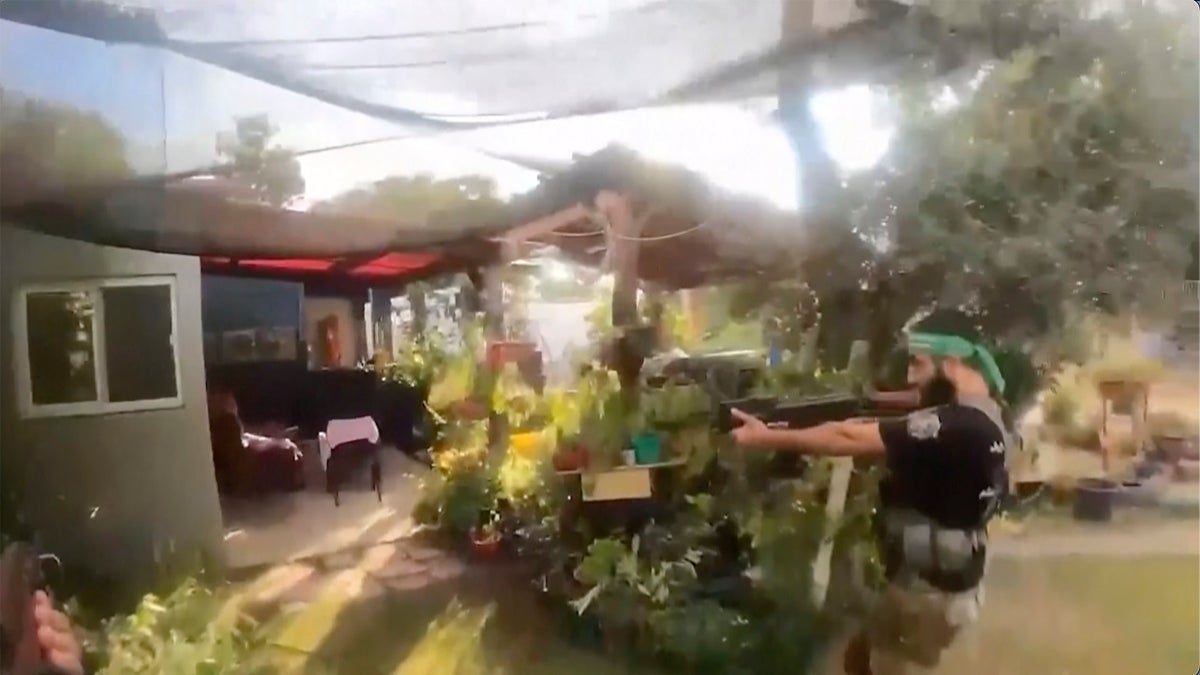 This image made from undated bodycam video footage taken by a downed Hamas militant and released by Israel Defense Forces shows a Hamas militant walking around a residential neighborhood at an undisclosed location in southern Israel. (Israel Defense Forces via AP)
CLICK HERE TO GET THE FOX NEWS APP
In a briefing, the spokesperson said that over the last 24 hours, "we have expanded ground activities, with additional forces entering the Gaza Strip including Infantry, Armored Corps, Combat Engineering and Artillery Corps."
Fox News' Chris Pandolfo contributed to this report.
Greg Norman is a reporter at Fox News Digital.