close
Video
IDF hunting down Hamas terrorists seen on social media broadcasts: 'We will get to them'
IDF spokesperson Lt. Col Peter Lerner on the latest update from Israeli forces and efforts to rescue hostages
FIRST ON FOX, JERUSALEM – Kibbutz Urim sits just six miles from the Gaza Strip, between Kibbutz Re'im – the site of one of the Palestinian terrorists' worst massacre of Israelis on Saturday – and the town of Ofakim, where groups of Hamas terrorists rampaged and held resident's hostage in their homes for hours. Yet, somehow, the tiny community of just 210, mostly elderly, people was inexplicably spared.
"So far everyone is accounted for," Yehudit Pelish, 59, who was born in the U.S. but raised on the kibbutz, told Fox News Digital. "It's really a miracle. . . . It really feels like the hand of God was covering our kibbutz."
Israeli military numbers estimated on Thursday that more than 1,200 people were killed in Saturday's mass terrorist attack, the vast majority of them civilians. On Kibbutz Be'eri, a community of roughly 1,000 just a few miles from Kibbutz Urim, more than 100 bodies were recovered by rescue agencies this week.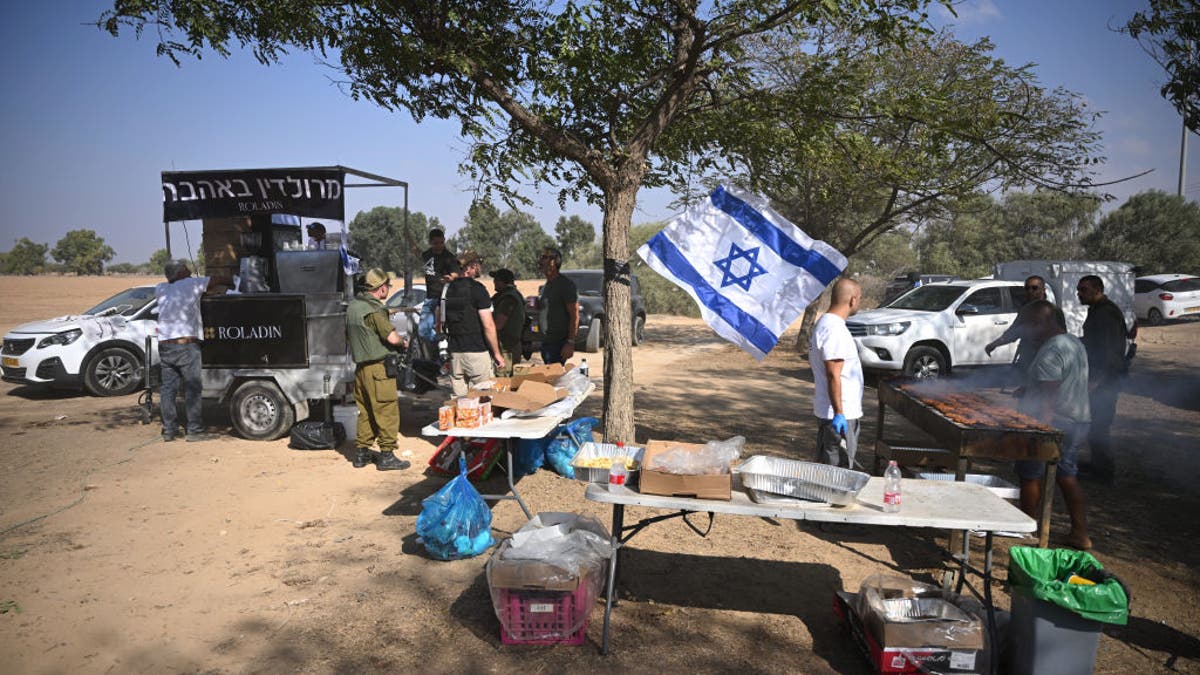 A team of volunteers prepare food for soldiers positioned on the Gaza border area on October 12, 2023, near Urim, Israel.  (Photo by Leon Neal/Getty Images))
On nearby Kibbutz Kfar Aza, a further 120-plus bodies, including many small children, were discovered burned and beheaded. Meanwhile, in the fields surrounding the music festival in Kibbutz Re'im, some 260 dead bodies were found. The Israeli authorities are still struggling to identify and recover all of the dead.
AMERICAN FAMILIES IN ISRAEL IN AGONY AS FEARS OF LOVED ONES KIDNAPPED GROW
In addition, an estimated 80 people are believed to have been taken back to the Gaza Strip and are being held hostage there, including U.S. citizens.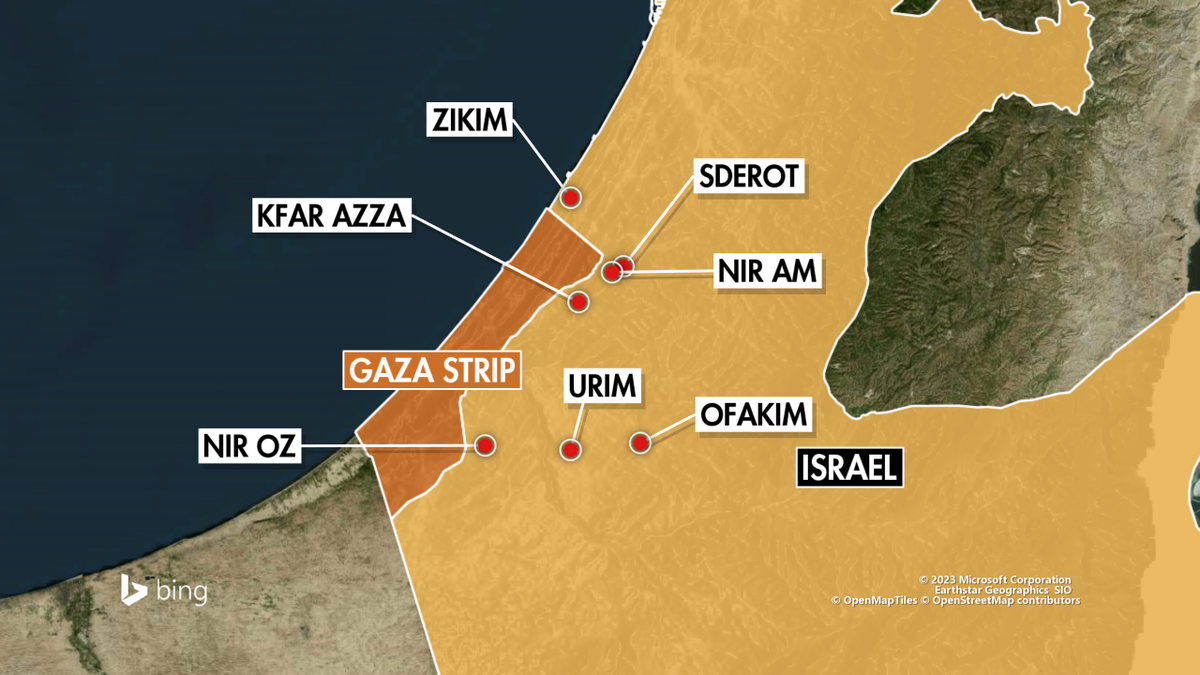 Somehow the tiny community of Kibbutz Urim was spared from death and destruction, unlike several of its neighboring villages and towns.
While thousands of terrorists carried out the worst terrorist attack the State of Israel has ever seen, Pelish said that none of them had managed to infiltrate her kibbutz, which sits just less than a mile from the road leading from Gaza to Ofakim. Hunkered down in a communal bomb shelter, the kibbutz members heard rockets flying overhead and rounds of gunfire, while being updated on what was happening all around them by friends from nearby communities.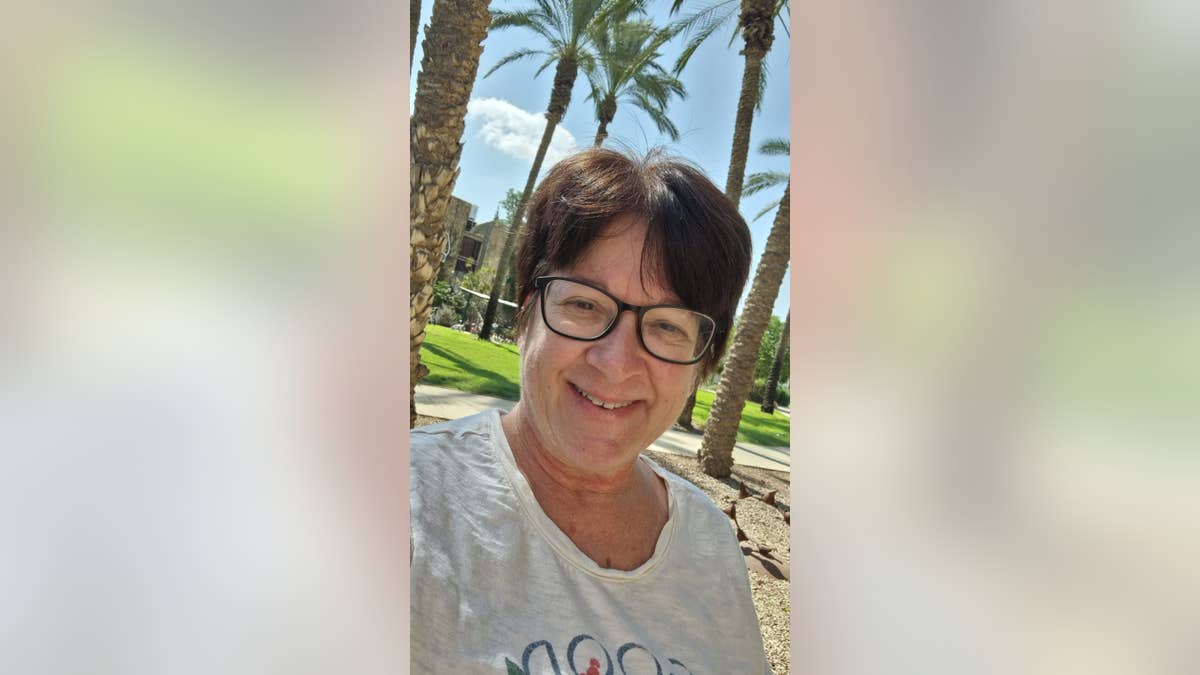 Yehudit Pelish was born in the U.S. but raised on the kibbutz. She said it was a 'miracle' that the terrorists had missed them. (Courtesy: Yehudit Pelish )
"We had a few close calls," said Pelish, who runs the health and wellness center on the kibbutz. "A number of terrorists were killed on the road leading to our kibbutz, and four more were captured right outside our back gate."
"We just got lucky," she said.
Sophie Stillman, who moved to Israel in 2017 from Minnesota and lived on Kibbutz Urim during her first year in the country, told Fox News Digital that she had been back for the weekend visiting her adopted family who live there when the sound of rockets and sirens woke her at 6:30 a.m. on Saturday.
"For first siren, we just crouched in the living room, and then we ran to a nearby above-ground shelter as the rockets kept on coming," recalled the 28-year-old who now lives in Tel Aviv. "When we realized it would be a longer ordeal, we ran across the grass to the underground shelter and joined everyone else who was in there."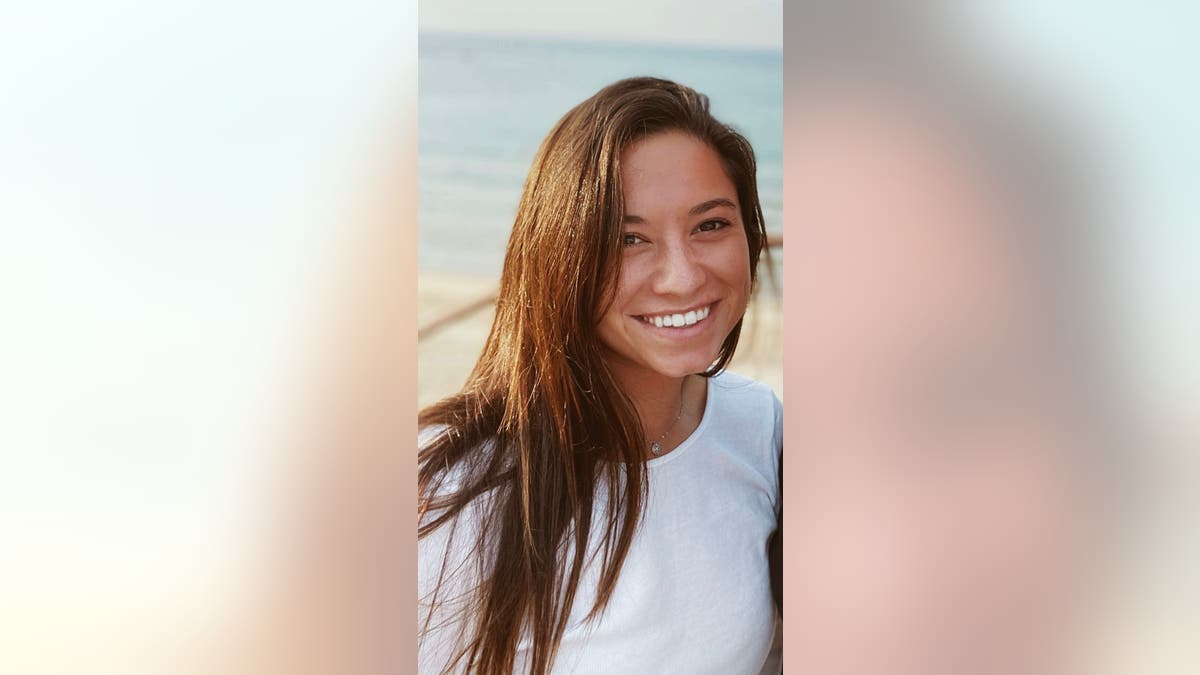 Sophie Stillman a Minnesota native was a former resident of Kibbutz Urim. She visited her friends at the kibbutz last weekend. (Photo courtesy: Sophie Stillman)
"I messaged my parents in the U.S. and told them not to worry and that we were safe," Stillman said, describing how they had started taking out board games to play to pass the time.
FAMILIES OF ISRAELIS FEARED KIDNAPPED BY HAMAS TERRORISTS SPEAK OUT: 'WE'RE AT HOME WAITING TO HUG YOU'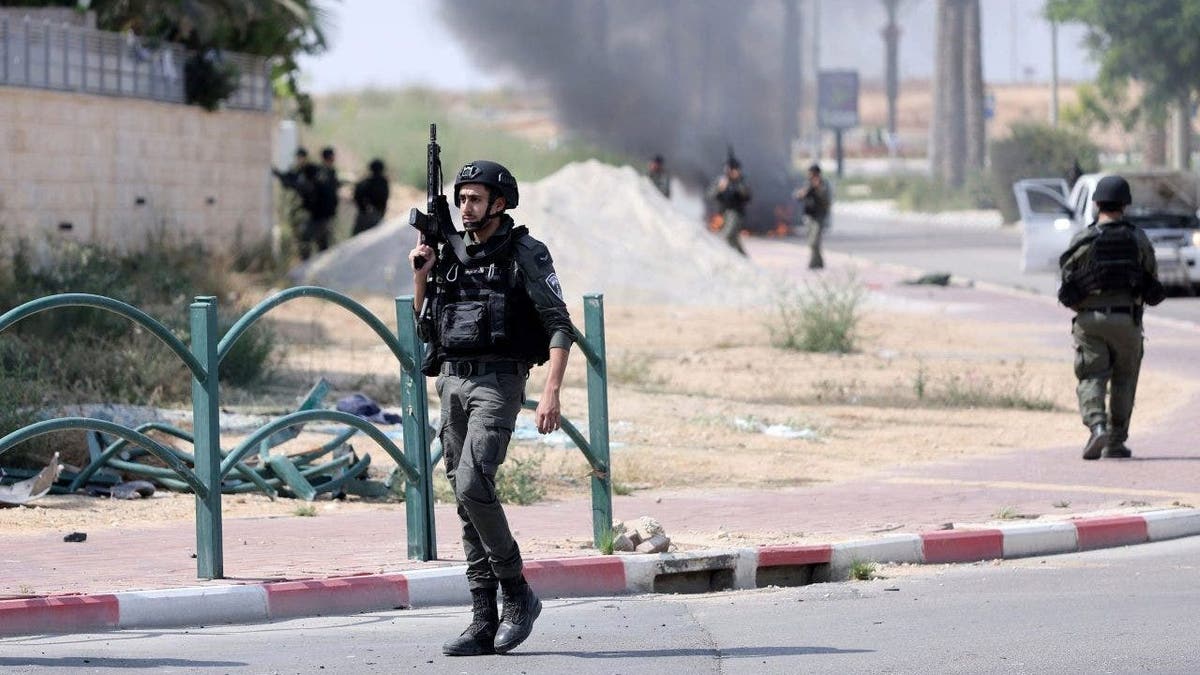 Israeli soldiers take position at the southern Israeli town of Ofakim on Sunday, October 8, 2023. Hamas militants stormed over the border fence Saturday, killing hundreds of Israelis in surrounding communities. The burning car was used by the gunmen and set on fire by the residents.  ((AP Photo/Ilan Assayag))
Then Stillman and others in the bomb shelters started getting updates about people being shot outside the kibbutz. Her adopted sister, a soldier on active military duty serving on a nearby base, was getting messages from fellow soldiers who were under attack by the terrorists. At least three nearby army bases along the Gaza border were attacked and destroyed by Hamas terrorists.
"I heard so much shooting outside," described Stillman. "I only realized after the fact that it was not two-sided, it was only one-sided."
In the shelter, the kibbutz residents started to mobilize themselves but realized that they only had two guns available. Meanwhile, messages from friends and family members in the other communities around Kibbutz Urim about being under attack kept arriving.
"It was a total roller coaster," said Stillman, who with the other kibbutz members stayed inside the shelter for more than 24 hours. "The story was unfolding around us throughout the day."
At one point, she said, someone sent a video of a young Israeli woman with bloodied sweatpants being shoved into a jeep by Palestinian terrorists.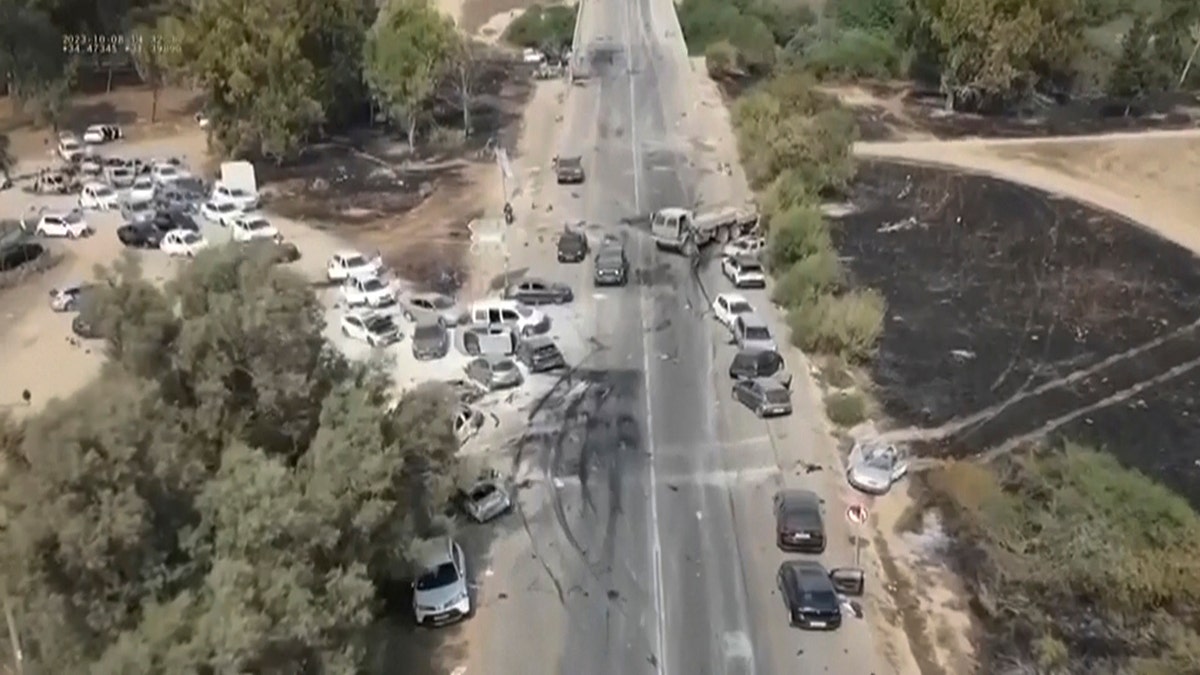 This image from video provided by South First Responders shows charred and damaged cars along a desert road after an attack by Hamas terrorists at the Tribe of Nova Trance music festival near Kibbutz Re'im in southern Israel on Saturday, October 7, 2023. While many kibbutzim were attacked, Urim miraculously remained untouched. (South First Responders via AP)
"We were sitting in the shelter, and I saw that video, and I didn't know if that could soon be us," said Stillman. "For the first time in my life, I started writing a farewell message to my family [in America]. In a situation like that, you start thinking about what you need to do if something happens to you. . . . It was psychological warfare, and what happened is totally incomprehensible."
Pelish said that Urim is one of around a dozen small communities in the area along the Gaza periphery, most of them were established in the 1940s. Many of the founding members on her kibbutz, she said, were Holocaust survivors who arrived from Europe following World War II. She also said that the communities in the area were closely connected, sharing a regional high school and working together in all capacities.
VIDEOS OF HAMAS BRUTALITY TOWARD ISRAELIS EERILY REMINISCENT OF ISIS TACTICS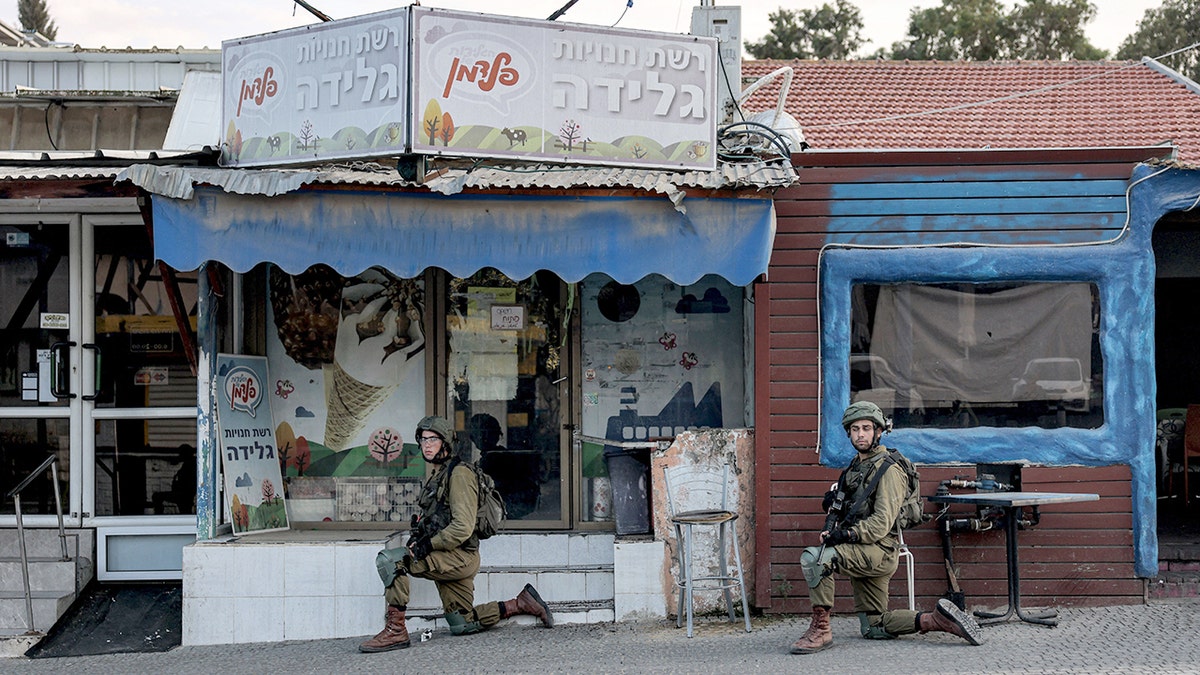 Israeli army soldiers deploy in the southern city of Sderot on October 8, 2023. The death toll surged to almost 1,000 since Palestinian militant group Hamas launched its massive surprise attack on Israel with a barrage of rockets and a massive ground assault, officials on both sides said on October 8. (MENAHEM KAHANA/AFP via Getty Images)
"It's heartbreaking to see the devastation and the physical damage that was done to iconic buildings on some of the other kibbutzim," said Pelish. "On Kibbutz Be'eri, they lost 10 percent of their population, and that is only the numbers that have been confirmed until now – I don't know how they rebuild physically and emotionally."
Pelish also said that one member of Kibbutz Urim, who was spending the weekend on Be'eri, is now missing, most likely among the hostages in Gaza.
Unlike the other kibbutzim that sit closer to the Gaza border, Pelish said that Kibbutz Urim is far enough away to have been spared over the years rounds of mortar fire from the Gaza Strip and close enough so that larger rockets fired by the militant groups there right overhead.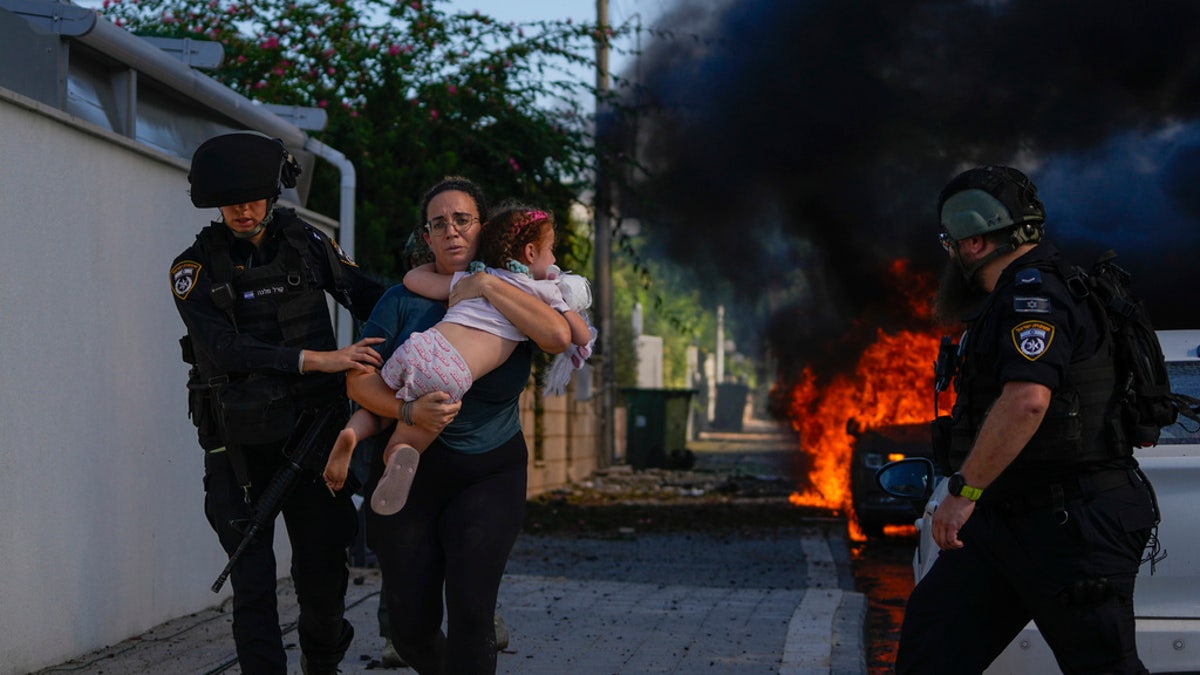 Police officers evacuate a woman and a child from a site hit by a rocket fired from the Gaza Strip, in Ashkelon, southern Israel, Saturday, October 7, 2023. The rockets were fired as Hamas announced a new operation against Israel. (AP Photo/Tsafrir Abayov)
CLICK HERE TO GET THE FOX NEWS APP
"The terrorists literally skipped over us, they went to Kibbutz Re'im, they went to Ofakim, it's a complete miracle they missed us out," said Stillman, who finally drove back to Tel Aviv on Sunday night, even as Palestinian terrorists continued to roam around.
Pelish said, "We can count more miracles here on Kibbutz Urim than tragedies here, and I just hope it stays that way for us."
Ruth Marks Eglash is a veteran journalist based in Jerusalem, Israel. She reports and covers the Middle East and Europe. Originally from the U.K, she has also freelanced for numerous news outlets. Ruth can be followed on Twitter @reglash