close
Video
Israel Prime Minister Benjamin Netanyahu meets with members of Congress
The prime minister of Israel met with members of Congress in Jerusalem on Thursday and compared Iran to 50 North Koreas.
The Israel Defense Forces launched a pair of air strikes in the Gaza Strip Tuesday morning, which they claim resulted in the successful assassination of three senior members of the Islamic Jihad terrorist organization.
On Tuesday morning, the IDF announced Operation Shield and Arrow resulted in the deaths of an Islamic Jihad commanding officer, a secretary of the military council and a senior operative and coordinator of terror attacks in Gaza and Israel. A local health office said at least 10 civilians, including the wives and children of the officials, were also killed.
Lt. Col Richard Hecht, the IDF International Spokesperson, said during a press briefing that the two separate "pinpoint" attacks took place in Gaza City and Rafah, and included 40 aircraft.
Hecht said the targets posed an immediate threat to Israeli citizens and were all involved in recent attacks on Israel.
NETANYAHU HOLDS SECURITY MEETING AFTER ROCKETS FIRED FROM GAZA INTO ISRAEL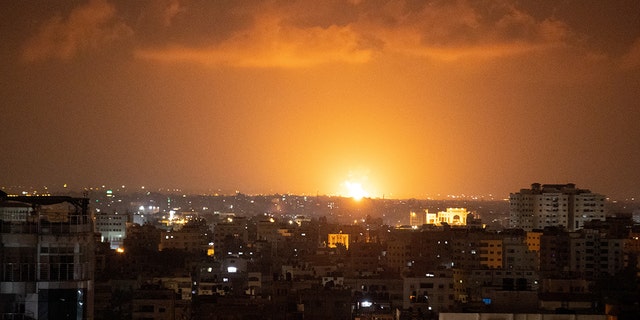 Smoke and flames rise after Israeli warplanes launched airstrikes in Gaza City, Gaza on May 9, 2023. (Ali Jadallah/Anadolu Agency via Getty Images)
Israeli Prime Minister Benjamin Netanyahu met with top officials last week and planned out the attacks, waiting for the "right moment," Hecht said.
In one attack, IDF fighter jets targeted and killed 44-year-old Khalil Bahitini, who was the most senior operational officer of Islamic Jihad and the commander of the Northern Gaza Division, Israeli Forces said.
According to the IDF, Bahitini was a member of the terrorist organization's military council. He also maintained active contact with the political bureau of Islamic Jihad.
"Bahitini was entrusted with approving and carrying out all terrorist activities from northern Gaza as well as, planning and directing terrorist attacks on Israeli civilians and planned shooting at Israel in the immediate future," the IDF said in a statement announcing his death.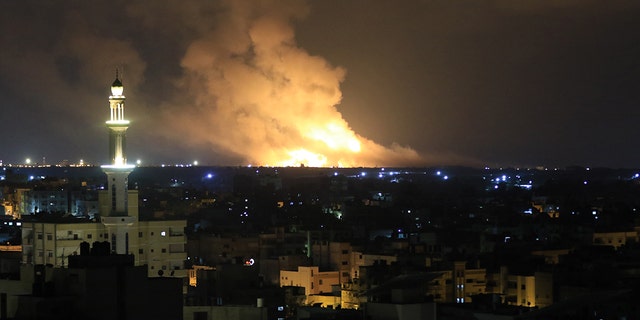 Smoke and flames rise after Israeli warplanes launched airstrikes in Khan Yunis, Gaza on May 9, 2023. (Ashraf Amra/Anadolu Agency via Getty Images)
The statement added: "He started his activity in the Islamic Jihad in the late 90s and throughout the years was involved in many terroristic acts against Israel including suicide bombings, explosive attacks, rocket fire and directing terrorist activities in Judea and Samaria."
DESANTIS CALLS ISRAEL A 'MOST VALUED AND TRUSTED' ALLY IN JERUSALEM SPEECH
IDF jets also targeted and killed Jahed Ahnam, 62, who served as a secretary of the Islamic Jihad terrorist organization's military council. He was one of the most senior members of the terror network and previously served as commanding officer of Islamic Jihads' Southern Gaza Brigade and Secretary of the Military Council, the agency said.
"In his last position, he was entrusted with coordinating weapons and money transfers between the Hamas terrorist organization and the Islamic Jihad," Israeli Forces said in a statement Tuesday.
He also promoted Hamas' destructive ideology around the world, according to the IDF.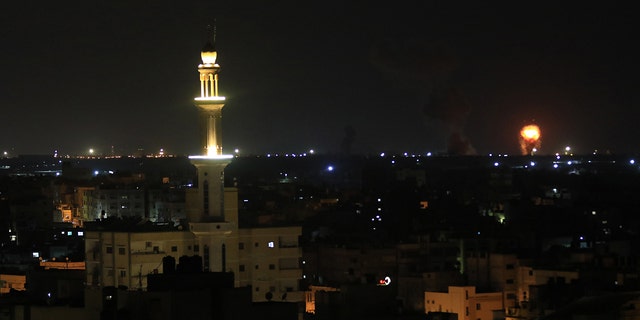 Smoke and flames rise after Israeli warplanes launched airstrikes in Khan Yunis, Gaza on May 9, 2023.  (Ashraf Amra/Anadolu Agency via Getty Images)
In a third attack, Israeli Forces killed 49-year-old Tarek Az Aldin – a senior operative who oversaw communications and coordinated terror attacks in Israeli territories.
"In recent years, Az Aldin was promoted in the commanding chain of the organization. He was entrusted with the coordination between the Islamic Jihad in Judea and Samaria as well as transferring funds for terrorism from Gaza to Judea and Samaria," the IDF announced.
According to the statement, Az Aldin was also responsible for inciting terrorist activities in Israel that were "meant to promote and encourage terrorist attacks on Israeli civilians."
The IDF said Az Aldin had previously been incarcerated for his involvement in IED attacks and a suicide bombing in the early 2000s.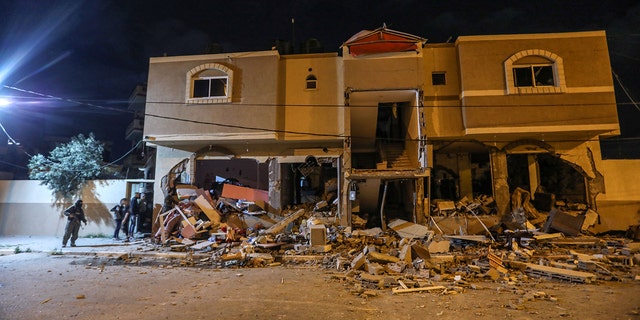 A view of a damaged building after Israeli warplanes launch airstrikes in Rafah, Gaza on May 9, 2023.  (Abed Rahim Khatib/Anadolu Agency via Getty Images)
Joe Truzman, a research analyst at the Foundation for Defense of Democracies' Long War Journal, told Fox News Digital that the successful attacks show the continued threat Israel faces from the Islamic Jihad – and Israel's continued success in fighting back against these threats.
"Israel is facing tangible threats from terrorist organizations backed by Iran on multiple fronts," Truzman said in a statement. "IDF airstrikes targeting senior Islamic Jihad members in Gaza are meant to restore deterrence that has eroded since the last significant Gaza operation."
He added: "The strikes also send a message to Iran's network of armed groups in the region that Israel will respond firmly to acts of terrorism against its citizens."
DEM, GOP HOUSE INTEL LEADERS: ISRAEL, JORDAN, EGYPT WANT 'STRONGER' US ROLE IN REGION AS CHINA MAKES INROADS
The attacks will likely result in retaliatory strikes from Islamic Jihad forces, potentially including continued rocket fire or mortar attacks, Truzman predicted.
"The killing of three senior members will likely force Islamic Jihad to respond with rocket fire and other means if opportunities arise. Smaller Palestinian terrorist organizations in Gaza will support Islamic Jihad in a conflict by coordinating rocket and mortar attacks against targets in southern Israel and possibly central Israel," he said.
Hamas, the terror group that governs the Gaza Strip, could also get involved, Truzman theorized.
He said: "Hamas may join if conflict erupts against Israel in order to show unity with Islamic Jihad or it could follow a similar direction taken during the August 2022 conflict when it refrained from firing rockets at Israel."
CLICK HERE TO GET THE FOX NEWS APP
In the Tuesday morning attacks, Israel targeted six military compounds, weapons production facilities and a factory, the IDF said.
Fox News' Yonat Friling and the Associated Press contributed to this report.