close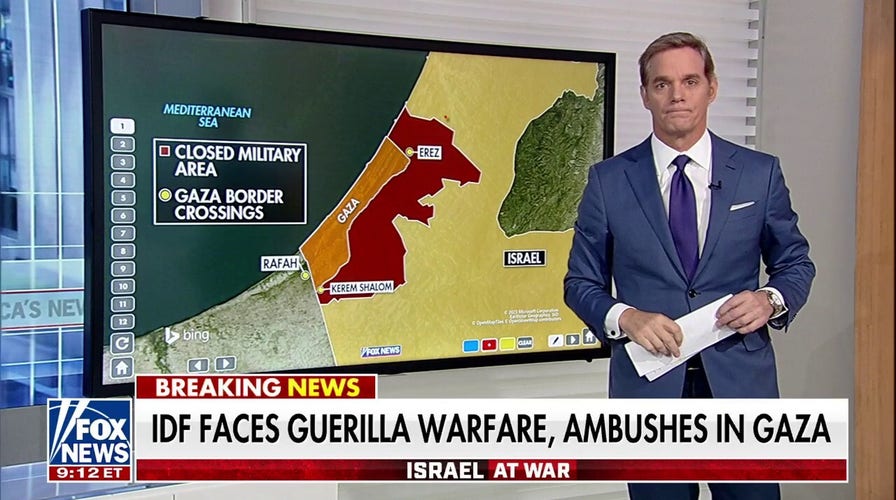 Video
Israel readies for perilous ground invasion
'America's Newsroom' anchor Bill Hemmer details the ongoing developments in Israel ahead of a ground invasion of Gaza. Former DHS adviser Fran Townsend provides analysis. 
The Israel Defense Forces tells Fox News that its infantry forces and tanks entered the Gaza Strip Friday to conduct localized raids.
Fox News' Trey Yingst reported the military action was not the much-anticipated ground invasion by the Israeli military of the Gaza Strip.
The development comes as the militant group Hezbollah took responsibility for targeting Israeli military posts with small-arms fire along the country's border with Lebanon, which the Israelis responded to with artillery strikes.
More than 1,300 Israelis were killed and thousands more wounded when Hamas launched a surprise terror attack on the Jewish state Saturday. As many as 150 people are believed to have been taken captive by terrorists and held in Gaza, according to Israeli authorities.
LIVE UPDATES: ISRAEL AT WAR WITH HAMAS
Israel has called up some 360,000 military reservists to respond to the Hamas-led terror campaign. Those forces have gathered on Israel's border with Gaza ahead of a possible full-scale invasion to reclaim the hostages and eliminate Hamas terrorists.
Israel has warned the 1.1 million people living in the north of Gaza to evacuate the area within 24 hours as a "humanitarian step in order to minimize civilian casualties" ahead of the military's response to Hamas' terrorist attacks.
ISRAEL WARNS CIVILIANS IN NORTHERN GAZA TO EVACUATE
IDF spokesman Jonathan Conricus shared the message he said was sent to citizens in Gaza on X Friday morning.
"The IDF calls for the evacuation of all civilians from Gaza City from their homes southwards for their own safety and protection and to move to the area south of the Wadi Gaza, the river Gaza, as shown on the map," Conricus said.
He explained that telling people to move south of the river makes the directions clear and understandable for everybody, regardless of if they have a map or not.
CLICK HERE TO GET THE FOX NEWS APP
Conricus said the evacuation order is for safety purposes, adding that civilians will not be able to return to Gaza City until another announcement clearing the area is made. He also said to not approach the area of the security fence with Israel.
Fox News' Chris Pandolfo contributed to this report.
Greg Norman is a reporter at Fox News Digital.