close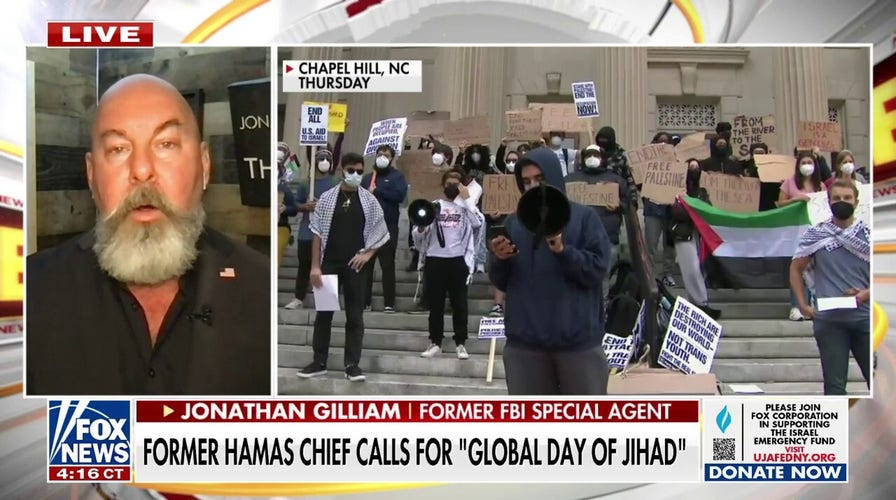 Video
Cities nationwide boosting security following warning from former Hamas official
Former FBI special agent Jonathan Gilliam joined 'FOX & Friends First' to discuss the threat from the former Hamas official and why Americans should be hyper-aware amid lingering concerns. 
Local and federal law enforcement in Washington, D.C., told Fox News Digital Friday they are ramping up their presence in the nation's capital as Hamas' call for a "Day of Rage" — which Israel says is targeting its people and Jews – is putting American cities on alert.
The moves come as large protests are already brewing in the Middle East, with massive crowds turning out in Lebanon, Yemen and Iraq to show support for Palestinians.
In the West Bank, Jordanian riot police also dispersed hundreds of pro-Palestinian protesters trying to reach a border area as thousands of others held anti-Israel demonstrations throughout the country, witnesses told Reuters.
U.S. Capitol Police and the Metropolitan Police Department say that although there are no specific threats to the District of Columbia or Congress, they are increasing their visibility Friday out of an abundance of caution.
LIVE UPDATES: ISRAEL AT WAR WITH HAMAS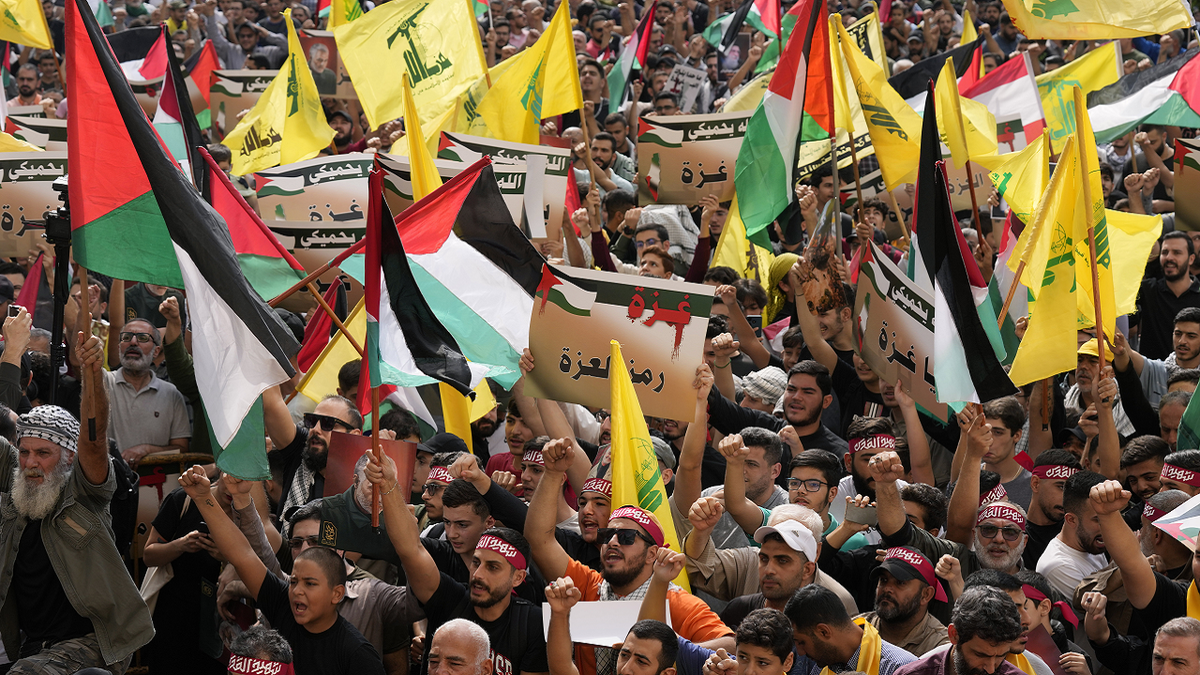 Hezbollah supporters wave Lebanese, Palestinian and their group flags, as they hold pro-Gaza placards during a protest to show their solidarity with the Palestinians, in  Beirut, Lebanon, on Friday. (AP/Hussein Malla)
"We are enhancing security throughout the Capitol Complex. Some of what we are doing will be visible, but for safety reasons we cannot provide the public details about all of the resources that we are putting into protecting the Congress," the U.S. Capitol Police told Fox News Digital in a statement. "Our dedicated teams are working around the clock to coordinate with our law enforcement and intelligence partners across the country to keep everyone safe."
Fencing has been put up around the U.S. Capitol Building, according to Fox5 DC.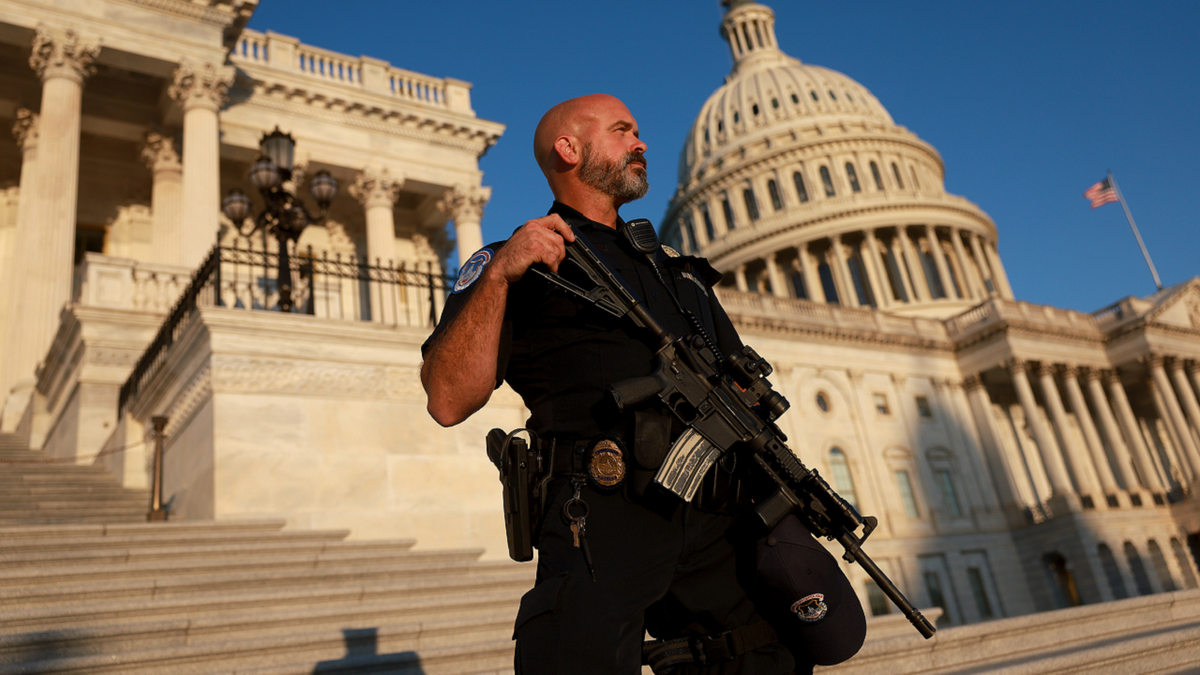 U.S. Capitol Police secure the U.S. Capitol Building in response to a call for a "Day of Rage" on Oct. 13, 2023 in Washington, D.C. (Joe Raedle/Getty Images)
Metro Police said in its own statement that it is "working with our local, state, and federal law enforcement partners to monitor events unfolding worldwide.
"Out of an abundance of caution, MPD will have increased visibility around the city and at places of worship to help ensure the safety of our community," it added. "MPD has been in contact with multiple community partners throughout the past week and we remain in contact with them."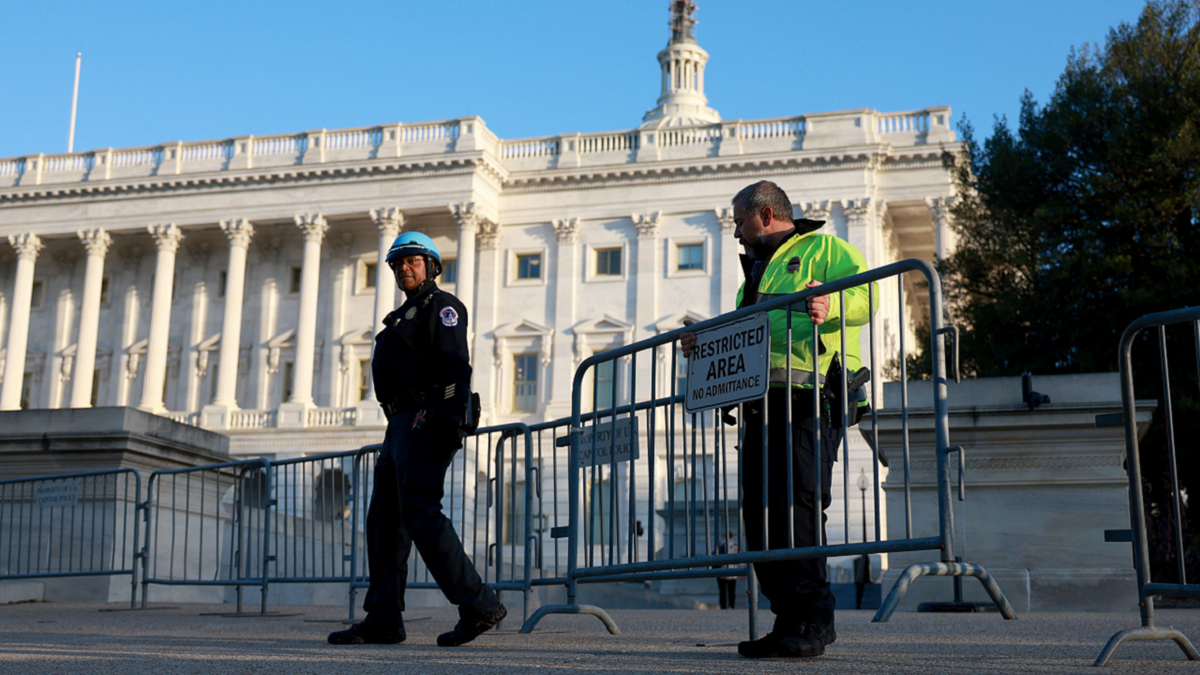 U.S. Capitol Police are seen setting up barriers outside the U.S. Capitol Building on Friday. (Joe Raedle/Getty Images)
Elsewhere, the FBI told Fox News on Thursday that it is aware of "calls for global action on Friday, October 13th that may lead to demonstrations in communities throughout the United States.
"We are working closely with our law enforcement partners across the country to share information and identify and disrupt any threats that may emerge," it said.
SOME JEWISH AMERICANS PLAN TO SEND KIDS TO SCHOOL, WORSHIP IN DEFIANT MESSAGE AGAINST HAMAS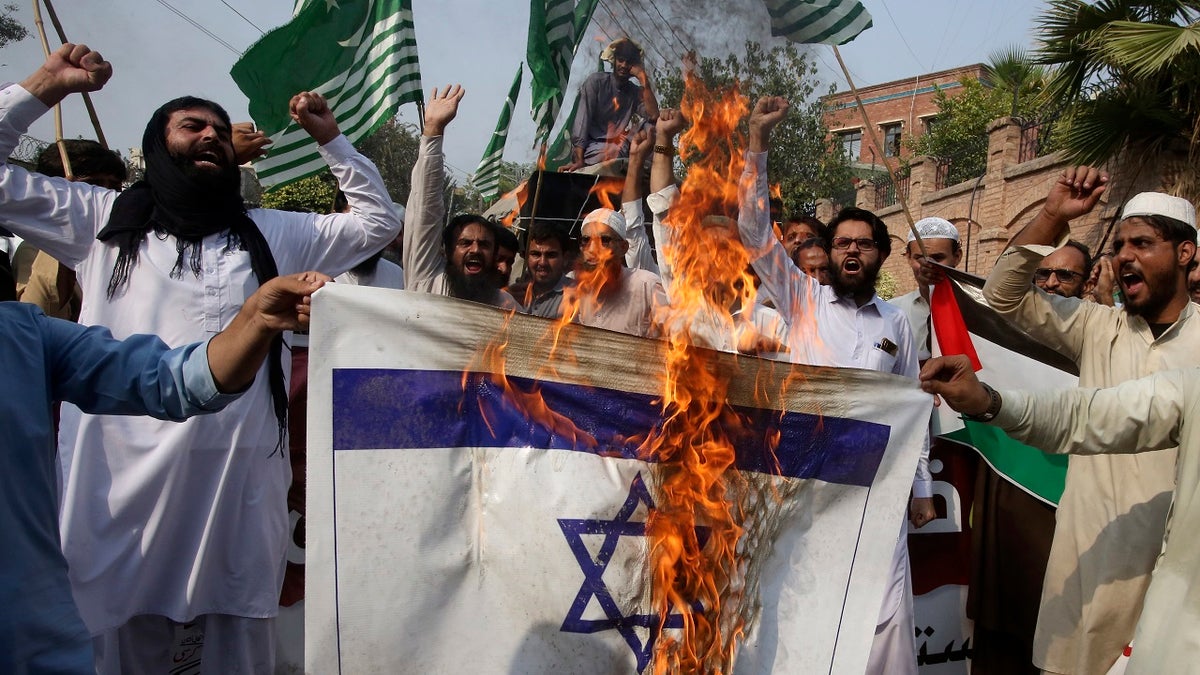 Supporters of the Pakistan Markazi Muslim League burn a representation of the Israeli flag during a demonstration against Israeli airstrikes on Gaza and to show solidarity with Palestinian people, in Peshawar, Pakistan, on Friday. (AP/Muhammad Sajjad)
The New York City Police Department also said last night that it has "increased our uniform deployments at large gatherings and cultural sites to ensure public safety." Additionally, the Los Angeles Police Department said the same day that it is assessing the situation as well.
The Israel National Security Council and Ministry of Foreign Affairs said it is recommending all Israelis abroad to "be alert, keep away from the demonstrations and protests and – if necessary – check with local security forces regarding possible protests and disturbances in the area."
"Against the background of Operation Swords of Iron, the Hamas leadership has called on all of its supporters around the world to hold a 'Day or Rage'… (Friday, 13 October 2023) and attack Israelis and Jews," the agencies said in a joint statement. "It is reasonable to assume that there will be protest events in various countries that are liable to turn violent."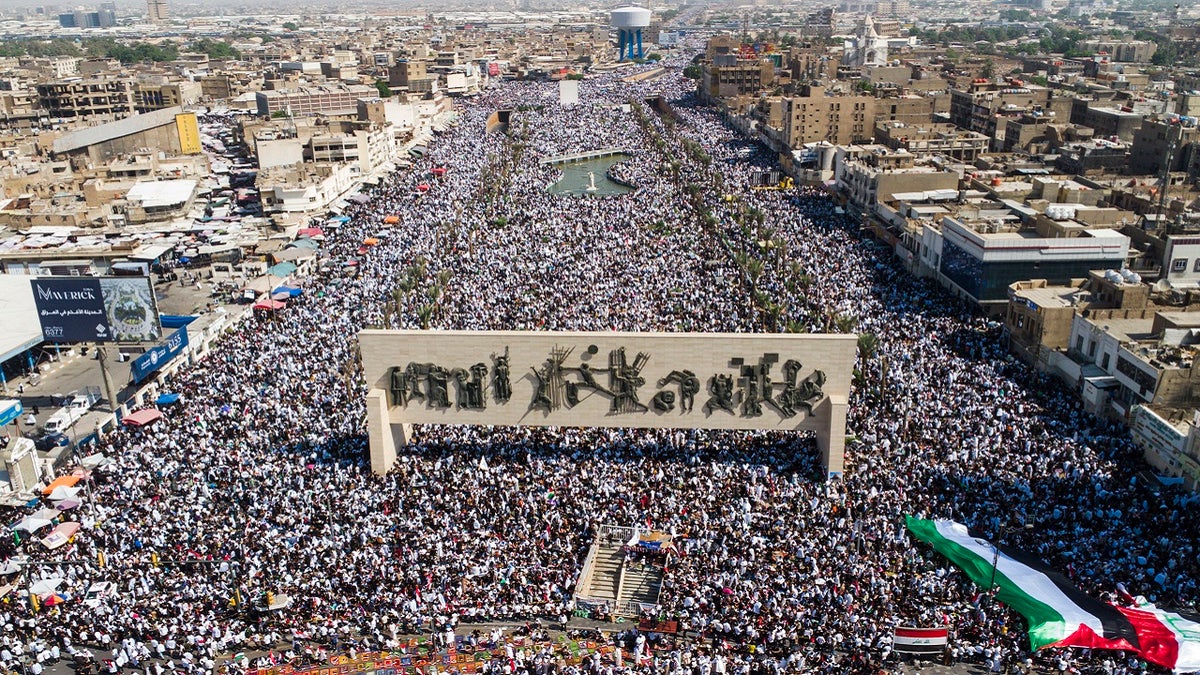 Iraqis hold a mass rally supporting the Palestinians in the Gaza Strip on Friday in Baghdad, Iraq. (AP/Anmar Khalil)
CLICK HERE TO GET THE FOX NEWS APP
"The National Security Council, the security services and Ministry of Foreign Affairs will continue to act everywhere in order to safeguard the security of Israeli citizens around the world," the statement added.
Fox News' Brooke Singman contributed to this report.
Greg Norman is a reporter at Fox News Digital.