close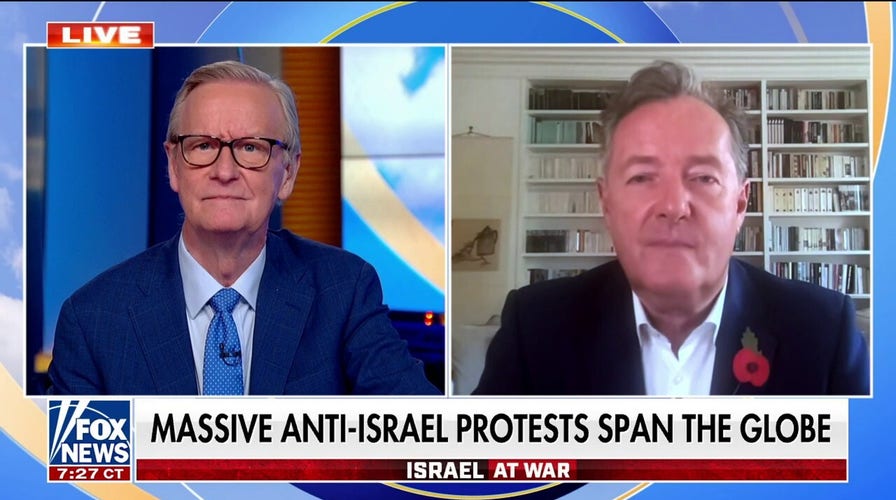 Video
Piers Morgan blasts pro-Palestinian rally planned for UK's Armistice Day: 'Makes my stomach churn'
FOX Nation host discusses Palestinian Ambassador to the U.K. Husam Zomlot's reluctance to condemn Hamas terrorist attacks on Israel as massive pro-Palestinian protests span the globe.
JERUSALEM — On Friday night, Israeli Prime Minister Benjamin Netanyahu issued a joint statement with the country's National Security Council and the Ministry of Foreign Affairs in which they warned Israelis to take serious precautions if they travel abroad or consider postponing trips if possible.
The unprecedented travel warning comes amid a surge in antisemitic attacks against Jews around the globe in the wake of Hamas' deadly infiltration into southern Israel on Oct. 7 and Israel's current military response in the Gaza Strip.
From London to Paris, Berlin, Vienna and Stockholm as well as Russia, the Caucasus and especially the Middle East, Israelis – and Jews – are warned to stay alert, avoid openly displaying Israeli or Jewish symbols, and stay away from protests in support of the Palestinians.
"In the past few weeks, the National Security Council and the Ministry of Foreign Affairs have identified a significant rise in antisemitism and anti-Israel incitement, alongside life-threatening violent attacks on Israelis and Jews around the world," the Israeli government statement reads.
HISTORIC RISE IN ANTISEMITISM HAS AMERICAN JEWS ON EDGE: 'GENERATIONAL CHALLENGE'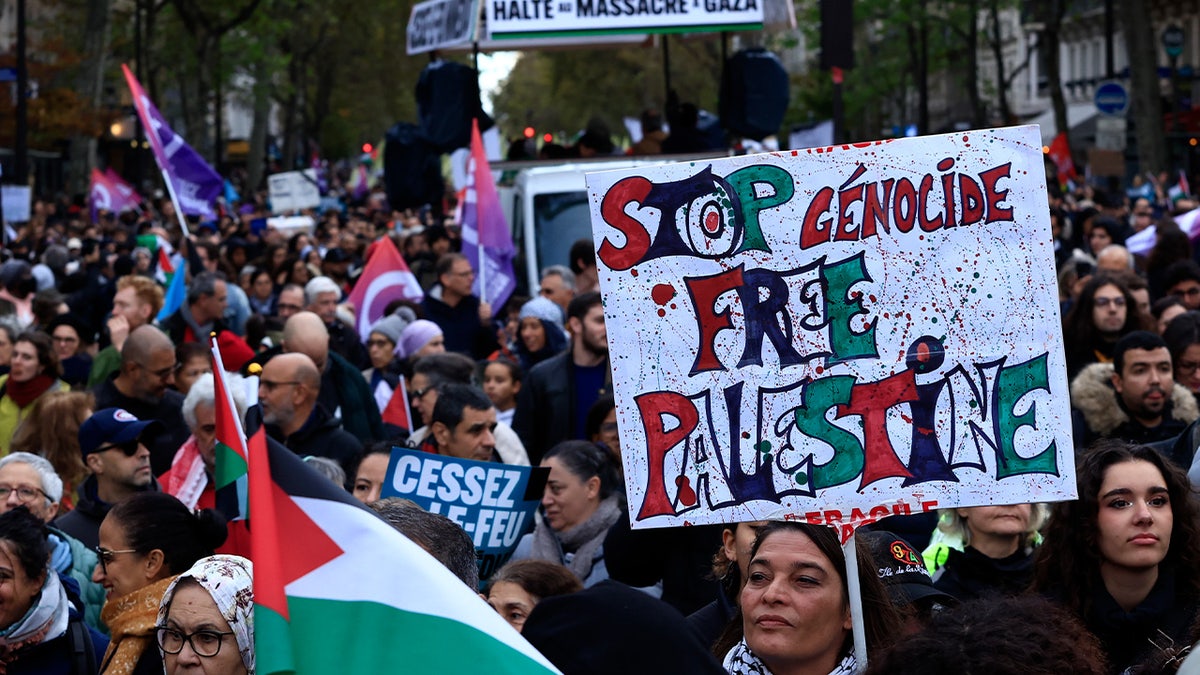 Protesters hold signs and Palestinian flags during a pro-Palestinian rally in Trafalgar Square, London, on Nov. 4, 2023. (Victoria Jones / PA via AP)
"Such incidents are occurring in many countries around the world, including those for which no terrorism-related travel warnings have been issued," it continues, underscoring reports of violence against Jewish communities, religious and community establishments, such as synagogues, Chabad centers, kosher restaurants; Israeli businesses, Israeli delegations and even airports with flights to and from Israel are "key targets for protests and attacks by antisemitic groups."
"Given the magnitude of this, the NSC recommends reevaluating the necessity of foreign travel," the statement says.
Attacks against the Jewish community have been widespread across Europe, where a confluence of factors appears to have left authorities powerless in the face of those seeking to take out their anger toward Israel over its military actions in Gaza on the Jewish minority.
On Sunday, in Malmö, Sweden, the European Jewish Congress condemned a pro-Palestinian protest that involved the burning of an Israeli flag in front of a synagogue, an act that they said was aimed at "intimidating the Jewish community and blaming them for the events in the Middle East."
In Lyon, France, on Saturday, it was reported that a Jewish woman was stabbed in her home and a swastika was daubed on her door. Police said the woman, thought to be in her 30s, answered the doorbell and was knifed in the stomach by an assailant, according to Reuters.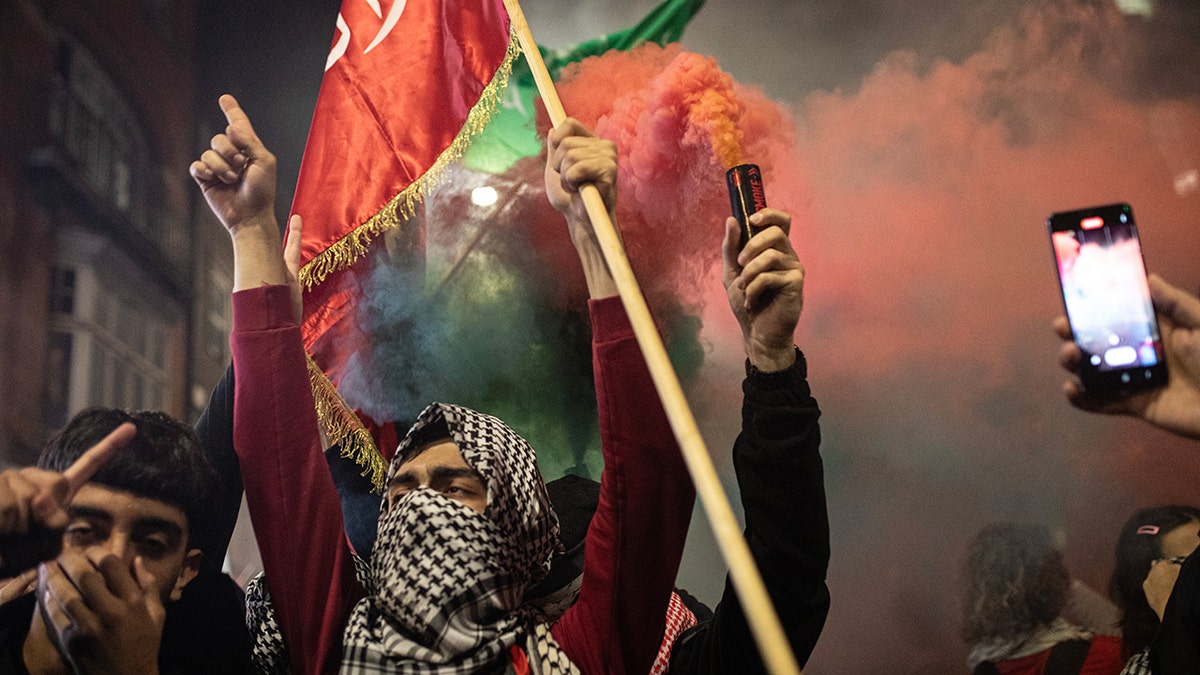 Thousands of pro-Palestinian demonstrators protest outside the Israeli Embassy on October 09, 2023 in London, United Kingdom. (Photo by Leila Dougan/Gallo Images via Getty Images)
Last Wednesday, the Jewish area of the central cemetery in Vienna was set on fire, causing significant damage to the ceremonial hall and a gate, reports said. It was just one of some 165 antisemitic attacks that have happened in Austria since Hamas launched its terror attack on Oct. 7.
"We are seeing an unrestricted and relentless surge in antisemitism in large parts of Europe," Sacha Roytman, CEO of the Combat Antisemitism Movement, told Fox News Digital. "Even now, after the largest atrocity committed against Jews since the Holocaust, the Jews are being targeted and all the ancient, medieval myths and conspiracies against Jews are thriving, leading to bloodshed."
ANTISEMITISM EXPOSED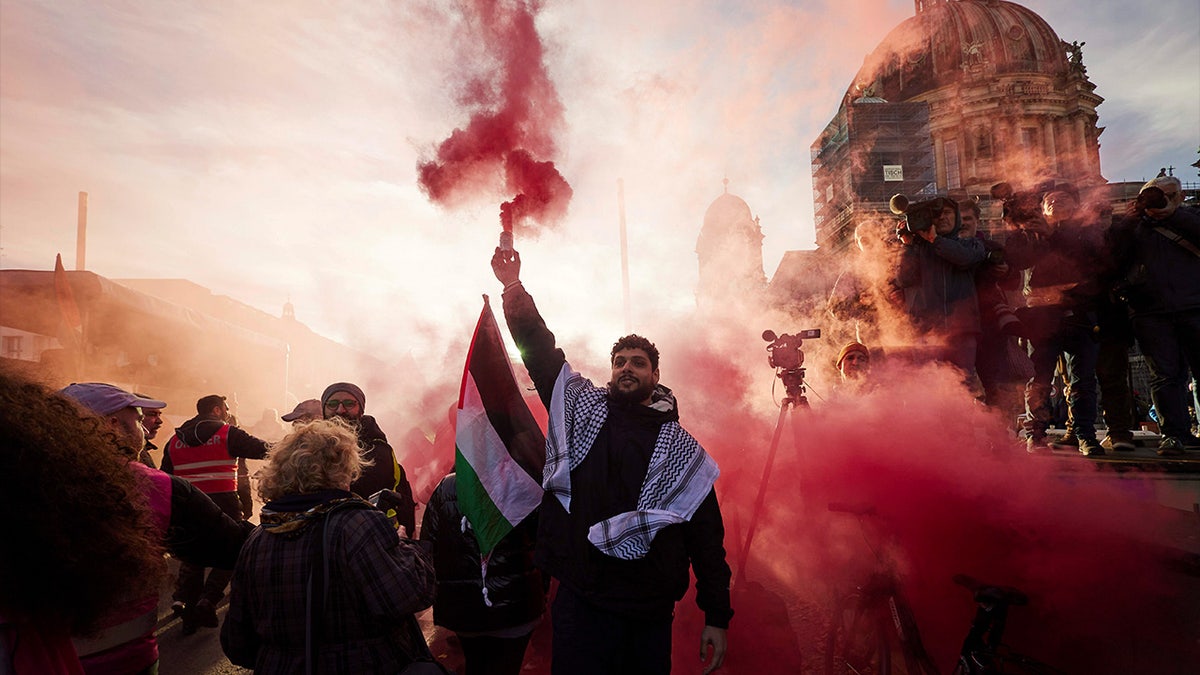 People take part in a pro-Palestinian rally in Berlin on Nov. 4, 2023. (Joerg Carstensen / dpa via AP)
Roytman said it is up to the authorities to clamp down on the violence and incitement "not just on the streets but also online."
"This is an open season on Jews around the world, and all governments should be doing their utmost to protect their Jewish communities," he said.
Rabbi Abraham Cooper, associate dean and director of global social action at the Simon Wiesenthal Center, told Fox that Europe's antisemitic past is coming back to haunt it.
"There are millions of people in Europe who basically believe that what the Nazis did to the Jews in the 1930s and '40s is the same as what the Israelis are doing today to the Palestinians," he said, adding, "that it was part of the continent's lingering "Shoah guilt."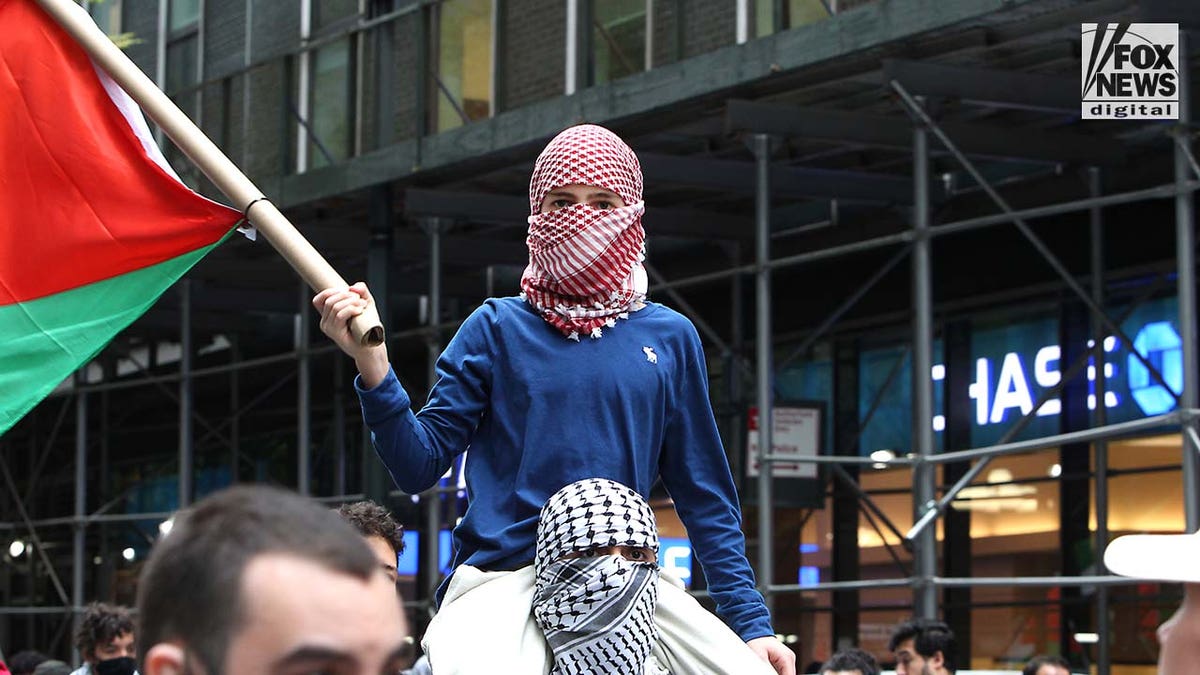 Demonstrators attend an "emergency rally for Gaza" outside of the Israeli Consulate in New York City, New York on Monday, October 9, 2023. Supporters of both the Palestinians and Israel clashed at the event as Israel remains at war with Hamas. (Jennifer Mitchell for Fox News Digital)
"It is so they can say to the Jews, 'You are no different to we are,'" Cooper said.
The rabbi also said, "Even before Oct. 7, the statistics coming out of European countries such as Germany were very high, and the authorities there have yet to come up with any serious approach how to deal with antisemitism."
In addition to this ancient form of antisemitism, Cooper said that the arrival in Europe of hundreds of thousands of refugees from the Muslim world over the last two decades has exacerbated such sentiments toward Jews.
"They [Muslim immigrants] came with antisemitic baggage, and when you ask European leaders what they are doing about it, they have no answer," he said.
PRO-PALESTINIAN PROTESTS TURN VIOLENT ACROSS EUROPE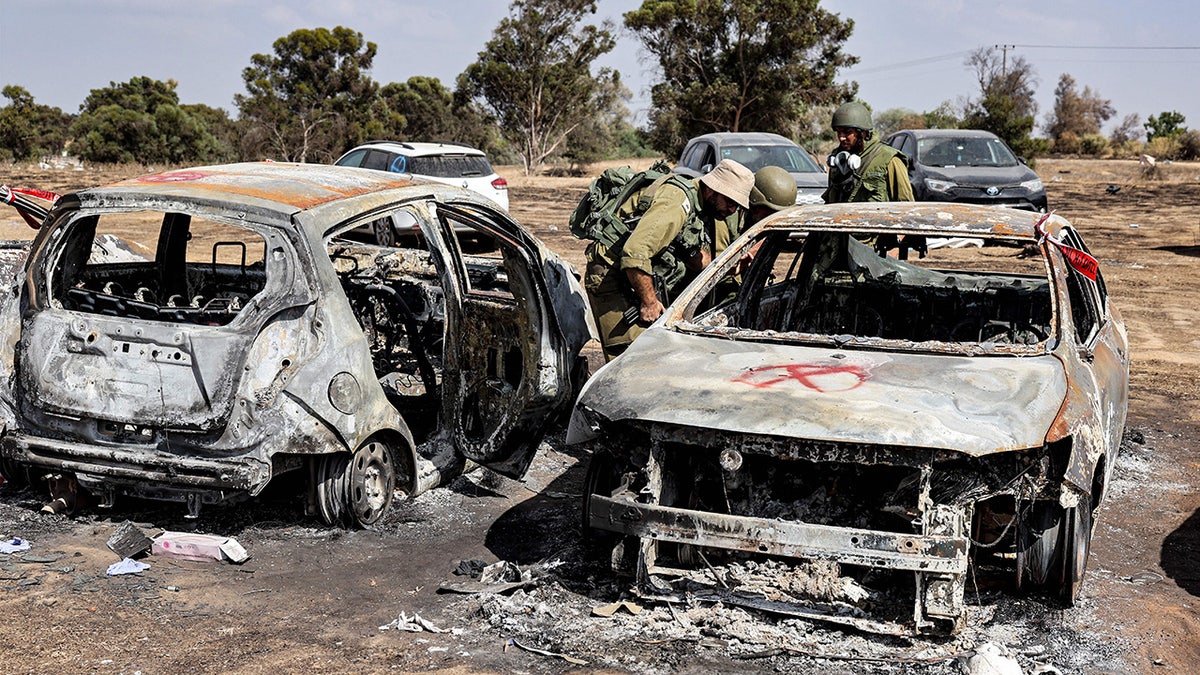 Israeli army soldiers examine a burned-out vehicle, which is shown at the site of the Oct. 7 attack on a desert music festival by Hamas terrorists, in southern Israel on Oct. 13, 2023.
Cooper gave the example of the U.K., where political leaders have made powerful speeches in support of Israel and the Jewish community but have done little to address the tens of thousands of protesters who are gathering weekly and calling for "global jihad" or the ongoing incidents of antisemitism in the same location week after week.
With some of the biggest anti-Israel demonstrations taking place each week in the United Kingdom since the fighting in Gaza began a month ago, the Community Security Trust (CST), a charity protecting British Jews, said that as of Friday it had recorded at least 1,019 antisemitic attacks since Oct. 7 — the highest total ever reported to CST across a 28-day period.
Among the incidents were multiple reports of assault, damage or desecration to Jewish property, verbal threats and abusive behavior online and in person, CST reported.
Antisemitic incidents have risen in the UK since the Hamas terror attacks on Israel on Oct 7. (The Community Security Trust)
Images of tens of thousands of pro-Palestinian protesters chanting anti-Israel slogans while marching through central London, forcing synagogues to close and sparking seemingly unrelated attacks against fast-food chains such as McDonald's, which some believe to be supporting Israel, have sent chills through the Jewish community in the U.K.
"This surge of antisemitism has sent shock waves through Jewish communities globally," Mark Gardner, CEO of CST, told Fox News Digital. "Social media has been key for campaigning, sharing information and, for many, a way to connect. Sadly, it is also a way for misinformation to spread rapidly and cause more fear and anxiety."
Gardner said the surge in hate crime has been "happening because Jew-haters were excited by the mass murders committed by Hamas and because they always react this way when Israel is at war."
"They do not want peace between Israelis and Palestinians," he said. "They want Israel destroyed, and they see all Jews as fair game because that is how hatred and racism work in their twisted brains."
Antisemitic incidents have increased in the UK following the October 7 terror attacks on Israel. (The Community Security Trust)
CLICK HERE TO GET THE FOX NEWS APP
Roytman said antisemitism "has been allowed to percolate for far too long, especially on college campuses, in religious institutions and even in polite society."
"The lies believed about the Jews have been acceptable for too long and the Jew of old has morphed into the Jewish state," he added. "Every single antisemitic attack or event just tells us why we need our own state in our indigenous and ancestral homeland."
Reuters contributed to this report.
Ruth Marks Eglash is a veteran journalist based in Jerusalem, Israel. She reports and covers the Middle East and Europe. Originally from the U.K, she has also freelanced for numerous news outlets. Ruth can be followed on Twitter @reglash