close
Video
US and Israel start large scale military exercise in Israel
U.S. Central Command and the IDF are taking part in a joint-military exercise known as 'Juniper Oak,' that is taking place in Israel and the Eastern Mediterranean Sea. (Courtesy: IDF Spokesman's Unit via CENTCOM.)
Israel is poised to speed up gun applications in response to a shooting in East Jerusalem over the weekend that left seven people – including a 70-year-old woman – dead.
The measure was among several that Israel's Security Cabinet announced Saturday evening.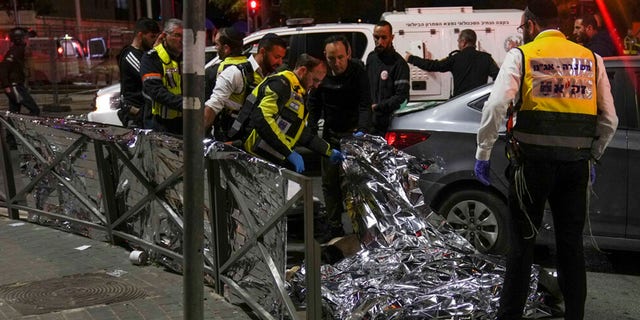 Members of Zaka Rescue and Recovery team check a body after a shooting attack near a synagogue in Jerusalem , Friday, Jan. 27, 2023. 
(AP Photo/Mahmoud Illean)
"Firearm licensing will be expedited and expanded in order to enable thousands of additional citizens to carry weapons," read a statement on the Facebook page of the Prime Minister of Israel.
National Security Minister Itamar Ben-Gvir told reporters over the weekend: "When civilians have guns, they can defend themselves."
The measures also include depriving social security rights to the attacker's family. The full cabinet was expected to consider the measure on Sunday.
IRAN SUFFERS DRONE STRIKE DAYS AFTER US AND ISRAEL LAUNCHED JOINT MILITARY DRILL IN THE REGION
A Palestinian gunman opened fire outside an east Jerusalem synagogue Friday night, killing seven people, including a 70-year-old woman, and wounding three others before he was shot and killed by police, officials said.
The attack, which occurred as residents were observing the Jewish sabbath, came a day after an Israeli military raid killed nine Palestinians in the West Bank. Friday's shooting set off celebrations in both the occupied West Bank and Gaza Strip, where people fired guns into the air, honked horns and distributed sweets.
CLICK HERE TO GET THE FOX NEWS APP
Addressing reporters at Israel's national police headquarters, Prime Minister Benjamin Netanyahu said he had held a security assessment and decided on "immediate actions." He said he would convene his Security Cabinet on Saturday night, after the end of the sabbath, to discuss a further response.
The Associated Press contributed to this report.
Bradford Betz is a Fox News Digital breaking reporter covering crime, political issues, and much more.