close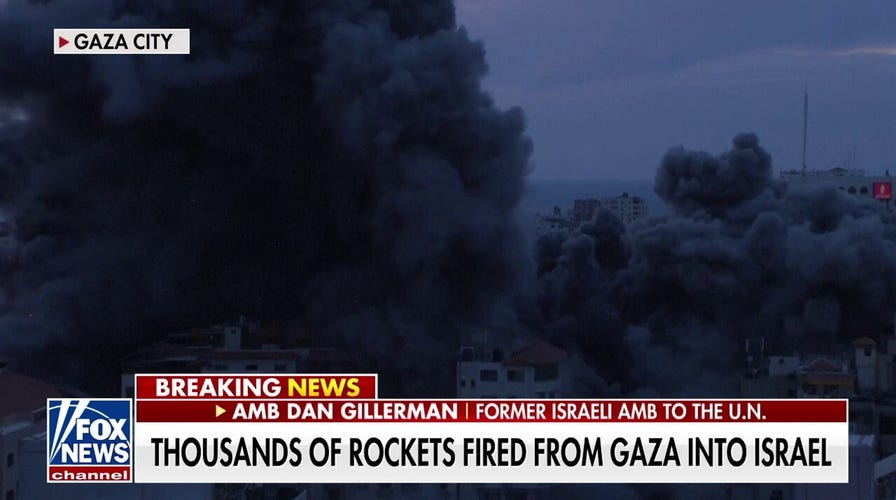 Video
Hamas launched attack on Israel to stop Saudi Arabia's peace talks: Dan Gillerman
Former Israeli Ambassador to the U.N. Dan Gillerman reacts to the Hamas attack on Israel Saturday on 'FOX News Live,' saying Iran conducted the 'vicious' attack through Hamas terrorists.
Saudi Arabia indicated that it will shift its focus from talks with Israel to talks with Iran following the Hamas terrorist attack last week, but an expert told Fox News Digital that a normalization deal isn't off the table.
"The Saudi-Israeli relationship has actually been ongoing now for, you know, months, if not years under the table," Dr. Jonathan Schanzer, senior vice president for research at the Foundation for Defense of Democracies, told Fox News Digital.
"The relationship will exist whether there is, you know, any normalization or not," he added, stressing that "normalization is a process, not an event" that will likely continue "below the radar … regardless of what happens here."
At least 3,200 people have been killed since Hamas launched thousands of missiles into Israel last week, including at least 1,300 Israeli civilians and soldiers and 27 Americans. Palestinian health authorities say at least 2,215 Palestinians have been killed and more than 8,700 wounded.
ISRAELI SURVIVORS OF HAMAS TERROR ATTACK RECOUNT HARROWING BRUTALITY, HEROISM
Some experts suggested that the attack occurred in response to recent reports, including during an interview with Bret Baier, Fox News chief political anchor and anchor and executive editor of "Special Report with Bret Baier" with Saudi Arabia's Crown Prince Mohammed bin Salman, that Saudi Arabia and Israel had neared a point of agreement on normalized relations.
The move would have been a major victory for the parties involved, but a major setback for Iran, which has long supported Hamas terrorism in Gaza.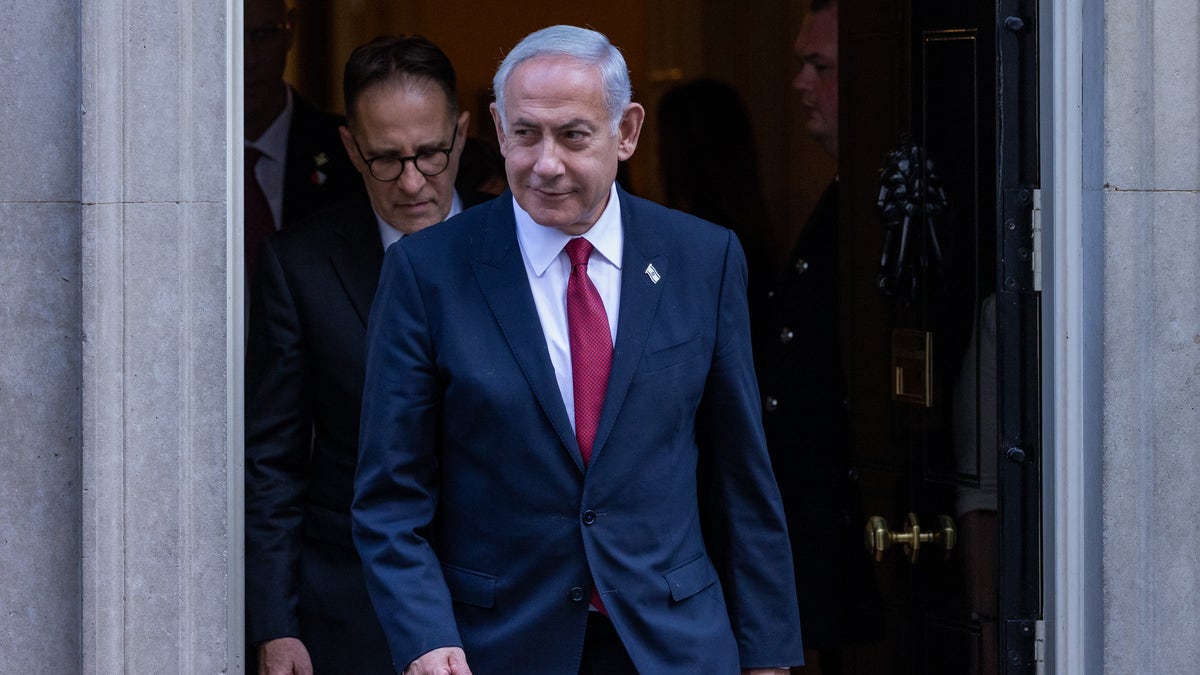 Israel Prime Minister Benjamin Netanyahu leaves 10 Downing Street following brief talks with U.K. Prime Minister Rishi Sunak on March 24, 2023 in London. (Mark Kerrison/In Pictures via Getty Images)
But two sources familiar with the matter told Reuters that the crown prince has already spoken with Iranian President Ebrahim Raisi in an effort to stymie potential further violence across the region.
One of the sources said that talks could not continue for now and that Saudi Arabia would need to prioritize concessions for the Palestinian people when discussion resumed.
IDF SAYS IT CONTINUED TO ATTACK HAMAS MILITARY TARGETS, HEADQUARTERS IN GAZA STRIP: HAMAS OFFICIAL KILLED
A senior Iranian official told Reuters the call, made by Raisi to the crown prince, aimed to support "Palestine and prevent the spread of war in the region," adding that the call was "good and promising."
A second Iranian official said the call lasted 45 minutes and had the blessing of Supreme Leader Ayatollah Ali Khamenei.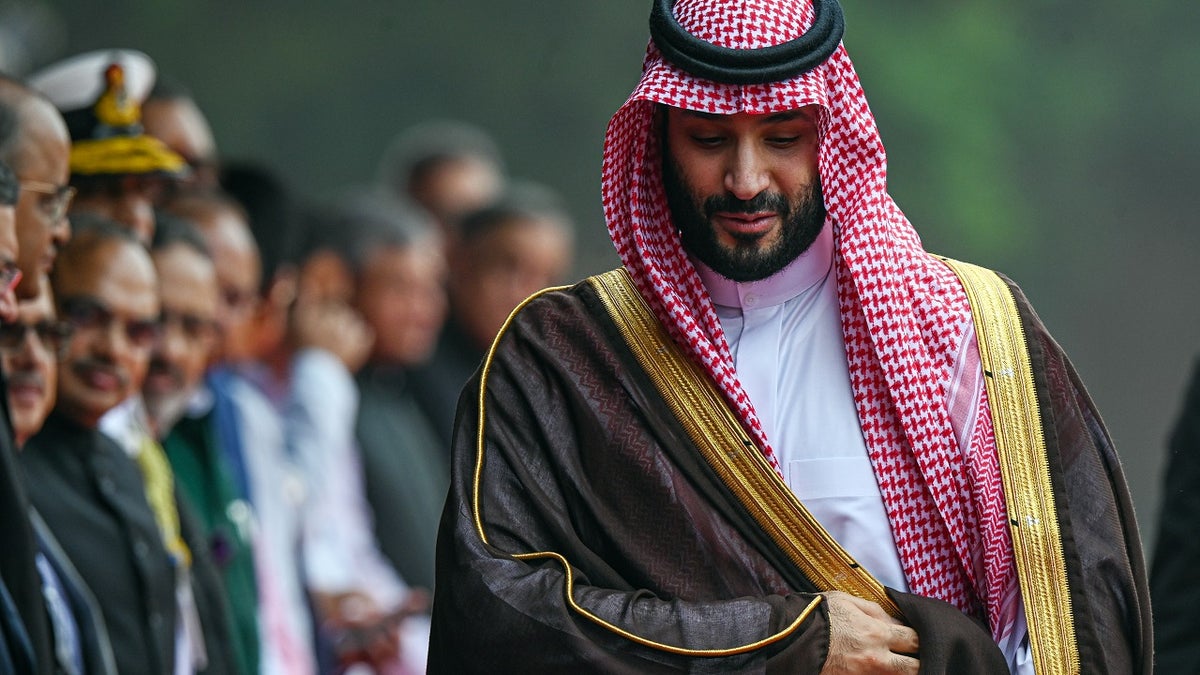 Mohammed bin Salman, Saudi Arabia's crown prince, in New Delhi on Monday, Sept. 11, 2023. (Prakash Singh/Bloomberg via Getty Images)
Saudi Arabia's initial statement following the news of the attack in Israel appeared to lay blame on Israel for the conflict, referring to its past "warnings" to Israel about the treatment of the Palestinian people as the Foreign Ministry noted it was "closely following the developments."
The Kingdom recalls its repeated warnings of the dangers of the explosion of the situation as a result of the continued occupation and deprivation of the Palestinian people of their legitimate rights and the repetition of systematic provocations against its sanctities," the statement said, adding a call for a renewed effort to reach a two-state solution but referring to Israel's military as the "Occupation Forces."
RUSSIA OFFERS TO MEDIATE ISRAEL-GAZA NEGOTIATIONS, PUTIN SAYS 'NO ALTERNATIVE' TO 2-STATE SOLUTION
The statement drew criticism from U.S. officials. Sen. Lindsey Graham, R-SC, revealed that he told a senior Saudi official on Saturday that "if you want a normal relationship with the United States, this is not a normal statement."
"You don't want to be in the cheering section with Iran and Hezbollah," he recounted of his conversation, according to The New York Times.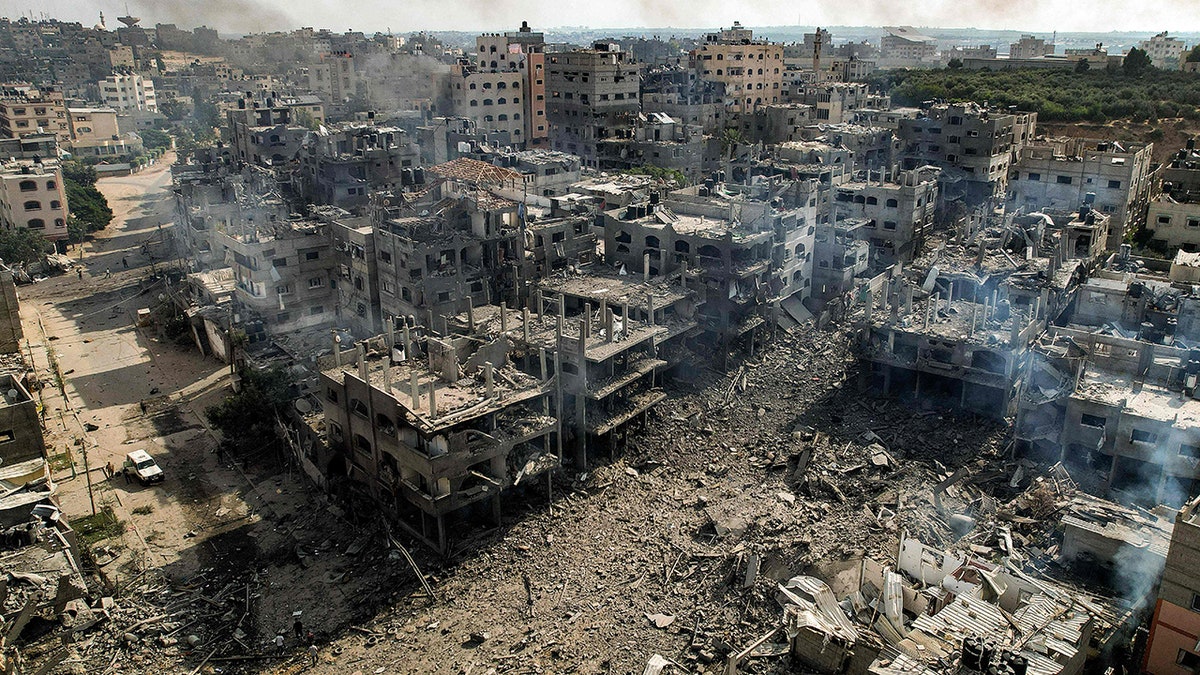 An aerial view Wednesday of buildings destroyed by Israeli air strikes in a camp for Palestinian refugees in Gaza City.  (Yahya Hassouna/AFP via Getty Images)
Geopolitical consulting firm Eurasia Group's president and founder Ian Bremmer told Fortune that he believed the deal between Israel and Saudi Arabia has become "unpalatable," with the Saudi statement making it "impossible" to open diplomacy for both countries.
Schanzer disagreed with that statement, arguing that the relationship both countries have with the United States will help keep them in balance and work toward a normalization deal.
NEARLY 20 GOP GOVERNORS URGE BIDEN TO 'PROJECT AMERICAN STRENGTH' BY 'UNEQUIVOCALLY' SUPPORTING ISRAEL
"This is quite normal that countries that don't have full diplomatic relations will often start first working through intelligence agencies, covert channels," Schanzer explained. "So that covert channel exists, and I don't think is likely to change any time soon."
U.S. Secretary of State Antony Blinken made a lighting-round tour of key regional players, including Israel, Jordan, Saudi Arabia, Bahrain, Qatar and the United Arab Emirates.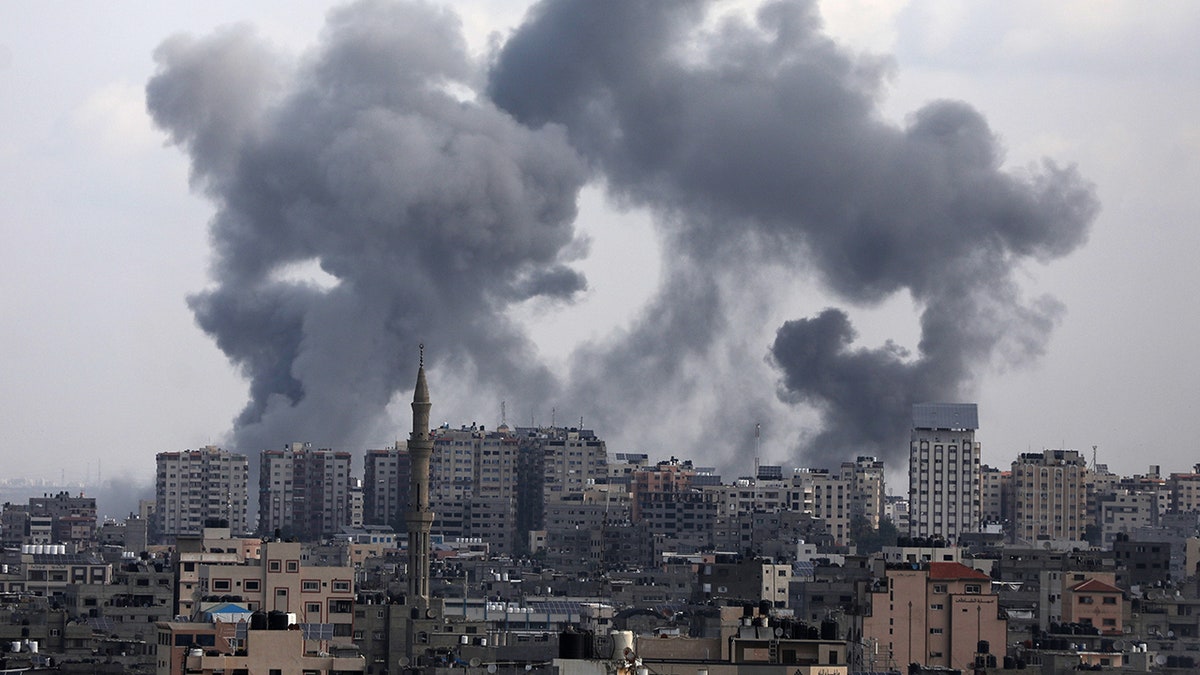 Smoke rises following Israeli strikes in Gaza on Tuesday. (Majdi Fathi/NurPhoto via Getty Images)
During his talks, Blinken consistently urged the need to end the conflict quickly and preserve the lives of civilians caught in the crossfire between the Israel Defense Forces (IDF) and Hamas, who control the Gaza Strip.
Shanzer argued that the real question was at what point discussions can continue – whether it occurs "in the backdrop of this crisis" or not.
"I think the Saudis have to be wondering whether Israel is the same strong country that it thought it was dealing with and it thought it could benefit from through an alliance," he continued.
"That said, at the same time, Israel will need to be very careful about the optics of whatever comes next in the Gaza Strip because the Saudi public will not want to see bloodshed and misery and destruction in Gaza," he added.
CLICK TO GET THE FOX NEWS APP
"The Saudi public will not want to see bloodshed and misery and destruction in Gaza. They still feel for the Palestinian people, even if they have perhaps lessened their resolve to support them directly in terms of agitating for a Palestinian state," Schanzer said.
Fox News Digital's Anders Hagstrom contributed to this report.
Peter Aitken is a Fox News Digital reporter with a focus on national and global news.