close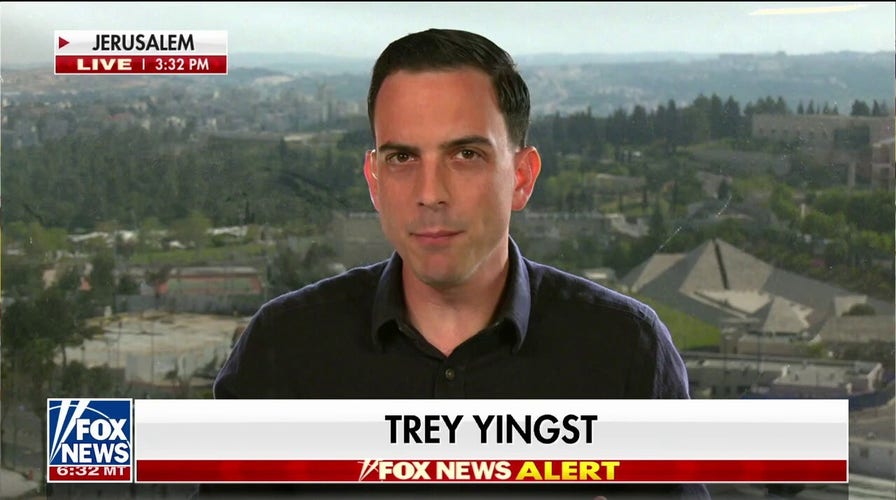 Video
Israel faces barrage of rockets after first night of Passover
Fox News' Trey Yingst discusses tensions in the Middle East, covering the latest report of over 100 rockets fired into Israel amid Muslim and Jewish holidays.
The Israeli military launched rare airstrikes into Lebanon early Friday morning, just hours after it struck opposition targets in the Gaza Strip.
Both series of attacks were in retaliation after Palestinian militants in Gaza fired rockets into southern Israel. Later, another volley of rockets was fired from Lebanon into Northern Israel.
The rocket fire further escalated from initial violence at a Jerusalem holy site this week.
The Israeli military did not provide information about its intended targets in Lebanon but said it targeted tunnels and weapon sites in the Gaza Strip.
ISRAEL LAUNCHES AIRSTRIKES ON HAMAS TUNNELS AND WEAPON SITES IN GAZA STRIP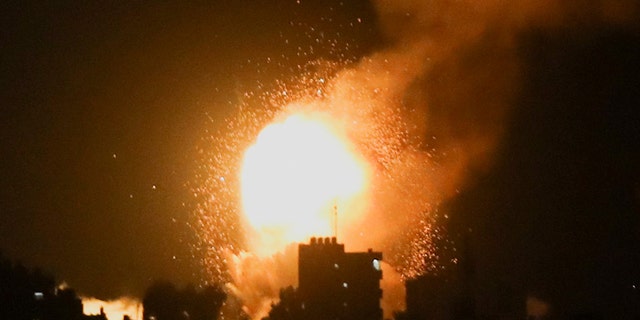 Smoke and flames rise during Israeli airstrikes in Khan Younis in the southern Gaza Strip, April 7, 2023.   (REUTERS/Ashraf Amra)
A Lebanese TV station reported explosions in the southern port city of Tyre. The town is located about 20 miles from Israel's northern border.
The Israeli military did not provide any further details.
The current round of violence began Wednesday during an incident at the Al-Aqsa Mosque in Jerusalem's Old City, where hundreds of worshipers gathered.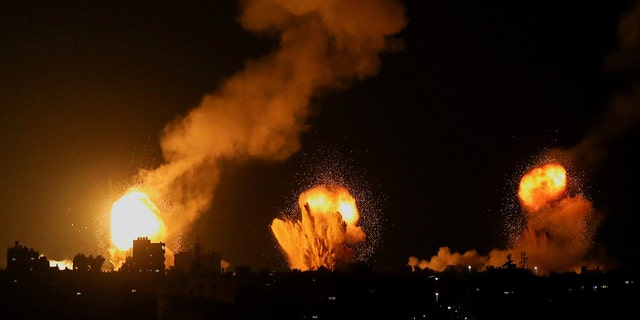 Smoke and flames rise during Israeli airstrikes in Khan Younis in the southern Gaza Strip, April 7, 2023. (REUTERS/Ashraf Amra )
Israel's police said agitators used rocks and fireworks, causing a disturbance at the site. They also barricaded themselves in the structure, police said.
ISRAELI FIGHTER JETS STRIKE HAMAS WEAPONS FACILITY AFTER VIOLENCE, 350 ARRESTED AT JERUSALEM HOLY SITE
The Israeli officers raided the mosque and arrested more than 350 people.
Some Palestinians disputed the series of events and said the police raid caused the current violence.
The Wednesday raid led to rocket fire from Gaza on Thursday. And, in a significant escalation, a barrage of nearly three dozen rockets was fired from Lebanon into northern Israel.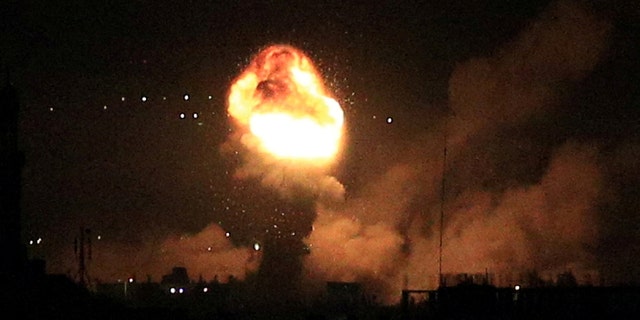 Smoke and flames rise during Israeli airstrikes in Gaza, April 6, 2023.  (REUTERS/Bashar Talib )
The fighting comes amid a backdrop of religious sensitivity for both Muslims and Jewish people as celebrations for the Passover holiday and the Ramadan holy month are underway. The exchange of blows also comes as a similar escalation in 2021 spilled over into an 11-day war between Israel and Hamas, a terrorist group that governs Gaza.
Israeli Prime Minister Benjamin Netanyahu convened his Security Cabinet Thursday as the Israeli military struck four sites in Gaza belonging to Hamas.
ISRAEL'S NETANYAHU AGREES TO HALT JUDICIAL REFORM FOR NOW AS MASS PROTESTS CONTINUE
After the hours-long meeting, Netanyahu's office released a statement suggesting attacks would be made.
"Israel's response, tonight and beyond, will extract a heavy price from our enemies," Netanyahu said. He did not elaborate.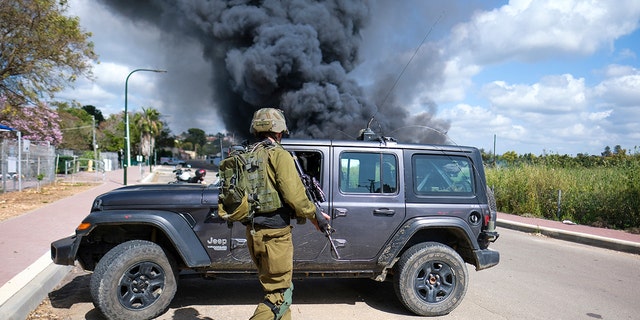 Smoke rises from a fire after rockets fired from Lebanon struck Bezet, northern Israel, Thursday, April 6, 2023.  (AP Photo/Fadi Amun)
"The (Israeli Defense Forces) will not allow the Hamas terrorist organization to operate from within Lebanon and holds the state of Lebanon responsible for every directed fire emanating from its territory," the Israeli military said in a statement, Reuters reported.
CLICK HERE TO GET THE FOX NEWS APP
The most recent airstrikes came after militants in Lebanon firing some 34 rockets into Israel, forcing air sirens across Israel's northern frontier as people sought safety in bomb shelters. The attacks wounded at least two people.
Fox News' Paul Best and The Associated Press contributed to this report.