close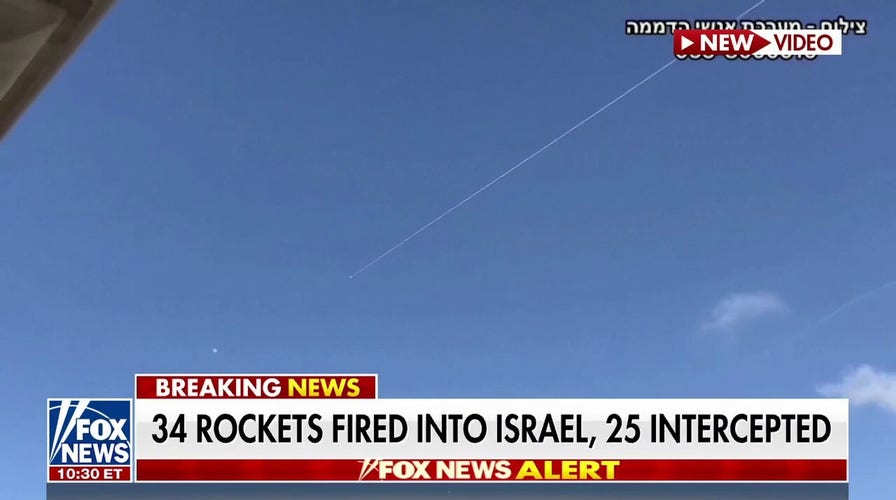 Video
At least 34 rockets fired into Israel, 25 intercepted by Iron Dome
The rockets were fired into northern Israel, and Israeli officials believe the attacks came from a Palestinian faction in Lebanon, 'America's Newsroom' co-host Bill Hemmer reported.
The Israeli Defense Forces unleashed airstrikes on tunnels and weapons manufacturing sites in the Gaza Strip early Friday morning, several hours after militants launched rockets at northern Israel from Lebanon.
Palestinian militants also fired rockets from the Gaza Strip on Friday morning, though they were intercepted by Israel's air defenses.
The latest volley comes amid rising tensions in the region, as the Jewish Passover began on Wednesday and the Muslim holy month of Ramadan continues.

next
Image 1 of 3

Smoke and fire rise from an explosion caused by an Israeli airstrike on Gaza City, early Friday, April 7, 2023.  (AP Photo/Adel Hana)


prev

next
Image 2 of 3

The Israeli military has struck targets in the Gaza Strip, pushing the region toward a wider conflagration after a day of rocket fire along the country's northern and southern borders. (AP Photo/Fatima Shbair)


prev
Image 3 of 3

Smoke rises amid buildings during Israeli airstrikes in Gaza. (REUTERS/Mohammed Salem )
IDF spokesperson Lt. Col. Richard Hecht said at a news briefing that Israel believes Palestinian militants launched 34 rockets from southern Lebanon earlier in the day. Five of them fell on Israeli territory, while 25 were intercepted by air defenses and four others had an unclear landing spot.
"It's a Palestinian-oriented event," Lt. Hecht said, adding that Israel believes Hezbollah, an Iran-backed militant group that controls much of southern Lebanon, was aware of the attack.
ISRAEL'S NETANYAHU AGREES TO HALT JUDICIAL REFORM FOR NOW AS MASS PROTESTS CONTINUE
The rocket fire came after Israeli police raided the Al-Aqsa Mosque in Jerusalem's Old City twice Wednesday. Muslims flock to the mosque, which resides on the foundations of the Jewish Temple Mount, during the holy month of Ramadan.
Many Muslim visitors have attempted to stay at the mosque overnight, prompting raids that have been widely condemned by Muslims worldwide.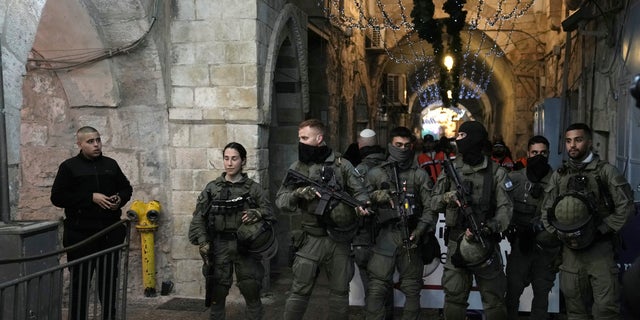 Israeli police deploy in the Old City of Jerusalem, hours after police raided the Al-Aqsa Mosque compound, Wednesday, April 5, 2023.  (AP Photo/Mahmoud Illean)
Israeli Prime Minister Benjamin Netanyahu convened his cabinet Thursday. His office tweeted that Israeli officials "have no intention of changing the status quo on the Temple Mount."
"We are calling for calming the situation and we will take strong action against extremists who use violence there," the prime minister's office tweeted.
ISRAEL CALLS UP ARMY BATTALIONS AS SERIOUS VIOLENCE HITS WEST BANK FOLLOWING MURDER OF ISRAELI BROTHERS
An 11-day war broke out between Israel and Hamas in Gaza last year after similar tensions during Ramadan and the Passover.

next
Image 1 of 3

The crater from an intercepted rocket fired from Lebanon that landed in Shlomi, northern Israel Thursday, April 6, 2023.  (AP Photo/Ariel Schalit)


prev

next
Image 2 of 3

A man inspects damage to a shopping center from an intercepted rocket fired from Lebanon in Shlomi, northern Israel Thursday, April 6, 2023.  (AP Photo/Ariel Schalit)


prev
Image 3 of 3

Israeli Border Police are deployed near the Lions' Gate to the Old City of Jerusalem during a raid by police of Al-Aqsa Mosque, Wednesday, April 5, 2023.  (AP Photo/Mahmoud Illean)
CLICK HERE TO GET THE FOX NEWS APP
Addressing the rockets that were fired from Lebanon and Gaza this week, Netanyahu said that the "citizens of Israel stand united and unified" in support of the IDF.
"Israel's response, tonight and later, will exact a significant price from our enemies," Netanyahu tweeted.
The Associated Press contributed to this report.
Paul Best is a breaking news reporter for Fox News Digital and Fox Business. Story tips and ideas can be sent to [email protected] and on Twitter: @KincaidBest.