close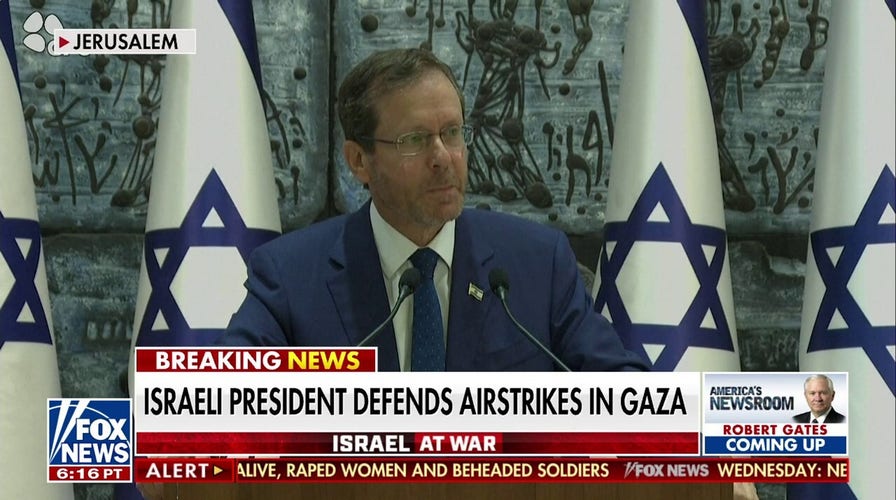 Video
Israeli president has tense exchange with reporter over Gaza airstrikes
Israeli President Isaac Herzog sparred with the press in Jerusalem over the airstrikes in Gaza.
Palestinian residents are claiming Thursday that Israeli planes have dropped flyers into Gaza with a message for them to leave their homes and head to "known shelters" or risk being harmed, a report says.
"Anyone who is near Hamas terrorists will put their lives in danger," the flyers in the city of Beit Lahiya said, according to The Associated Press. "Adhering to IDF instructions will prevent you from being exposed to danger."
However, the AP added that the area in the northern part of the Gaza Strip near its border with Israel had been hit by airstrikes by the time Palestinians reported finding the flyers.
A U.N. agency for Palestinian refugees also said 10 of its shelters have been struck since Israel started conducting retaliatory airstrikes against Hamas following the terrorist group's initial attack Saturday, the AP has reported.
LIVE UPDATES: ISRAEL AT WAR WITH HAMAS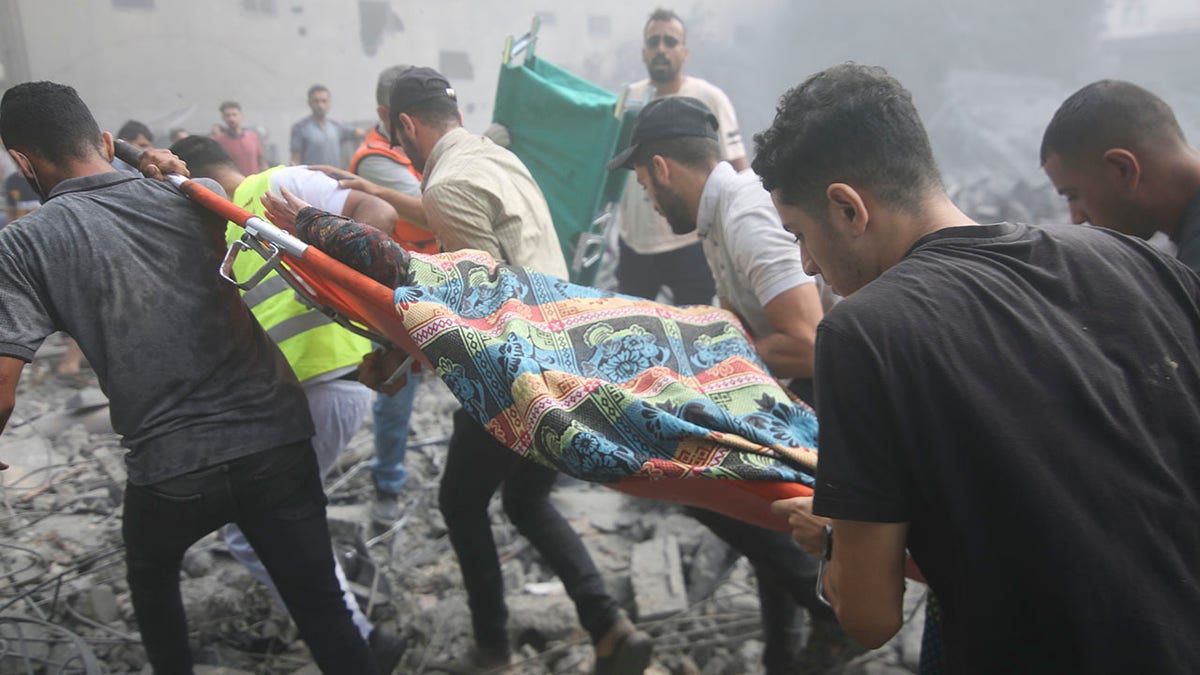 Palestinians evacuate wounded after an Israeli airstrike in the city of Rafah in the Gaza Strip on Thursday. (AP/Hatem Ali)
As of Thursday – the sixth day in the war – more than 1,400 people have been killed in Gaza from the airstrikes, including 447 children, the Palestinian Ministry of Health said.
Images taken by the AP have captured bloodied and wounded children receiving treatment from medical staff inside a hospital in Gaza City.
Earlier today, Israel President Isaac Herzog was involved in a fiery exchange with a reporter over how Israel is choosing their targets to strike back at in Gaza.
Israel said Hamas has been using residential areas as launch sites for their missiles streaming into the Jewish state.
POPE AFFIRMS ISRAEL HAS 'RIGHT' TO 'DEFEND THEMSELVES,' MOURNS INNOCENTS IN GAZA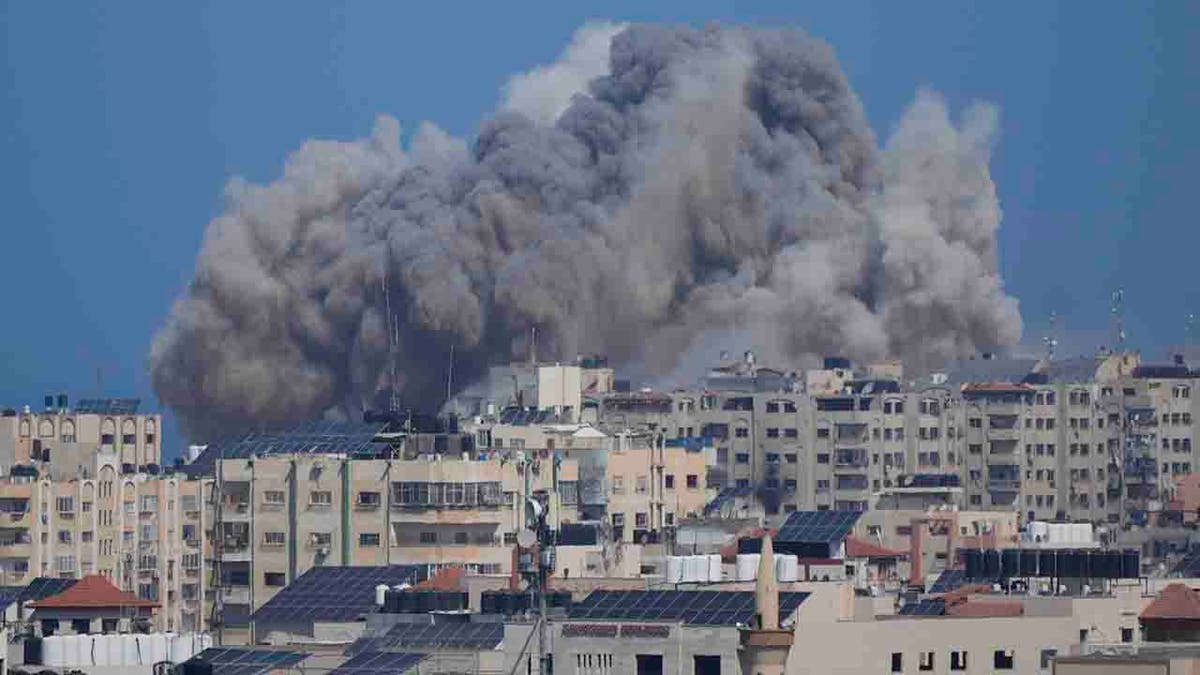 Smoke rises following an Israeli airstrike in Gaza City, Thursday, Oct. 12, 2023. Israel's retaliation has escalated after Gaza's militant Hamas rulers launched an unprecedented attack on Israel Saturday, killing over 1,200 Israelis and taking captive dozens. Heavy Israeli airstrikes on the enclave has killed over 1,200 Palestinians. (AP Photo/Hatem Moussa)
"With all due respect, if you have a missile in your God d— kitchen, and you want to shoot it at me, am I allowed to defend myself? Yes. That is the situation, these missiles are there… the missile comes up from the kitchen onto my children," Herzog said.
"Humanity has to decide, are we accommodating terror or are we fighting terror? We are fighting terror," he continued.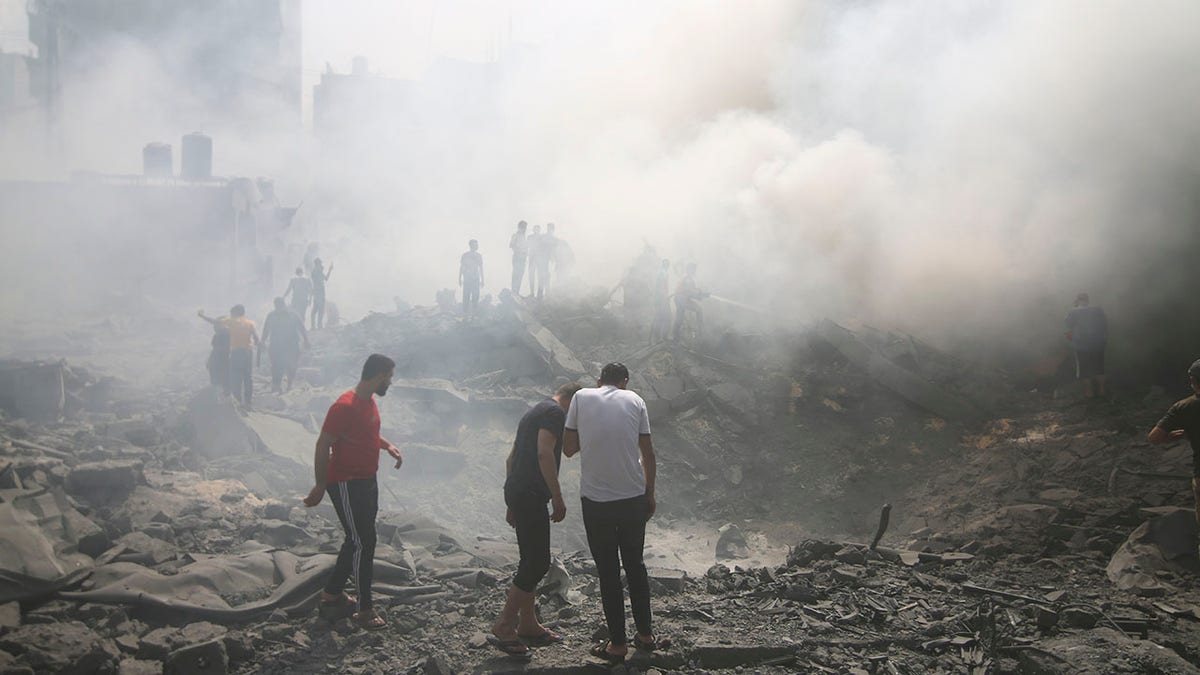 Smoke rises following an airstrike in Rafah on Thursday. (AP/Hatem Ali)
CLICK HERE TO GET THE FOX NEWS APP
"Unfortunately, in their homes, there are missiles shooting at us, at my children, on the entire nation of Israel. We have to defend ourselves, we have the full right to do so," he also said. "And it's about time that the world understands it. This is the tragedy of using terror, and there is no mercy to terror."
Greg Norman is a reporter at Fox News Digital.