close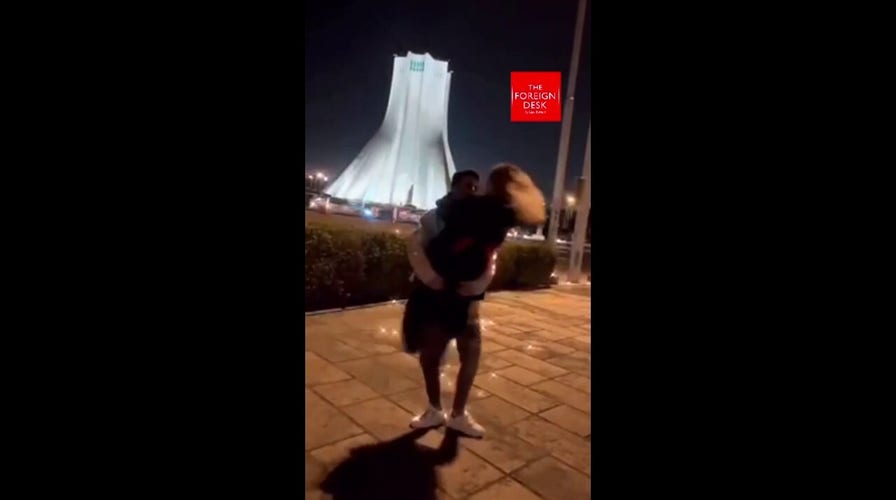 Video
Iranian couple dances in streets near "Freedom Tower"
An Iranian couple face a 10-year jail sentences after posting a video of themselves dancing in the street in Tehran. (CREDIT: The Foreign Desk)
Iranian authorities reportedly handed down a 10-year jail sentence to a couple who were recorded dancing in the street.
Astiyazh Haqiqi, 21, and her fiance Amir Mohammad Ahmadi, 22, posted a video of themselves dancing together in public in front of the Azadi Tower in Tehran – also known as the "Freedom Tower."
The court convicted them on charges of "encouraging corruption and public prostitution," as well as "colluding against national security and propaganda against the establishment," the BBC reported.
Police also raided Haqiqi's family home before her arrest.
BIDEN URGED TO TAKE CLEAR STAND ON IRAN BY ACTIVIST TARGETED IN ALLEGED ASSASSINATION PLOT
It's unclear whether the 10-year sentence applies to each of them or is a combined sentence. They were also handed a two-year social media ban and must leave the country, The Guardian reported.
Women protest the death of 22-year-old Mahsa Amini, who was detained by the morality police, in Tehran, Oct. 1, 2022.
(AP Photo/Middle East Images)
The U.S.-based Human Rights Activists News Agency cited sources close to the family in reporting that the couple did not have lawyers during the court proceedings and couldn't put up bail.
The couple is just two of some 14,000 people arrested over the past few months as the Iranian government continues to crack down on anyone deemed to have a connection to protests over the death of 22-year-old Mahsa Amini, who died while in the custody of Iran's morality police.
IRANIAN JOURNALIST DEMANDS MEETING WITH BIDEN AFTER DOJ ARRESTS MEN IN ASSASSINATION PLOT AGAINST HER
The protests have since spread to over 140 cities and towns across the country in protests that mark one of the biggest challenges to Iran's theocracy since the 1979 revolution. Security forces have used live ammunition, bird shot, tear gas and batons to disperse protesters, according to rights groups.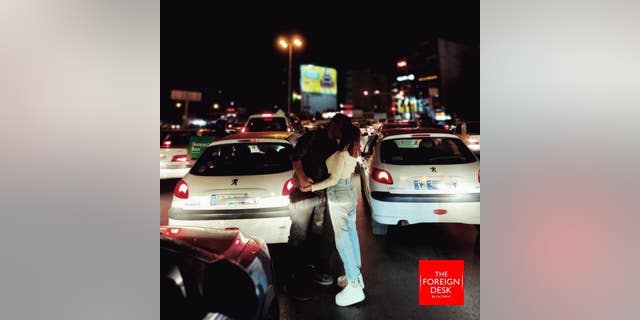 A couple in Iran openly defies several state laws, including the requirement for women to wear headscarves and potentially a ban on unwed couples kissing in public, in a unique act of defiance against the regime.
(The Foreign Desk)
Celebrities, journalists and professional athletes are among those imprisoned due to the protests.
Another couple posted a video that went viral during the protests for kissing in the streets – defying the country's hijab (headscarf) law, which had also prompted morality police to arrest Amini, and laws against public affection for unmarried couples in Iran.
IRAN SUFFERS DRONE STRIKE DAYS AFTER US AND ISRAEL LAUNCHED JOINT MILITARY DRILL IN THE REGION
The Iranian government has executed four people as the protests continue nationwide, with two executed in the first weeks of the New Year who were accused of killing a member of the Iranian Revolutionary Guard's volunteer force.
"The revolution in Iran has already taken place," Lisa Daftari, a Middle East expert and editor-in-chief of The Foreign Desk, told Fox News Digital. "When a couple feels comfortable enough to dance openly with the opposite gender, unmarried, without her headscarf and to post that product of their joy and bravery online demonstrates how far this movement has come already."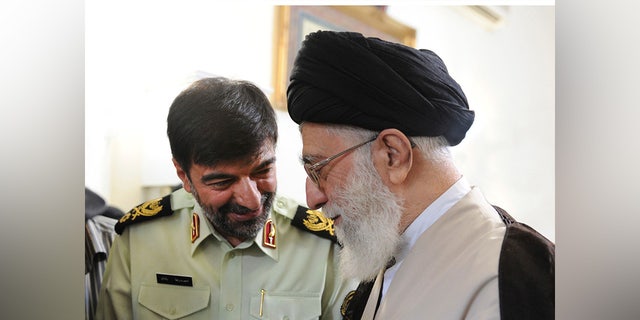 Supreme Leader Ayatollah Ali Khamenei speaks with Gen. Ahmad Reza Radan in Iran on Saturday, Jan. 7, 2023.
(Office of the Iranian Supreme Leader via AP)
"The fact that the regime tries to stop any celebration of life or any symbolism of freedom is indicative of not only how repressive the mullahs have been for 44 years but also how apprehensive they are that this current movement will weaken their resolve," Daftari added. "They are making examples out of anyone willing to show their bravery by kissing, dancing, singing or rapping. The regime is doing anything in its power to silence dissidents and to take back the narrative."
CLICK HERE TO GET THE FOX NEWS APP
Activists say at least 16 people have been sentenced to death in closed-door hearings over charges linked to the protests. Death sentences in Iran are typically carried out by hanging.
At least 517 protesters have been killed and over 19,200 people have been arrested, according to Human Rights Activists in Iran, a group that has closely monitored the unrest. Iranian authorities have not provided an official count of those killed or detained.
The Associated Press contributed to the report.
Peter Aitken is a Fox News Digital reporter with a focus on national and global news.