close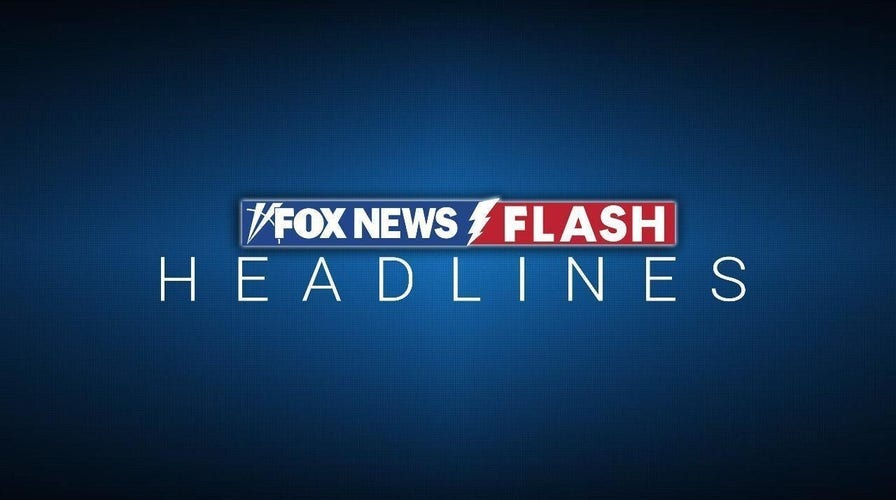 Video
Fox News Flash top headlines for April 4
Fox News Flash top headlines are here. Check out what's clicking on Foxnews.com.
Foreign veterinarians visited a sickly elephant at a southern Pakistani zoo Tuesday amid widespread concern over her well-being and living conditions. One vet said her chances of surviving are unclear.
Noor Jehan was brought to Karachi with three other elephants more than a dozen years ago. Now 17 years old, videos of her with her head against a tree and struggling to stand have caused alarm in Pakistan. Noor Jehan's plight was previously highlighted by campaigners and international veterinarians in 2021 and 2022.
The veterinarians, from Austria and Egypt, say Noor Jehan is suffering from arthritis, among other health issues. Her joints are causing her enormous pain, according to Dr. Amir Khalil, who examined the elephant.
CALIFORNIA SEA OTTERS KILLED BY RARE PARASITE THAT COULD ALSO THREATEN HUMANS
"Our biggest worry is to ensure that the elephant does not fall down," he said. "If that happens, we fear she will never stand up again." He rated her chances of survival as 50-50, saying she is visibly distressed and has had mobility issues for the last three weeks.
Khalil welcomed the zoo's "strategic decision" to move her to a better place in the future.
Noor Jehan's condition could have been the result of an accident, or a fight or collision between the elephants, said Khalil. "Was it negligence or an infection? We will know for sure exactly what the problem is."
Two senior veterinarians from Austria are expected to join the team Wednesday, when the elephant is due to have surgery. She will undergo an endoscopy and X-ray to determine the extent of her health issues.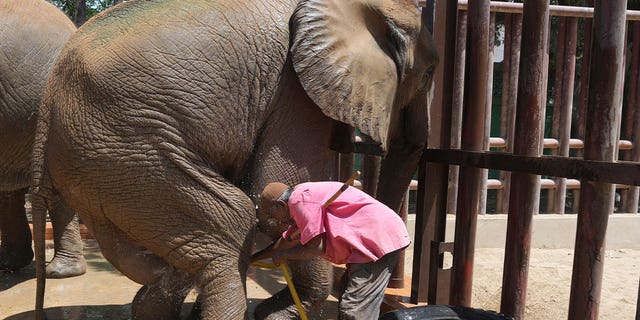 A zookeeper washes Noor Jehan, an elephant at Karachi Zoo, in Karachi, Pakistan, on April 4, 2023. Foreign vets from Austria and Egypt visited the sickly elephant amid widespread concerns over her well-being and living conditions. (AP Photo/Fareed Khan)
Noor Jehan and her sister, Madhubala, have been confined to small cement cages since May 2010, according to activist Mahera Omar, co-founder of the Pakistan Animal Welfare Society.
"Their enclosure for display has a cement floor and no access to any natural habitat," she said. "At night they are chained by three legs and stuffed in a smaller cage in total isolation."
Omar is fighting a court battle for the four elephants to improve their living conditions, two of whom are in another zoo in the same city.
HAWAII MAN CITED AFTER ALLEGED HARASSMENT OF HUMPBACK WHALE, DOLPHINS
Zoo authorities contacted the Vienna-based Four Paws animal welfare group and described the elephant's mobility problem. But they didn't invite experts to visit until a few days ago when the issue went viral on social media.
The grandson of former Pakistani Prime Minister and President Zulfiqar Ali Bhutto visited Karachi Zoo and expressed his concern, spurring authorities into action. The local government said it would invite international experts to treat Noor Jehan.
In August last year, a Four Paws team performed major surgery on Noor Jehan and Madhubala at Karachi Zoo on the invitation of the regional high court.
CLICK HERE TO GET THE FOX NEWS APP
Wednesday's operation will involve the local fire brigade as Noor Jehan needs to be propped up by a crane to keep her stable for the procedure.
In 2020, an elephant named Kaavan was transferred from Islamabad to Cambodia, where he lives in an elephant sanctuary. Dubbed the "world's loneliest elephant," Kaavan had languished in Islamabad Zoo for 35 years, most of that time in chains, and he lost his partner in 2012.
Singer and actress Cher traveled to Pakistan to celebrate his departure from the country and his new life in southeast Asia.
Noor Jehan is named after a well-known Pakistani singer. Noor means light or brightness and jehan means world.