close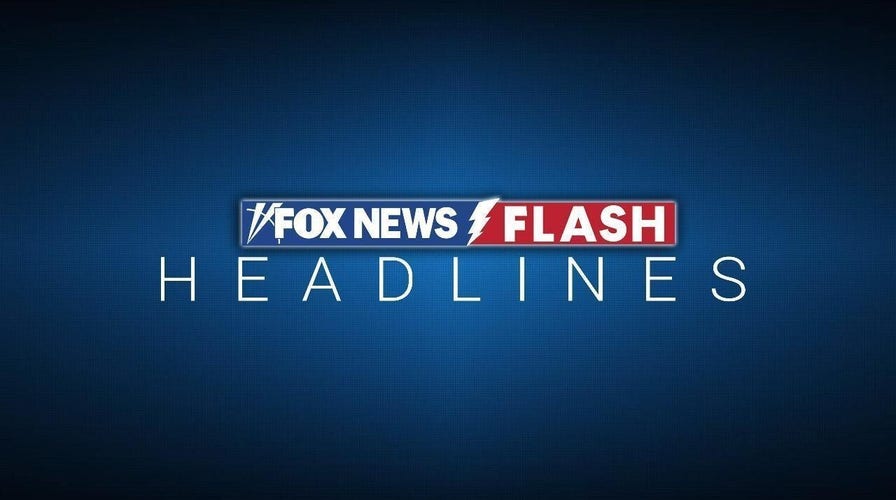 Video
Fox News Flash top headlines for April 5
Fox News Flash top headlines are here. Check out what's clicking on Foxnews.com.
The husband of former Scottish first minister and Scottish National Party leader Nicola Sturgeon has been arrested in a party finance probe, British media reported Wednesday.
Police in Scotland did not identify Peter Murrell as the 58-year old man arrested Wednesday "in connection with the ongoing investigation into the funding and finances of the Scottish National Party." However, Britain's Press Association, the BBC and others reported it was Murrell.
"Clearly it would not be appropriate to comment on any live police investigation but the SNP have been cooperating fully with this investigation and will continue to do so," the party said in a statement released after the arrest.
Murrell, 58, resigned as the party's chief executive March 18 amid a controversy about the party's declining membership and the contest to replace Sturgeon.
Sturgeon, 52, abruptly announced her resignation in February after eight years as party leader and first minister of Scotland's semi-autonomous government. Sturgeon said at that time that serving well was knowing when to make way for someone else.
SCOTTISH LEADER NICOLA STURGEON TO RESIGN AFTER 8 YEARS
"In my head and in my heart I know that time is now," she said. "That it's right for me, for my party and my country."
Deputy Scottish Labour leader Jackie Baillie said the arrest was "deeply concerning" and called on Sturgeon and her successor, Humza Yousaf, to "urgently state what they knew and when."
Yousaf said he had not had a role in party finances and vowed to be transparent under his leadership.
The investigation could further harm the SNP's political fortunes, which saw its poll numbers droop during the acrimonious election to replace Sturgeon.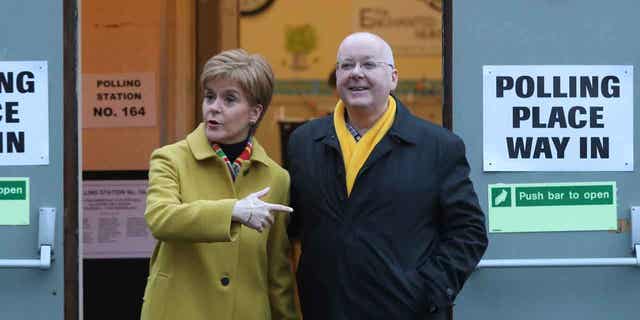 Scottish First Minister Nicola Sturgeon poses for the media with husband Peter Murrell, outside polling station in Glasgow, Scotland, on Dec. 12, 2019. British media are reporting that Murrell has been arrested in a finance probe on April 5, 2023.  (AP Photo/Scott Heppell, File)
"It certainly doesn't do us any good," Yousaf said when asked if Murrell's arrest would hurt the party. "People will have questions, there will be some concerns. Our party membership will have concerns too. What I can commit to as party leader is that we want to be absolutely transparent."
Sturgeon had led Scotland since 2014, when Scots voted to remain part of the United Kingdom. While the referendum was billed as a once-in-a-generation decision on independence, Sturgeon and her party had pushed for a new vote, arguing that Britain's departure from the European Union had changed the ground rules.
UNITED KINGDOM PRIME MINISTER RISHI SUNAK PLEDGES TO WORK CONSTRUCTIVELY WITH SCOTLAND'S LEADER
The Scottish government wants to hold a referendum next October with the question "Should Scotland be an independent country?"
The U.K. government in London refuses to approve a vote, saying the question was settled in a 2014 referendum that saw Scottish voters reject independence by a margin of 55% to 45%.
Murrell's resignation came just before his wife left office and as three members of Scottish Parliament fought a bitter contest to replace her.
The SNP had publicly denied a newspaper report that its membership had plunged from more than 100,000 to just over 70,000 in the past year, before admitting it was true. Murrell accepted responsibility and quit, saying that "while there was no intent to mislead, I accept that this has been the outcome."
CLICK HERE TO DOWNLOAD THE FOX NEWS APP
Police cars were parked outside the couple's Glasgow home Wednesday and a blue tent had been erected by officers in front of the house.
Officers were also stationed outside the SNP headquarters in Edinburgh and several police vans were parked near the building.