close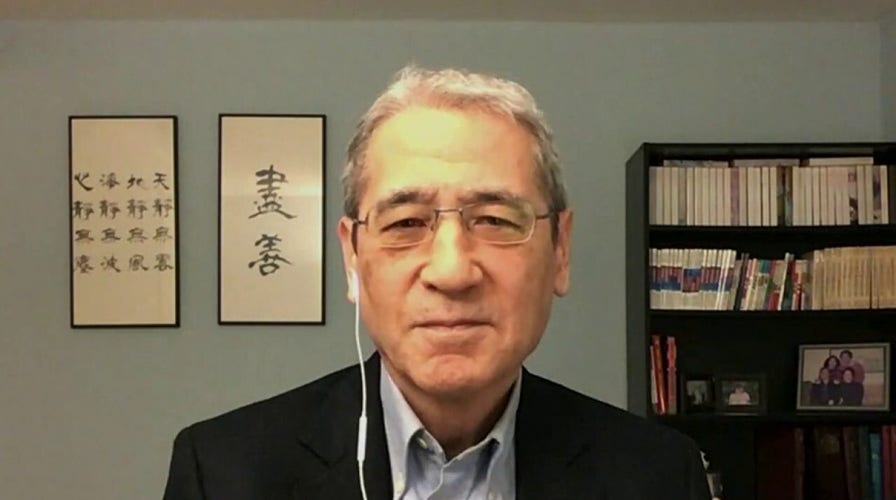 Video
Gordon Chang on US relations with China: Biden is not defending the United States
'The Great U.S.-China Tech War' author Gordon Chang gives take on whether the United States should cut ties to China on 'The Ingraham Angle.'
India and China, the world's two most populous nations, which both have nuclear warheads, are at tense loggerheads over a territorial dispute in the eastern Ladakh area bordering both countries.
"I would say the situation is stable and under control, yet unpredictable," India's army Chief of Staff Gen. Manoj Pande told reporters Thursday. "We have adequate forces. We have adequate reserves in each of our sectors to be able to effectively deal with any situation or contingency."
As reported by The Associated Press, Pande made his comments after a nearly 2½-year standoff between tens of thousands of soldiers from both countries.
The Indian army chief said the countries were continuing to talk both at the diplomatic and military levels, but that India's military maintains a high level of preparedness.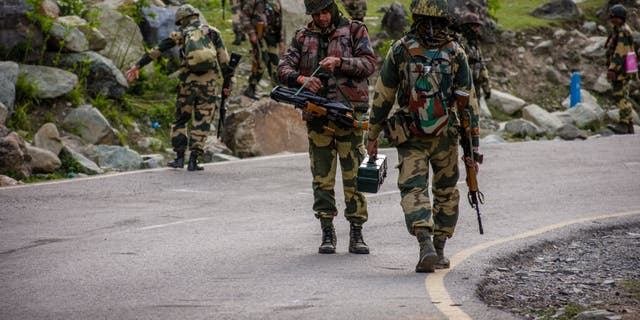 Indian Border Security Force soldiers patrol a highway as an Indian army convoy passes through on a highway leading toward Leh, bordering China, June 19, 2020, in Gagangir, India.
(Yawar Nazir/Getty Images)
INDIA, CHINA LAUNCH BLAME GAME AFTER CROSS-BORDER BRAWL LEAVES 20 DEAD
The two sides had a serious border clash in 2020 when 20 Indian soldiers were killed and four Chinese soldiers died as a result of the skirmish.
India says China occupies 38,000 square kilometers (15,000 square miles) of its territory in the Aksai Chin Plateau, which India considers part of Ladakh, where the current face-off is happening.
"How dangerous this gets depends on Beijing. India is currently in a defensive posture, but if China attacks again, and looks weak, India might push its advantage," Cleo Paskal, a non-resident senior fellow at the Foundation for Defense of Democracies focusing on the Indo-Pacific region, told Fox News Digital.
"Also, this area might come into play during a Taiwan crisis. It's worth remembering that China's 1962 attack on India coincided almost to the exact days with the Cuban Missile Crisis.
"At the same time, China's attack is likely to have asymmetric warfare elements as well. After the 2020 standoff, the conflict moved into less obvious arenas. India banned 59 Chinese apps, including TikTok and WeChat, and then there was a cyberattack on Mumbai's electrical grid that was reportedly tracked back to China."
India says any unilateral change in the border status quo by Beijing is unacceptable.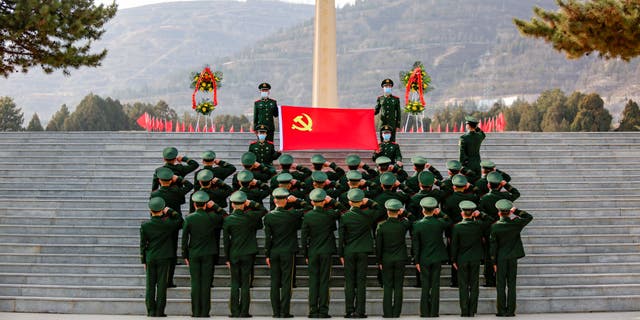 Soldiers of the local People's Armed Police Force pay respects to one of the four soldiers who died during a border clash with India in June 2020 at a martyrs' cemetery Feb. 24, 2021, in Lanzhou, Gansu Province of China.
(Hou Chonghui/VCG via Getty Images)
The Line of Actual Control separates Chinese and Indian-held territories from Ladakh in the west to India's eastern state of Arunachal Pradesh, which China claims in its entirety. India and China fought a deadly war over the border in 1962.
In December, Fox News Digital reported on a violent clash between Indian and Chinese soldiers over the territories, resulting in injuries for both sides.
3 INDIAN SOLDIERS KILLED IN CLASH AT CHINESE BORDER, ARMY SAYS
At the time of December's clash, a Chinese military spokesman blamed India for illegally blocking border guards who were patrolling Beijing's side of the Line of Actual Control.
"We ask the Indian side to strictly control and restrain front-line troops and work with China to maintain peace and tranquility on the border," The Associated Press reported the spokesman as saying.
India expert Siddhartha Dubey, adjunct professor of journalism at Northwestern University in Illinois, told Fox News Digital, "It is an incredibly expensive proposition to keep armies on a freezing border at a heightened state of alert, especially for India, which has less resources than China."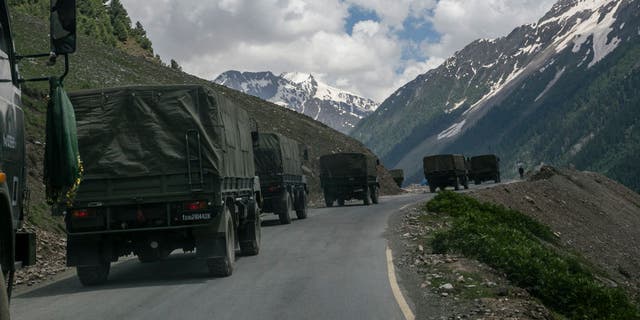 An Indian army convoy carrying reinforcements and supplies travels toward Leh through Zoji La, a high mountain pass bordering China June 13, 2021, in Ladakh, India.
(Yawar Nazir/Getty Images)
He added that the situation is "far from stable. It is an unpredictable situation. … There are thousands of armed troops and considerable air power facing each other.
"China took territory 2½ years ago, and negotiations have not given India anything. It is a border dispute drawn by a departing colonial power, Britain, that did a bad job of it."
The Indian military chief also added that the Russia-Ukraine conflict has impacted the supply of spare parts for India's military but did not provide more details. He also spoke about India's reliance on equipment from those countries.
CLICK HERE FOR THE FOX NEWS APP
"The sustenance of these weapons systems — equipment in terms of spares, in terms of ammunition — is one issue that we have addressed," he said.
Experts say up to 60% of Indian defense equipment comes from Russia, and New Delhi finds itself in a bind amid the standoff with China over a territorial dispute.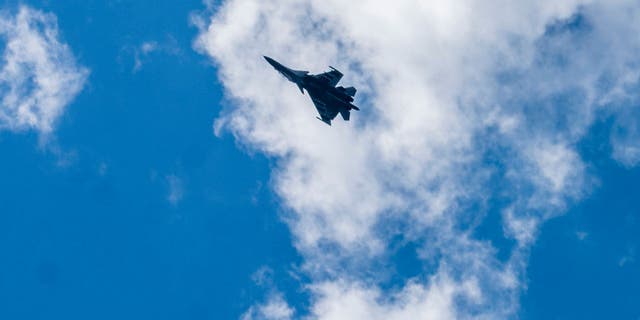 An Indian fighter plane flying in the sky toward Leh bordering China June 19, 2020, in Gagangir, India. 
(Yawar Nazir/Getty Images)
The Times of India newspaper reported Thursday that India is having problems transporting back one of its diesel-run submarines after a major refit in Russia, which has been hit with sanctions over the Ukraine war.
India is soon slated to overtake China's population, according to a new United Nations report. India will supersede China's population by April and reach nearly 1.7 billion people by 2050 in contrast to China's expected population of 1.31 billion.
According to reports, China has 350 nuclear warheads, while India, the world's largest democracy, has 160 nuclear warheads.
The Associated Press contributed to this report.
Benjamin Weinthal reports on Israel, Iran, Syria, Turkey and Europe for Fox News Digital. Benjamin has contributed articles to The Wall Street Journal, The Jerusalem Post, Foreign Policy, Haaretz, Forbes and The New York Post. You can follow Benjamin on Twitter @BenWeinthal.