close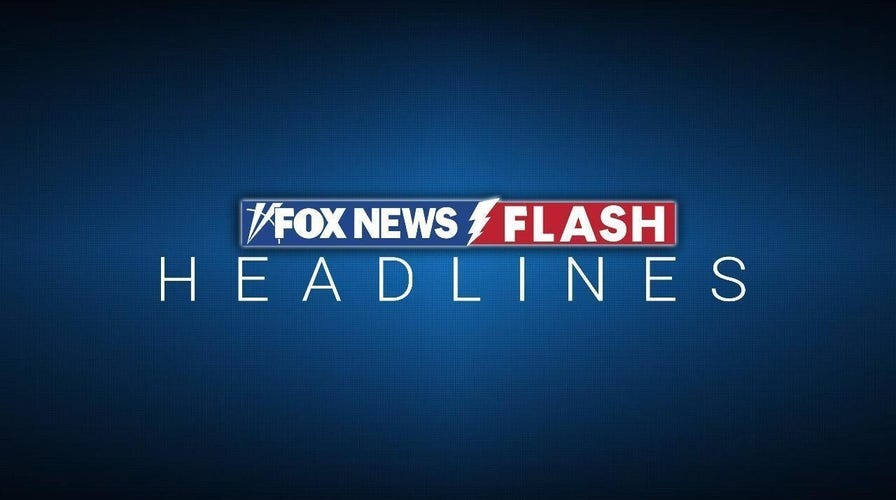 Video
Fox News Flash top headlines for February 28
Here are your Fox News Flash top headlines for February 28
After seven Hindus were killed in early January in two back-to-back attacks in Dhangri village in disputed Kashmir, former Indian army soldier Satish Kumar described his sleepy mountainous village as an "abode of fear."
Days after the deadly violence in the village in frontier Rajouri district, where homes are separated by maize and mustard fields, hundreds of residents staged angry protests across the Hindu-dominated Jammu region. In response, Indian authorities revived a government-sponsored militia and began rearming and training thousands of villagers, including some teenagers.
Kumar was among the first people to join the militia under the new drive and authorities armed him with a semiautomatic rifle and 100 bullets.
TALIBAN SECURITY FORCES KILL 2 MILITANTS FROM ISLAMIC STATE GROUP IN OVERNIGHT RAID
"I feel like a soldier again," said the 40-year-old Kumar, who runs a grocery store since his retirement from the Indian military in 2018.
The militia, officially called the "Village Defense Group," was initially formed in the 1990s as the first line of defense against anti-India insurgents in remote Himalayan villages that government forces could not reach quickly.
As the insurgency waned in their operational areas and as some militia members gained notoriety for brutality and rights violations, drawing severe criticism from human rights groups, the militia was largely disbanded.
But the January violence stirred unpleasant memories of past attacks in Rajouri, which is near the highly militarized Line of Control that divides Kashmir between India and Pakistan and where combat between Indian soldiers and rebels is not uncommon.
Brandishing his weapon inside his single-story concrete home on an overcast February day, Kumar justified his decision to join the militia as the "only way to combat fear and protect (my) family from terrorists."
"I am a trained person and have fought against terrorists. But what is the use of (military) training if you do not have a weapon," Kumar said. "Believe me, I felt almost incapacitated due to fear."
On January 1, two gunmen killed four villagers, including a father and his son, and wounded at least five others. The next day, a blast outside one of the houses killed two children and injured at least 10 others. It is still unclear whether the explosive was left behind by the attackers. A week later, one of the injured died at a hospital, raising the overall death toll to seven.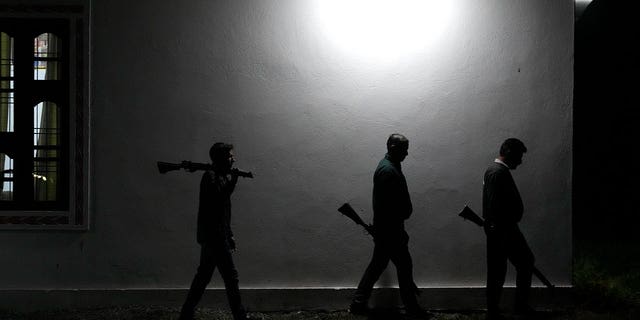 Village Defense Group members patrol at Muradpur village in Rajouri, India, Feb. 8, 2023. Indian authorities revived a government-sponsored militia and began rearming and training villagers after seven Hindus were found killed in Kasmir. (AP Photo/Channi Anand)
"There was carnage in our village and Hindus were under attack," Kumar said.
The police blamed militants fighting against Indian rule for decades in Kashmir, the Himalayan territory claimed by India and Pakistan in its entirety. But two months later, they are yet to announce a breakthrough or name any suspects, exacerbating fear and anger among residents in the village of about 5,000 where Hindus represent about 70% and the rest are Muslims.
The policy to rearm civilians comes after India stripped Kashmir of its semiautonomy and took direct control of the territory amid a months-long security and communications lockdown in 2019. Kashmir has since remained on edge as authorities also put in place a slew of new laws that critics and many Kashmiris fear could change the region's demographics.
In New Delhi's effort to shape what it calls "Naya Kashmir," or a "new Kashmir," the territory's people have been largely silenced, with their civil liberties curbed, as India has shown no tolerance for any form of dissent.
So when the Dhangri violence occurred, the Indian government was swift to rearm the civilian militia even though it had announced its reconstitution in August last year.
Officials said they have since armed and provided weapons training to over 100 other Hindu men in Dhangri, while also lifting the ban on gun licenses in the already militarized Rajouri. The village already had over 70 former militiamen, some of whom still possess the colonial British-era Lee–Enfield rifles allotted to them over a decade ago.
For the first time, the militia has also been financially incentivized by the government, which said each member would be paid $48 a month.
Still, the decision to revitalize the Village Defense Group is not without controversy.
INDIAN COUGH SYRUP MANUFACTURER LINKED TO DEATHS OF 19 CHILDREN IN UZBEKISTAN HALTS PRODUCTION
Some security and political experts argue that the policy could weaponize divisions in Jammu's volatile hinterland where communal strife has historically existed.
In the past, more than 200 police cases, including charges of rape, murder and rioting, were registered against some of the tens of thousands of militiamen in Jammu region, according to government data.
"Small arms proliferation is dangerous for any society and when a state does it, it's a tacit admission of failure to secure a society," said Zafar Choudhary, a political analyst.
India has a long history of arming civilians in its counterinsurgency efforts and civilian militiamen were first used to fight separatists in India's northeastern states. In 2005, India's federal government founded a local militia, the Salwa Judum, to combat Maoist rebels in the central Chhattisgarh state. It was accused by rights groups of committing widespread atrocities and was disbanded in 2011.
In Kashmir, the civil defense groups were armed almost six years after the deadly insurgency against Indian rule began.
S.P. Vaid was a young officer in 1995 when he supervised the creation of the militia's first unit after two Hindu men were killed in a militant attack in a remote hilly village in Jammu region. Vaid, who recently retired as Indian-controlled Kashmir's top police officer, said hours after his team reached the village the locals demanded arms for their protection.
"I had no government brief on that, but I immediately sought permission from headquarters to provide the villagers with 10 guns," he said. "That's how it started."
The Indian government formally rolled out a policy to arm villagers a few months later.
Security officials argue that arming civilians deterred militant activity and helped stop the out-migration of Hindus from remote areas, unlike in the Kashmir valley where a year after armed rebellion broke out most local Hindus fled to Jammu amid militant threats and the killings of local community leaders.
Kuldeep Khoda, another former top police officer in the region credited for implementing the policy, said the results "surprised us."
"It was an experiment but it worked," Khoda said at his home in Jammu city.
For its work on civil defense groups, the region's police were given an award by the International Association of Chiefs of Police, an influential U.S.-based police group, Khoda said.
CLICK HERE TO GET THE FOX NEWS APP
The militia, he said, "played a pivotal role in defeating Pakistani designs to instigate communal tensions."
But Choudhary, the political analyst, said "civilians are not armed in a functional democracy."
The sharpening divisions already appear stark in Dhangri.
Muslim residents in the village say fear and grief bind them together with their Hindu neighbors, yet their request to join the militia has been refused.
Mohammed Mushtaq is a former paramilitary soldier who lives near the house where gunmen first fired on January 1.
"We have lived together for generations and have a similar social system. But fingers have been pointed at us," he said. Mushtaq and two other Muslim neighbors, also former soldiers, asked the authorities for weapons under the policy but were refused, he said.
As Mushtaq spoke sitting outside his home, the sounds of religious hymns and devotional songs floated from the loudspeakers of a Hindu temple on top of a hill. The chants were interspersed with the chirping of birds and occasional whistles from pressure cookers in some village kitchens.
Moments later, a muezzin called Muslims to early afternoon prayers.
Kumar, the former soldier and militia member, said the decision not to induct his Muslim neighbors in the militia was "arbitrary" as "we still do not know who carried out the massacre" in Dhangri.
Meanwhile, hundreds of old militia members in Rajouri's remote hamlets are oiling their weapons again.
"We had locked up our guns and thought we would never need them," said 38-year-old Usha Raina, who has been a militia member since 2015 along with over two dozen other villagers in the neighboring hamlet of Kalal Khas.
"The incident (in Dhangri) has scared us all and the guns are back in our living rooms," she said.