close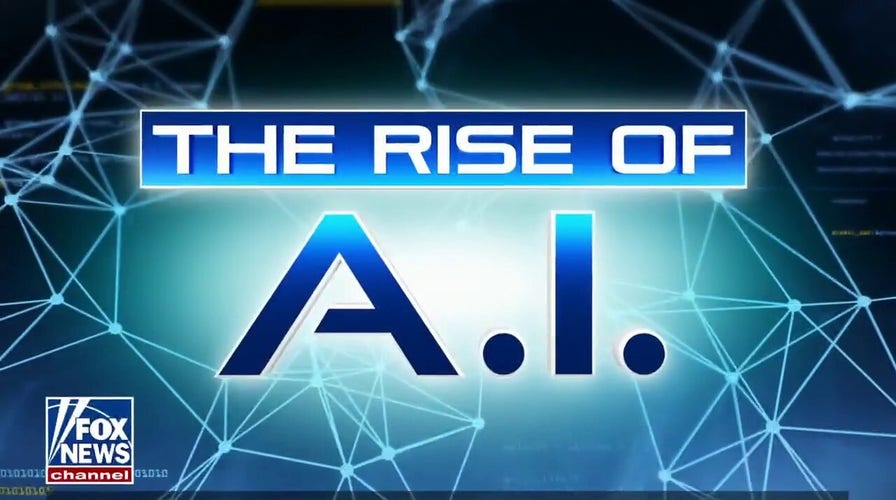 Video
Artificial intelligence could put jobs in jeopardy
FOX Business correspondent Lydia Hu has the latest on jobs at risk as AI further develops on 'America's Newsroom.'
India has no plans to regulate the use and development of artificial intelligence (AI), calling the technology and its potential uses "significant and strategic" for the nation.
The Indian Ministry of Electronics and IT released a statement on Wednesday in which it detailed the country's position regarding the development, potential and dangers of AI – a topic of increasing concern and interest after hundreds of industry experts signed a letter calling for a pause in development.
The ministry also wrote that it "further believes that AI will have kinetic effect for the growth of entrepreneurship & business and Government is taking all necessary steps in policies and infrastructure to develop a robust AI sector in the country."
India aims to position itself as a global leader on AI to "ensure responsible and transformational use of AI for all." The country created the National Program on Artificial Intelligence, which would aim to establish a "comprehensive program for leveraging transformative technologies to foster inclusion, innovation and adoption for social impact."
BIDEN SAYS WHETHER AI IS DANGEROUS 'REMAINS TO BE SEEN'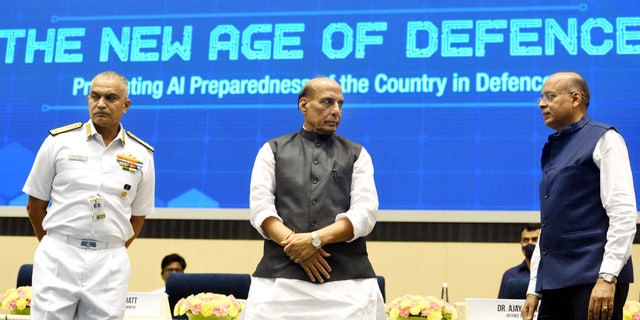 NEW DELHI, INDIA – JULY 11: Union Defence Minister Rajnath Singh with Defence secretary Ajay Kumar and Navy chief Admiral R Hari Kumar at the inauguration of Artificial Intelligence in Defence (AIDef) exhibition, in Vigyan Bhawan, New Delhi, India, on Monday, July 11, 2022.  (Arvind Yadav/Hindustan Times via Getty Images)
While acknowledging that there remain "ethical concerns and risks due to issues such as bias and discrimination" in AI decision-making and privacy violations, among other issues, India prefers to create "standardized responsible AI development."
Part of its more liberal stance derives from its 2018 National Strategy for AI (NSAI) plan, giving the country a head-start on managing the emerging technology.
FTC STAKES OUT TURF AS TOP AI COP: 'PREPARED TO USE ALL OUR TOOLS'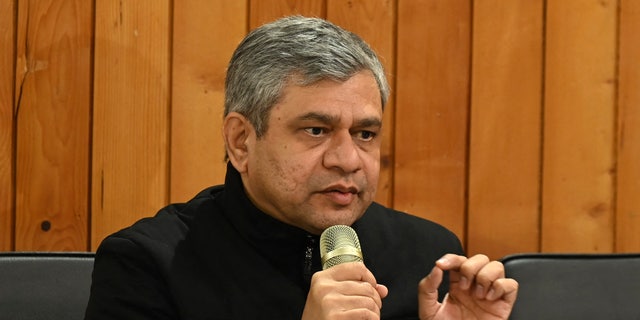 Ashwini Vaishnaw, the Union Cabinet Minister for Railways, Communications, Electronics and Information Technology, speaks during a press conference at a railway station in Srinagar on March 25, 2023. (Tauseef Mustafa/AFP via Getty Images)
Tech industry and machine learning experts, including Elon Musk, Apple co-founder Steve Wozniak and former presidential candidate Andrew Yang, last week signed a letter that called for a six-month pause on the development of "powerful" AI systems.
The letter raised concerns about the effects and ability to manage AI, but critics argued that any such pause would allow other nations – most notably China – to speed ahead with development and secure a leading role in the AI space.
THREE WAYS TO REGULATE AI RIGHT NOW BEFORE IT'S TOO LATE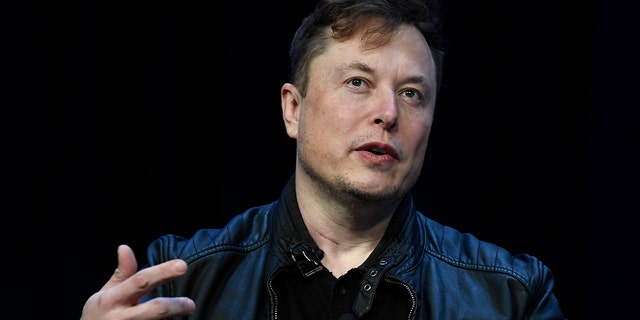 Tesla and SpaceX Chief Executive Officer Elon Musk speaks at the SATELLITE Conference and Exhibition in Washington, Monday, March 9, 2020. (AP Photo/Susan Walsh, File)
Sultan Meghji, a professor at Duke University's Pratt Engineering School and former chief innovation officer of the FDIC, stressed that "artificial intelligence is the most powerful tool in our toolbox."
"We need artificial intelligence to automate and manage so much of the existing technology, as well as open the ability for us to manage a significantly larger population," he told Fox News Digital after reading the letter. "We will not be able to do that without artificial intelligence."
CLICK HERE TO GET THE FOX NEWS APP
Other tech titans, such as Bill Gates, have claimed a pause will not "solve" the challenges facing the "revolutionary" technology.
"I don't think asking one particular group to pause solves the challenges," Gates said on Monday. "Clearly, there's huge benefits to these things … what we need to do is identify the tricky areas."
Peter Aitken is a Fox News Digital reporter with a focus on national and global news.