close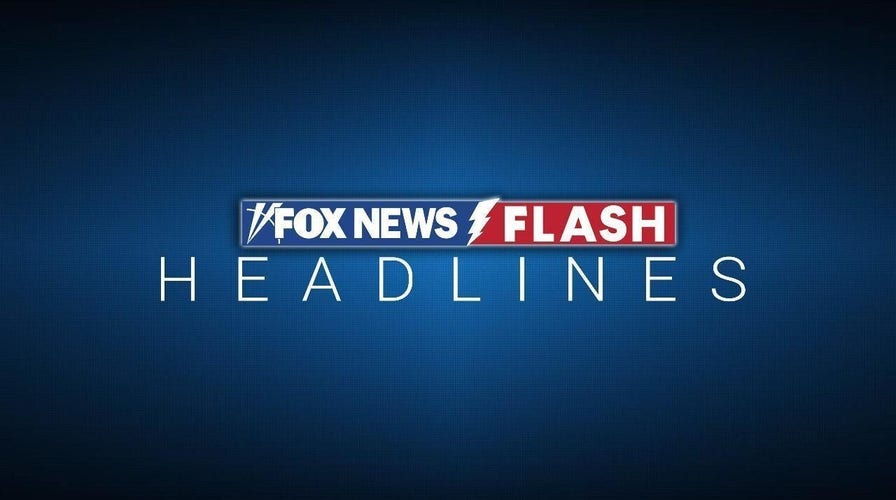 Video
Fox News Flash top headlines for April 6
Fox News Flash top headlines are here. Check out what's clicking on Foxnews.com.
Brazil's government is directing $30 million to bolster school safety in the wake of a deadly hatchet attack on a day care that left four children dead and five other kids injured.
By the determination of Brazilian President Luiz Inácio Lula da Silva, Justice Minister Flávio Dino tweeted that 150 million reais – $30 million – would be directed from the nation's public security fund to shore up school safety. The funds would be allocated to help state police and municipal guards, he said.
After meeting with representatives from student associations in light of the attack, Dino told reporters in Brasília that money will pay for both heightened policing and an expansion of a Brasilia-based team "for the monitoring of deep-web communities, places on the internet where hate speech and violence can be glorified," according to the Associated Press.
Authorities have not released a motive for the so far unidentified suspect who allegedly hopped the wall of the Cantinho do Bom Pastor private day care center in Blumenau, Brazil, butchered children between the ages of 5 and 7 on the playground, and later turned himself in to police.
BRAZIL DAY CARE AX ATTACK LEAVES 4 CHILDREN DEAD, 5 OTHERS INJURED; SUSPECT IN CUSTODY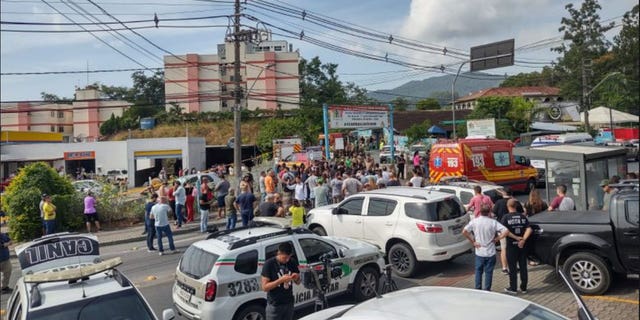 Four children were killed at a day care in Blumenau, Brazil. (Disclosure/SC Fire Department)
"It is a time of great pain for Santa Catarina, for Brazil. We suspended state network classes in the municipality today and tomorrow, now we are here to show solidarity, we are in a sad moment for society. All our security forces are in Blumenau, we ask for calm, be careful with the information on the social network. It's time to understand, act, put your head to work. Only those who go through such pain can know the size of this tragedy," Jorginho Mello, governor of the Santa Catarina state where the attack occurred, said in a statement.
Education Minister Camilo Santana announced the creation of a group to address school violence. Santana will lead the group, which is scheduled to meet for the first time Thursday.
Simone Aparecida Camargo, a teacher at the day care center attacked Wednesday, told the AP she believes unrestricted access to phones and the internet is to blame, and said she was skeptical of the push by authorities to boost the number and frequency of patrols around schools.
"How long can we have police near schools? A week? They need to look deeper," she said.
Camargo locked dozens of children in a bathroom after she heard a colleague screaming about a man who had broken into the day care center, potentially averting an even greater tragedy.
"We didn't think there was a massacre happening out there," Camargo, who worked at the day care center for five years, said. "We see this abroad and never thought it could happen here."
"There are no words to console the families. Anyone who has lost a relative knows that there are no words," a teary-eyed Lula said Wednesday at the start of a ministerial meeting. He requested his ministers observe a minute of silence.
From 2000 to 2022, there were 16 attacks or violent episodes in schools in Brazil, four of which occurred in the second half of last year, according to a report from researchers led by Daniel Cara, an education professor at the University of São Paulo. The 12 researchers – including psychologists, social scientists, public school educators, journalists and activists – delivered their report to Lula's incoming government in December.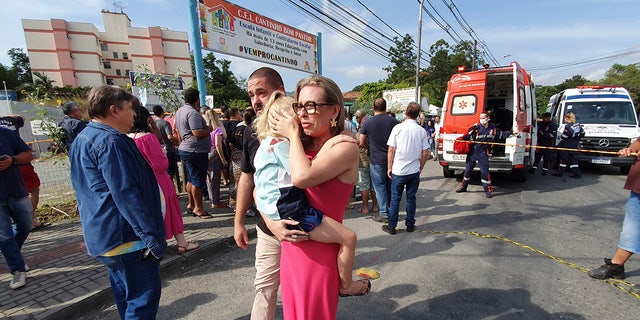 A woman conforts a crying girl outside the day care center after a fatal attack on children in Blumenau, Brazil. (Patrick Rodrigues/Portal NSC Total via AP)
BOLSONARO RETURNS TO BRAZIL AFTER 3-MONTH FLORIDA TRIP
Last week, a student in São Paulo fatally stabbed a teacher and wounded several others. Brazil has seen at least one past attack on a day care center, too. That attack also occurred in Santa Catarina state, in May 2021, when an assailant used a dagger to kill three children under 2 years old and two adults.
Cara told the AP that there is no single factor to explain the rise of such attacks, but a common denominator is "a crisis of perspective" regarding economic problems and the likelihood that each assailant endured situations of frustration and violence, including bullying and harassment. Cara claimed the killers are often young people who engage in misogynistic or racist speech, employ neo-Nazi and fascist symbols, and enter online communities where violence is lauded.
Dozens of mourners gathered at the day care center in Blumenau to pray and lay flowers for the victims Wednesday.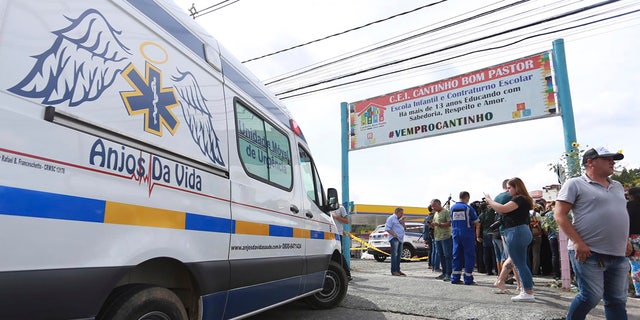 An ambulance is parked outside the private day care center Cantinho do Bom Pastor after the attack in Blumenau, Brazil. (Denner Ovidio/Futura Press via AP)
Carlos Kroetz and other parents arrived to collect their children's backpacks left behind at the center during Wednesday morning's mayhem.
"My daughter thinks a thief came in and ran away without harming anyone," Kroetz told The Associated Press while holding his 6-year-old's Minnie Mouse bag. "She knew kids who died. We still have to figure out a way to tell her. For now, she is afraid of going to the bathroom by herself, because she thinks the thief will be there."
Franciele Chequeto said one of the girls killed was friends with her 7-year-old son, Gabriel.
CLICK HERE TO GET THE FOX NEWS APP
"He wasn't understanding," Chequeto said. "I sat down and told him that he no longer will be able to see some of his little friends."
A vigil outside the center Wednesday evening ended after parents released four white balloons over the school.
And early Thursday morning, family and loved ones gathered downtown at the Sao Jose cemetery for the first three burials. Parents sat in silence much of the time beside the small coffins. All four victims had been their parents' only children, with no siblings, Mayor Mário Hildebrandt told reporters.
The Associated Press contributed to this report.
Danielle Wallace is a reporter for Fox News Digital covering politics, crime, police and more. Story tips can be sent to [email protected] and on Twitter: @danimwallace.