The state of Illinois lost an appeal on Tuesday after a lower court judge issued a restraining order on a newly enacted ban on some semiautomatic rifles as well as high-capacity magazines.
Illinois Governor J.B. Pritzker signed the gun control law on Jan. 10, which bans the sale and distribution of assault weapons, high capacity magazines, and switches, which went into effect immediately after he approved it.
Effingham County Judge Joshua Morrison issued a temporary restraining order against the law on Jan. 24, preventing it from being enforced.
Morrison's ruling came in response to a lawsuit from four gun merchants and 850 individuals who argued that the law was enacted improperly and didn't have proper public input, adding that the law violated the state and U.S. Constitutions equal protection clause in providing exemptions for some groups of people based on their occupation or training. For example, people who are active or retired law enforcement are excluded from the ban.
ILLINOIS FIGHTS BACK AFTER JUDGE SLAPS RESTRAINING ORDER ON GUN CONTROL LAW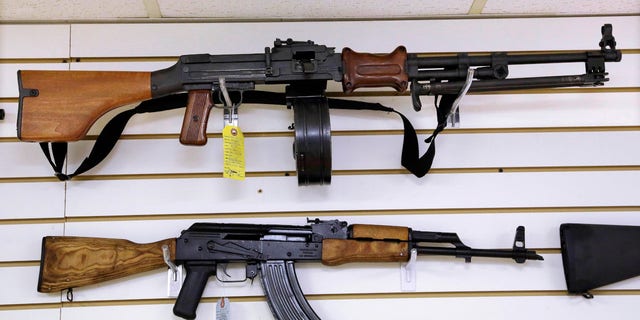 FILE – Assault weapons are seen for sale at Capitol City Arms Supply on Jan. 16, 2013, in Springfield, Illinois.
(AP Photo/Seth Perlman, File)
Morrison said in his ruling that the plaintiffs are "being immediately and irreparably harmed each day in which their fundamental right to bear arms is being denied."
After an appeal from Illinois Attorney General Kwame Raoul, Illinois' Fifth District appellate court ruled on Tuesday in a 2-to-1 decision that the temporary restraining order can stay in place, and also extends it statewide. Previously, the temporary restraining order only applied to the plaintiffs.
ILLINOIS SHERIFF REFUSES TO ENFORCE NEW GUN CONTROL LAW: 'CLEAR VIOLATION OF THE 2ND AMENDMENT'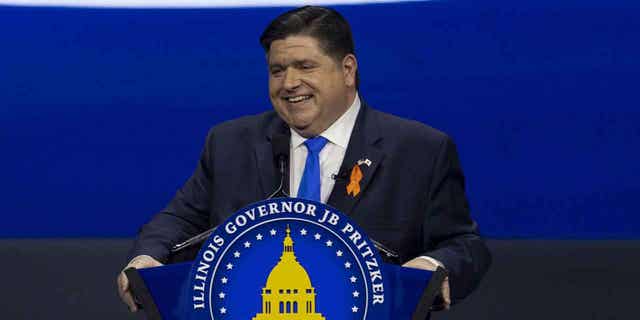 Illinois Gov. J.B. Pritzker.
(Brian Cassella/Chicago Tribune/Tribune News Service via Getty Images)
The ruling states that the plaintiffs had a "a likelihood of success on the merits" in regards to their argument that the law violates the state and U.S. Constitution's equal protection clause.
Illinois is also facing several other lawsuits challenging the law, including one from the National Rifle Association.
Jason Ouimet, executive director of the NRA Institute for Legislative Action, told Fox News Digital that the law is unconstitutional.
CLICK HERE TO GET THE FOX NEWS APP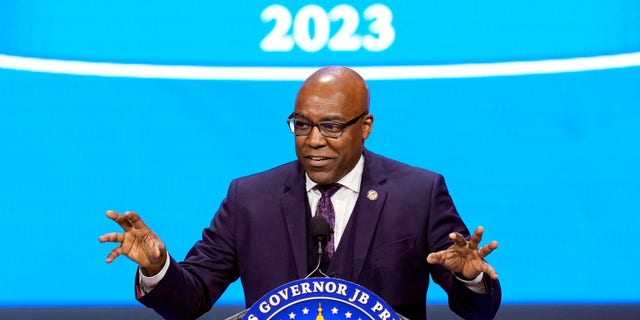 FILE – Illinois Attorney General Kwame Raoul delivers his remarks after being sworn to his second term as attorney general during ceremonies Monday, Jan. 9, 2023, in Springfield, Ill. Raoul on Monday, Jan. 23, 2023, asked a state appellate court to dismiss a temporary restraining order on Illinois' new ban on semiautomatic weapons adopted in response to a mass shooting at the July 4th parade in the Chicago suburb of Highland Park.
(AP Photo/Charles Rex Arbogast, File)
"The NRA will not stand by while activist politicians pass unconstitutional laws that do nothing to promote public safety. We sued the state of Illinois because this new law is a blatant violation of Americans' Second Amendment rights," Ouimet said.
Fox News' Chris Pandolfo contributed to this report.