The House of Representatives Rules Committee will meet Tuesday night to prepare a resolution that would, if passed, remove Rep. Ilhan Omar, D-Minn., from the House Foreign Affairs Committee.
Omar would be removed from the Foreign Affairs committee if the resolution is adopted by the Rules Committee and approved by a simple majority on the House floor.
House Speaker Kevin McCarthy is attempting to remove Omar from the House Foreign Affairs Committee over past comments widely criticized as antisemitic.
In 2019, Omar suggested in a tweet that members of Congress were being paid by a prominent pro-Israel lobbying group.
OMAR LASHES OUT AT MCCARTHY FOR 'PERSONALLY WHIPPING VOTES' AGAINST HER: 'PATHETIC'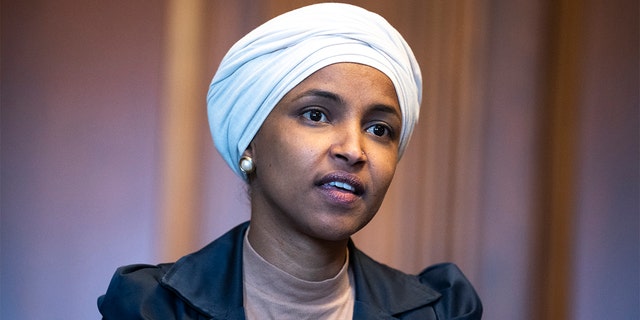 Rep. Ilhan Omar, D-Minn., is seen in the U.S. Capitols Rayburn Room during a group photo with the Congressional Black Caucus, on Wednesday, April 6, 2022.
(Tom Williams/CQ-Roll Call, Inc via Getty Images)
"It's all about the Benjamins, baby," Omar wrote in the tweet.
In a June 7, 2021 tweet, Omar likened actions committed by the United States and Israel to the Taliban.
"We must have the same level of accountability and justice for all victims of crimes against humanity," Omar wrote. "We have seen unthinkable atrocities committed by the U.S., Hamas, Israel, Afghanistan, and the Taliban."
During a Sunday appearance on CNN's "State of the Union," Omar said that she "wasn't aware" about the tropes regarding "Jews and money."
"I certainly did not or was not aware that the word 'hypnotized' was a trope. I wasn't aware of the fact that there are tropes about Jews and money. That has been very enlightening part of this journey. To insinuate that I knowingly said these things when people have read into my comments to make it sound as if I have something against the Jewish community is so wrong," Omar said.
At the Republican Jewish Coalition's 2022 leadership meeting in Las Vegas, Nevada, McCarthy said that Omar will not be on the House Foreign Affairs committee under a Republican-led House.
"I promised you last year that as speaker she will no longer be on Foreign Affairs, and I'm keeping that promise," McCarthy said.
McCarthy is facing headwinds from members of his own conference in his effort to remove Omar from the coveted House committee.
WARREN SAYS GOP HAS BEEN TRYING TO 'SMEAR' REP. OMAR FOR YEARS AMID MOVE TO REMOVE HER FROM KEY COMMITTEE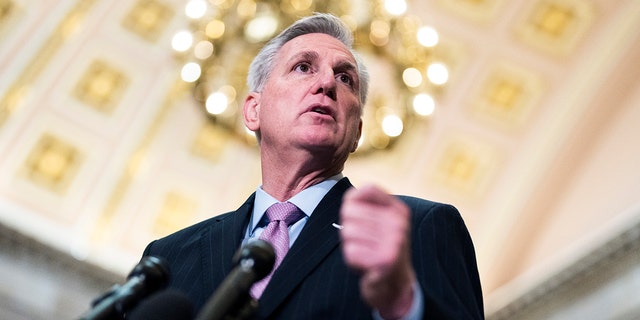 Speaker of the House Kevin McCarthy, R-Calif., conducts a news conference in the U.S. Capitols Statuary Hall on Thursday, January 12, 2023.
(Tom Williams/CQ-Roll Call, Inc via Getty Images)
Rep. Matt Gaetz, R-Fla., said during a Monday Newsmax appearance that he's unsure how he'll vote on removing Omar from the Foreign Affairs committee.
"I view the Schiff and Swalwell matter somewhat differently than I view the Ilhan Omar matter. Ilhan Omar didn't lie about our intelligence agencies, she didn't say that Trump was a Russian agent based on information from a particular committee that was just totally bogus," Gaetz said. "The reason I think a lot of Republicans want to kick Ilhan Omar off of the Foreign Affairs Committee is because they don't like what she has to say."
Rep. Nancy Mace, R-S.C. said on Friday that a "handful" of Republicans believe that Omar's removal from the committee amounts to "cancel culture."
"There's a First Amendment in this country. We don't have to agree with everything that members say," Mace said. "I think we have to be very careful about what we are as a constitutional republic," she said. "I am not a fan of Ilhan Omar. She's an anti-Semite. She's a bigot. She's a racist. She's a socialist. But that doesn't mean that we cancel people in this country. Republicans don't stand for cancel culture. And that's essentially what this is."
CLICK HERE TO GET THE FOX NEWS APP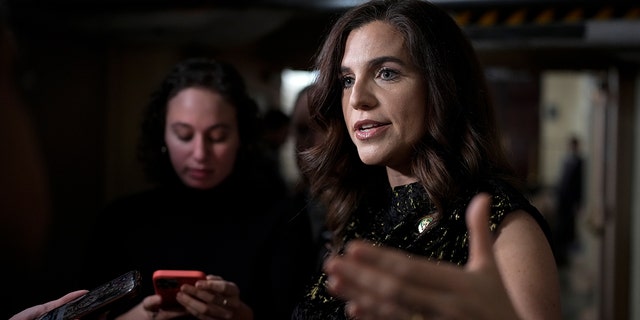 FILE: Rep. Nancy Mace (R-SC) speaks to reporters following a closed-door GOP caucus meeting at the U.S. Capitol January 10, 2023 in Washington, DC. 
(Drew Angerer/Getty Images)
"I think it sets a very dangerous precedent. And you know, there's so much anti-Semitism in this country. We should be condemning it right and left as we always have, but there's also the First Amendment right to do that," Mace added.
Fox News' Brianna Herlihy, Tyler Olson, Brandon Gillespie, and Houston Keene contributed to this report.