The state of Illinois is fighting back after a judge blocked Democratic Gov. J.B. Pritzker from enforcing a newly enacted ban on certain semiautomatic rifles and high-capacity magazines.
Illinois Attorney General Kwame Raoul appealed to the 5th District Appellate Court in Mount Vernon Monday to overturn a temporary restraining order against the Protect Illinois Communities Act, which bans dozens of handguns and rifles, .50-caliber guns, certain attachments and accessories, and limits cartridges to 10 rounds for long guns and 15 rounds for pistols.
Pritzker signed the gun control law on Jan. 10 in response to the mass shooting that killed seven and injured 30 at the Highland Park July Fourth parade. Those who currently own the restricted weapons would not be required to surrender them but would have to register them with the Illinois State Police, including serial numbers.
Four gun merchants and 850 individuals have challenged the law, arguing it was improperly enacted and lacking proper public input. They asserted in a lawsuit Illinois violated the nation's guarantee of equal protection of the law by exempting from enforcement categories of people based on occupation or training — retired police officers, for example.
ILLINOIS SHERIFF REFUSES TO ENFORCE NEW GUN CONTROL LAW: 'CLEAR VIOLATION OF THE 2ND AMENDMENT'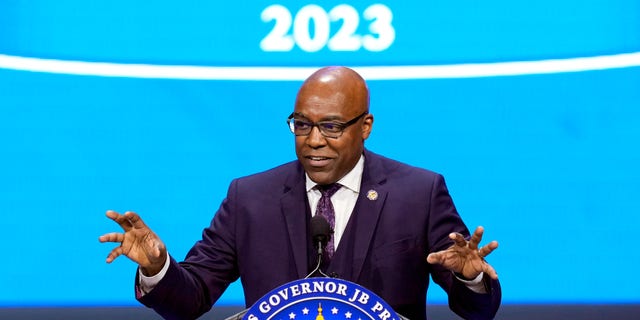 Illinois Attorney General Kwame Raoul delivers his remarks after being sworn to his second term as attorney general during ceremonies Monday, Jan. 9, 2023, in Springfield, Illinois. 
(AP Photo/Charles Rex Arbogast, File)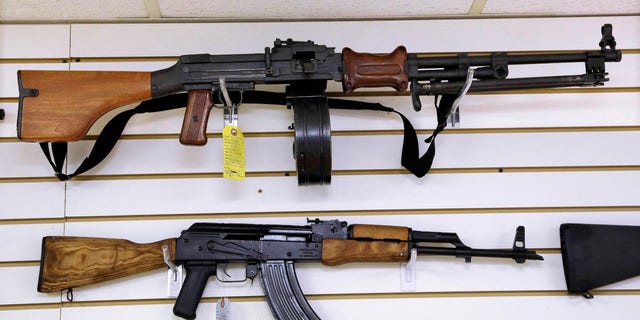 Assault weapons are seen for sale at Capitol City Arms Supply on Jan. 16, 2013, in Springfield, Illinois.
(AP Photo/Seth Perlman, File)
ILLINOIS GUN CONTROL LAW SLAPPED WITH RESTRAINING ORDER BY JUDGE JUST DAYS AFTER IT GOES INTO EFFECT
In a ruling Friday, Effingham County Judge Joshua Morrison sided with plaintiffs, finding they are "being immediately and irreparably harmed each day in which their fundamental right to bear arms is being denied." Morrison also cited a landmark U.S. Supreme Court decision from last year that struck down New York state's concealed carry law. That 6-3 ruling in New York Rifle & Pistol Association v. Bruen found that the "plain text" of the Second Amendment protected the right of the plaintiffs in that case to carry firearms for self-defense.
Raoul argues Morrison's order was improper because of contrary state Supreme Court rulings and the lawsuit's inability to prove the gun ban's approval violates the Constitution's equal protection clause.
CALIFORNIA REELS FROM STRING OF MASS SHOOTINGS DESPITE HAVING SOME OF THE STRICTEST GUN LAWS IN US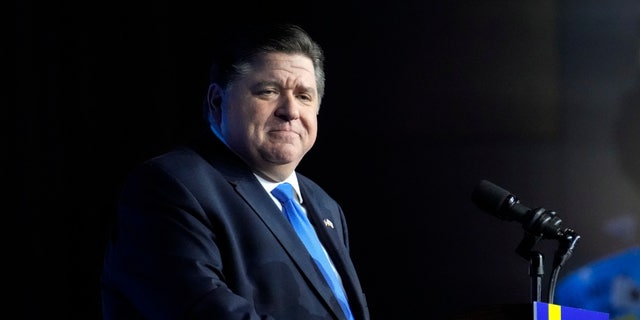 Illinois Gov. J.B. Pritzker looks to supporters after he defeated GOP challenger Darren Bailey on Nov. 8, 2022, in Chicago.
(AP Photo/Seth Perlman, File)
The attorney general disputes the plaintiff's claims and says there is no evidence exemptions to the gun ban are granted unfairly.
Gun rights groups have blasted the law as "tyrannical," claiming it violates the Second Amendment rights of lawful gun owners.
The Illinois State Rifle Association, which has filed a separate federal lawsuit challenging the law, accused lawmakers of "bending and ignoring the constitution in an effort to take away your Second Amendment rights to bear arms in Illinois."
CLICK HERE TO GET THE FOX NEWS APP
More than 70 sheriffs have publicly vowed to defy the law, calling it unconstitutional.
Fox News' Bailee Hill and The Associated Press contributed to this report.