President Biden encouraged lawmakers Tuesday to get a bill banning assault weapons to his desk and take immediate action following the mass shooting in Half Moon Bay, California, despite few specifics on what type of gun was used.
Authorities have indicated the gunman used a semiautomatic rifle, but have not said if the rifle is a so-called "assault" weapon.
At least seven people were shot dead and an eighth victim injured Monday afternoon at two separate locations in the northern California coastal city just south of San Francisco.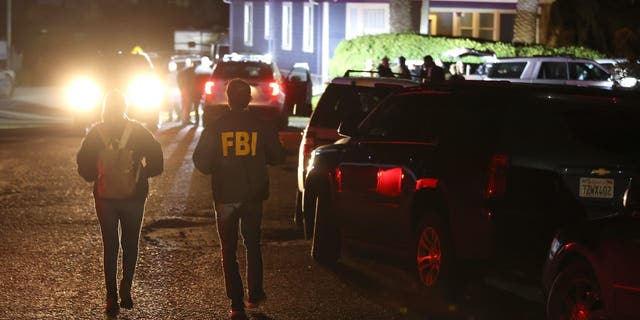 FBI agents arrive at the scene of a shooting on Jan. 23, 2023, in Half Moon Bay, California.
(Justin Sullivan/Getty Images)
NORTHERN CALIFORNIA SHOOTING LEAVES AT LEAST 7 DEAD, OFFICIALS SAY: SUSPECT IN CUSTODY
"Yesterday, Senator Feinstein — alongside Senators Murphy, Blumenthal and others — reintroduced a federal Assault Weapons Ban and legislation that would raise the minimum purchase age for assault weapons to 21," Biden said in a statement Tuesday morning. "Even as we await further details on these shootings, we know the scourge of gun violence across America requires stronger action."
"I once again urge both chambers of Congress to act quickly and deliver this Assault Weapons Ban to my desk, and take action to keep American communities, schools, workplaces, and homes safe," he added.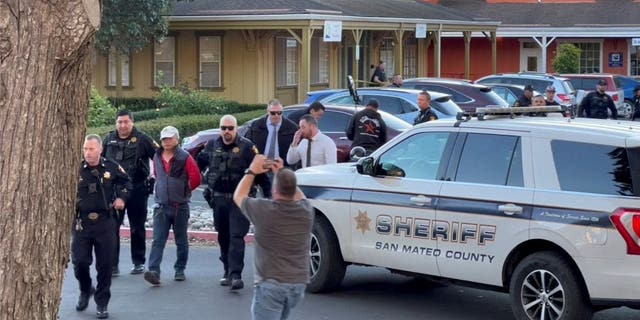 Police officers detain a man, believed by law enforcement to be the Half Moon Bay mass shooting suspect, in Half Moon Bay, California, Jan. 23, 2023, in this screengrab taken from a social media video. 
(Kati McHugh via REUTERS)
CALIFORNIA GOV. GAVIN NEWSOM SAYS 2ND AMENDMENT IS 'BECOMING A SUICIDE PACT' FOLLOWING MONTEREY PARK SHOOTING
The suspect, believed to be a disgruntled former employee according to reports, shot four people and injured a fifth at a mushroom farm on the 12700 block of San Mateo Road before authorities found three others shot dead roughly three miles away, located at the 2100 block of Cabrillo Highway South near the Rice Trucking Soil Farm.
The connection between the farms remains unclear.
The suspected gunman, identified as 67-year-old Zhao Chunli, showed up at a San Mateo County sheriff's station and is believed to have turned himself in.
A weapon suspected of having been used in the shootings was found in his vehicle, authorities said, but details on the exact type of weapon remain unconfirmed.
A semiautomatic weapon is classified as any weapon that automatically reloads after a shooter pulls the trigger.
The motive for the killing remains unknown.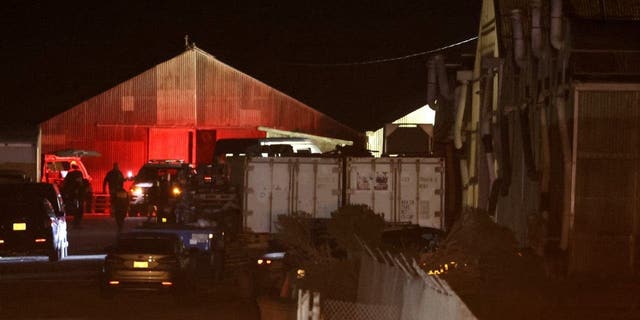 Law enforcement officials work at the scene of a shooting on Jan. 23, 2023, in Half Moon Bay, California.
(Justin Sullivan/Getty Images)
CLICK HERE TO GET THE FOX NEWS APP
"Jill and I are praying for those killed and injured in the latest tragic shooting in Half Moon Bay, California. For the second time in recent days, California communities are mourning the loss of loved ones in a senseless act of gun violence," Biden said referencing a mass shooting that occurred over the weekend at a Lunar New Year celebration in Monterey Park, California where 11 people were killed.
Biden said he has directed Homeland Security to provide local authorities with the "full support of the federal government in the wake of this heinous attack."
Fox News' Louis Casiano contributed to this report.