A group of illegal migrants, who entered into the U.S. through the southern border, are refusing to leave their free NYC hotel rooms for a migrant shelter in Brooklyn, New York, sleeping in the street to protest.
The migrants were initially placed at the Watson Hotel in Midtown Manhattan, but their schedule for relocation to a new migrant relief center, the Brooklyn Cruise Terminal, caused uproar late Sunday night.
While some migrants left for the new shelter, many refused to vacate the Hells Kitchen hotel and rallied outside the building alongside migrant activists. The migrants who were noncompliant in the city's relocation spent the night outside the hotel and were seen holding their ground into Monday morning.
Democratic Mayor Eric Adams of New York City responded to the situation, affirming the new facilities were hospitable accommodations and stressing the dire need of state and government support amid the ongoing migrant crisis that is impacting the Big Apple.
NEARLY 300,000 ILLEGAL IMMIGRANTS SLIPPED PAST BORDER AGENTS IN LESS THAN FOUR MONTHS: SOURCES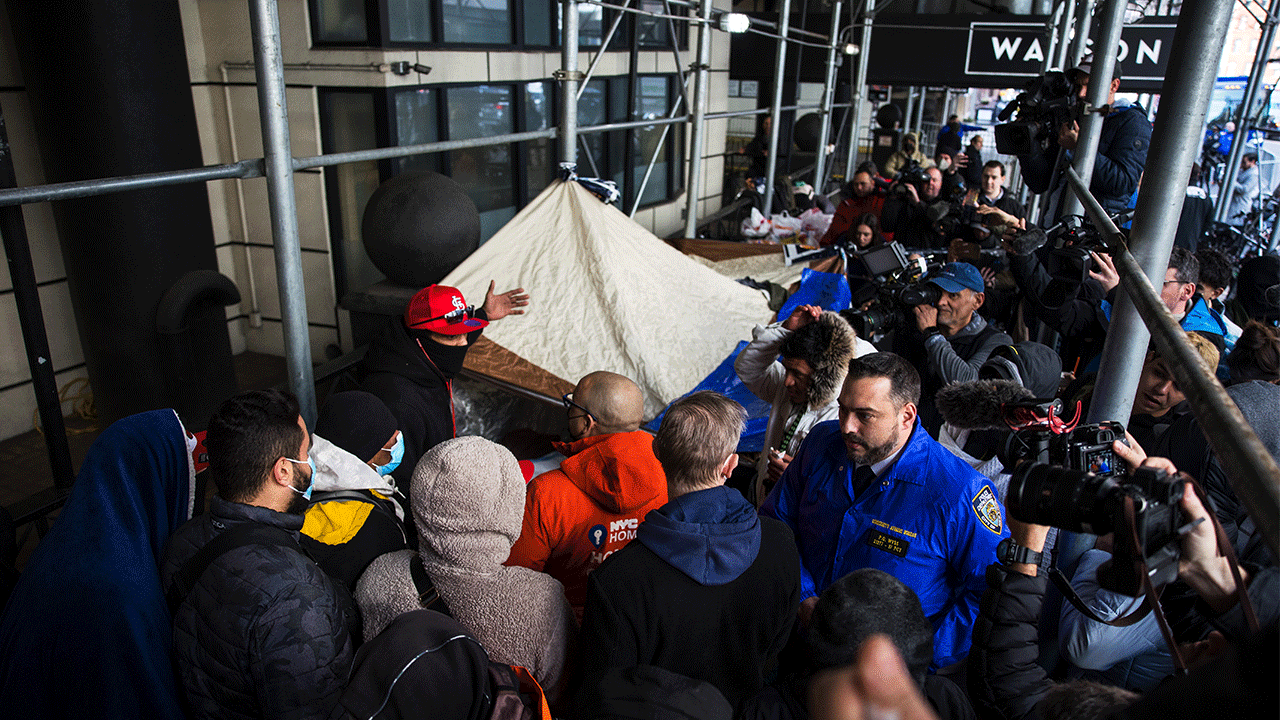 Migrants speak with NYC homeless outreach members as they camp out in front of the Watson Hotel after being evicted on Jan. 30, 2023.
(Michael M. Santiago)
"This weekend, we began the process of moving single adult men from the Watson Hotel to Brooklyn Cruise Terminal, as we transition the hotel to meet the large number of asylum-seeking families with children," Adams said in a statement.
"More than 42,000 asylum seekers have arrived in New York City since last spring, and we continue to surpass our moral obligations as we provide asylum seekers with shelter, food, health care, education, and a host of other services," the mayor continued.
GREG ABBOTT BLASTS BIDEN'S NEW BORDER POLICY THAT WILL ALLEGEDLY ATTRACT 'EVEN MORE' ILLEGAL MIGRANTS
Several migrants who went to the new center immediately turned around and went back to the Watson Hotel, claiming there was a lack of heat and bathroom space at the facility.
Despite these claims, the city assured the Brooklyn Cruise Terminal provided the same services for the migrants seeking asylum, including heat and space.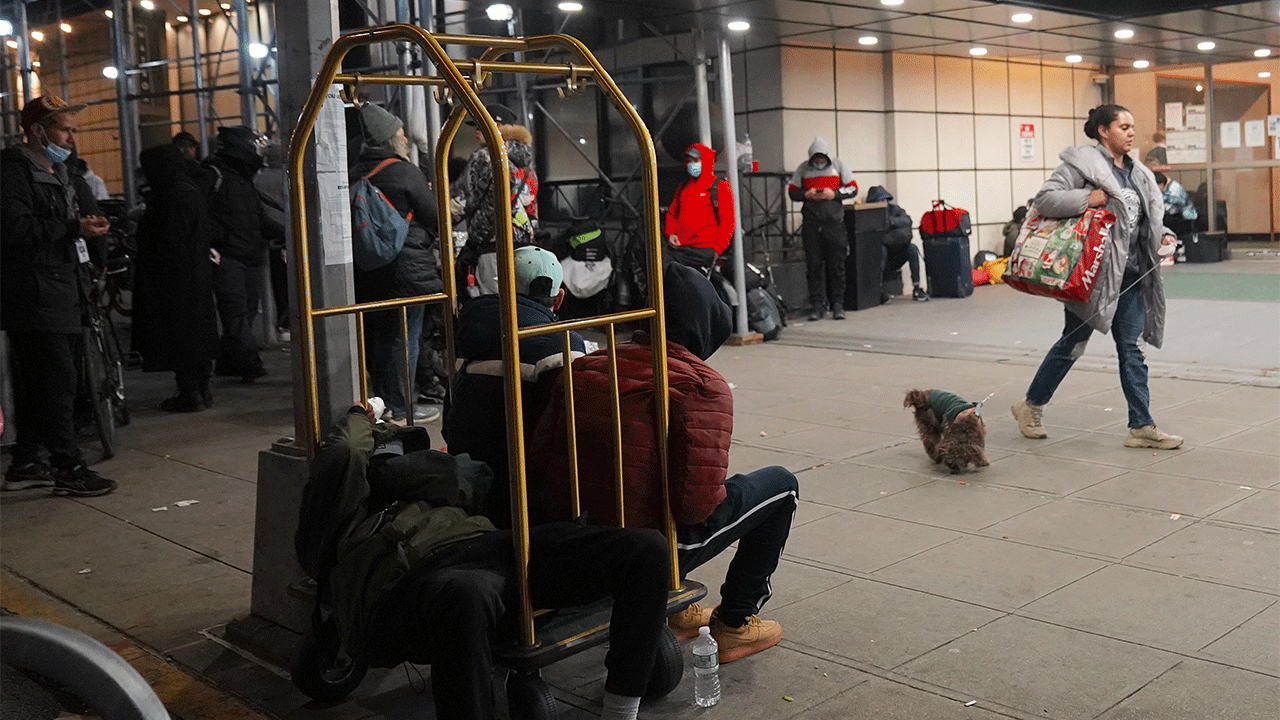 A view from the surroundings of Watson Hotel in Manhattan, New York.
(Selcuk Acar)
"The facilities at Brooklyn Cruise Terminal will provide the same services as every other humanitarian relief center in the city, and the scheduled relocations to Brooklyn Cruise Terminal this weekend took place as planned. We remain in serious need of support from both our state and federal governments."
The Brooklyn Cruise Terminal Humanitarian Emergency Response and Relief Center was scheduled to open after Mayor Adams said NYC reached "its breaking point." The center, which will close this spring ahead of cruise season, will "provide adult men with a place to stay, access support, and get to their final destination."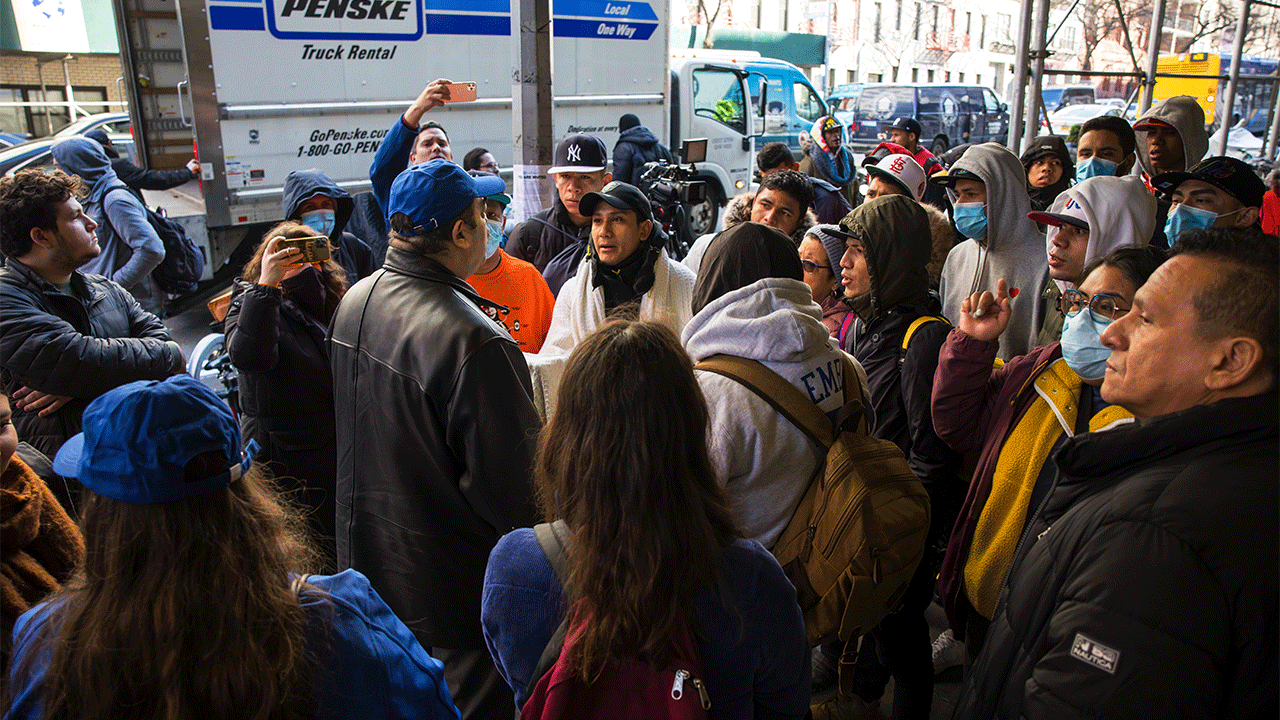 A member of the mayor's immigration office speaks with migrants who are camping out in front of the Watson Hotel after being evicted on Jan. 30, 2023, in New York City.
(Michael M. Santiago)
Illegal migrants are continuing to flood into New York City on a weekly basis, with Adams reporting an average of 400 people each day during one week in January, with 835 asylum seekers arriving on one single day alone earlier this month.
CLICK HERE TO GET THE FOX NEWS APP
Mayor Adams recently proclaimed the migrant surge at the border a "national crisis" during a visit to El Paso, Texas.
Fox News' Bradford Betz and Greg Norman contributed to this report.