A handful of Republicans could save Rep. Ilhan Omar's, D-Minn., seat on the House Foreign Affairs Committee as Speaker Kevin McCarthy tries to fulfill his promise to eject her over what he described as antisemitic remarks.
McCarthy is meeting with holdouts Monday in an effort to persuade them to vote for his resolution to give Omar the boot over her repeated comments against Israel that she has since apologized for.
Last week, McCarthy unilaterally removed Reps. Adam Schiff, D-Calif., and Eric Swalwell, D-Calif., from the House Intelligence Committee, a select committee, citing national security concerns.
However, the Foreign Affairs Committee is a standing committee, meaning a full House vote is needed for McCarthy's resolution to remove Omar.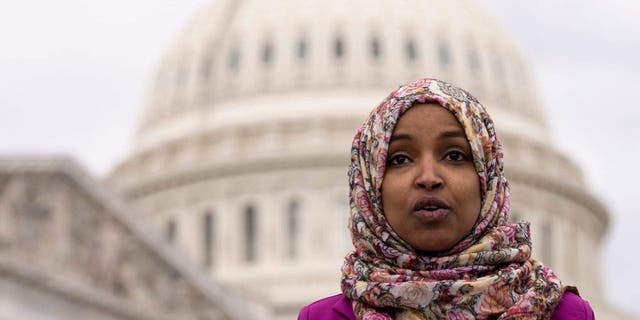 Rep. Ilhan Omar (D-MN) speaks during a news conference marking the 6th anniversary of the Trump administration's Executive Order 13769, also known as the Muslim ban, outside the U.S. Capitol on January 26, 2023 in Washington, D.C.
(Photo by Drew Angerer/Getty Images)
OMAR BLASTS GOP'S 'ISLAMOPHOBIA' AMID COMMITTEE REMOVAL BID: 'THEY'RE NOT OK' WITH MUSLIMS 'HAVING A VOICE'
In the tightly divided House, McCarthy can only afford to lose four votes to pass the resolution without any Democrats, and Reps. Victoria Spartz, R-Ind., Nancy Mace, R-S.C., and Ken Buck, R-Colo., have so far signaled they will vote against it.
Additionally, Rep. Greg Steube, R-Fla., is recovering at home with an injury, giving McCarthy zero wiggle room. His office declined to comment when reached by Fox News Digital.
Mace told Fox News on Friday that booting Omar from her committee amounts to a form of "cancel culture."
"There's a First Amendment in this country. We don't have to agree with everything that members say," Mace said. "I am not a fan of Ilhan Omar. She's an anti-Semite. She's a bigot. She's a racist. She's a socialist. But that doesn't mean that we cancel people in this country. Republicans don't stand for cancel culture. And that's essentially what this is."
Mace's office told Fox News Digital on Monday morning that the congresswoman is still against removing Omar from the Foreign Affairs Committee but is waiting to discuss it further with lawmakers before announcing her final decision.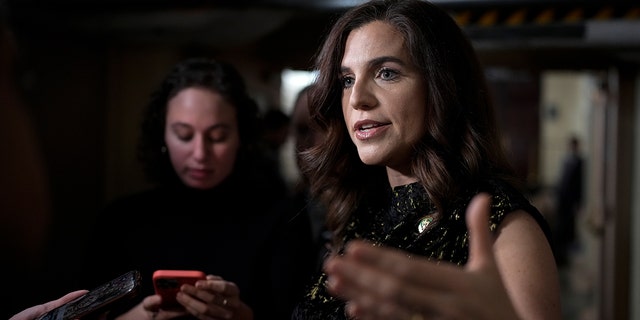 Rep. Nancy Mace (R-SC) speaks to reporters following a closed-door GOP caucus meeting at the U.S. Capitol January 10, 2023, in Washington, D.C. 
(Drew Angerer/Getty Images)
Spartz wrote a statement last week arguing against Omar's removal, saying, "two wrongs do not make a right," and that "Speaker McCarthy needs to stop 'bread and circuses' in Congress and start governing for a change."
Spartz's office told Fox News Digital that the congresswoman planned to meet with McCarthy Monday afternoon to further discuss the matter.
Buck, a member of the House Freedom Caucus, told NBC News' Chuck Todd he is against Republicans removing Democrats like Omar from their committees.
"I think that we should not engage in this tit-for-tat," Buck said.
Buck's office later told Axios he "right now wouldn't support the removal of Rep. Omar" from her committee seat.
Buck's office did not respond to Fox News Digital's request for comment.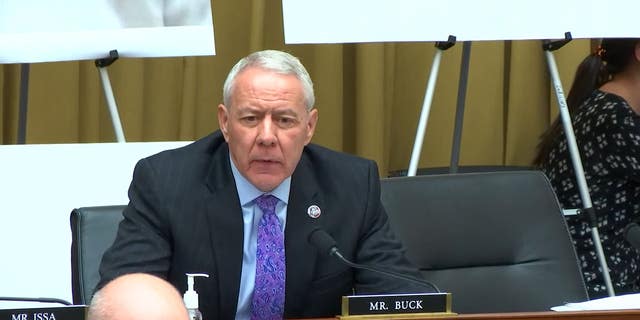 Rep. Ken Buck (R-CO). 
(House Judiciary Committee screenshot)
Omar accused Republicans of Islamophobia on Sunday on CNN's "State of the Union" alongside Schiff and Swalwell after McCarthy removed the latter two from the Intelligence Committee.
"It is politically motivated, and in some cases motivated by the fact that many of these members don't believe a Muslim refugee, an African, should even be in Congress, let alone have the opportunity to serve on the Foreign Affairs Committee," Omar said.
"These people are OK with Islamophobia," she said. "They're OK with trafficking, in their own ways, in antisemitism. They are not OK with having a Muslim have a voice on that committee."
OMAR, BOWMAN, FAR-LEFT ACTIVISTS CALL FOR CLARENCE THOMAS TO BE IMPEACHED
Omar previously labeled McCarthy "racist" and "xenophobic" for trying to remove her from the Foreign Affairs Committee.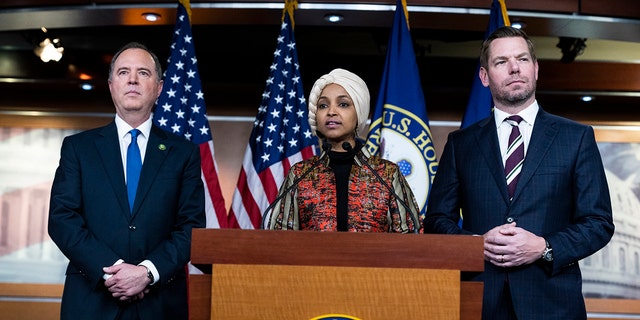 From left, Reps. Adam Schiff, D-Calif., Ilhan Omar, D-Minn., and Eric Swalwell, D-Calif., conduct a news conference on being removed from committees assignments, in the Capitol Visitor Center on Wednesday, January 25, 2023. 
(Tom Williams/CQ-Roll Call, Inc via Getty Images)
CLICK HERE TO GET THE FOX NEWS APP
McCarthy has said he is removing Omar from the position as she has upset many of her colleagues in the past with controversial anti-Israel statements that highlighted antisemitic tropes.
Omar once said, "It's all about the Benjamins, baby" to explain why McCarthy criticized her for opposing the Jewish country. She also sparked backlash for a remark comparing the U.S. and Israel to Hamas and the Taliban.
Other Republicans who are reportedly undecided on removing Omar, including Reps. Brian Fitzpatrick, R-Pa., David Valadao, R-Calif., and Rep. Dave Joyce, R-Ohio, did not respond to Fox News Digital's requests for comment.