Rep. Ilhan Omar, D-Minn., called the American Israel Public Affairs Committee, which calls itself bipartisan, a "right-wing super PAC" and accused it of being funded by "dark money."
Omar is accusing a pro-Israel group of working to unseat her with a more moderate primary challenger in the upcoming 2024 election.
The group recently helped facilitate a House Democrat-led trip to Israel spearheaded by Minority Leader Hakeem Jeffries, D-N.Y., and Rep. Steny Hoyer, D-Md.
"THIS IS URGENT," began an ad for Omar's campaign on X, formerly Twitter. "A right-wing Super PAC funded by millions of dollars in Dark Money spending is working around the clock to unseat Ilhan from Congress in 2024."
FAR-LEFT 'SQUAD' COMMITTEE ADVISER ACCUSES ISRAEL OF COMMITTING 'GENOCIDE' AGAINST PALESTINIANS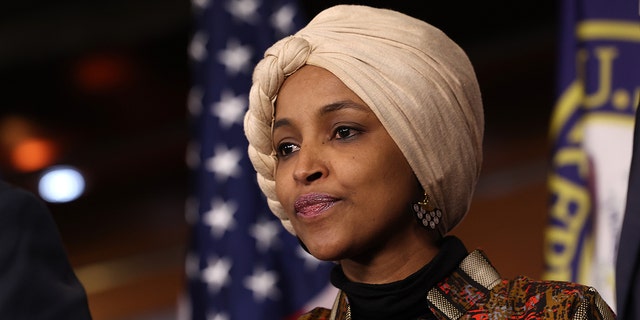 Rep. Ilhan Omar, D-Minn., is fundraising off of accusations pro-Israel group AIPAC is trying to unseat her (Kevin Dietsch/Getty Images)
"AIPAC is recruiting moderate candidates to run against Ilhan and other progressive incumbents who are speaking out against the establishment and will spend MILLIONS on attack ads to silence our movement.
"Their attacks will never stop the momentum of this movement, but we need your help to fight back with TV ads of our own. So if you can, please rush a donation to Ilhan's campaign now to allow us to do so."
Fox News Digital reached out to Omar's office asking when those TV ads would debut but did not immediately hear back. A spokesperson for the progressive 'Squad' member previously accused AIPAC of putting Omar's "life at risk with repeated Islamophobic attack ads" after the group ran an ad attacking her for comments equating the U.S. and Israel to Hamas and the Taliban.
ILHAN OMAR GETS THE BOOT: HOUSE VOTES HER OFF FOREIGN AFFAIRS COMMITTEE AS DEMOCRATS CITE 'RACISM'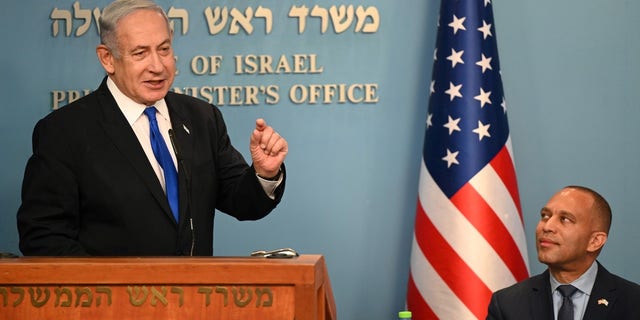 AIPAC helped coordinate House Democrats' recent congressional delegation to Israel (pictured: Israeli Prime Minister Benjamin Netanyahu and U.S. House Minority Leader Hakeem Jeffries) (Prime Minister of Israel's Office)
An AIPAC spokesman called Omar's most recent fundraising ad targeting them "clumsy" and denied that the group did not support progressives.
"We proudly engage in the democratic process — just as our adversaries do — and we will not be deterred by clumsy fundraising ads that falsely attack us," the spokesman said. "In fact, we support scores of pro-Israel progressives who understand that it is entirely consistent with progressive values to support the Jewish state."
OMAR LASHES OUT AT MCCARTHY FOR 'PERSONALLY WHIPPING VOTES' AGAINST HER: 'PATHETIC'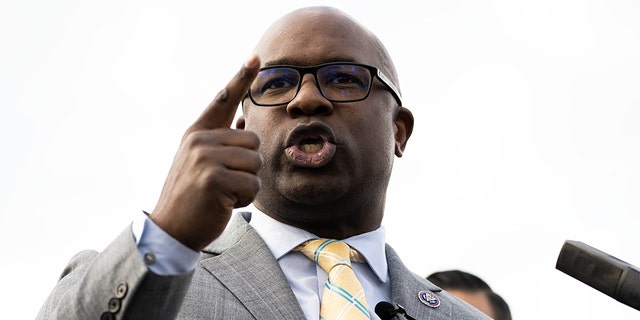 It comes after a report that AIPAC is trying to recruit candidates to run against Omar and Rep. Jamaal Bowman. (Nathan Howard/Bloomberg via Getty Images)
CLICK HERE TO GET THE FOX NEWS APP
A Jewish Insider report from early August suggested that AIPAC was actively working to find potential Democratic challengers to Omar and her fellow "Squad" member, Rep. Jamaal Bowman. They were two of nine progressives who voted against a resolution affirming Israel was not a racist or apartheid state earlier this year.
House Republicans removed Omar from the Foreign Affairs Committee earlier this year over her past controversial comments about Israel.