Federal prosecutors in 2022 are wrapped up the fourth year of their investigation into Hunter Biden for possible tax and foreign lobbying violations, false statements and more.
Hunter Biden has been under federal investigation since 2018.
The probe was predicated, in part, by suspicious activity reports (SARs) regarding suspicious foreign transactions. Those SARs, according to sources familiar with the investigation, involved funds from "China and other foreign nations."
Fox News first reported the existence of some type of investigation involving Hunter Biden in October 2020, ahead of the last presidential election. It became known then that the FBI had subpoenaed the laptop purportedly belonging to Hunter Biden in the course of an existing money laundering investigation.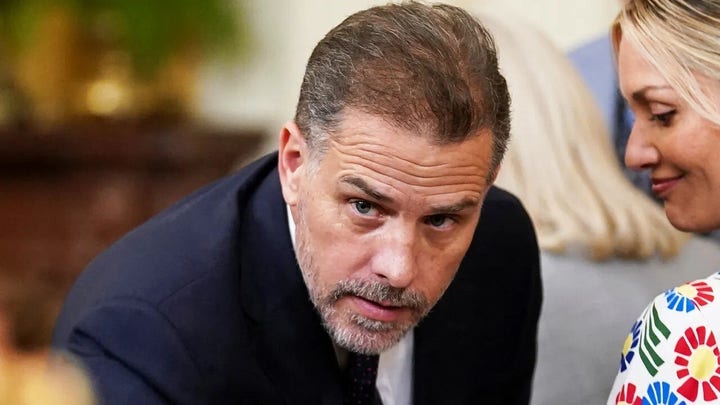 Video
FOX NEWS POLL: BIPARTISAN SUPPORT FOR INVESTIGATING HUNTER BIDEN
Stories about the laptop were widely panned by Democrats and mainstream media outlets as Russian disinformation. At the time, then-Director of National Intelligence John Ratcliffe confirmed that the laptop was "not part of some Russian disinformation campaign," but that claim was rejected by Democrats and many in the media.
Social media companies like Twitter and Facebook censored and limited the circulation of stories related to Hunter Biden's laptop before the 2020 presidential election.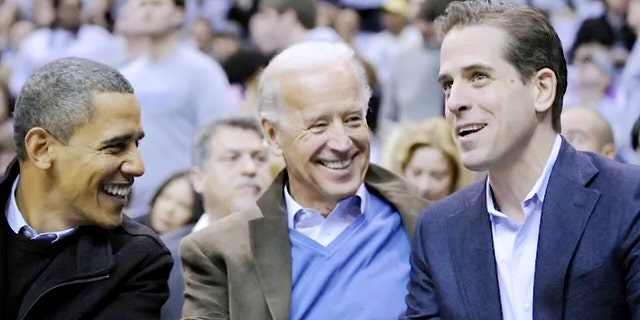 Some Republicans say Hunter Biden's business dealings can be linked to President Biden.
(AP Photo/Nick Wass)
Only in 2022 did media outlets like NBC News and CBS News begin accepting the fact and verified that the laptop did belong to Hunter Biden and did hold legitimate records belonging to the president's son.
Twitter, under the new ownership of Elon Musk, released records surrounding the company's decisions to block the circulation of the Hunter Biden stories – even though he had been under federal investigation at that point for nearly two years.
Hunter Biden confirmed the investigation into his "tax affairs" in December 2020, after his father was elected president.
FEDS WEIGH CHARGES AGAINST HUNTER BIDEN, OUTCOME OF YEARSLONG CASE COULD BE 'IMMINENT': SOURCE
In 2022, the investigation led by Trump-appointed Delaware U.S. Attorney David Weiss appeared to be nearing a critical stage.
Fox News reported in July that the federal grand jury looking into Hunter Biden's business dealings wrapped up its latest term in June of this year and had expired. A source told Fox News at the time that no charges had been filed.
A former senior Justice Department official told Fox News, however, that the government does not need to have an active grand jury in order to file charges as part of a plea agreement.
President Biden's son Hunter Biden is pictured in Soho on Thursday.
(Backgrid)
Sources told Fox News this fall that federal investigators were weighing whether to charge Hunter with various tax and foreign lobbying violations, false statements and more.
The possibility of a false statement charge stems from the possibility that Hunter Biden lied during a gun purchase in 2018. Fox News first reported last year that police had responded to an incident in 2018, when a gun owned by Hunter Biden was thrown into a trash can outside a market in Delaware.
JOE BIDEN 'WAS AWARE' AND POTENTIALLY 'INVOLVED' IN SON HUNTER'S CRONY BUSINESS DEALINGS: WHISTLEBLOWERS
A source with knowledge of the Oct. 23, 2018, police report told Fox News that it indicated that Hallie Biden, the widow of President Biden's late son, Beau, and who was in a relationship with Hunter at the time, threw a gun owned by Hunter in a dumpster behind a market near a school.
A firearm transaction report reviewed by Fox News indicated that Hunter Biden purchased a gun earlier that month.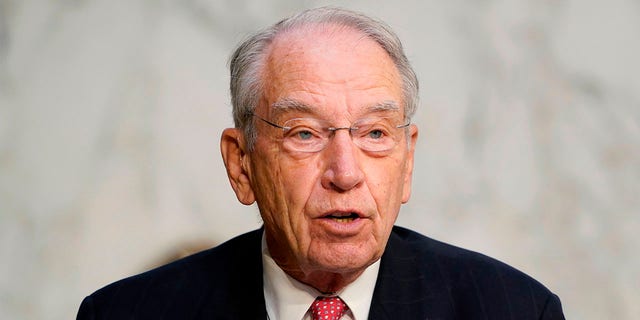 Sen. Chuck Grassley, R-Iowa, continues to investigate Hunter Biden from the Senate.
(Photo by SUSAN WALSH/POOL/AFP via Getty Images)
On the firearm transaction report, Hunter Biden answered in the negative when asked if he was "an unlawful user of, or addicted to, marijuana or any depressant, stimulant, narcotic drug, or any other controlled substance?"
Hunter Biden was discharged from the Navy in 2014 after testing positive for cocaine.
While the federal investigation is ongoing and does not involve the president in any way, congressional inquiries into Hunter Biden's business dealings have sought to tie suspicious foreign ventures to Biden.
Sens. Chuck Grassley, R-Iowa, and Ron Johnson, R-Wis., who have been investigating Hunter Biden's business dealings since 2019, flagged to the FBI this fall that they were in possession of whistleblower allegations suggesting the bureau was in possession of "significant, impactful and voluminous evidence with respect to potential criminal conduct by Hunter Biden and James Biden" and related to Hunter's work with Ukrainian natural gas firm Burisma Holdings.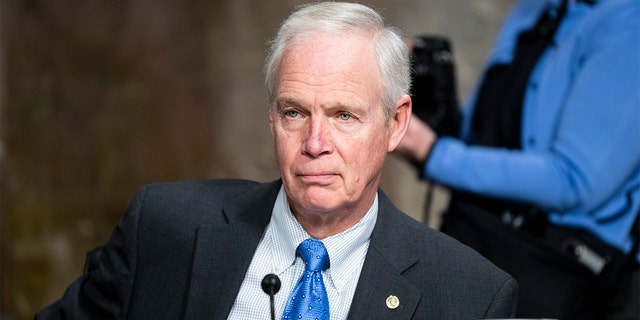 Sen. Ron Johnson, R-Wis., says there is whistleblower evidence revealing criminal conduct by Hunter Biden.
(Bill Clark/CQ-Roll Call, Inc via Getty Images)
BIDEN WISHES REPUBLICANS 'LOTS OF LUCK' IN PLANS TO INVESTIGATE SON HUNTER IF THEY TAKE THE HOUSE
President Biden has repeatedly denied speaking to Hunter about his business dealings. He has also denied, since the 2020 campaign, having any knowledge about or involvement in his son's business ventures.
It is unclear whether Grassley and Johnson will continue their investigation into Hunter Biden in the next Congress, but Republicans on several House committees have vowed to launch new, and intensify existing investigations into Hunter Biden and his business dealings next year, when the GOP takes the majority of the House of Representatives and gains subpoena power.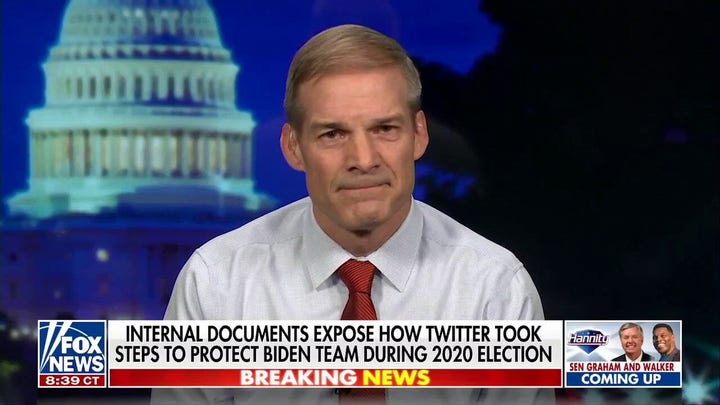 Video
After the midterm elections, President Biden wished House Republicans "lots of luck" if they follow through on their commitments to use a GOP majority to investigate his son.
"Lots of luck in your senior year, as my coach used to say," Biden joked. "Look, I think the American public wants us to move on and get things done for them."
He added, "Look, I can't control what they're going to do, all I can do is continue to try to make life better for the American people."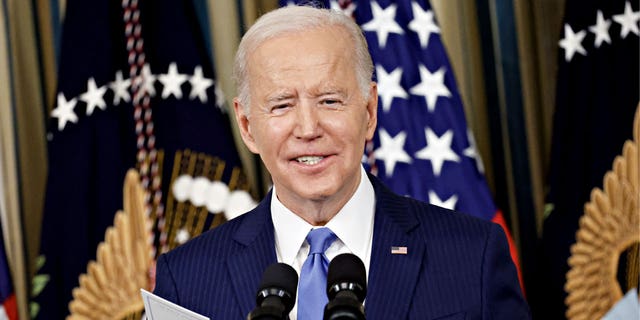 President Biden says Americans are not interested in investigations into his son, but polls say otherwise.
(Ting Shen/Bloomberg via Getty Images)
However, a new Fox News poll this month showed that voters across the political spectrum believe it is important for the Justice Department to investigate Hunter Biden's business dealings with foreign governments.
MUSK'S 'TWITTER FILES,' REVEALING CENSORSHIP OF HUNTER BIDEN LAPTOP STORY, IS A 'DISTRACTION, WHITE HOUSE SAYS
Nearly three-quarters of voters (72%) think it is important for the Justice Department to investigate, unchanged from the 72% who felt that way in August. That includes majorities of Republicans (88%), independents (74%) and Democrats (54%).
Partisans disagree, however, on what investigations into Hunter Biden's conduct will reveal. Republicans generally think Hunter Biden did something illegal in his business dealings with Ukraine and China (70%), and that President Biden committed a crime related to his son's activities (63%). By contrast, very few Democrats think Hunter Biden (11%) or Joe Biden (8%) did something illegal.
Overall, 39% think Hunter Biden committed a crime, 31% say he did something unethical but not illegal and 19% believe he did nothing seriously wrong.
CLICK HERE TO GET THE FOX NEWS APP
The numbers are fairly similar for President Biden: 35% say he committed a crime, 27% think he acted unethically but not illegally and 31% feel he did nothing wrong.
The FBI, among other law enforcement entities, has investigated Hunter Biden for tax-related issues. But voter trust in the FBI depends on the party affiliation of the voter.
Nearly two-thirds of voters (63%) are confident in the Bureau — but that is down from 70% in September. The decline comes primarily from Republicans (47% confident now vs. 59% in September). Most Democrats (84%) and six-in-10 independents (57%) are confident in the FBI.
Fox News' Dana Blanton and Victoria Balara contributed to this report.