Rep. Pat Fallon is set to file impeachment articles against Homeland Security Secretary Alejandro Mayorkas as soon as the new Congress is sworn in and as the new House GOP majority gears up to fight the Biden administration.
Dozens of House Republicans, including Fallon of Texas, co-sponsored legislation to impeach Mayorkas in the previous Congress, largely owing to his handling of the border crisis. Fallon's impeachment resolution, which includes three articles, cites similar reasons.
"Since day one, Secretary Mayorkas's policies have undermined law enforcement activities at our southern border," Fallon said in a statement to Fox News. "From perjuring himself before Congress about maintaining operational control of the border to the infamous 'whip-gate' slander against our border patrol agents, Secretary Mayorkas has proven time and time again that he is unfit to lead the Department of Homeland Security."
Fallon's first article alleges that Mayorkas has failed to faithfully execute the "Secure the Fence Act of 2006." The impeachment article says that law "requires the Secretary of Homeland Security to "maintain operational control over the entire international land and maritime borders of the United States."
KARINE JEAN-PIERRE RIPPED FOR CLAIMING BIDEN HAS WORKED TO SECURE THE BORDER: 'MOST EGREGIOUS LIE I'VE HEARD'
The second article alleges that Mayorkas "in violation of his constitutional oath, willfully provided perjurious, false, and misleading testimony to Congress." To back up that charge, the article quotes Mayorkas at April 26 and Nov. 15 congressional hearings in which he said the border was indeed secure.
The final of the three articles charges that Mayorkas "publicly and falsely slandered" border agents who were falsely accused of whipping Haitian migrants in Del Rio, Texas, in 2021.
"The 511-page report by the U.S. Customs and Border Protection's Office of Personal Responsibility found 'no evidence that [Border Patrol agents] involved in this incident struck, intentionally or otherwise, any migrant with their reins,'" Fallon writes. "Secretary Mayorkas slandered his own Border Patrol agents and TXDPS Troopers involved in this incident, contributing to a further decrease in already-low morale among agents."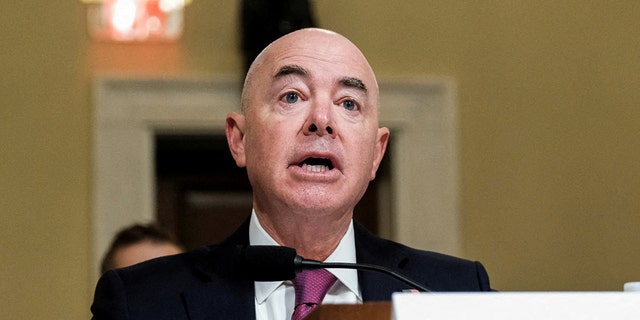 Many Republicans say they would like to impeach DHS Secretary Alejandro Mayorkas.
(Reuters/Michael A. McCoy/File)
ICE DEPORTATIONS REMAINED WELL BELOW TRUMP-ERA LEVELS IN FY 2022, AMID HISTORIC BORDER CRISIS
The Department of Homeland Security (DHS) did not immediately respond to a request for comment for this report. In response to previous calls to impeach Mayorkas, a DHS spokesperson said in November that calls to impeach the secretary amount to little more than finger-pointing from Congress.
"Secretary Mayorkas is proud to advance the noble mission of this Department, support its extraordinary workforce, and serve the American people," the spokesperson said in a statement. "Members of Congress can do better than point the finger at someone else; they should come to the table and work on solutions for our broken system and outdated laws, which have not been overhauled in over 40 years."
BIDEN ADMIN FACING THIRD YEAR OF CRISIS AT THE SOUTHERN BORDER WITH UNCERTAIN IMMIGRATION POLICIES IN 2023
Previously asked if she stands by Mayorkas' claims that the border is secure, White House press secretary Karine Jean-Pierre backed up the Homeland Security secretary.

next
Image 1 of 2

Rep. Pat Fallon, R-Texas, above, plans to file articles of impeachment against Homeland Security Secretary Alejandro Mayorkas as soon as the new Congress is sworn in. (Rep. Fallon Headshot)


prev
Image 2 of 2

House Minority Leader Kevin McCarthy, R-Calif., recently said that he is for impeaching Homeland Security Secretary Alejandro Mayorkas. (AP Photo/Alex Brandon/File)
"We have historic funding to do just that, to make sure that … the folks that we encounter at the border be removed or expelled," Jean-Pierre said. "We agree that the border is secure, but there is still more work to be done."
Fallon will not actually be able to file his impeachment resolution until the House picks its speaker and swears in its members. That could take some time as it's unclear whether House GOP Leader Kevin McCarthy, R-Calif., has enough votes to secure the speaker's gavel.
CLICK HERE TO GET THE FOX NEWS APP
If McCarthy does not get a majority of the votes for speaker when the House opens Tuesday, the chamber must keep voting until someone reaches the majority threshold. It's not clear how long that could take.
But even McCarthy has said he's for impeaching Mayorkas – likely a sign that the GOP will prioritize investigating the DHS leadership.
"[Mayorkas'] willful actions have eroded our immigration system, undermined border patrol morale, and jeopardized American national security," Fallon wrote. "He has violated the law and it is time for him to go."
Fox News' Adam Shaw contributed to this report.