The Penn Biden Center lies at the heart of the latest Biden controversy but in some ways remains shrouded by mystery.
The White House revealed earlier this week that classified documents were discovered at the Washington, D.C. office for President Biden's think tank, the Penn Biden Center for Diplomacy and Global Engagement, in early November. On Wednesday, news broke that another trove of classified documents from Biden's time as vice president had been discovered at another location, leading to louder calls for Attorney General Merrick Garland to appoint a special counsel to investigate the president's handling of such documents.
The Biden Center has since found itself in the middle of a firestorm, leading to renewed questions on the likes of Chinese donations to the University of Pennsylvania, which houses the think tank. Hunter Biden is also shown to have discussed the center in emails before its launch.
Within weeks of leaving the vice presidency under former President Barack Obama in January 2017, Biden became the "Benjamin Franklin Presidential Practice Professor" at the University of Pennsylvania, an honorary position, and the "Penn Biden Center for Diplomacy and Global Engagement" was launched in Washington, D.C. the next year.
However, discussions about the elder Biden's future involvement with Penn long predated the end of the Obama presidency, according to emails from Hunter Biden's infamous abandoned laptop, which have been verified by Fox News Digital.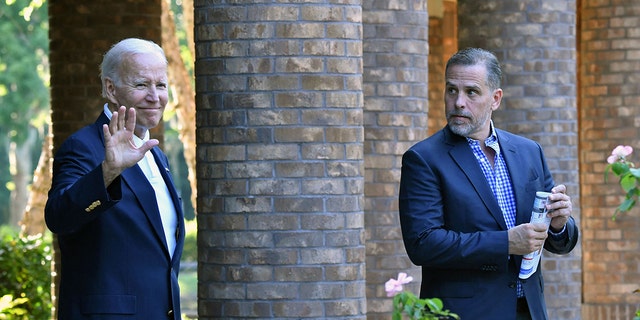 President Biden pictured here in August with Hunter Biden on Johns Island, South Carolina, has faced scrutiny over his handling of classified documents after leaving the vice presidency in 2017. 
(NICHOLAS KAMM/AFP via Getty Images)
SEVERAL TOP WHITE HOUSE OFFICIALS WORKED FOR BIDEN AT HIS THINK TANK WHERE CLASSIFIED DOCS DISCOVERED
On April 25, 2016, Creative Artists Agency (CAA) agent Craig Gering emailed Hunter with "confidential notes from our meeting," in which Gering listed apparent plans that were discussed for the vice president upon leaving office.
One of those plans included "wealth creation," with no further explanation, and another included an apparent reference to the Penn Biden Center in Washington, D.C., with a possible job opportunity for Hunter.
"The Biden Institute of Foreign Relations at the University of Pennsylvania," Gering's email read. "Focus on foreign policy. In addition to the institute at U of Penn, the school has an existing office in DC that will be expanded to house a DC office for VP Biden (and Mike, Hunter and Steve?). Operates like The Clinton Global Initiative without the money raise."
Hunter then confirmed Gering's notes but emphasized that they needed to be "very confidential" because they were not set in stone.
"Yes," Hunter replied, "in theory that's the way I would like to see it shake out— BUT please keep this very confidential between us because nothing has been set in stone and there's still a lot of sensitivity around all of this both internally and externally. He hasn't made any decisions and this could all be changed overnight."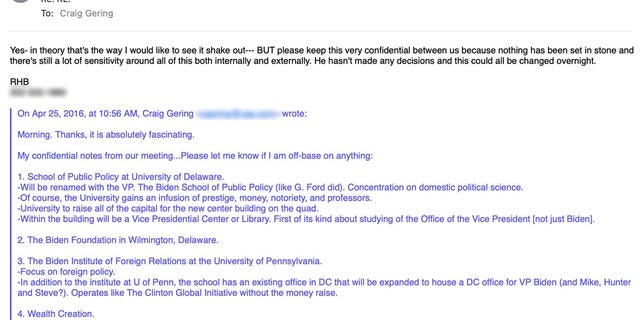 Hunter Biden confirms Craig Gering notes.
(Fox News)
Just 10 days earlier, Hunter was scheduled to attend a meeting with his father and then-university President Amy Gutmann, according to an email of Hunter's schedule from Rosemont Seneca Vice President Joan Mayer. It is not clear if the meeting at the White House actually took place, but it was scheduled almost exactly one year after Hunter and his then-wife Kathleen hosted Gutmann for a private dinner at Cafe Milano, a Georgetown institution in Washington D.C., according to an April 2015 email from a Penn official to Kathleen and Hunter. The guest list "comprised of Academy Members (significant donors), trustees, Overseers, and Penn parents" from UPenn, another email read.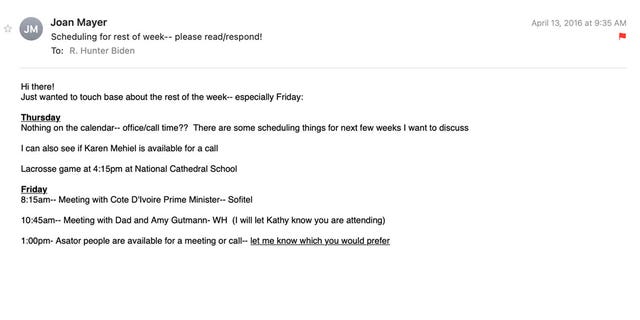 Joan Mayer email to Hunter Biden
(Fox News)
Hunter's lawyer and the White House did not respond to Fox News Digital inquiries on the matter.
Joe Biden left the vice presidency on Jan. 20, 2017, and was hired as a professor at Penn less four weeks after that, where he was paid a total of $776,527 in 2017 and 2018, which was nearly double what full-time Penn professors made during the same time, Philadelphia magazine reported in 2019.
The magazine reported at the time that the former vice president's professorship was "really more of speaking residency," and that, [h]e's been on campus so infrequently that it becomes news when he actually is there," which was a total of six times.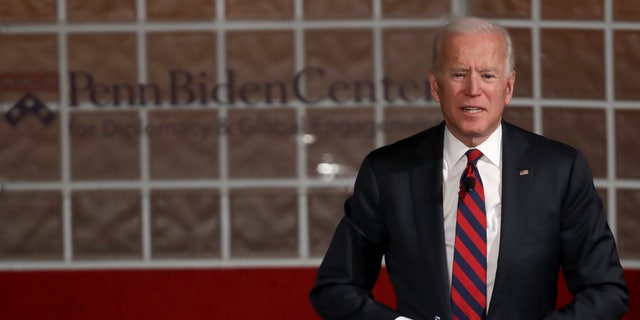 Former U.S Vice president Joe Biden speaks at the University of Pennsylvania's Irvine Auditorium February 19, 2019 in Philadelphia, Pennsylvania.
(Photo by Win McNamee/Getty Images)
The Penn Biden Center had its official opening in February 2018, where Joe signaled he had spoken with Gutmann when he was still vice president about becoming a "professor" and being able to bring his own team with him to UPenn.
"President Gutmann, when you came to me before the [Obama] administration was up and asked me whether I [would] consider to be a professor at Penn, the first thought I had was that it sounded like an intriguing idea, but it became even more intriguing after the outcome of the [2016] election when you said I could bring along with me some serious, serious people," Biden said during the opening ceremony in February 2018.
"Serious staff people and much more than staff and they start with Tony Blinken and Steve Ricchetti and others, so thank you for allowing me to bring along some really, really bright people," he added.
In 2019, Biden took an unpaid leave of absence from Penn after he announced his presidential campaign.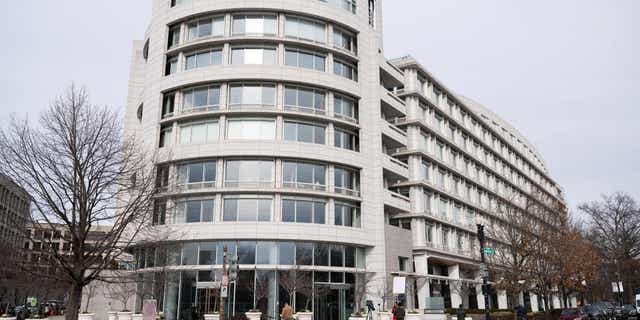 An office building housing the Penn Biden Center, a think tank affiliated with the University of Pennsylvania, is seen in Washington, DC, January 10, 2023, following reports that classified documents from the time when US President Joe Biden was serving as Barack Obama's vice president have been found at the center that Biden sometimes used as office space.
(Saul Loeb/AFP via Getty Images)
As president, Biden selected Gutmann to be the U.S. Ambassador to Germany. David Cohen, the former chairman of Penn's board of trustees who was also at the Penn Biden Center's opening, was tapped by the president as the U.S. Ambassador to Canada.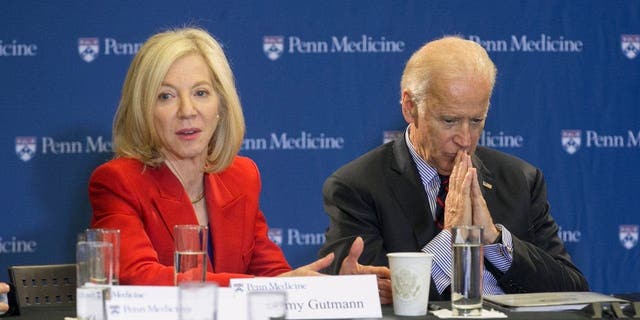 Vice president Joe Biden launches his "Moon Shot" mission to cure cancer with a tour of the University of Pennsylvania's Abramson Cancer Center and a roundtable conversation with researchers there on Friday, Jan. 15, 2016.
(Ed Hille/Philadelphia Inquirer/Tribune News Service via Getty Images)
On Monday evening, the White House revealed that classified documents dating back to Biden's time as vice president were discovered at the Penn Biden Center in November. The president's personal attorneys then handed the documents over to the National Archives and Records Administration.
On Wednesday, Fox News confirmed that aides to Biden discovered at least one more batch of classified documents from his time as vice president in Biden's possession. The news has prompted calls from Republican lawmakers for Attorney General Merrick Garland to appoint a special counsel to investigate Biden's handling of classified documents.
During the North American Leaders Summit in Mexico City Tuesday night, Biden said he was "surprised" to learn that classified documents had been found at the Penn Biden Center.
"They did what they should have done. They immediately called the [National Archives] … turned them over to the Archives, and I was briefed about this discovery and surprised to learn that there were any government records that were taken there to that office," Biden said. "But I don't know what's in the documents. My lawyers have not suggested I ask what documents they were."
10 UNANSWERED QUESTIONS ABOUT BIDEN'S CLASSIFIED DOCUMENTS
The Penn Biden Center's mission statement says it was founded on "the principle that a democratic, open, secure, tolerant, and interconnected world benefits all Americans," and that it works to continue Biden's fight "to secure American global leadership by defending and advancing a liberal international order."
Fox News Digital previously reported that at least 10 senior Biden administration officials have been hired to their current or former positions after stints at the Penn Biden Center, including current Secretary of State Antony Blinken, Under Secretary of Defense for Policy Colin Kahl and White House counselor Steven Richetti. Blinken and Richetti both served as managing directors while Kahl was a strategic consultant at the center.
Since the Penn Biden Center opened, the University of Pennsylvania has come under a microscope over its influx of foreign donations, particularly from China.
Penn took in roughly $77 million in gifts and contracts from China between 2014 and 2020, The Daily Pennsylvanian previously reported. Further, the Washington Free Beacon noted that foreign donations to the university tripled in the two years following the Biden Center's opening in 2017, with most of the money coming from China.
Penn also struggled to explain a $3 million donation from 2019 from a Hong Kong shell company tied to Chinese national and businessman Xu Xeuqing. A university spokesperson previously said the donation came from Chinese national Xin Zhou, but the Free Beacon reported it could not identify a connection between Xin and Nice Famous Corporation Limited, where the gift originated.
The university has also received at least $12.8 million in gifts from China between March 2020 and June 2022, according to a review of the Department of Education's foreign gift reporting database. Additionally, the university reported at least $2.8 million in China contracts between July 2020 and January 2022.
"The Penn Biden Center has never solicited or received any gifts from any Chinese or other foreign entity. In fact, the University has never solicited any gifts for the Center," Penn's vice president of communications Stephen MacCarthy told Fox News Digital in a statement.
MacCarthy said that since its inception, two American donors provided three unsolicited gifts totaling $1,100 for the Biden Center and that "one hundred percent" of the center's budget is from university funds.
"Penn is fully compliant with federal law regarding the reporting of foreign gifts and contracts, as foreign gifts are all properly reported to the U.S. Department of Education as required by Section 117 of the Higher Education Act," MacCarthy said.
CLICK HERE TO GET THE FOX NEWS APP
Republicans want a special counsel to investigate Biden's handling of classified information after the two troves of documents were located this week. Garland has appointed John Lausch, the U.S. attorney for the Northern District of Illinois, to review the matter.
The revelation that classified documents were found in Biden's possession comes months after a similar situation related to former President Donald Trump's handling of classified documents. Following a months-long dispute between Trump and the Department of Justice, FBI agents executed a search warrant of the former president's home in Mar-a-Lago to recover some 300 classified documents.
Fox News' Thomas Catenacci and Cameron Cawthorne contributed to this report.