Where is help when you need it?   Sure, I try my best to answer many questions that can help solve a tech mystery for you.  Though sometimes our smartphones, tablets, and computers have issues that we just cannot fix on our own.
CLICK TO GET KURT'S CYBERGUY NEWSLETTER WITH QUICK TIPS, TECH REVIEWS, SECURITY ALERTS AND EASY HOW-TO'S TO MAKE YOU SMARTER
Apple has a solution to this problem with Apple Support, and you can schedule a session with them to get help with whatever tech issues you're running into.
What can Apple Support help me with? 
Apple has an entire webpage dedicated solely to helping people fix their devices. On the main page, you have the option of showing which device it is that you need assistance with whether it's your iPhone, iPad, macOS computer, Apple Watch, AirPods, Apple Music, or Apple Smart TV.
You can also choose one of the main 3 topics that most people have questions about, which include forgetting your Apple ID or password, device repair, and billing and subscriptions.
IPHONE, IPAD AND MAC JUST LANDED ON DEPT. OF HOMELAND SECURITY WARNING LIST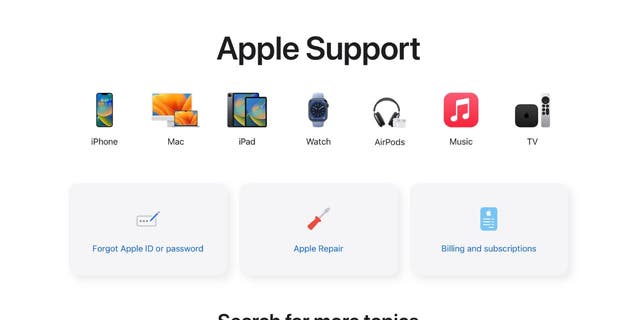 The Apple Support webpage was created to help you with your Apple device.  (Apple )
The site also gives information if you wish to learn more about Apple's device protection plan known as AppleCare+, as well as details on how to trade in an old Apple device.
What if I have an issue that I can't solve on my own? 
There are a few options you can choose if you have a question that you can't figure out on your own, or if you simply want to learn more about how to best use your device. The first option they give is to sign up for a session at your nearest Apple Store to teach you more about privacy protection for your iPhone.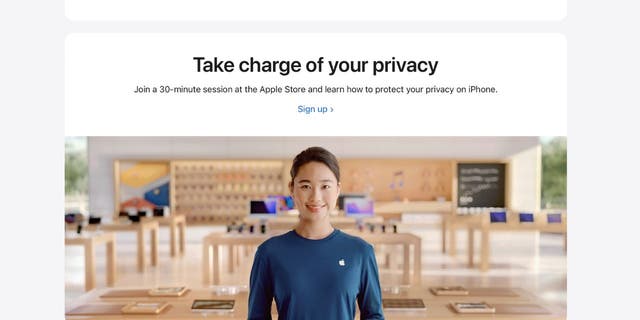 If you are struggling to resolve an issue with your device that can't be done by yourself, you can reach out to an Apple representative for assistance. (Apple)
HOW TO FIND ANYTHING ON AN APPLE IPHONE, IPAD AND MAC
To sign up for a free 30-minute session:
Go to support.apple.com 
Scroll down to where it says 'Take charge of your privacy" (pictured above) 
Click the Sign up button, and you'll be taken to a webpage that will show you when the next available session is at the closest Apple Store to you
Just below the privacy session option is another page that says Get Support. If you select Start Now, you'll be taken to a follow-up page where you can type in the issue you're having. Here's how to get in contact with someone directly and even screen share:
Go to support.apple.com 
Scroll down to Get Support and select Start now 
Under View Your Products, click Sign In 
Enter your Apple ID and Password 
Select the product you need assistance with 
Go through the prompts and select what you're having an issue with (i.e. battery power on your macOS) 
Once you've narrowed down your issue, select Continue under See your support options 
Scroll down and select either Chat or Call to speak with a representative from Apple 
If you select Call, you'll be led to a follow-up page where you can either opt to call now or schedule a call.  
Make sure you have the right phone number entered in the prompt. Then press Continue and within 2 minutes an apple representative will call you on the phone. You can then explain your problem.   
The greatest part of this service is that you can then provide them with your apple ID and you can do a screenshare with them where they will guide you to a resolution.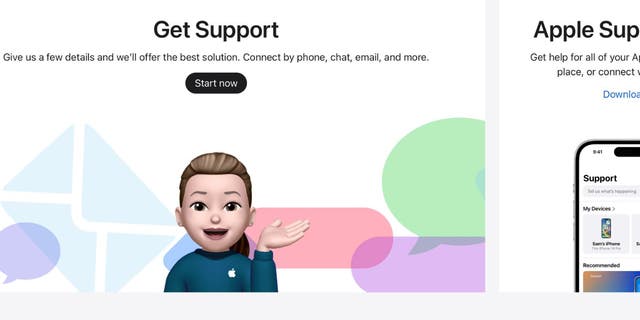 Support can be given via chat, call, email and more. (Apple)
Have you reached out to Apple for support yet? Let us know how it went for you.
CLICK HERE TO GET THE FOX NEWS APP
For more of my tips, subscribe to my free CyberGuy Report Newsletter by clicking the "Free newsletter" link at the top of my website.
Copyright 2023 CyberGuy.com.  All rights reserved.  CyberGuy.com articles and content may contain affiliate links that earn a commission when purchases are made.