Rep. John Garamendi, D-Calif., on Sunday responded to the discovery of President Biden's classified documents by saying this was an "embarrassment."
The California Democrat appeared on "Fox News Sunday," where he was asked to weigh in on whether he understands why so many Americans have the perception that the Department of Justice has a two-tier justice system and what he believes the DOJ can do to reassure Americans.
"Well, doing exactly what they are doing now. We have a special counsel in place. The documents and the whole issue is before the special counsel and the investigations will go forward with regard to these classified documents that were found," Garamendi said. "I can only – in fact, I don't need to imagine I know exactly what President Biden said when he was informed that these documents were found in his office in his office in Washington, and that was an 'Oh,' followed by a four-letter expletive."
"And it's an embarrassment, no doubt about it.," Garamendi added. "Is there more to it? I doubt it, but we'll find out from the special counsel as he goes about his business."
5 MORE CLASSIFIED DOCUMENTS FOUND AT BIDEN'S DELAWARE HOME, WHITE HOUSE LAWYER SAYS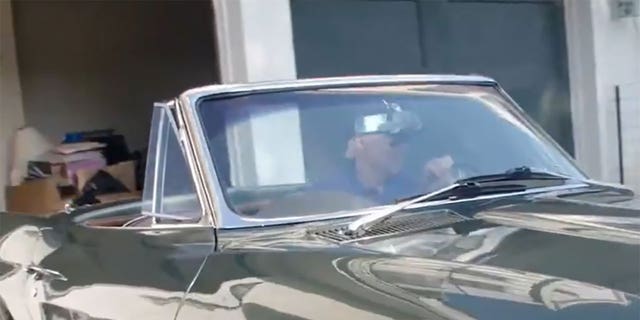 Then-presidential candidate Joe Biden is seen backing into what appears to be his Wilmington, Delaware driveway in a 2020 campaign video. 
(Joe Biden 2020)
Garamendi's comments come one day after a third batch of classified documents from Biden's tenure as vice president were found at his Wilmington, Delaware residence.
Special counsel to the president Richard Sauber disclosed in a statement that five additional pages of documents with classified markings were found at Biden's home Thursday evening, making a total of six classified documents retrieved from there.
Sauber explained that when Biden's personal attorneys identified one classified document at Biden's home on Wednesday, they "immediately" stopped searching for additional documents because they lacked the security clearances necessary to view those materials.
"Because I have a security clearance, I went to Wilmington Thursday evening to facilitate providing the document the President's personal counsel found on Wednesday to the Justice Department," Sauber said. "While I was transferring it to the DOJ officials who accompanied me, five additional pages with classification markings were discovered among the material with it, for a total of six pages. The DOJ officials with me immediately took possession of them."
KARINE JEAN-PIERRE SAID SEARCH FOR DOCUMENTS WAS 'COMPLETED' BEFORE WH ANNOUNCED MORE CLASSIFIED DOCS FOUND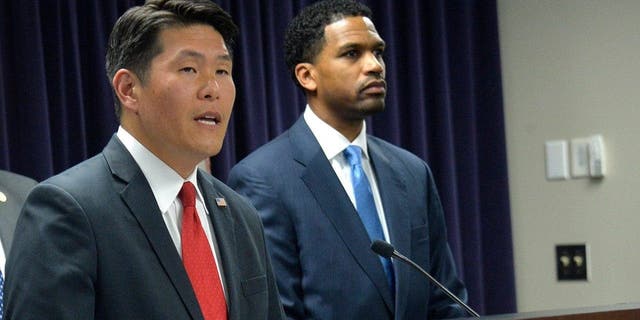 Robert K. Hur, United States Attorney Assistant Special Agent, speaks during a news conference on April 16, 2019, in Baltimore. (Kevin Richardson/Baltimore Sun/Tribune News Service via Getty Images)
(Kevin Richardson/Baltimore Sun/Tribune News Service via Getty Images)
The discovery of these five additional classified documents follow reporting on classified documents being found in Biden's garage and at the Penn Biden Center in Washington, D.C. On Monday, the Biden White House revealed for the first time that on Nov. 2, 2022, the president's personal lawyers were packing files from his old office at the Penn Biden Center for Diplomacy and Global engagement, a think tank founded in 2018 by the University of Pennsylvania, when they discovered documents with classified markings in a "locked closet" dated from the time Biden served as vice-president under President Barack Obama. The classified materials were immediately turned over to the National Archives, the White House said.
CLICK HERE TO GET THE FOX NEWS APP
Attorney General Merrick Garland announced on Thursday that he was appointing Robert K. Hur, a former U.S. attorney, to serve as special counsel to investigate Biden's handling of classified materials.
"I am confident that Mr. Hur will carry out his responsibility in an even-handed and urgent manner and in accordance with the highest traditions of this department," Garland stated.
Garamendi is not the only California Democrat to weigh in on the scandal. Rep. Adam Schiff, D-Calif., on Sunday said Attorney General Merrick Garland made the "right move" by appointing a special counsel, saying, "The attorney general has to make sure that not only is justice evenly applied, but the appearances of justice are also satisfactory to the public. And here I don't think he had any choice but to appoint a special counsel."
Fox News's Chris Pandolfo and Kelly Laco contributed to this report.