Republican Study Committee Chairman Kevin Hern, R-Okla., tore into the national press for its hysterical coverage of the debt ceiling and told his members the GOP would insist on significant spending cuts before agreeing to raising the government's borrowing limit.
"For weeks, the media has covered the debate surrounding the debt limit with irrational shock and horror," he wrote in a letter to the more than 160 members of the RSC, which has served as the conservative caucus for House Republicans for decades. "Democrats and their pundit allies have painted Republican efforts to pair budget reforms with legislation increasing the debt limit as reckless and irresponsible."
"Despite the clear and present danger our country faces from its unsustainable debt, a souring economy, and historic inflation, the media wants to hide the American people the truth – we as a nation must reduce spending and usher in serious fiscal reform," Hern added.
CONSERVATIVES SHARPEN THEIR SPEARS FOR HISTORIC DEBT CEILING FIGHT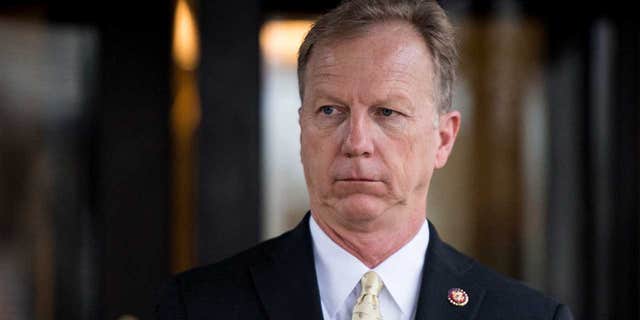 Republican Study Committee Chairman Kevin Hern, R-Okla., encouraged dozens of House Republicans Thursday night to prepare for months of work on spending cuts in a bid to reduce the debt. (Photo By Bill Clark/CQ-Roll Call, Inc via Getty Images)
The U.S. hit the debt ceiling on Thursday, which means the government cannot borrow anything above the $31.381 trillion it has borrowed so far. House Republicans have said they would require deep spending cuts as a condition for raising the ceiling, but the Biden administration has said it will not negotiate.
Democrats have said doing anything other than raising the ceiling poses a risk to the creditworthiness of the U.S. government, a line that has been picked up by many in the media.
But Republicans have countered that there's still time to negotiate a deal that allows for a debt ceiling hike and reduced spending. The Treasury Department has said it can hold out for several months before an increase is required, and House Speaker Kevin McCarthy has urged the White House to begin negotiations now.
TEXAS REP. ROY SAYS HE'LL USE DEBT CEILING VOTE TO EXTRACT SPENDING REFORMS: 'IT'S MY JOB NOT TO BACK DOWN'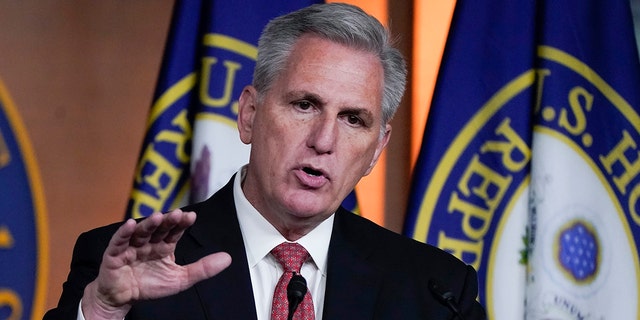 House Speaker Kevin McCarthy, R-Calif., has called for negotiations with the White House on the debt ceiling, which the White House has rejected.
(AP Photo/J. Scott Applewhite)
Hern's letter mirrored that argument, and rejected arguments from Democrats that it makes no sense to pair cuts with a debt ceiling hike – he noted it's been done that way several times in the past several decades.
Hern also encouraged RSC members to dig in for an important fight that needs to be had in the face of America's growing national debt.
"As Chairman of the Republican Study Committee (RSC), I urge my colleagues to recognize the significance of this moment," he wrote. "We must commit to protecting our nation's financial future by seeking to negotiate meaningful fiscal reforms in conjunction with raising the debt limit."
JAMIE DIMON SOUNDS ALARM ON RISING US DEBT HAVING 'POTENTIALLY DISASTROUS OUTCOMES'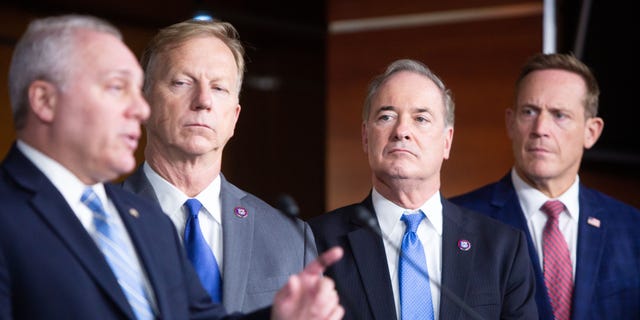 House Majority Leader Steve Scalise, RSC Chair Kevin Hern and other Republicans will be pushing for spending cuts this year. (Photo by Allison Shelley/Getty Images)
Hern said the next several weeks would be used to educate members about the issue and talk to House committees and House GOP leadership.
"Through this process, we are confident that the RSC will help craft a responsible solution that will begin to restore fiscal sanity," he wrote.
CLICK HERE TO GET THE FOX NEWS APP
"The only reckless assumption Congress can make about our nation's debt crisis is that the status quo is sustainable," Hern said. "The RSC will work together to provide responsible solutions and show the American people that Congress can be capable of serious leadership and fiscal responsibility."